Hi there VC'ers. Today I will be taking a look at the Steam Crave Aromamizer Classic MTL RTA which was kindly sent to me free of charge for the purpose of this review by Joyi from Sourcemore.
I've heard nothing but good things about this RTA so even though I prefer DTL, I was still looking forward to giving this a try to find out if it's all it's hyped up to be.
Specifications:
23mm diameter
48.8mm height (with drip tip, 34.4mm without)
3.5ml juice capacity
Single coil build deck
Top refill
Dual side air-flow with multiple options
510 metal drip tip
Gold plated 510 pin
Available in black and Stainless Steel
Screw-off cap for refilling
MTL and restricted DTL options
What's in the box?
1x Complete Aromamizer Classic MTL RTA with 1.0mm air-flow pins fitted
2x 0.8mm air-flow pins
2x 1.5mm air-flow pins
2x 2.0mm air-flow pins
1x Blank air-flow pin
1x Spare 3.5ml straight glass
1x Spare 510 delrin drip-tip
Pack of o-rings and screws
1x Ni80 coil (32ga x 2 + 38ga, 2.5mm ID, 5 wrap)
1x KA1 coil (28ga, 2.5mm ID, 7 wrap)
1x Allen key
1x Steam Crave sticker
1x Instruction manual
The box is the usual Steam Crave affair, very sturdy and solid and I never doubt that the items within are very well protected. On the front we have an outlined image of the Classic RTA below it's title and on the left of the Steam Crave logo. The bottom is emblazoned with the tag line for this RTA which reads 'MTL Flavour Engine'. One side of the box shows the colour of the RTA inside and the other shows the model number, in the case, it's SC211. The underside shows the usual safety certificates alongside a Steam Crave authenticity check scratch-off panel.
Inside the box you'll find the red and black of the Steam Crave brand with the contents held securely in place and laid out nicely.

The box contents:

We have a cute little plastic tub with Steam Crave branding on it which contains the included 2 coils, the changeable air-flow pins and a packet of spare grub screws and o-rings.

The air-flow pins have their inner diameter etched onto them so you can see which is which.

The tank itself comes with a pre-installed metal 510 drip-tip and a pair of 1.0mm air-flow insert screws. On one side it has the Steam Crave branding etched onto it and the other side has 'Aromamizer Classic MTL RTA'. On the bottom we have 'Designed by BJ SHI', the usual safety certificates and a serial number. This tank also lacks any form of juice flow control.

Inside the chamber you can see the rectangular cut-out where the coil sits. One important thing to note here is that if you're used to Steam Crave tanks, you'll be used to putting the build deck back inside the chamber when your build is finished, and turning it inside there until the tabs line up and it clicks snugly into place. This is a big no-no with this tank, as I found out the hard way. You need to be quite precise when placing the completed deck back inside this chamber as too much turning and you risk twisting the coil out of place which will pull the wick out of place and if you don't notice this, when your build is done it will leak everywhere and you'll have to do the whole thing again. It wasn't much fun, I can vouch for that

In these two images you can see the air-flow pins in place. They direct the air directly into the side of the coil once everything is put back together. You can also remove these and run this RTA in a restricted DTL mode.

Exploded view:

The tank comes fitted with a single coil deck which has an almost 'S' shaped juice well for the cotton to sit in.

Up top we have the screw-off cap which uncovers the dual kidney shaped fill ports.

I think that about covers the packaging and contents. Let's move on to the build.
For the purpose of this review I fitted the included Ni80 coil and then pulsed and strummed out the hotspots.

The coil can be easily aligned in place properly by resting a coil tool across the deck to rest on either side while passing through the coil, as shown in the below diagram: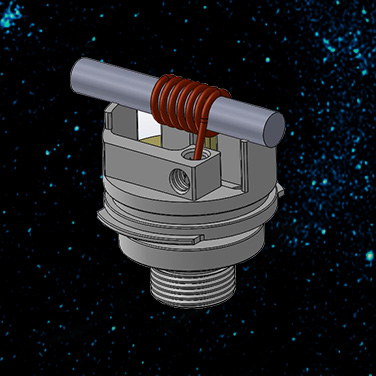 Cotton fitted then tucked into the juice well and also a little below the coil for reasons we'll get to later.

Juiced up and ready to be put back together.

Filling up the tank:

Top cap screwed back on and we're good to go:

Usage and thoughts:
Building on this was simple enough, if a little finicky due to its small size. Installing the coil is pretty easy, especially when you can just rest a coil tool through it and onto the sides of the tank to perfectly line up the coil into the correct position.
As I mentioned earlier about cotton below the coil, this is necessary in my opinion if you want to avoid juice leaking from the holes in the air-flow pins every time you fill the tank. It's simple enough to do. Just wick as normal and once you're done, take a tiny piece of the cotton you cut off while wicking, and place it in below the coil with a pair of tweezers, pushing it down to cover the bottom of the juice well while keeping it from touching the underside of the coil.
During testing I mostly used the pre-installed 1.0mm air-flow pins which gave a quite nice MTL draw. I tried the 0.8mm pins but really couldn't tell the difference between those and the 1mm. The flavour production from such a small coil and build is exceptional and it very much lived up to the hype. This thing is indeed a flavour engine! I only briefly tried the 1.5mm and 2mm air-flow pins as I thought they gave a bit too airy a draw but that's just down to personal preference.
I also tried removing the pins completely for a slightly restricted DTL vape and it worked very well, providing very good flavour and wasn't really too restricted at all. It was almost as airy as my Vaperz Cloud Valkyrie which is a full blown DTL RTA.
The only thing lacking with this tank is huge clouds but that doesn't bother me in the slightest and could just be down to how I had it set up.
I started using the pre-installed metal drip-tip, which was fine but after a few days I switched to the straight delrin tip and have stuck with that one since so choose which you use to suit your own style.
As you would expect from Steam Crave, all the threads are buttery smooth and the overall machining quality is very good.
Pros
Flavour for days
Choice of drip-tips included
Multiple Air-flow options
23mm diameter make it suitable for a LOT of devices.
Good for stealth vaping
Easy coil installation
Easy access dual kidney-shaped fill ports
MTL and restricted DTL options
Buttery-smooth threading
Steam Craves expected high quality
Cons
Wicking can take a little practice to get right to prevent leakage from the air-flow holes
Small build deck can be awkward to build on
No juice flow control
3.5ml juice capacity does require regular refills if you use it a lot
Twisting the deck into place inside the chamber like in other Steam Crave tanks does not work here.
Final thoughts
After completely avoiding MTL setups for months, I found myself picking this one up to use quite a lot as the flavour this thing chucks out is very very good. I used it in MTL mode for over a week and was quite impressed with it but I've now removed the air-flow pins completely and I'm using it in a semi-restricted DTL mode.
If MTL is your thing, you will be hard pressed to find anything that will outperform this in the flavour department at this price point.
Thanks again to Joyi from Sourcemore for providing the Aromamizer Classic MTL RTA for this review.
If you are interested in purchasing this, you can use the following code to get yourself a nice discount:
$23.29 Steam Crave Aromamizer Classic MTL RTA
Code: SCACR (I was asked by Joyi to include this code in my review but having looked on their site, the price of this is currently lower than this discounted price and the code is no longer usable as it is on offer)
If you've made it this far, then props to you because I struggled to make it this far myself! For your efforts, have a bonus pic!