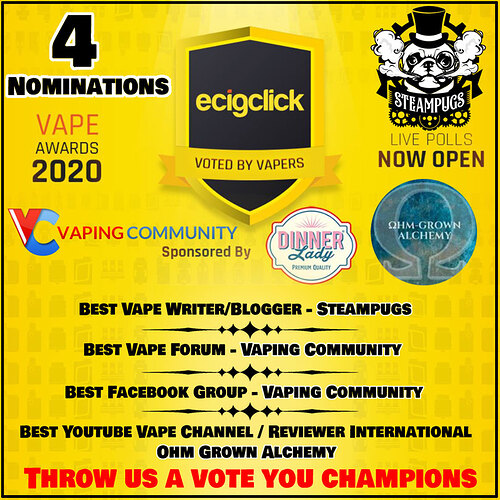 WE MADE IT INTO THE FINALS!!




Yes sir!..thanks to YOU who nominated this lovely forum in this years Ecigclick Vape Awards we are now into the final 10…AND DESERVIDLY SO I SAY!!



We believe we have created something extra special here at Vaping Community, and the fact that a whole bunch of you nominated us this year just proves that fact perfectly, so THANK YOU

But now I must ask you to step up one more time, the nominations mean for naught if we don't get the votes in, so please, if if you could just take the time out to throw us some votes we would be eternally thankful, just follow this link below, and if you like what we do, then throw us a vote!
Thanks in advance troop!!

EDIT!- You will get an email to confirm your vote which must be clicked!..if you don't it won't count!..Mine went into my Junk mail so it's worth a check in there if you don't see it straight away! Cheers!