Fish Fingers (sticks) and Custard! Amy Pond days!
I'm missing creamy custard and sweet raspberry. That looks like a really great recipe though! I've added the flavors to my wish list at Bull City. I wish they had a button on the wishlist page "F-it! Buy the whole list!"… For our binge shopping spree's.
The "Wheel of MisFortune" been very very good to me, hehe


Fresh off the shake I'm liking this Lemmy

After giving up on cloning IVG Cinnamon Blaze, I have fiddled a bit with a banana recipe on elr by adding 3 more flavours to the 2 that were in the recipe already. It tastes amazing!
Ehh, maybe just put it aside for now, Andrew, and as time goes by, and you continue to read through the thread's here, one day you might see what someone write's about a certain flavor and it could end up being the missing piece to your puzzle!
That does look pretty tasty!
I may give it another go at some point but it's very difficult when i don't even know what flavours are in it or which brand they are.
Could do with some of you more experienced mixers trying it and give me some input as to what flavours you are getting from it

It's also a huge pita mixing juice as i only have a voopoo drag s and a geekvape aegis so it's a bit of a mess about testing the juice i make with having to clean everything after every juice i try. Yes I'm lazy.

Really though, some of you guys should give that ivg cinnamon blaze a try. It really tastes epic. The cinnamon is quite subtle. My gf couldn't even taste any cinnamon in it, all she got was spearmint.
I'm happy with this banana toffee though. Got more stuff coming tomorrow to mix up 500ml of it

Honestly, I love the FLV Marshmallow Vanilla- Sweet and thick flavor and mouthfeel with no offnotes. In the way "Franks Red Hot" lovers can say: "I use that S#it on everything", I think Ive found may latest and greatest marshmallow! Its like "Magic Dust" in my toolkit, like Summer Clouds, Cream Milky Undertones, Saline, Calipitter Chow, Boysenberry, and Cactus (INW) are. Takes things to the next level!
Gee I must like this nectarine, done quite a few mixes with it this week. This is one of the better pairings with DV Marmalade.
Wow, this looks NOT in my typical profile wheelhouse, but I think I need to expand @marsh8. Thank you.
Nectalade Cookie
Crumble Topping (SC) - Wonder Flavours / 1.5%
Custard Premium - Flavour Art / 0.5%
Marmalade - Decadent Vapours / 1%
Nectarines - Sobucky Super Aromas / 2%
Philadelphia Butter Cake (SC) - Wonder Flavours / 1%
Shortbread Cookies (SC) - Wonder Flavours / 2%
Flavor total: 8
The PBC 'does' work well with the SBC! Thank's for sharing, @marsh8

Thank you too!!! You helped add few to the basket this week.

No worries! I have plenty on the go since going back to shift work. Wouldn't want to be that wanker that posted 20 recipes at once.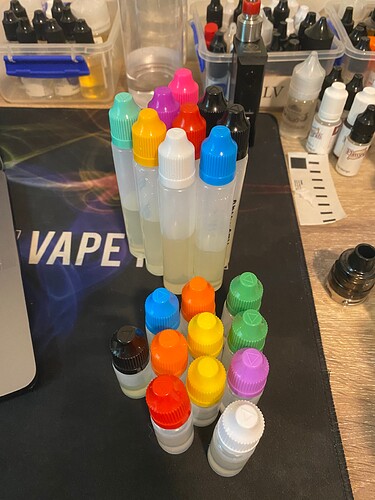 Hi @davidleo , welcome to VC

Welcome to VC @davidleo


Sounds delicious!
Taste the ultimate sweetness of top shelf candies with the APOCALYPSO ROYAL vape juice. You will feel a royal candy flavour on every puff.
Got everything but that particular sweetener, Rocky! I'll give it a mix! Thank's

I was looking at that rice yesterday had it for a while now. I'm one short, same as @whthek.
So I may just get it out tonight to mix as well🤙
But those nectarines are calling again

which should also pair nice with rice

I couldn't resist more nectarine🤣