What?!? @Jim22 hasn't posted 8 times here yet???
No mail yesterday and its still early. I'll watch for the headline: "California man assaults postal worker. "

Sheesh 8 days in and not one post? You guys are slow! So after a brief reprieve from uncontrolled vape purchases… I eased back into it slowly. The Vandy Vape Widowmaker RTA.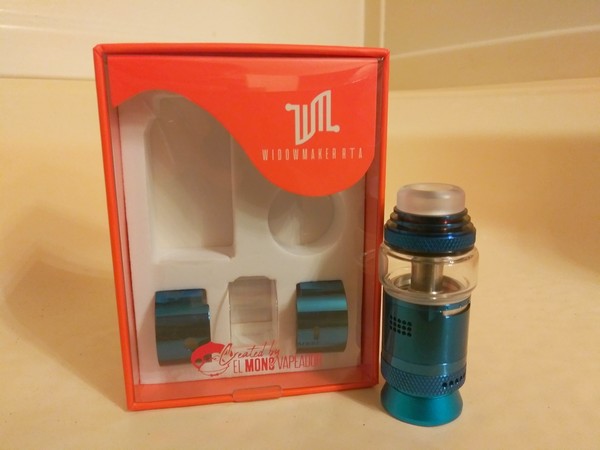 Dang, you are not kidding, had to mix up one of my favorite recipes with 12 mg Zoloft just to get over my Vape Mail blues

If it goes on for too much longer I am going to have to start mainlining Xanax

Vape mail just in the Brunhilde MTL RTA from Vapefly, slightly smaller form factor than the DL Version. Two weeks full testing before this one is reviewed on YouTube.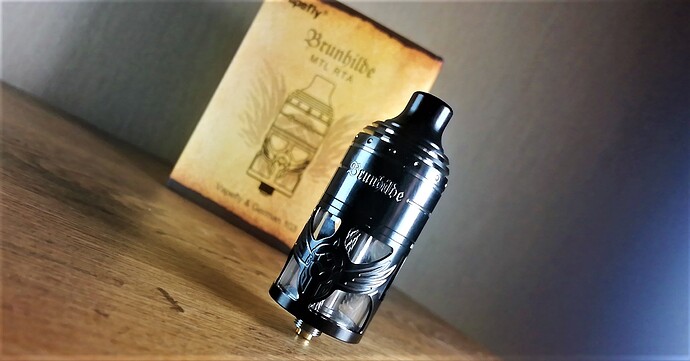 Aromamizer Plus new mesh deck just arrived.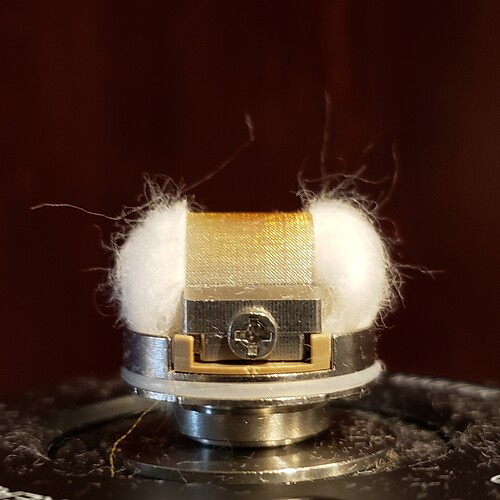 So far pretty good but still recovering from the flu so can't vape high watts for fear of coughing up a lung. Lowered it to 35 watts @ 350 F and it is still a cloudy but cool vape, can't go higher as my throat wont allow it yet.
Glad to put my Vapecige Creator DNA75C back into the rotation, love this mod.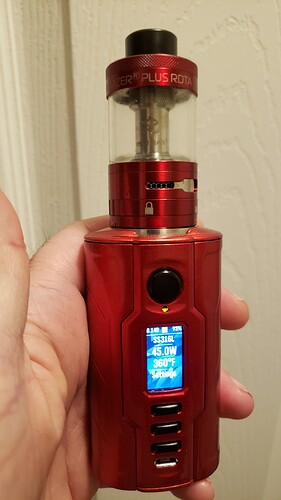 Good grief that's a sizable combo!
That is not the first time he has heard that
Sorry not sorry @Mjag
The copper weighs 650g (no batteries) the brass 600g (no batteries) so not a pocket carry in any way. In the middle is the new LE HOG (I cant help but keep buying them I have the set).
I have the copper valhalla as well but just havent unwrapped it yet.
The plastic protection is still on them but dang they look nice.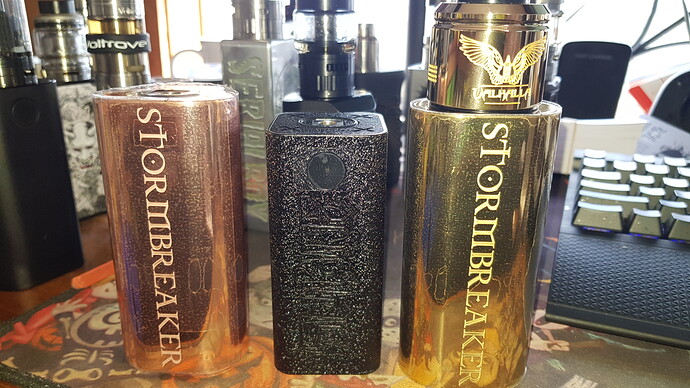 My first purchase from Carolina Extracts. If their product is as good as their customer service, then I will be very happy. They only take Paypal, use your shipping info from Paypal and don't have any forms to fill out when you purchase. You won't get a confirmation email from them when you place an order, but you will when they process and ship it. I had a question and they answered the phone, followed up with an email within a few minutes, and even did a followup phone call to make sure I was happy.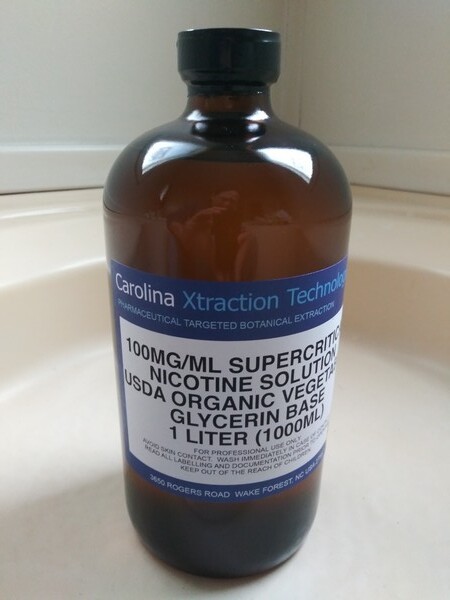 I was worried about this and have been discussing it with a friend since most of our VG comes from East Asia. This is an email I got from My Freedom Smokes:
Glycerine Market Update:
Demand for glycerin continues to increase. One of the major drivers is its use in various cleaning, hand sanitizing formulations and pharmaceutical applications (cough and cold medication).
Biodiesel production plummeting (less biodiesel means less crude glycerin and less refined glycerin), so US produced glycerin will be limited
Coronavirus in India and Asia is having a direct effect on production. Shipments are slowing out of Indonesia and Malaysia (two of the largest manufacturers of USP Vegetable Glycerin).
Due to the current state of affairs, glycerin demand has increased drastically while production has slowed nearly to a halt. Because of this prices from our suppliers have skyrocketed (hopefully temporarily). Therefore, we are forced to increase the prices of USP Vegetable Glycerin for the foreseeable future. We hope that the market returns to normal very soon, but in the meantime stay safe and we are wishing you all the best.
I have several months worth of VG but will place an order for a few extra gallons today. Unfortunately Nic River is under a mandatory shutdown order for now so that source is not available.
I went to Carolina Extracts several months ago and is what I will use as long as it stays available. I'm down to 2mg so wondered if I would notice any taste difference over Chemnovatic and others I was using. Yes! Let us know but IMO it is the best available. A little expensive but well worth it.
Thanks for the heads up on VG.
Yeah the price had me on the fence for some time, but I am impressed with their extraction process. CO2 extraction sounds much better than using petroleum products and all the tobacco is US grown without pesticides. I am down to 1mg nic so I figured it wouldn't be that big of a deal either.
They say in their FAQ not to put it in the freezer. Do you use argon to replace the air when you remove it from the bottle as they recommend?
Yeah reading their web info it convinced me to try them and I'm glad I did. I can tell the difference even at 2 mg between Nic Select, Chemnovatic and theirs. Much "cleaner" taste (for lack of a better term) and I guess everyone knows that I have a bugaboo about nic oxidation. But even more I'm leery of pesticides and general nastiness coming from S.E. Asia and India. (cough cough)
I bought a liter of VG based and one PG. I have not opened the VG yet. I read their advice and am keeping them in my flavor frig which is not set very low. I broke down the PG based into 30 mill amber bottles and I didn't use argon but am sure its a good idea. I have a freezer full of others which will be used for other people. This is my private stock LOL.
Love me some Carolinaxtract and have to lower my nic when I use it as I get a nic buzz faster with it than other brands. Keeps super well too, had a bottle in the freezer for 2 years and was just as good as it was on day 1. LNW is my second favorite, maybe just a smidge ahead of Vaperstek.
Not even the rain could stop me from my long and arduous walk to the mail box for the Aromamizer Plus V2.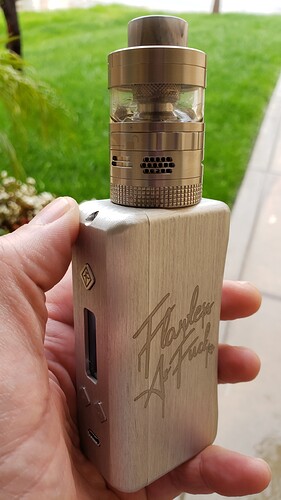 So fair wouldn't say it kills the original but I like it and has since quenched my vape mail blues.
I've been eyeing this off, and I do love the v1.
But today I see your post and my evil twin brother takes over and pre orders an advanced kit, as well as another series deck. With the Aromamizer Supreme RDTA V2.1 for good measure, just because.
Got stung by the exchange rate, but what the… I'd ordered too many concentrates this year. Time for a new toy.
Now you can start planning for the Viking