DarkStar 2019 coupon https://www.darkstarvapour.co.uk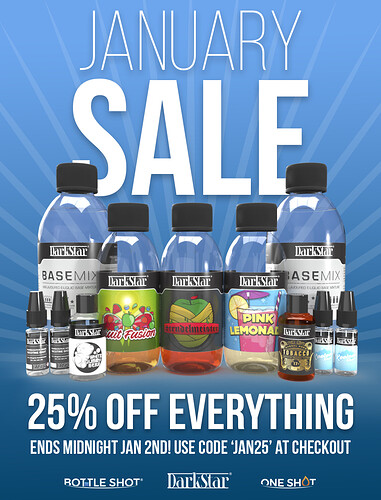 Seems FA UK is clearing out some stock, may be nice for you cross-ponders.
Vampire vapes 48hrs discount https://www.vampirevape.co.uk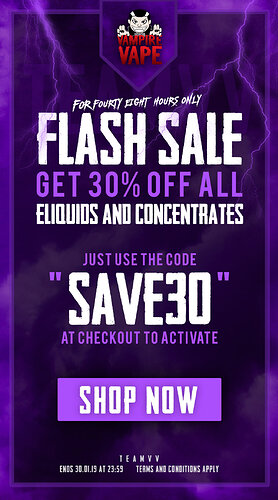 As the name suggests. Never ceases to amaze me how poorly these vendors research names for devices.
The Asmodus made chip doesn't do TC well but all of there mods are generally really well made.
Nice score

I've never owned one either, but I've worked on two of them for Tinman, and I was quite impressed with everything about them.
The construction was very well thought out, very well executed, and cleanly finished. They had recessed screw anchors (pressed into the stabwood, no lips, no burrs) which really surprised me! Battery compartment was isolated from the squonk bottle. They used a ST Microelectronics chip for the protections. Just brilliantly well done all the way around.
One of the few times I can understand why they sold for around $100. And you know me!

That's not something I can justify easily. (I do think it would be better around $65-75…but given the 'trash' around the same price point, at least this one backs it up with quality.
Yeah, I am not crazy about touchscreen mods too…buttons just work

I remember when I first got the Minikin V2, so frustrated at first until I learned you have to swipe down slowly to unlock. One of the best touchscreen mods is the Smoant…errrr… ahhhhh… whatever it is called, the big one with a huge touchscreen. Even then it is too big but worked well.
That's my view!

Charon TS perhaps?
Yeah, that's the one

like @anon96069639 said it is heavy and the size just too big to carry around but I did enjoy using it…just at home

Took advantage of both


Wasn't planning on adding any new flavors but there waffle crunch caught my eye, hope it is decent.
Picked up 10 nic riv flavs, not all new but new to me. That with (10) 30ml stubby chubby gorilla bottles, tax and shipping just a shade over $20 figured it was worth a shot, like buying a single 100ml at a vape shop for a discount. There smallest bottle is 15ml which is pretty generous, hope there are at least 3 or 4 worth reordering.
Save on ALL 100mg/mL Nicotine Products!!!
Active today, Friday, May 3rd through the end of the day Monday, May 6th. Use discount code MAY25 for all* 100mg/mL Classic Nicotine Base and Nicotine Salt Products!
*Volume sizes 1L and below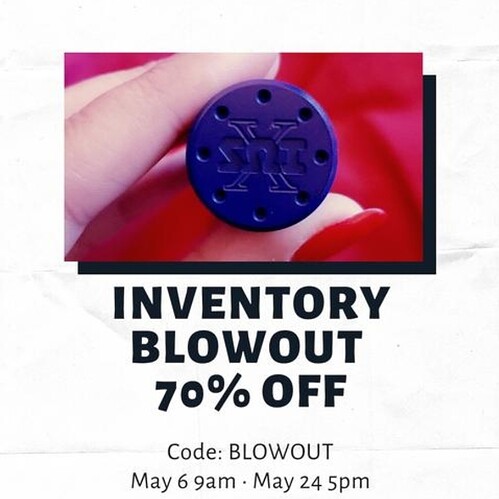 Only tried a friends SOI mech and it is damn nice, the RDA wasn't a fan of with the normal top cap and drip tip but the optional chuff cap made it a much better RDA.
They have an RTA but haven't heard good things about it.
70% off the mechs are a crazy good deal, it comes out to about $40, my friend spent close to $200 for this setup and loves it. That sleave he has is not available anymore though.