Gearbest have a good deal right now on the Anarchist Riot RDA used to be $65 now $12
https://www.gearbest.com/rebuildable-atomizers/pp_1545422.html
Nice deal, just ordered. thanks for posting man!
This is a difficult one for me. Gearbest doesn't serve the U.S. very well, 8-10 week delivery times, and I am not a fan of Geek Vape or their sub Digiflavor.
Has anyone got one of these? Thoughts on it?
Gearbest has a new shipping option USA special line(West) which I used and got my stuff in less than 2 weeks. It is like a $1.50 upcharge but worth it to not wait so damn long.
A friend of mine has one and thought it had great flavor, for $12 it is worth a try.
That was my thoughts as well - Timmerz mentioned it is not their normal type of product - better built and better design.
Used the U.S. special and after tacking on that I used some GB points I had and it cost me $10.84.
Not a bad price at all.
For sure mate on a topper that made its debut at $65 it is totally worth it - if it is a pos the o'rings will come in handy

Discount Code: BCL15 use at checkout for 15% OFF
12% off at VapeSourcing with coupon code: valentine
For a 10% DISCOUNT use code:
ADDITIVES10 at check out.
*Offer valid until 16th Feb. 2018
16% off site wide through 2/14/18 @ Eciggity with code: LOVE16
Simply select your product and the discount will be automatically applied!
https://vapourdepot.com/product-category/e-liquid/american/vape-breakfast-classics/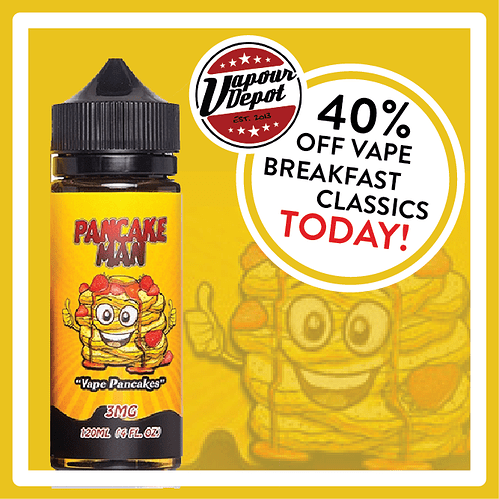 Our standard coupon code is 'VP10' for 10% discount. It can be applied on anything except the items on sale.
All out of stock! I blame @Steampugs - you been on a pancake spending spree?

Sorry Guys! At the moment only 1 flavor left in the stock.
But still, we have a store wide discount for you. Use coupon LOVE15 and get 15% discounts.
A simple Yes I'm 18 years of age to enter your site would be far more appealing as a front door.
I simply close a long window that wants 3 steps to enter and why would I give my correct birthday and yr anyhow ??
Anything that's over 18 should let me in. Instead I keep getting invalid entry when I say I was born in 1335.
Please Don't try and tell me how old I am or make assumptions on how long people live.
I have to say, you don't look a day over 500!
Vapable.com (UK)