Are you on a pc or a phone?
Working here and the last update was 3 days ago. Try a shift f5 see if you still have issues
Wouldn't work for me either but only when posting. Works responding to a post. On a PC too.
OK tried F5 and still no emoji
Ok got you now yup not working in posts.
Not much to do until an update arrives but you could always go old school without the emoji picker
just start typing ":wi" for example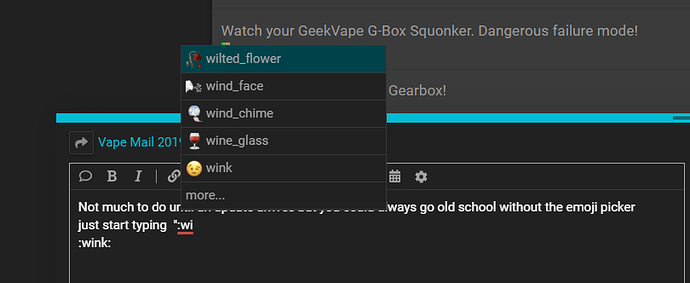 Yep I'll try to remember all the old ways of doing things, a bit much for this old brain though.

Moved to the bugs section
Yeah I was getting messages that I was "hogging the thread"

Working in Firefox Quantum 67.0 64bit


Not working in Chrome Version 74.0.3729.169 (Official Build) (64-bit)
Will work if you shrink the window down… I'll see if meta has anything to say
Edit:
Posted on meta here - https://meta.discourse.org/t/emoji-button-not-showing-emojis-when-browser-full-screen/119468
Resizing the composer will allow the emoji selection box to be seen.
I got the same thing, first on the other forum and now here too.
Shrinking the window doesn't help, I always have a shrunken window


Enlarging the window does the trick for me

Lmao yes i enlarged it and can see it the position is a little fubar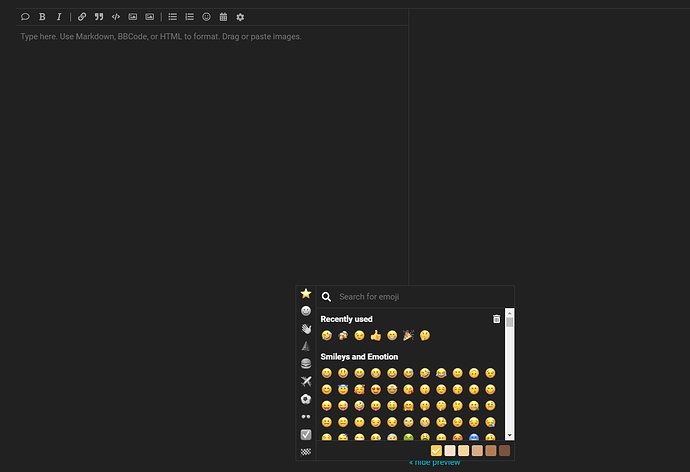 went as big as i could before it showed
Go to https://vapingcommunity.co.uk/safe-mode and tick all the boxes, it works after…

It's the retort plugin, it's messing up the position… I'll fix it.
hang one @Grubby
never mind ya i disabled just the unofficial plugins and it worked
how strange mrpipes put an retort on a a post an i clicked it and it added a 2 even tho the plugin is currently disabled lol
and it's back lol @grubby hulk smashing random keys