A temporary topic for you to suggest new flavours to be added to the Vaping Community Calculator
Stevia (Vapor Cig)

.
.
Although I think
Liquid Stevia (Pyure)
Is more widely used in diy

Done

Thanks @Grubby

Couple more;
Blue Lush (Chefs Vapour)

.
.
Tickle Me Pink (Chefs Vapour)

.
.
.
(Payment sent in advance

)
Oh yeah, these are available at Chefs under the Chefs Vapour line and sold as concentrates


Not Chef Flavours One shots, although I think they do also sell them as oneshots / short fills (what ever that means) not applicable to the recipe calculator IMO

Oh thats why I couldn't find them, its the (OneShots) tag that thru me off, I checked on Chefs Flavours and looks like they dropped the "Chefs Vapour" line

althought they still have them listed under one shots ?
Chefs Vapour site is showing alot "out of stock" , wonder if they sold out to Chefs Flavours?
Anyway, I don't see the need to add the tag "OneShots" (I'm personally not interested in Single flavor recipes)
I also use Mom and Pops in a few of my "mixes" , should I add the tag OneShot ?
Chefs Flavours and Chefs Vapour are I believe all owned by Chefs and listed in their one shot section. M&P are listed as just concentrates (both on Chefs and everywhere else I could find them) that is why there is a distinction.
Oh so Chefs bought out Chefs?
FYI, M&P's is Finished eliquid, which they also make in concentrated form for DIY ( ie, one shots )
No Chefs have always owned them they are if you like their house brand
I know M&P is essentially a one shot for finished e-liquid but they are not marketed anywhere as a 'oneshot' so I have not included it in the name.
Butterscotch (SSA) 1% (10-9-20)
Check this out @woftam, I searched for it, but had a space after the "Bubble Gum" as I was going to start typing in Sobucky. Only 2 pages, and Sobucky not shown.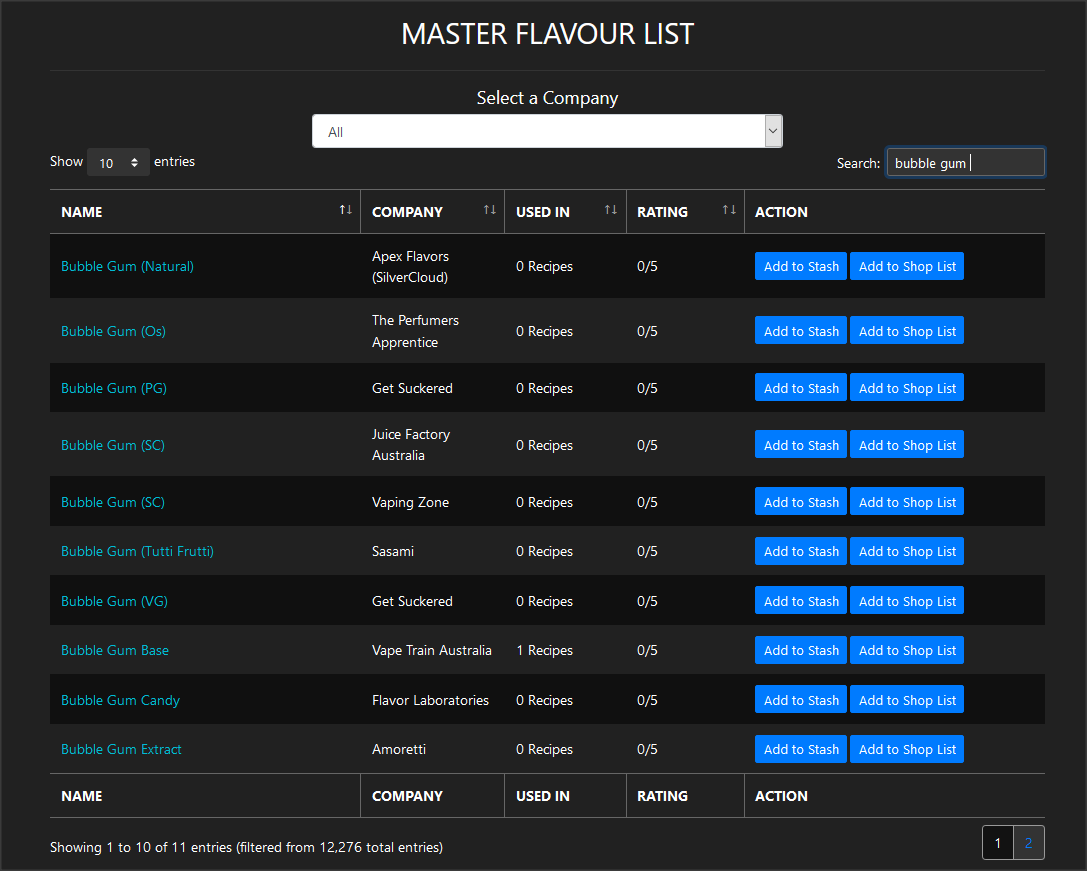 Remove the trailing space, 5 pages of results WITH Sobucky.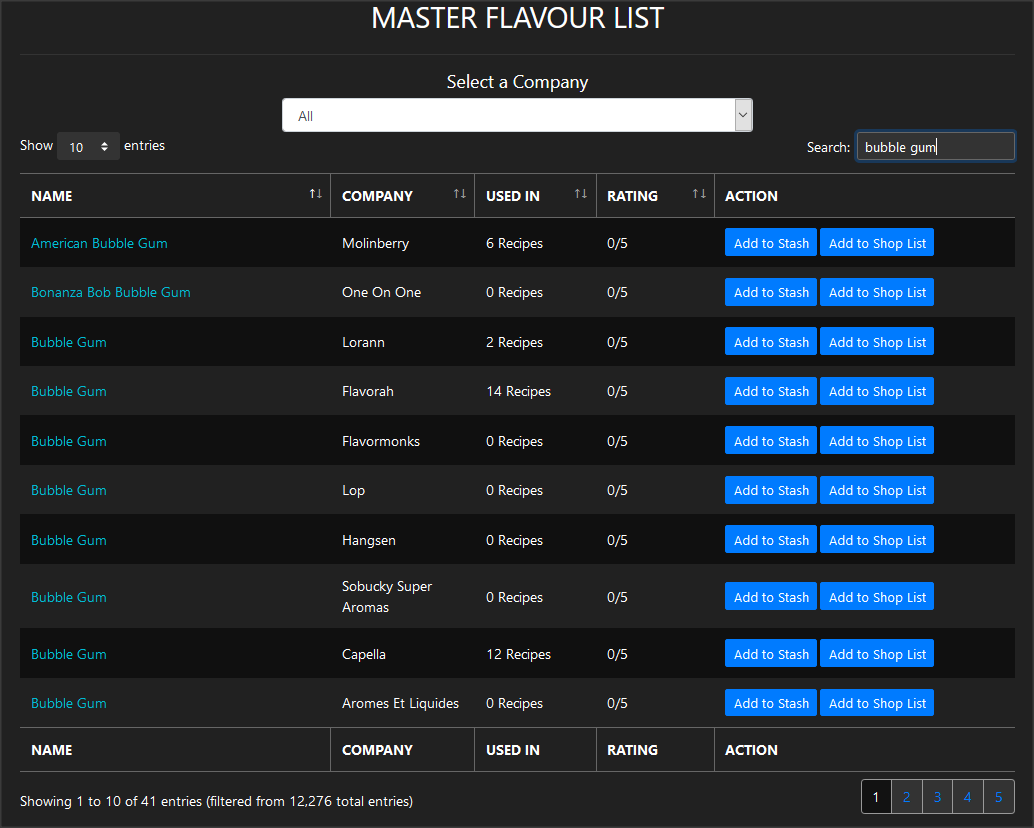 it makes sense that the railing space doesnt show the new entries as there is code to remove the trailing spaces some of the older entries actually have a trailing space that needs clean up, however most of the return you got have a space after gum.
Since we have no admin section for the flavours right now it is impossible to fix without going into the database directly
Anyhoo here is a better way
Ah shit @woftam, hehe, I haven't used the "Select a Company" yet. OK, RIGHT smack dab middle of the screen, ehhe.
is a drop down box no typing required.
The trailing space is picked up in flavours that have a space after gum so if you put the space there it will return only flavours that have the space there