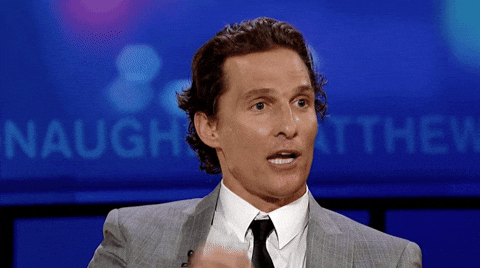 Now that I'm undergoing the mass fix of my imports (my SFT's mostly), I've noticed a few things, and have had a lot of members asking me how to do this, or how to do that, so I figured to take a BREAK (LOL) from my fixing, and post a few things here. This is NOT meant to be a full tutorial, BUT, some stuff that I've figured out the hard way.
Suffer so others don't have to right ??
OK.
Alright, if you are starting FRESH, you may NOT have as many questions, but those of us who are pulling in recipes (and SFTs) this can help.
Starting fresh, will be easier if your DEFAULTS are saved (yes, there's a checkbox), i.e. VG/PG, NIC, Finished Size, etc., but starting from scratch you get a blank slate. Please NOTE that my defaults are already loaded.
Now, I have a shit ton of SFT (Single Flavor Tests) that I save in recipe format, which looks more like a hot mess, AND, some of my flavors aren't in the CORRECT format. How do you know ?? If they say "User Defined". Now, this isn't the END of the world, but fixing them makes everything better.
Skip my saline, but the Medicine Flower Strawberry needs to be corrected. First you EDIT your recipe…
And since I know the VC doesn't like my (MF) after the flavor, I backspace it out, and start typing in "Medicine Flower", and the correct choice pops up, and I select it
Yayy, now my flavor it right, AND, if you have it (DUH) and have added to your stash, it will show in green …
Pretty simple, right ??
The next thing is IMAGES. TWO types. The FIRST, is the thumbnail up top that needs to be UPLOADED to your recipe (square sizes work best). First BROWSE for the pic you want, then make sure to UPLOAD…
The SECOND image you may want to add an image to the comments/notes part of your recipe, and you will have to LINK to that image. Not wanting to delve into image hosting, let's assume you're going to use IMGUR.
You can upload or drag and drop your image. Then, hit the 3 dots, and choose Get Share Links
Then copy the BBCode …
Then hit the insert/edit image icon …
Paste in the link you just copied …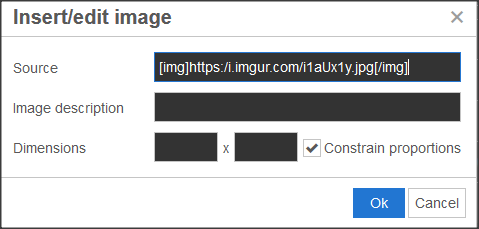 BUT, you MUST strip off the [img] and [/img] tags like this …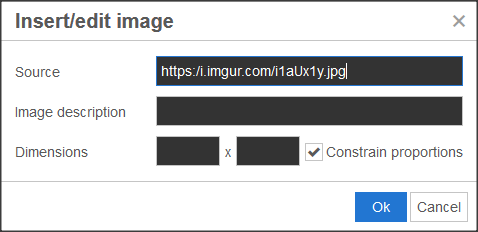 Then click OK. Done !!!
Adding styles like BOLD are simple, first HIGHLIGHT your text, and click the Bold (B) icon …
@grubby updated the buttons at the bottom to make it easier, where you can CREATE a new REVISION, or SAVE CHANGES.
LOL, because I screwed THAT up over and over, wondering why I kept having multiple REVISIONS for the same recipe.
First time, SAVE it, editing / updating it UPDATE it.
Hope this helps you guys out.
If you have any complaints, please call @woftam, or @Grubby.