@woftam If Glantz has a hand in the NZ regs then we may have a problem, however the highest rate of smokers in NZ are Maori, and particularly Maori women, this is generating a lot of interest from the Maori politicians who favour using vaping to help them to quit smoking.
So overall there is hope, as there does seem to be some sense in our law makers.
I would swap your Prime Minister for ours any day she appears to be a very smart cookie (from what I have seen)
Yes, she is far better than all the recent PM's in NZ.
You guys change your PM faster than I change my jocks.
Ya the power grabbing is strong in our politicians and it is an embarrassment to many of us - yet so many look past it i just dont get it
I reckon the average Joe, as long as he/she has a comfortable, safe life, with acceptable disposable income, they really don't give a shit about politics
Personalities and the possible mental state of politicians aside, there is a formula for getting things done. I was part of an organization that opposed Draconian fishing regulations here in California. A very smart man realized the consequence of doing nothing and founded a nonprofit and organized.
People were assigned to go to all the meetings and bring up the arguments that were pertinent to us sport fishermen. Had we not, nobody would have countered the radical leftists that wanted to do away with all sport fishing.
What you have to understand about the opposition is that opposing you is their religion and they are zealots. They don't care about facts and they don't care about helping people or if they hurt people. They only care about advancing their agenda and stomping out all that disagree with them. There is no peaceful compromise for them, and not even the chance of a rational discussion. The only hope I did see in the president's remarks is that he acknowledged the the vape industry is big and employs a lot of people and he is a business man.
Sadly I see nobody organizing to speak out. I see no groups staging protests. Signing online petitions is a great first step but keyboard warriors get little accomplished other than venting their frustrations.
Where are the hardware manufacturers? Where are the big juice companies? They have made billions. Unless a lot of people get on the same page, vaping is doomed.
Edit, afterthought: I get emails almost daily from all the big online vape stores. Not one said anything about the proposed ban other than Nicotine River. Pretty sad in my opinion.
Please continue.I assure you that I'm not attempting to be argumentative and am neither left, right or wear any other political label/pigeonhole that exists in this country other than disgusted citizen. As you said:
What page? Would protests be for our right to USE tobacco products or USE nicotine smoking cessation products? I think we need to be very careful that in our support for the industry that we don't wind up having vaping products and devices deemed cessation/medical devices and products. I think every one of us here have used vaping to stop smoking but our rights as adult private citizens have never been considered and are not even part of the equation. There is a reason spelled out in the Federal Register (published regulations) and in past high court decisions.
FDA DOES NOT HAVE AUTHORITY OVER US as private citizens unless we engage in actions within their purview, NOR to regulate cigarettes. If they did, they would have to remove them from the market as stated in the controlling court decision which I will qoute below.
"FDA regulates the manufacture, sale, and distribution of drugs, devices, combination products, and tobacco products under the authority of the FD&C Act. Although the regulatory pathways for each product category differ, each product category is subject to similar types of regulatory requirements. For example, FDA's regulatory authority for drugs, devices, combination products, and tobacco products includes authority to review and authorize the marketing of new products as well as to oversee product labeling and advertising. Thus, whether a product meets the definition of a drug, device, or tobacco product under the FD&C Act and this final regulation, the manufacture, sale, and distribution of the product are subject to the applicable requirements of the FD&C Act."
Manufacture, sale, and distribution.
@G-Fog questioned the obvious lack of logic of banning flavors except tobacco flavored nicotine products. Kindly consider this absurdity:
In 1996, FDA issued a regulation restricting the sale and distribution of cigarettes and smokeless tobacco to children and adolescents (the 1996 rule) (61 FR 44396, August 28, 1996). This rule included FDA's determination that it had jurisdiction over cigarettes and smokeless tobacco under the FD&C Act.The Supreme Court struck down the 1996 rule in Food & Drug Administration v. Brown & Williamson Tobacco Corp., 529 U.S. 120, 156 (2000), holding that FDA lacked jurisdiction over tobacco products "as customarily marketed." The Court found that Congress intended to exclude tobacco products from FDA's jurisdiction. In Brown & Williamson, the Court determined that tobacco products could not be made safe and effective for their intended uses, and therefore, if FDA had authority over them, FDA would have to remove them from the market, but that Congress had foreclosed such action (529 U.S. at 135-139). The Court also observed that Congress, in enacting statutes to regulate the labeling and advertising of conventional tobacco products, such as cigarettes and smokeless tobacco, had "effectively ratified FDA's long-held position" that the Agency lacked jurisdiction to regulate tobacco products "absent claims of therapeutic benefit by the manufacturer" (529 U.S. at 144).
All of our activism has been in support of the industry. I think its time that we act on our own rights and interests. Where are the hardware manufacturers? Where are the big juice companies? A very good question.
I've been watching this debacle roll out with intense scrutiny, still working on believing what I am seeing and trying my damnedest not to lay blame on someone, THIS is what everyone feared might happen if the Voopoos, JUUL's and Candy Kings carried on doing what they were doing and trying to make money from the younger audience, all it needed was a trigger, and those fucktards that came up with a way of making fast cash from THC carts was it. Trumps a business man, he's probably got a fuck ton of cash tied up in big tobacco and big pharma, you can smell the corruption all the way over the water, and his solution?..kill the industry that saves millions of lives a year, 'save the children' by stopping the very thing that's probably kept these kids parents alive? and taking away the livelihoods of thousands of families by destroying their business's?? wtaf. Kids will always try and get high, I don't think there's a single person on this forum that doesn't know that all too well, but killing vaping because a handful of kids made some dubious life decisions?..man, that makes literally no sense at all, he's making a relatively regulated industry into a very unregulated industry, this won't stop people vaping, but it will force them to start vaping black market, dirty back room mixing labs and under the counter unregulated filth, then what?..ban mixing supplies? ridiculous, it makes me sick to my stomach that you guys are going through all this and all the while we're selling flavored e-liquids in hospitals and putting advocacy posters up in doctors waiting rooms…and that's us??..the people who can't work out what the fuck 'democracy' means…
Sucks so many balls on so many levels, truly gutted for you all and the industry on a whole, it's a sad sad day.
I think you've got your answer there. They will just jump on the next money train that rolls along.
Well said sir

I don't care to debate supposed superior political systems or media created stereotypical characterizations denoting ignorance and incompetence of entire societies. Personally, I think the observations made by Edward Abbey covered things very well when he wrote that it "is not a romantic fable but the hardheaded realization, based on five thousand years of experience, that we cannot entrust the management of our lives to kings, priests, politicians, generals, and county commissioners." Is the American system broken?..FUBAR.
A reading of the above liked document should clarify that Congress is the problem. They acted to protect big tobacco and are continuing to do so. IMO lobbying FDA with pleadings to not take away flavors is akin to pointing the firehose at the garage when the fucking house is on fire.
If and when you sign the petition, make sure you check for the confirmation email or your signature won't count.
Well maybe people with sense are getting through, this was on twitter.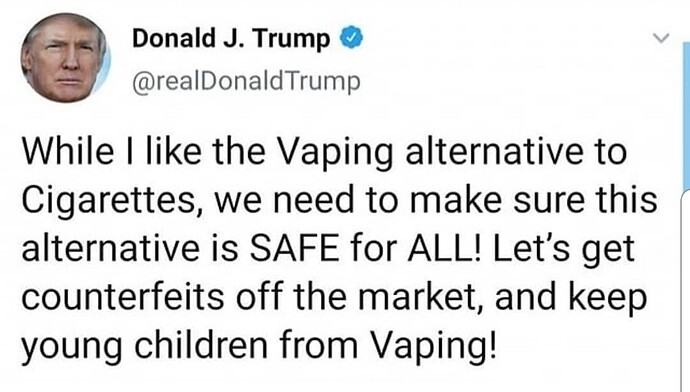 We still gotta keep the pressure on but this is a good sign.
Glimmer of hope maybe the other brain cell he has woke up when someone poked a stick in his ear and said this may cost you 2020.
Could be. It is pretty clear that he is driven by his narcissism and rides the changing winds of whatever popular opinion he can use for self gratification. However, he doesn't create laws or even sign a regulation. Very often congress, even his own party, tells him to fuck off and the high courts have ruled against him repeatedly .
Okay. Congress can create legislation directing FDA to regulate hardware. But they already have.
"FDA agrees that ENDS meet the definition of "tobacco product" if they are not drugs, devices, or combination products. The term "tobacco product" is defined in section 201(rr) of the FD&C Act (21 U.S.C. 321(rr)) to mean any product made or derived from tobacco that is intended for human consumption, including any component, part, or accessory of a tobacco product (except for raw materials other than tobacco used in manufacturing a component, part, or accessory of a tobacco product), and excluding drugs, devices, and combination products as defined under the FD&C Act. Unless they are marketed for an intended use that falls within the drug/device definitions, ENDS products meet the definition of tobacco product. Additionally, as discussed elsewhere in the preamble, if ENDS products are intended to affect the structure or function of the body in any way related to the effects of nicotine that were commonly and legally claimed in the marketing of cigarettes and smokeless tobacco products prior to March 21, 2000, they will be regulated as tobacco products. (See section II.C.) "
You could put that under the picture of every president for the last 200 years, actually.
He's just a pawn in this game, whether he knows it or not. Had this happened with another president, the same things would still be going on. @Mjag's tweet post is at the very least hopeful, but I do not see him having the power to really do anything meaningful at all, one way or the other. It is congress and the lobbyists that are steering the ship. He's simply at the controls, believing he is in charge yet not realizing the entire cockpit is on auto-pilot, and his inputs are actually having no effect.