Bubblegum, cinnamon, orange juice and anise… I gotta see what this is about! Thanks tons!
You won't be disappointed!
I usually let it steep for 3 days minimum but then again I don't have a homogeniser.
I'm excited to get another opinion on this juice!
Enjoy!
Missing the Marshmallow and the Anise you used. but Ill try with what I have till i make my next run to BCF, but they dont show the FW Anise at the moment either.

FW is the only Anise I have, not even tried another as this one is very good in my opinion. Same thing with the marshmallow but that is only in there to enhance the other flavours and for mouthfeel so I suppose a sub will work but I'm probably not experienced enough to be completely sure about that.
Dammit! Anise is coming over from NomNomz. ordered on the 18th. May be a minute! lol but I pulled everything else out and was ready to go. This is not starting to be a good day here. I planned on using OOO Marshmallow too.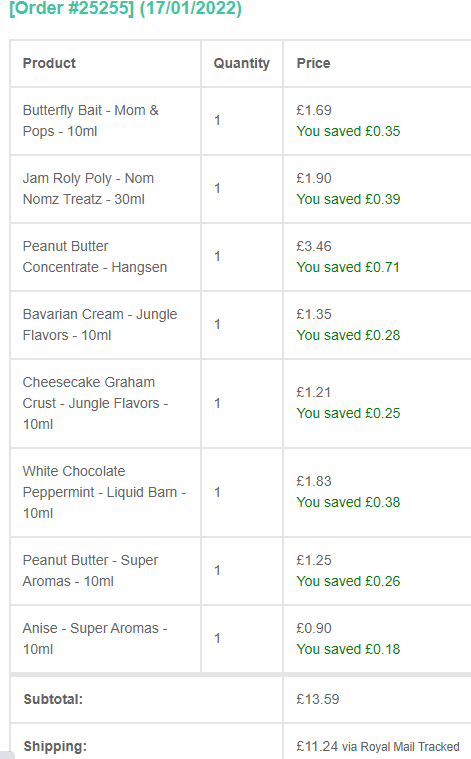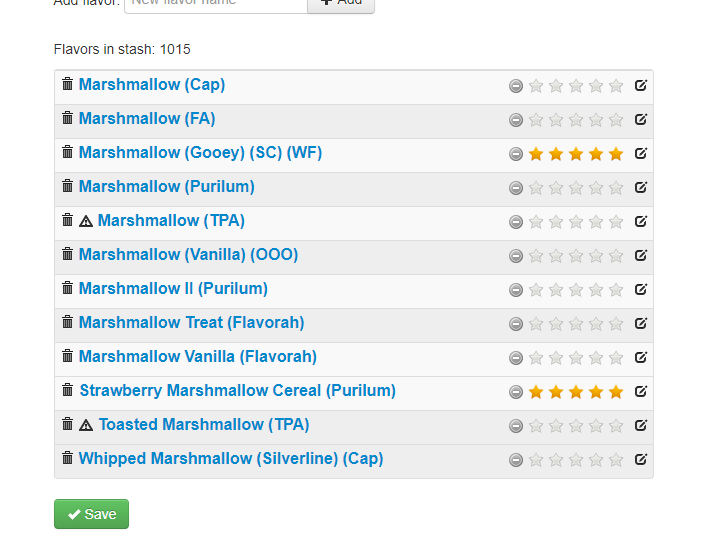 or the PUR, as ive not tried either yet. I need to start doing some SFTs. so little time. so many things I want to do! lol
It's worth the wait!
Also:

Just a few less than you

I haven't done a single SFT since I started this whole DIY'ing endeavour. I really wish I had the patience for it but I really can't be bothered to mix up 76 SFT's and steep them, then re-wick etc between each one.
I know right? I want to start on bubble gum but, like you, I have a million things I HAVE to do and a million and one things I WANT to do. SMH
Ya, that's the rub ain't it? That's why I only do one at a time. Besides, if you have a profile you like ie. Marshmallow, and cream and custard or whatever, you could do it that way instead. I have a base that I use for a lot of recipes and when I get a new fruit I have never tried I put it in my base (which I always have mixed). Then I find out if I like it AND what it's like with other concentrates.
This is what I've been doing lately since I mixed up a litre of my Spicy Spectacular (which is quickly disappearing).
I just did another modification to the Orange version last night which smells amazing. I've just stripped and cleaned my titan tank and in the middle of making some new coils(again) to go in it before I give this new one a try.
I've also got a version steeping which has Lemon, Lime and Caramel in it but I made this one from scratch so got another couple of days before I try it.
Oh, I forgot to say that I hate SFT too!


Especially, when people it's a must. It's not that important. I know several people that don't SFT at all and they are good DIYers.
Though, I must admit that I do SFT sometimes. I have 20 or so 5ml bottles that have been mixed but not tested.
I'm babbling
is the cinnamon strong? I like the sound of this recipe but I really dislike the spice. Would it work without it?
Nah, It needs the cinnamon unfortunately. It's the anise/cinnamon combo that is the main component. It does alter the cinnamon'ness quite a bit though so maybe you'd get away with it. I'm not that sure though as I've been vaping this for so many weeks now so haven't really tried anything else with just the rich cinnamon in there on its own for quite a while.
Just want you to know(if you didn't already) that your coil's should last for month's with a little tlc, Andrew. Read above, and below this

post for comment's from other's as well.
Oh I know Brian but thank you!
I'm still experimenting with different coil id's and sizes and materials so thought I'd make some different ones since I was re-wicking and cleaning the titan tank anyway.
What's funny is I ended up making pretty much the same one's that were already in there. Mainly due to the following:
I'm only running my titan with 2 batteries at the moment until my budget allows me to get a bunch more (I own 6 18650's in total currently). I'm rotating 4 in my titan, I use two while charging 2 and of course I have 2 in my L200 for when I go out somewhere. So I'm not using the huge coils that I initially wanted to because I'll run out the batteries before the other two have finished charging. Hope that makes sense (half asleep here).
No worries…I get it

Just sounded to me like you were tossing em' when they got yucked up.
Just reading through my reply to you Brian, now I'm actually awake and I must say, I need to stop writing stuff literally 10 seconds after waking up in the middle of the night.
No idea how I ended up waffling on about batteries when the subject was coils

Sorry about that.
You were right though, I did in fact just chuck the coils in the bin, not because I was unaware they could be cleaned but because I was just lazy and couldn't be bothered to look for something to put them in while they waited to be cleaned. Also I just wanted to get on with cleaning my titan tank so it would be sparkly clean ready for the next flavour.
Again though, thanks for trying to be helpful Brian. It is very much appreciated.
It's all good!