https://list-manage.agle1.cc/onlinelink/5093736523563008/5845787502051328/PBXHWo1PHDnoJ?ns=liqnicwholesale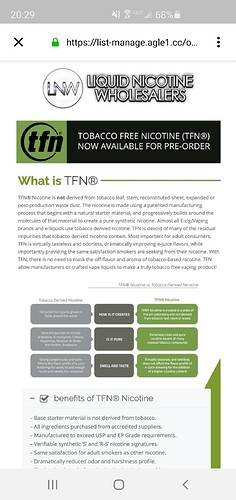 I have considered it in the past but it is a bit prohibitive price wise but synth nic is not easy or cheap to make - I suspect they are getting it from either the company in California who make it but more likely from chemnovatic who released their synth a few months back. The company in Cali was the one that tried and failed to be exempt from pmta due to synth nic I am not sure where that law suit is so I am not sure that synth will bypass any pmta either (I think the appeal is still pending).
I dont know much about synthetic nicotine , I would trust a company like Chemnovatic though . Is the only purpose of getting Synthetic to be able to have something similar if nicotine became hard to get ? My thought is that i would rather have the real thing if I can
it is not derived from tobacco and the argument would therefore be not subject to PMTA - I will find the law suit when i have the chance and see what is happening
So…, dumb question…, I haven't really been in2 the news or anything… Can I still buy nicotine?
Yes… where do you live ??? depending on where you live it may be hard to get…like if you live in NY a lot of companies have stopped shipping to that state
Sure but no one knows what the pmta is going to do to Nic and it is due very soon so I would get a wriggle on
The PMTA is for finished products though right ?? Not the individual components ???
Yes as far as I am aware but I did read somewhere that retailers may be effected but not wholesalers - there is so much up in the air noone really know wtf is gunna happen
Thanks guys…, I'm in Tennessee…, though of ordering some from river supply
Usually Calli shit is shipped in few dayz
Very True and Great points…Unfortunately DIY mixers can't buy enough to keep these companies whole…I do need to buy more Salts …I have 4 liters of FB but the salts go so fast bc people I mix for want the highest I will go which is 20 for a person just getting off the cigs and I taper them down to 10 pretty quick without telking them so its not in their head…
Fb…, haven't gave salts a shot except in commercial juice for pods…, only thing is salts kinda choke me up
What mg do you vape with FB? How high of Salts do you buy ??
I have an L of FB left…, but a few ppl have told me salts in place of FB is good… reallysmooth… Idk tho…
Yes…If you are Vaping Commercial liquids with salts id imagine its pretty high , I get choked up as well when the NIC is that high …If you Vape say 6mg FB and use 6mg salts you should not have the same problem as you do with a higher salt mg from commercial liquid
Appreciate it…, I'll keep tht in mind