A spot to release your frustrations on shit gear.
I'll start with the Augvape Merlin Mini RTA. Man what a leaky son of a bitch. Anyone else fall for the hype on this one. Not impressed at all…
Vapergate Mason Dumptank 30mm RTA. Worst vape purchase ever for me as it has a swing open fill like the Smok TFV series tanks that gets loose over time. Vapergate must have known this as they included spacers to put under the rubber seal to tighten It back up. The only problem is it continues to get loose every time you add a spacer. Once it loosens up you lose pressure in the tank and dumps all your juice. Will work great for a week or 2 then leaks, put a spacer and again great for a week or 2 then leak…over and over until you just have a pile of shit that pisses you off…lol.
I even spoke on the phone with the owner of vapergate and he said all these people don't know how to wick. That pissed me off and will never buy another vapergate product. I told him how can it be that the tank works fine for 2 to 3 fill up's with the same wicking then miraculously that same wicking goes to shit overnight and you got a soggy mod under it. He had no answer for that.
What makes it worse is I enjoyed using that tank. A friend of mine bought one too and was loving it for a week or so until the same thing happened to him. I remember going to a vape show with him and he brought the Dumptank with him in hopes that Vapergate would be there…He was more pissed than me…lol
I hear the 40mm version doesn't have the same problem but wow did I see a lot of people have the same problem with the 30mm version…Just a POS

I never bought the mini as I wasn't overly impressed with the original Merlin.
I am digging through my dustbin of vaping history. Looking at all the hardware that is banished to storage containers. Some is just outdated and some was just bad.
My first entry is the Gigue Dolphin. It was as far as I know the first rebuildable ceramic coil tank. Right out of the box with the prewicked tank it sucked. They packed the cotton so tight to prevent it from leaking that the flavor was muted. Rewicking is no easy chore and if you wick it more lightly you get better flavor but you get leaking and spitting.
Unbelievably, Flawless rebranded this poor excuse for an RTA under their name calling it the Tug Tank.
Ha Ha pffft BWAHAHAHAHAHA… sorry I just looked on Vapergate's website: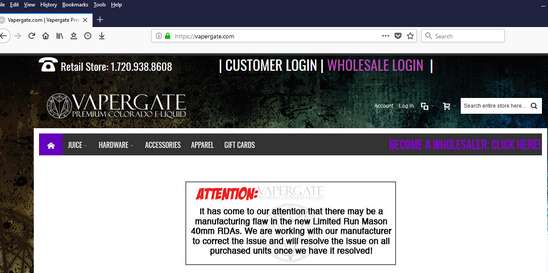 The Stentorian AT-7, dubbed the ultimate mod for gamers and computer geeks because it looks like it has a water-cooling pc system. Looks is the word here.
Geeks like to fiddle but there's noting to fiddle here. It reads the resistance of your coil and adjust the output for you, no fiddling allowed.
Not much battery life either.
It is over priced and if I hadn't won it in a contest but actually payed for it, I would've been royally pissed


http://thecloudyvapor.com/product/at-7-box-mod-stentorian-wotofo/
Oh ho hooooooooo!!
This one is bound to light some fuses!! LMFAO
Love it Grubby!!!


Not laughing at your pain, but at the irony.
At least they named it correctly:
Oh there are a few things i could add about the dumptank - like the "stainless Steel" pin that the top cap swings on getting rusty.
I do like the look of it but i had much the same experience with it the perfect wick job after one or two tanks became a torrent of juice on the mod. I gave up on it after a little while it just wasn't worth investing more time on.
Dot Mod Petri Tank was something i liked for a time but changing coils or rewicking was just a pita.
Dang I am glad I skipped that one. I love playing games and building my own PCs, but I hate unneeded lights and crap on my mods. Its a mod not a mobile club light show.
Lol, no way, a friend of mine who we swap out vape stuff with just told me today he was going to give me a AT-7 to try and I will give him something he hasn't tried…the bastage

Ehhhh, even a bad experience is an experience and it saves us money swapping vape gear and keeps the vape fun going.
@Sprkslfly you got that right brother, the irony of the name is funny

@woftam, did you ever figure why the DT ultimately loses pressure and dumps like a sieve? Someone was telling me it was the bottom o'ring but didn't make sense since it is static, the moving part that made sense to me was the swivel for the top fill.
@Jim22 at least VG is finally taking some responsibility, I still will never buy one of there products again based on how the owner treated everyone who had a problem with the DT, an expensive tank.
Ya i think it is the top fill as well the silicon fill gasket on mine used to get juice in between it and the cap. I would close the a/f and check it every so often as soon as i saw juice there i knew it was gunna dump.
Great idea @Eddie

Hcigar VT75 - bendy frame, shit connection, battery drain, lacks power
Arctic Dolphin Arthur - Had 3 of em, all 3 fell apart, one blew blue smoke out the vent holes…
Sigelei E1 was landfill in a box. Battery cover was the cheapest, thinest, plastic I have seen on a mod. It would fire sometimes and sometimes not. Never got 10 vapes before it decided to reset the wattage to 10W.
Wismec Predator had nothing protecting the mod from ejuice entering the mod and fouling the fire switch. Constant misfires and vapes that were cut off mid vape.
Eleaf Leche atty with rba gurgled, spit, leaked, it was more like a cauldron than an atty.
Yeah, that was disappointing, had 2 and got rid of both of them. You would had to clean the threads on the 510 as well from time to time or it would get all wonky. The DNA75 was one of the worst chips Evolv made as well but they redeemed themselves with the 75C, just wish they upped the efficiency.
Just cleaned all the threads earlier and it now kind of works again…
I had to put an o'ring under my 510 as sometimes the 510 plate would screw off with my tank…I would take off a tank and think…were the hell did the 510 threads go…lol. The o'ring also helped to keep the 510 plate slightly elevated, sometimes it would go lower than the top and cause connection problems. Had to work on that mod more than vape it.
I use a hammer on mine, works a treat…
Here is my next entry for your consideration. I present the Eleaf ikonn 220. Who cares if the tubes for the batteries are too tight? Ripped battery wraps? No big deal right? Luckily I only paid $10 for the kit.