Yes, the heat for the recipe. Thanks Sd.

Same question here @Rocky02852, as I've been looking around at "hot plates" but didn't see any I liked. I wonder what @woftam uses.
I like using a Sous Vide but any method will work with a thermometer probe.
Yeah, I've only tried heat steeping ejuice with poor results seeing how I love to Nuke things, it didn't turn out well;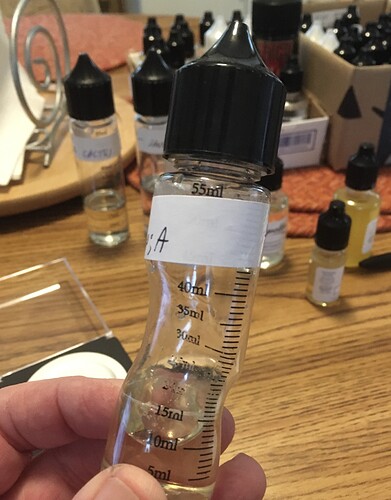 Now from what I understand, you only need to heat the VG prior to homogenizing.

Roger that @SmilingOgre, and @Rocky02852. I barely dabbled in heating a WHILE ago, but I KNOW I overheated my flavors, and received muting. As always, typical guy, never read the instructions, just winged it.
Ah ha, knew I had heard that before,


I bookmark this 'cause my memory aint sh*t anymore

From everything I've read, it does appear as if the thick VG is what needs to be loosened up.
ROFL, Um, ya, the nuker is probably last choice on the list. I only heat the VG. VG is the problem as it is a poor solvent and is thick. Getting it up to 60C/140F makes a HUGE difference for it to become a "solution" with other ingredients.
You should have seen the Cat


.
.
kidding of course

I can't recommend an "exact" temperature. I heat only the VG. Add it last to the mix and homogenize immediately. Granted, that VG is cooling as it enters the vile with the unheated liquids but my results are excellent and I can tell just by watching that the blending goes very well. This is where anecdotal evidence is king. If it ain't broke, don't fix it.
This one is the beast. Great little unit. Also turns out some fabulous dinners to include a Porterhouse that is to die for. Not bad for people snacks either.

Thanks for the link, and they even have a $5 off coupon today!

Heating the vg, with no flavors will be best…
We all know nic and flavors both "age" and that if you ever experience buying a large amount of flavoring… you can watch as the weeks and months change it… from looking clear to amber etc… just like juice. You can really tell if you have had a flavoring for say 2-3 yrs and use it with a favorite recipe… then go purchase yet more of that flavor… it might seem to be a bit "off" or taste different.
Well the fact is, even flavors change on creation. If this might help, say you love a strawberry… once batch might have components from France, for at that time, those were the best. Then let's say there was an accident at that lab that made the "x" compound that made that strawberry taste like it had color. No more colored "bits" from that lab could be produced because of the accident… so the hunt for that one compound begins and say it's found in Mexico now… but the colored bit is now more of a rosey taste than a pink taste… Flavors change even from lab creations… effecting the taste of the flavor… all of the time.

nic ages and breaks down… it helps to mature the juices, so all of this holds true.
Good move on only heating the vg, @SmilingOgre

Depending on everything this week, will try to send you that shot I sent Sd for the cheese kake… I know he has had it mixed up now for a bit

And that is caused by nicotine degradation?
Nicotine oxidation which begins when added. I have let mixes set for months that look like the day I mixed them. Bizarrely I have quoted FLV many times on this though was saying this long before they did publicly:
When I buy commercial juice on the rare occasion to clone or whatever I always buy it without nicotine. Have learned over the years that the 0 nic juice will stay good for years, the same juice with 3mg nic will have a much shorter shelf life.
This is why we are all so careful with the storage of nicotine, it is what will degrade and shorten the life of juice over time. Now that oxidation may be desirable to some in a certain time frame but it most definitely doesn't doesn't help mature juice in a positive way.
I am using the hotplate on my mag mixer to heat the VG, however there are others using a sous vide, or coffee mug warmer, and no doubt other methods as well.
As to best, I have no idea, I suppose the one that works best for you.
Ultra low temp freezer, agreed @Mjag.