BCF is having a 20% off Flavorah sale this weekend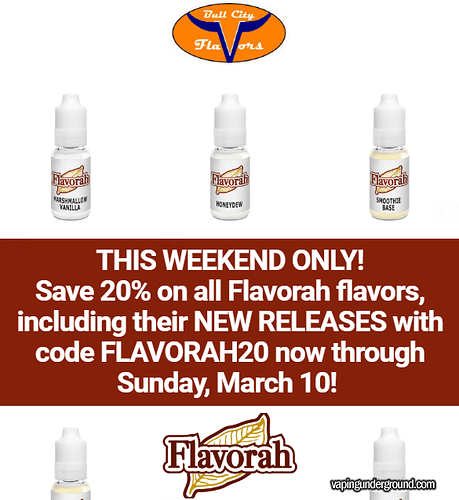 Thought it would be good to start a thread on what flavors from Flavorah are must-haves from them.
I am still a newbie to Flavorah but from what I have tried so far Milk & Honey, Sweet Coconut, Nectarine and Rich Cinnamon are ones I love. Vanilla Pudding and Vanilla Custard both seem to have a lot of potential but I have not gotten into using them much yet. Popcorn is one of the better popcorn flavors I have tried. I am about to give up on Marshmallow Treat and Toffee, the toffee has little to no resemblence to toffee for me and Marshmallow Treat just tastes like marshmallow on steroids but might find a use for it in the future.
I know @Sprkslfly has mentioned Pound Cake as a must have, going on my list. I wanted to try out there new Marshallow Vanillla but it is already sold out and besides, it was just under $10 so wasn't gonna buy it anyway.
Here is my potential shopping list in the cart at BCF, any I should add or dump from the list?
Pound Cake-FLV
Frosting-FLV
Sweetness-FLV
Peanut Butter-FLV
Whipped Cream-FLV
Marshmallow-FLV
Cinnamon Crunch- FLV
Peach Gummy -FLV
Tropical Punch-FLV
Butterscotch-FLV
Cupcake Batter-FLV
Wild Melon-FLV