Yeah, I just saw this last night. Gotta read up on it. Not that that'd help any.

We KNOW something's not right…I can't help but to keep thinking of that video of good ole' Klaus! He sound's very sure of himself when telling the audience 'you will own nothing'.
I first thought something on a grand scale was happening, when not one judge would hear argument's about election fraud after the 2020 US election.
I can see why he'd be so confident looking at the list of members he's got all over the world in places of power.
Stock of BlackRock is owned by Vanguard! Owners of stock of Vanguard are unknown.
I'm sure it'll probably starts with an R and ends in othschild.
The shares of both are owned by each other. Literally everything you buy, and I mean everything, they profit from it.
And that's just the tip of the iceberg! Foundations, unions, boards, you name it.
They are all branches, as they call them.
What is necessary is exposure of the tree, and get to the root of the matter, else it will just spring up elsewhere.
Did you know that Planned Parenthood is just an acceptable term for a very old eugenics program that's been going on in the US way before anybody ever heard of Hitler? Population control is the new name for the old evil.
We've been suckered by these people long enough, me thinks.
Yeah I know all about that mate.
I just ignore it all now and stay ignorant to it or it just depresses me cos there's nothing we can do about it.
You nailed it, @Jose ! They own controlling shares of Healthcare/Hospital, Food, Pharma, etc.
Can you name one thing they don't own?
You know I wasn't talking about that

But you're right dear, and that's all that matters. Keep your back straight and most of all, FEAR NOT!
Know yourself, and there's nothing they can do to you.
Freedom has got fuck all to do with movement, it's a state of mind.
Death comes to all of us. It's just a change of vibration. Nothing to fear there.
We can really only feel pity for those who do not understand. Hate is such a waste of time.
I learned that from my mum. She did nothing but, it is destructive and doesn't get you anywhere.
So why is the world so messed up? I just realised it is because people are messed up!
Most of them are still dreaming.

Jose, The only thing that comes to mind are your/my small regional farms…think wheat, fruits, eggs/chicken, beef. Other than that, most all of the products that we use on a daily basis are manufactured(at least in part) by the companies owned by BlackRock/Vanguard! Right down to the chemicals that go in the city water I drink, and(dare I say) others that go into the flavor concentrates we mix with!
I have questioned authority since forever…it's a way of life for me, and helps me to "keep my eyes open" to those who might wish me harm, in one way or another.
It can be a difficult thing to wrap your head around the fact that there are evil people in places of power, that wish to control the masses(tyrants) by spreading fear(read about Hitler) and get us to willingly give up our god given rights to…
For me…
That's why they are trying to chase farmers of the land and fucking around in Ukraine. Lots of grain they have there, next step is scarcity. In combination with rising energy prices and lack of diesel…
It's the Western societies they are targeting now. Most of them spoiled rotten.
Never had any hardship in their lives, and can't imagine it is all going to end.
Softened up by government aid and subsidies. Most will readily exchange their freedom for continuing security.
As George Carlin already said a long time ago: we have temporary privileges.
I listen to people talking around me and they really have no idea what's coming.
Corona is over and we will just go back to normal.
We will never do that and, might I say, thank God for that! That previous 'normal' was extremely criminal.
I just want to have a say in what the future will look like, and it is damn sure nothing like they envision.
Over my dead body


I think I've said it before, but I'm sure this is their last bid. Win or lose, there will be no other.
I was raised in a christian family and know the stories, including the Apocalypse.
It's been predicted and feared many times in history. Many people believed it was just around the corner. There's been so much hell created on earth with all those wars, I'm sure people throughout the ages were convinced the world was ending. We've never had the means to actually do it.
We do now.
So here we are. In a way it is an honour to be present in this time. IF, and it's a big one, the time machine was ever invented, you can bet your ass that there are a lot of time travellers walking around and watching first hand.
The other big IF is, will we survive?
Meanwhile, I'm taking some more advice from George Carlin and have my popcorn ready for the freak show, I have a front row seat

I will stop jabbering now, I'll end up writing a book.

percent

Interestingly enough, there's this Investor guy on Youtube (credible I know but who else do you trust?)
Basically, Canada has Canadian Pension Plans and Employment Insurance that gets taken off our check for retirement or when you're out of work, good thing, but what he found out is a percentage of the money going into this is being invested directly to Blackrock and Sister Companies that funnel directly to the WEF.
Our Finance Minister Chrystia Freeland, whose Father Heiled Hitler, is in charge of these things and as of January first, they increased to over 300 a month. Interestingly enough she's also a Chair on the Board at the WEF. Seems like a conflict of Interest to me.
Oh and another thing, she tried to take out 2 Billion dollars to buy stocks in a company that doesn't exist.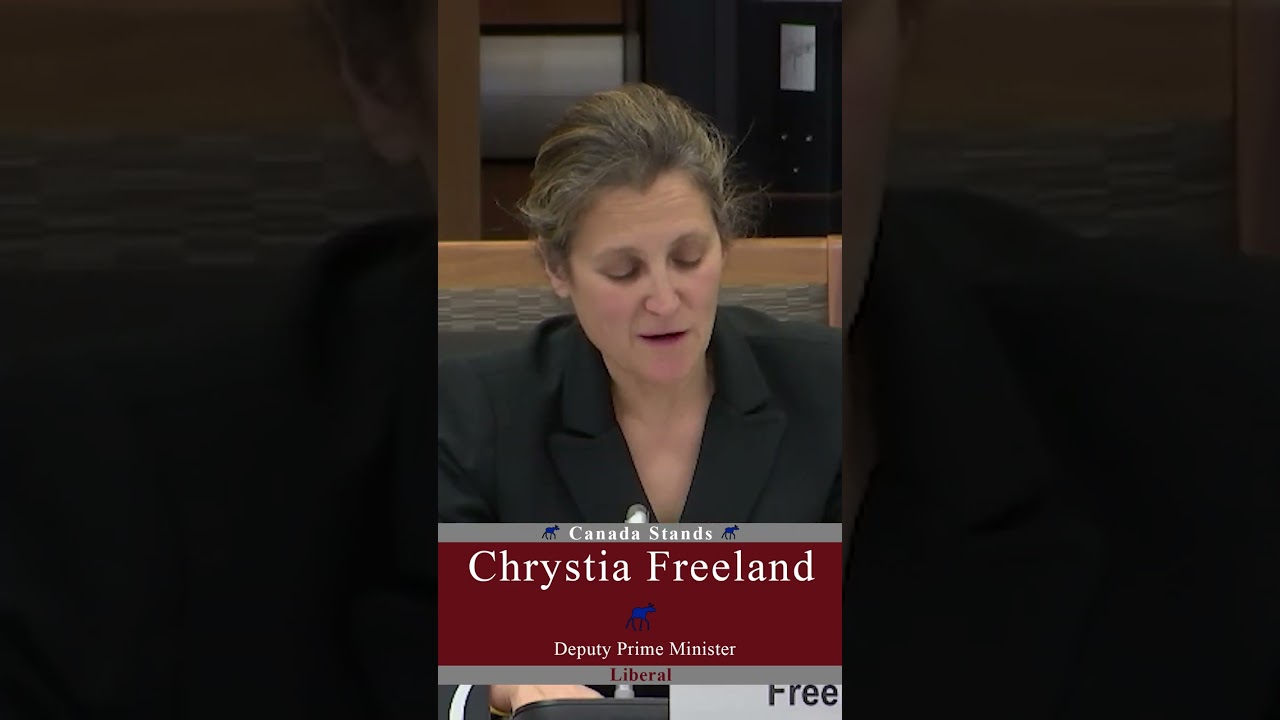 These funds invest in anything. Weapons, dirty energy, you name it.
Most people don't bother to check what their pension fund is doing with their money.
On top of that in this country people have lost about 60% of their savings with the lie that the euro was worth guilder 2.20.
They are both worth the same. Add to that the blanc cheque to the banks in 2008, fractional banking…
The list of thievery resulting in misery is endless.
Hang em High
you do post the most interesting and relevant things joel; it is incumbent on all of us to resist the nwo agenda, the vax agenda and the digitisation of the people…down with the wef, down with the nwo and down with their anti-human agenda…may God curse them all to Hell