Whether purchased, or homemade, let's see them. If purchased, share info. If made, send me some lol.
Jesus…I'd have to dig pretty far back for my builds I think

Holy hell. Did you make those?
Yeah, about 3 years ago tho, I rarely try anything fancy these days, straight dual or triple core Claptons at best…got lazy lol
Man I'd have to get high as hell to wrap my mind around that. Seems tedious.
Beauties there man. I tried a NUMBER of times to do Aliens. GRRRR! Really nice work.
Thanks brother

Very nice work indeed sir! I used to make a lot of coils but dont get the time at the moment

I did try to do a staggered clapton once and it turned out pretty good but for all the effort I didn't like the way it vaped

so standard dual fused is about as adventurous as I get now
Thanks man

…wish I had more time and enthusiasm to get into it again
Very nice work Pugs, I have neither the skill nor the patience for those works of art my friend
Cheers Gary

actually feel quite guilty putting them up seeing as they were so long ago but…It's kinda made me want to get into it again

It's definitely an art! No Coil art from me, I just use tri-core claptons on a roll from Wotofo

But I did recently receive some coils from Dave Flowers, not sure if he's a member here

(
@Daveflowers9
)
daveflowers9 on insta
Oh My God!..I love you,Man


Sorry, I had a moment after looking at those beauties…

Wow that's some impressive work there!

More like my standard of coils at the moment, need to find time to get back to making some fancy ones

Wire looks like you could make a necklace out of it.

Single coil deck.for the plus v2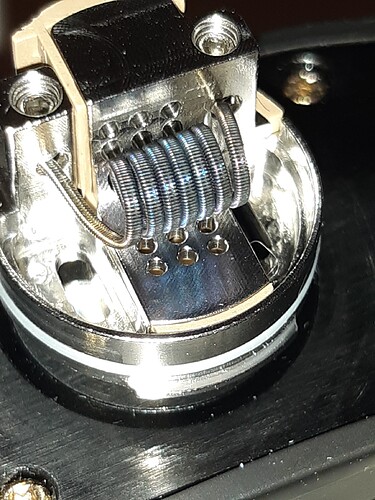 Not one of my own coils but still a bloody good vape for a single coil, got a couple of reels of vandy vape fused clapton wire 2x28ga x 35ga cheap

That looks good mate. I have the single coil deck too and have been wondering what would be the best coil build to use as I've never built on such a big tank before and Im still a bit green when it comes to coils. What coil ID are you using? I made a 3.5mm ID but I've seen some people going quite a bit bigger.