Oh, they have them on their own shop, not noticed them on there.
Gonna have to grab a tshirt and build mat from there at some point as well as one of these.
#steamcravefanboy

It shows as out of stock though. I'd never seen them before.
Me neither. Saw it on a German site but they don't ship to the uk.
It take it you want one now too?

SD, show @Illogik that 3D printed tank holder…was Voorhoose, or something like that?
Aha, found it…this interest you, Andrew?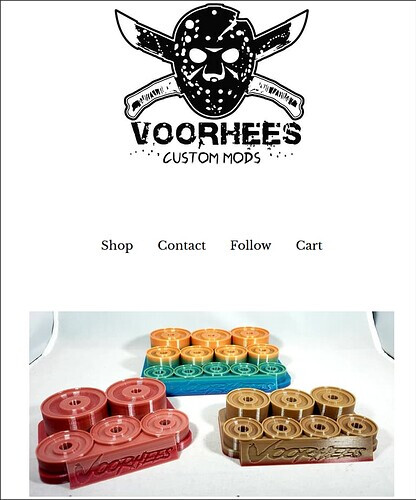 Looks good yeah but I'd rather have a steam crave one! I take it those are from the US?
Yeah…forgot, your across the pond.
@Illogik how much is the German site charging for them ?
In Stock apparently and 19.49 EU.
They only ship to inside Germany though
Says they have the SC build mat in stock too.
I'm off to Germany lads, laters!
Why buy one, when you can DIY your own… wood or aluminum, wood is easier to fabricate, and drill holes, but you can do the same with scrap aluminum from scrap yard. Hardwoods would last you the longest… you can buy all kinds of exotic woods online, Burles and more, check your local hardwood shops for scraps
I don't have the tools needed to do something like this unfortunately. Probably don't have the skills or patience either

Tools

can be done with a hand drill and a drill stand, under 50 bucks new for the hand drill and drill press stand , pawn shops and second hand for less. and you can get a jig saw for under 40. There also maker shops in many areas… that have all the tools needed and even will help you make the idea you have. Im adhd, no patience at all lol. Dont talk your self out of what could be fun, before you try
I have a drill, and a jigsaw. Don't have a drill press stand. I mainly wanted this because it's a Steam Crave one. No other reason. I'm a bit of a fanboy of theirs currently

I can understand that … but since its out of stock, you could make one and have someone engrave the logo on it. OR a 3d printed version with steam crave logo printed on it… my local university has a 3d printer lab, they will make you what ever you want. You just pay a small fee for the raw materials, and provide the cad drawing
That's something to consider for sure. I actually emailed SC the other day and asked if they have an ETA on a restock of them. Hoping they at least reply…
Here is another source for cool stands … not steamcrave logo, but some cool shit that most dont even know exist Atty Stand | Etsy UK