Hi Vaping Community, In this review I take a look at the Essent SE 80W Box Mod from ZQ Vapor. The ZQ Essent SE 80W Box Mod was supplied for the purpose of this review by Rico from ZQ Vapor.
Introduction
ZQ Vapor are still a relatively new brand and under the SKEY R&D umbrella who's services are utilised by the likes of Aspire and iJoy! Manufactured by Aspire the relationship seems very similar to that between BP Mods and Dovpo apart from ZQ Vapor do their own marketing. So far ZQ Vapor brought us the Xtal which is an excellent Caliburn alternative, The Trio a MTL RTA with Tri- airflow systems and the sibling to this the Essent DNA 75C Mod which accommodates either a 21700 or 18650 battery!
The Essent SE 80W Mod is a smaller device compared to the original DNA version accommodating an 18650 only, has the proprietary ZQ Chipset but maintains the same high end build quality and look!
Hosting Wattage, Auto, Voltage, Bypass, Curves and full TC Suite modes the classy Essent SE is well worth a closer look!
---
In The Box
Contents:
1* Essent SE Mod
1* Type-C Cable
1* User Manual
---
Aesthetics and Ergonomics
The Essent SE Mod came in very compact cardboard pull out draw style packaging with a picture of the device on the front and a round sticker showing the colour of choice to the right top corner, contents etc are listed on the reverse. I received the Pacific Blue version which consists of a Pacific Blue main Aluminium Alloy chassis, with Stainless Steel buttons, exposed battery tube as well as top and base Stainless Steel plates! The options are Black, Full Black (DLC), Gunmetal or Pacific Blue.
The device is very plain looking with classic lines, the SE version in my opinion looks better than the larger DNA option due to both it's smaller size but also a subtle aesthetic carved design towards the front either side, within the design on one side we have "ESSENT SE" carved into the metal!
The face of the device has cut edging to add more aesthetic character yet no sharp edges, top central we have a protruding round fire button in the same colour as the main chassis with metallic edging which adds a quality aesthetic touch! Towards the bottom lined up vertically we have two elongated protruding rectangular navigational buttons also in the colour of the main chassis and with the same metallic edging. Underneath the navigational buttons again in a central position we have a Type C USB port and between the fire and lower buttons the colour display!
The spine has an exposed Stainless Steel battery tube which adds to the old school classy look but also helps to make the device ergonomic to both hold and use. To the base etched into the Stainless Steel plate we have both branding and safety marks, we also have an old school style battery plate which screws into position to secure the battery. Moving to the top Stainless Steel plate we have a 20mm slightly raised 510 plate with spring loaded, Gold plated 510!
The Essent SE is one of those devices which photos and pictures doesn't quite do it justice, in hand this is such a well made and in my opinion classy looking device! Also when shaking it gives no button or battery rattle whatsoever!
---
Essent SE Specs and Features:
Size: 42* 25* 83 mm
Material: Stainless Steel & Aluminium Alloy
Battery: Single 18650 battery(Not Included)
Chipset: ZQ Vapor proprietary chipset
Output: 1-80W
Modes: VW, Voltage, TC(NI200, SS, TI), TCR, CPS, Auto
Temperature Range: 200℉-600℉/ 100℃-315℃
ZQ Vapor proprietary chipset
Replaceable Battery Tube
Compatible with up to 25mm tanks
Screen: 0.96 inch TFT colour display
Charging: Type-C
Charging Current: 2A
Thread: Spring gold-plated 510
Colours: Black, Full Black (DLC), Gunmetal, Pacific Blue
---
Fitting The Battery
The Essent SE accommodates a single 18650 battery which slides into the battery tube to the rear of the device. We have an old school battery plate with smooth threading and central section for grip! Looking inside the tube we can see positive vibrantly labelled and on the underside of the battery plate negative labelled in White, we also have a large central contact section for good connectivity, really can't fault anything, full marks!!!
Also the battery tube can be unscrewed and removed so I would guess there will be alternative tubes available!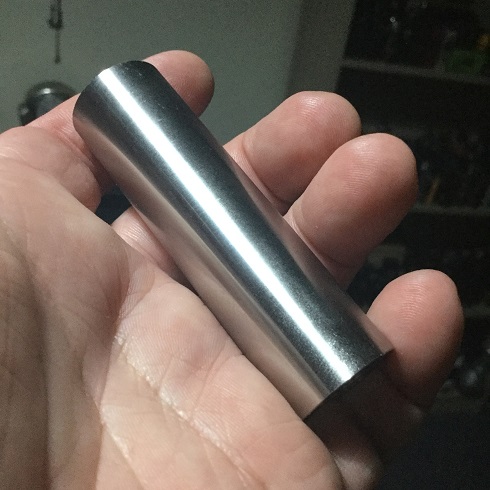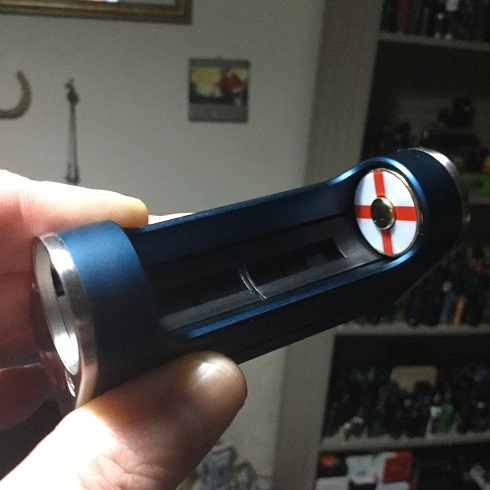 ---
The Display
I have never known a display that has such small font yet is that sharp I have absolutely no problem reading all the information provided! Apart from the CPS (curves) working screen the display looks similar in each mode but obviously focuses on Voltage in Voltage and Bypass modes and Temperature in TC mode! I will describe the display in Auto mode as that is the default mode!
Top left we have the battery status bar, top central battery life as a percentage and top right a padlock in either an open or closed position depending on the status of the navigational buttons. Underneath we have the mode which in this case is Auto and then below that the best from and to wattage recommendation, then underneath in much larger font than the rest of the information, the wattage!
In the bottom half of the display we have lined up vertically first the Voltage followed by the resistance and finally the amps. At the very bottom of the display to the left we have the puff count and to the right vape duration!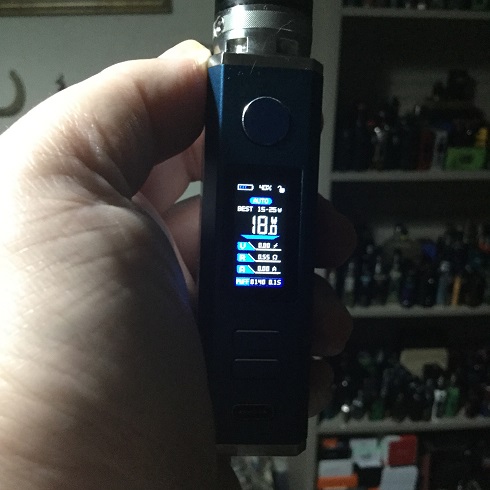 ---
Operating The Device
The Essent SE is the usual 5 clicks of the fire button to turn on and 5 clicks to turn off and by default it will be in Auto mode but it does remember your last settings. Pressing the fire button 3 times locks the navigational buttons but the device will still fire and fire and down together resets the four digit puff counter.
In Auto mode it will automatically set to a suitable wattage for the resistance of your coil and also display suitable from and to wattage parameters, the device will allow wattage adjustment below the from wattage but will not allow adjustments above the upper limit instead you will get a "Max Wattage" message on the screen!
Pressing fire and up together enters the menu giving 3 options, Mode, Colour and brightness. Choosing brightness allows you to adjust the brightness of the display while choosing Colour allows you to change the colour of the accents on the main working screen, the options are Blue, Green, Orange, Red or Purple.
Choosing Mode gives a list of options which are Auto (default), Wattage (standard variable wattage), Voltage, Bypass, TC/TCR and CPS (curves mode)!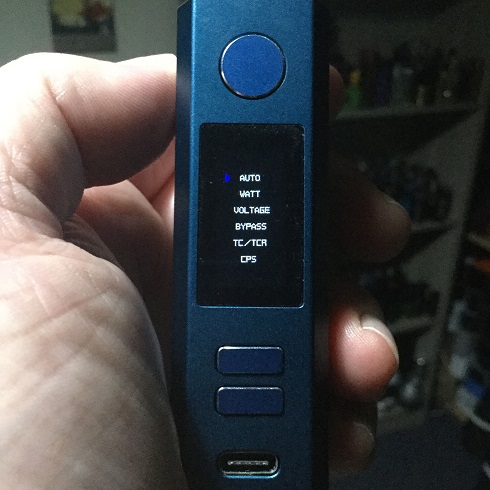 When choosing TC it gives you the option of either Ni, Ti, SS or three memory slots. When choosing CPS you have three memory slots to choose from which can then be used or adjusted. When on the main curves working screen to adjust press both navigational buttons together which then allows you to adjust each segment with the navigational buttons with fire moving to the next segment, there are 20 segments in total and when finished holding fire down for 2 seconds sets the curve!
The wattage adjusts in 0.5w increments and when not in Auto mode which limits the wattage but in standard Wattage mode it adjusts from 1w up to 80w and round robins.
---
Protections:
Low Voltage Protection
Vaping Over-time Protection 10s
Short Circuit Protection
Overheat Protection
Battery Reverse Protection
Overcharge Protection
---
Charging
As usual I recommend charging externally but if you do charge in the device we have a Type C USB connection and 2A charge rate. We get really good feedback during charging, on the display we have in a vertical position a large charging status bar, above that the charge is given as a percentage and below the time left to fully charge, the Essent SE also supports pass-through vaping!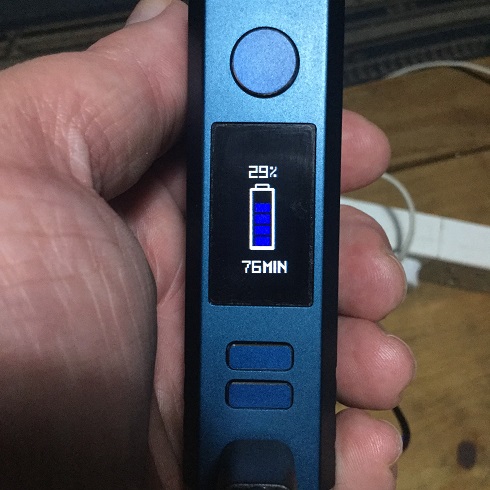 ---
My Thoughts!
The Coolfire Z80 has been the best 18650 device I have used this year due to the Innovation and I have also tested some top notch single 21700 devices but the Essent SE runs the Coolfire Z80 very close due to the excellent build quality and proprietary chipset that performed excellently albeit without testing the TC as I am just not a TC vaper unless it's TC done easy like Replay!
The buttons have a nice silent yet definite click and despite it's quite boxy shape it's very comfortable in the hand. Auto, Wattage, Voltage, Bypass, TC/TCR and CPS (curves) this has a mode for everyone and the curves feature with 20 segments allowing it to be set for a whole 10 seconds is particularly impressive and i really enjoyed testing this although about a 6 seconds puff is my limit!
It fires with no delay and I just can't fault it's performance, it really is an excellent device. Any cons really are just subjective and not for me like some might prefer it to maintain being able to accommodate a 21700 like the DNA 75C version but then one of the pros of this device compared to it's sibling is it's smaller more portable size and many MTL vapers still prefer smaller devices that accommodate their tried and trusted 18650 batteries!
I love the sharp display and how well laid out it is and having the choice of what colour to have the accents is another pro, for a device that has so many modes and other settings it's very user friendly and easy to navigate. I love the old school style of fitting the battery and orientation is clearly labelled, also with the battery tube being able to be unscrewed it does seem like other styles of tubes will be available which will allow for some customisation! Finally it will accommodate up to 25mm atomisers with no overhang which will cover the vast majority of atomisers that people would use on a single battery device, it has Type C USB, 2A charge rate with great feedback and supports both pass-through vaping and firmware upgrades!
Unless you are a TC user who swears by the premium chipsets like DNA or you particularly like features like Replay and using the Theme designer on Escribe then at only a third of the price the smaller and in my opinion even more aesthetically pleasing SE version is a no brainer, cracking device!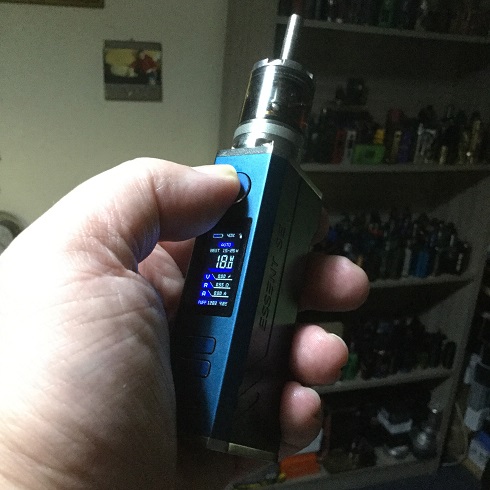 ---
Likes
Excellent build quality
Compact ergonomic design
4 Classy colour options
Removable battery tube
Old School battery plate
Clearly labelled Orientation
Auto, Wattage, Voltage, Bypass and Curves modes
Full TC suite (not tested)
Nice quiet clicky buttons
Fires without any delay whatsoever
Performed excellently during testing
Very Sharp display with plenty of information
Display brightness and colour can be altered
Type C USB, 2A charge rate
Excellent charging feedback
25mm atomisers without overhang
Battery charge given as both a bar and percentage
Supports pass-through vaping
Supports firmware upgrades
Cons
Some might prefer a 21700 version (I prefer the smaller size)
I would once again like to thank Rico from ZQ Vapor for supplying the Essent SE 80w Mod for the purpose of this review, thanks for reading and stay safe!
---