Hi Vaping Community, In this review i take a look at the 200W MDura Box Mod from Wotofo. The Wotofo MDura Box Mod was supplied for the purpose of this review by Sourcemore.
Introduction
For a while Wotofo have specialised in atomisers and in more recent times are best known for the Serpent, Profile and other collaborations, they gained even more clout in the marketplace with their takeover of OFRF along with the NexMesh brand! Mods from Wotofo in the past have not been released regularly but we now see the release of 3 MDura Mods in quick succession, the Pico like Mini, the Pro and this the standard dual battery MDura 200W Mod! The MDura 200W Box Mod is a dual 18650 Power only device which has both a puff counter and display colour customisation, a very simple device without TC or other settings which will appeal to those who just want to set the wattage and vape! Let's crack on!
---
In The Box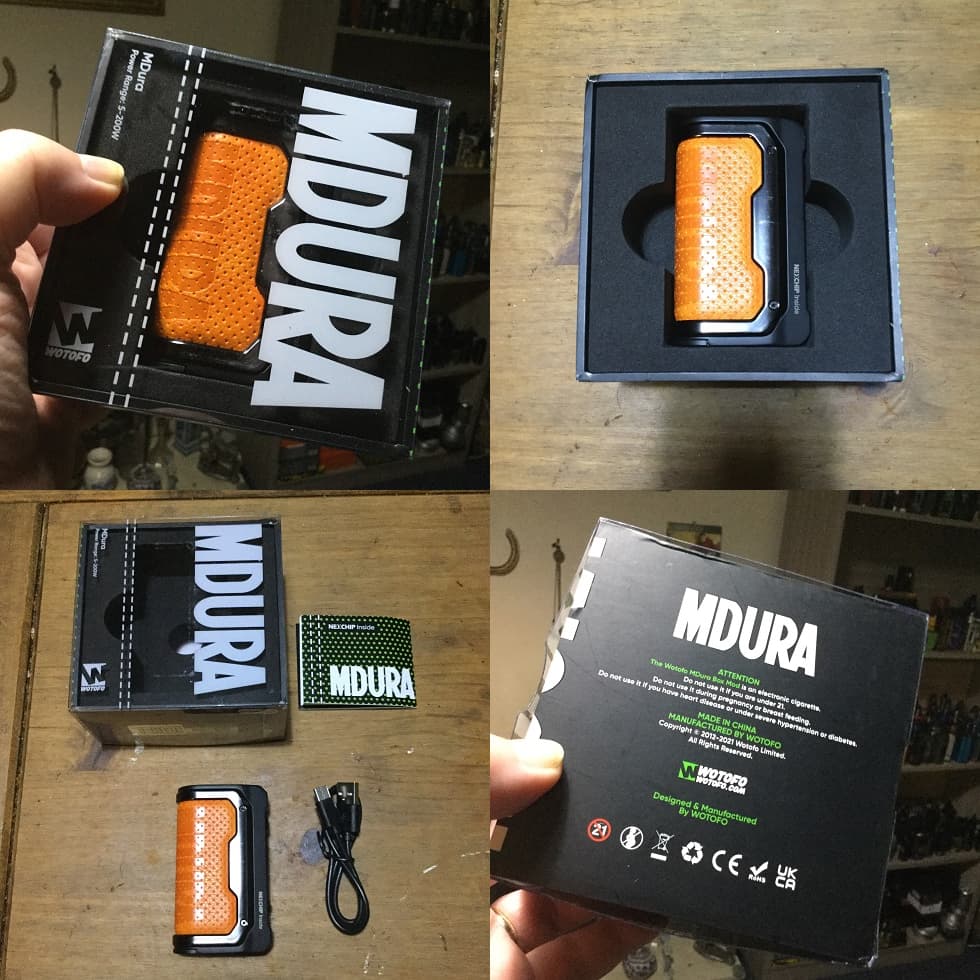 Contents:
1* MDura Box Mod
1* Type-C Charging Cable
1* User Manual
---
Aesthetics and Ergonomics
The MDura came in the usual Black and Wotofo Green cardboard box packaging with branded rich transparent plastic lid! Looking through the lid I could see I had been sent the King Kong Orange version, the colour refers to the Leather (100% sure it isn't) wrap which covers the spine and most of the sides, the options are King Kong Black, King Kong Blue, King Kong Orange or King Kong Red.
At 105g the MDura for a metal (Zinc Alloy) dual battery device is lightweight but still seems very solid and aesthetically in my opinion looks really good but that will depend on how plain or not you like devices and the raised "MDura" on one side of the Leather wrap will either be loved or loathed, some just like branding kept to the minimum while others like bold aesthetic features.
So we have a Zinc Alloy main chassis and Leather wrap (according to the marketing) which covers the spine and sweeps around both sides, on one side of the wrap we have that raised "MDura" as described and on the other side two vertical rows of stitching, the whole wrap has what I would describe as breathing dimples! The wrap is very well cushioned making the device comfortable to hold but has a plastic like synthetic feel, it definitely isn't Leather as claimed but looks good! The wrap and main chassis is broken up by a Zinc Alloy Gunmetal bracket which is becoming very popular on devices, it has a gloss finish and mine came with scuff marks on one side:
Certain units of any device can come with blemishes or/and scratches so I might just of got unlucky, even so looking at the scuff marks reveals the finish on the bracket is very thin and their presence does give question marks about the durability, I can see the base metal showing through on the bracket sooner rather than later especially if used as a daily driver!
On the chassis on one side low down we have "NEXCHIP Inside" printed and in the same position on the opposite side a silicone plug with a USB symbol, removing this reveals the Type C USB connection. Moving to the face we have a horizontally positioned rectangular plastic fire button at the top and at the bottom smaller side by side matching navigational buttons, all protrude nicely and give a satisfying click but when shaking the device we get rattle from the fire button! Finally positioned centrally on the face we have the large colour screen.
Moving to the base we have printed safety stamps and grooves for grip and finally up top we have an 20mm 510 Stainless Steel plate which sits flush, the 510 is Gold plated and Spring loaded. Despite mine coming with scuffs on one side of the bracket in my opinion it looks good and comes in some nice colour options, it's lightweight, cushioned spine and quite compact size makes it one of the more suitable dual battery devices for use while out and about!
---
Wotofo MDura Mod Parameters:
Mod Dimensions: 82mm52mm26mm
Materials: Zinc Alloy, Leather Wrap (??)
Weight: 105g
Display: 0.96" TFT screen
Battery Type: Dual 18650 batteries (not included)
Resistance Range: 0.1ohm-2.5ohm
Power Range: 5W-200W
Standby Current: <300uA
Input Voltage: 6.4V-7.4V
Output Voltage: 0.5V-8.2V
Charging Port: Type-C
Charging Current: DC 5V/2A
Atomiser Connection: 510 connection
Colour: King Kong Black, King Kong Blue, King Kong Orange, King Kong Red
---
Fitting The Batteries
The MDura 200W Mod accommodates dual 18650 batteries that get fitted via the hatch door on the base of the device, just slide the door forward and lift up, we have grooves which help with this process. Orientation is vibrantly labelled at the bottom of the tubes and also both orientation and the labelling of the batteries A & B is in bright White on the underside of the door!
When the door is secured we have no movement or battery rattle whatsoever, I know over time some people have experienced this type of battery hatch door opening during use but only time will tell, certainly during my testing it was absolutely fine.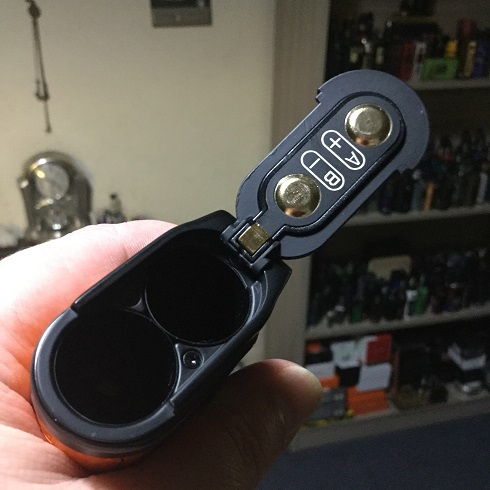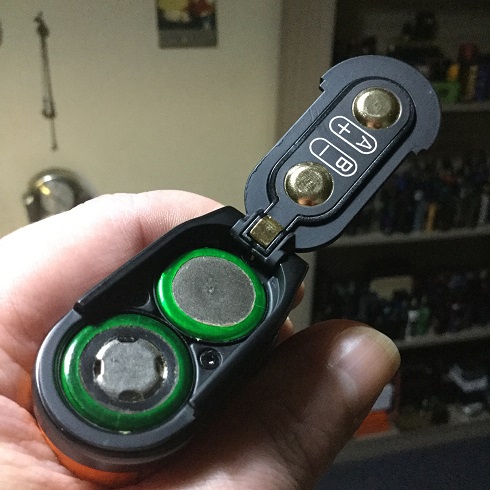 ---
Display
The rectangular display has a lot of bordering (referred to has accents) around the information, these accents can be changed to be one of six colours! The display is bright and although how easy it is to read all the information changed depending which colour you set the display in general it was pretty easy especially the values depicted in White which stand out well although the titles such has ohm and volts etc which are in Black could be harder to see with certain colour accents!
At the top we have the 2 battery status bars, battery A to the left and B to the right, underneath each bar the charge is also given as a percentage which I like! Below the battery information positioned centrally we have the wattage and "W" for the unit to the right, above the W we have a Green padlock in either a closed or open position depending on the status.
In the bottom half of the display we first have ohms, followed by volts and then the 4 digit puff count, finally right at the bottom of the display we have vape duration!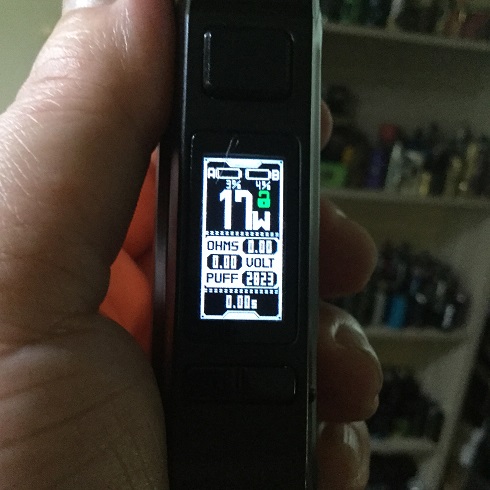 ---
Operating The MDura
The MDura is the usual 5 clicks of the fire button within 2 seconds to both turn on and off, when turning off we get a chip information screen and when turning on the Wotofo logo is displayed for 2 seconds before it displays the main working screen.
Once on the whole device can be locked by pressing the fire button quickly 3 times, the device will also not fire. What I like though is it also allows for just the navigational buttons to be locked by pressing both navigational buttons simultaneously, using this method locks those buttons for wattage adjustment but the device will still fire!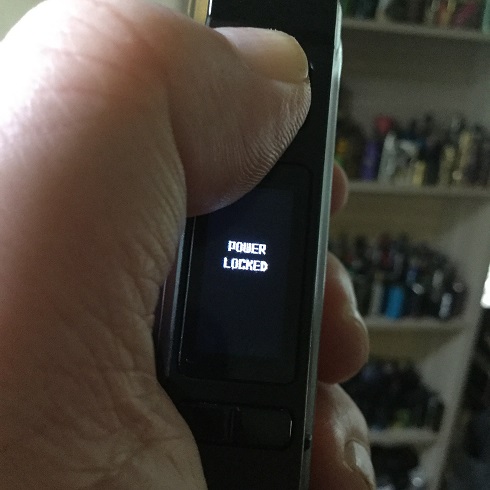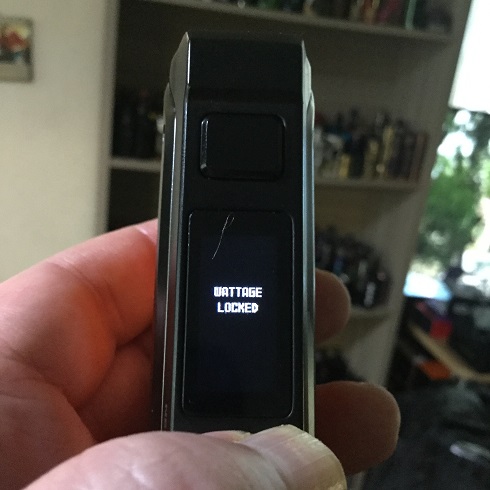 The MDura is a simple adjustable Wattage device with no extra modes or settings so is as easy as it gets to navigate! fire and down together resets the puff counter and fire and up together changes the colour of the display, each time fire and up is pressed it changes to the next colour, the options are Red, Green, Purple, Blue, Orange or White! The wattage adjusts from 5W to 200W in 1W increments and round robins. I would like to see point 1 adjustments with single presses up to 20W as although this is a high powered device doesn't mean it shouldn't be used by low wattage MTL vapers who would benefit from more precision when setting wattage, also it scrolls slower than average!
---
Protections:
Low Voltage Protection
PCBA Temperature Protection
Short Circuit Protection
Low Resistance Protection
Overheating Protection
Overvape 8s Protection
---
Charging
I always recommend charging your batteries externally but if you do need to charge in the device the MDura has a Type C connection and 2A (max) charge rate. The USB connection port is located on the side of the device towards the front and low down, the vertically positioned port has a silicone plug which needs pulling out (it remains attached to the device). I like these silicone plugged USB ports on devices, first seen on IP rated devices for obvious reasons but still offers protection from dust and e-liquid insertion etc on any device so a pro in my book!
While charging a status bar is displayed for each battery which are labelled "A" and "B", also while charging the device supports pass-through!
---
My Thoughts!
I am not going to dwell too long on the scuff marks one side of the bracket as it can happen that some devices will not come perfect and in a retail setting I would be looking for a replacement or at least some form of compensation, after saying that it did allow me to see just how thin the finish on the bracket is so not looking good when it comes to the durability of the finish and possible wear down the road. Of course it is always possible that just that side section of the bracket on mine had a thinner coating than average which is why scuff marks appeared but I can only judge from my own experience!
Another con for me is the fact Wotofo's marketing states the spine wrap is Leather which it definitely isn't, sometimes on mods when it is claimed the spine sections are Leather I am not 100% convinced but on this occasion the plastic like synthetic texture gives the game away! After saying that the wrap is very well cushioned and when adding the lightweight of the device and that it's quite compact I found it very ergonomic and one of the few dual battery devices I would use when out and about!
These days I do more MTL vaping and although I tend to use single battery devices I do sometimes like to use a dual battery device for extra battery capacity so for me a con that the wattage only adjusts in 1W increments, I don't mind 1W increments above 20W but much prefer more precision for MTL vaping, scrolling is also quite sluggish compared to most devices I have tested! I also got some rattle from the fire button which was a bit annoying and another major con for me is only up to 24mm atomisers will fit up top before getting overhang which is well below par for a dual battery device and will be a deal breaker for those who like bigger atomisers!
The buttons are nice and quickly and it fires with absolutely no delay but it did seem just slightly underpowered not just at the top end capabilities (as with most dual 18650 devices I doubt this will do more than 160w to 170w) but right the way through! I was testing it with a MTL RTA which was perfect for me at 15W on the previous 2 devices I used it on but on the MDura for the same vape I needed to be at 17W. So I set-up my Zeus single coil RTA and tested this on the same three devices, it was just how I liked it with the 0.29 build at 35W on two of the devices but on the MDura i needed it at 40W so I make that about 12.5% down on power which although it's not actually something that bothers me personally as I just set the wattage higher to get the vape I require is still a performance issue!
I do like that the battery charge is shown both by status bars and a percentage and that the colour of the display can be customised. I also like that the MDura has a Type C USB connection which is protected by a silicone plug, I would like to see this on all regulated devices.
To sum up, if that the device seems underpowered like me doesn't particularly cause you concern and you don't use large atomisers then the MDura is a nice lightweight, ergonomic dual 18650 option and one that will be liked by those who are not interested in TC and all the bells and whistles features but just prefer a set your wattage and vape device!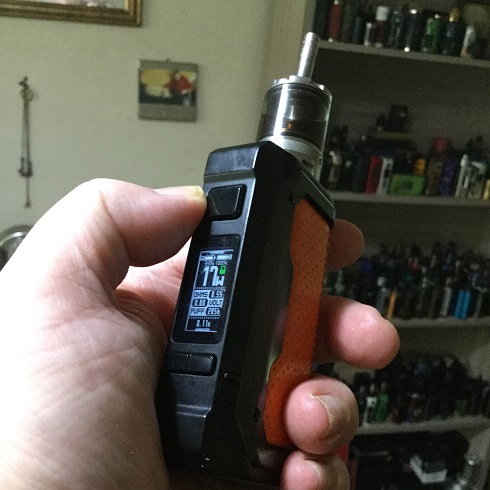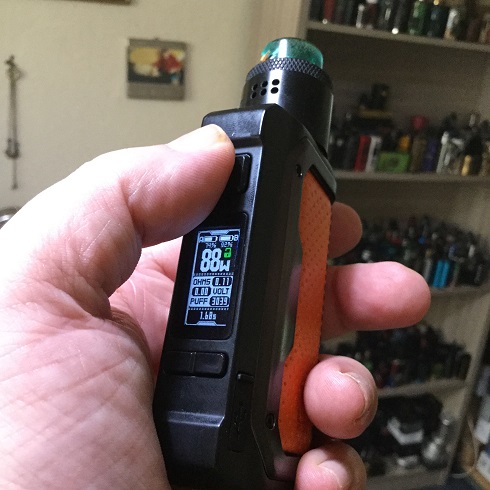 ---
Likes
Solid well made device
Ergonomic, padded spine, lightweight and compact size
4 Nice colour options
Aesthetically pleasing (in my opinion, those liking more plain devices might disagree)
Fires without any delay whatsoever
Nice clicky buttons
Simple user friendly device (no TC or extra features pro for some, con for others)
Whole device or just navigational buttons can be locked
Battery status shown for each battery as both a bar and percentage
Clearly marked battery orientation and battery door seems very secure
Colour of display can be changed
4 Digit puff counter that can be manually reset
Type C USB connection
2A charge rate
USB port has silicone plug
Supports pass-through
(Note: Can't say for certain if firmware upgrades are possible)
Cons
Durability issues with finish on bracket (mine arrived with scuff marks)
Spine wrap not Leather (dishonest marketing)
Atomisers over 24mm will overhang
Rattle from fire button
Device seemed about 12.5% underpowered (from what I experienced)
Wish wattage up to 20W would adjust in point 1 increments (subjective being a lower wattage vaper)
Adjustable wattage only (con for some pro for others)
I would once again like to thank Sourcemore for supplying the Wotofo MDura 200W Box Mod for the purpose of this review, thanks for reading and stay safe!
$25.89 - Wotofo MDura Mod
Code: MDURM
Disclaimer: I am not affiliated with Sourcemore or benefit in any way from the use of the above code but was asked if i would include it in my content!
---