The Wotofo Flux Kit is designed by Wotofo and the American brand Rig Mod and was send to me by www.healthcabin.net for review.
This will not in any way, shape or form influence my review of this product.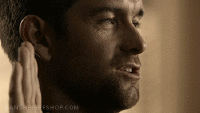 BOX
The box contains the Flux mod and Flow Pro Subtank, a simple manual for the mod and one for the tank, spare O-rings, an extra coil, a spare bubble glass, a USB cable and according to the box, a 510 drip tip adapter.
The picture is showing the straight glass.
The drip tip adapter is not in the box, just O-rings and a see through thin plastic circle with a hole in the middle. I have no idea what it's for but it's definitely not a drip tip adapter.
The curved drip tip is quite good though. It's supposed to enhance the flavour because your lips fit around it perfectly to prevent sucking up useless air with your vapour.
The first time I tried to take the drip tip off it felt like the thing was super glued to the tank.
I had almost given up and then I finally managed to pry it loose with my nail. After I took it off a few more times it was easier to do.
COIL
The coil is a mesh-like, multihole coil and I've been told that the difference between a mesh coil and a mesh-like coil is that a mesh coil is made of strands of wire that are woven together and the mesh-like coil is a sheet of metal perforated with holes.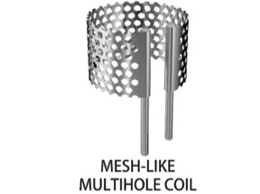 I haven't found any information on the material of the coil but since it is VW only that's not really a problem although some people do like to know what wire they're dealing with regardless, so a little info on that would be nice.
The coil has a resistance of .18 Ohm but on the mod it reads .20. I've checked it on my coil master and that reads a resistance of .22 so the Flux mod is still more accurate with only a .2 deviation.
When I switched the coil with the ProCore SE (see a little further down) it read .42 instead of .40 so it's the mod and not the coil that is inaccurate.
The lifespan of the coil is pretty good but of course that will also depend on the type of liquid you use and how much you vape.
I haven't used any N.E.T because that will quickly gunk up the coil but it holds up very well with synthetic tobaccos and creams.
I used the same coil for two weeks and then tossed it because it was getting nasty.
I'm not an expert on stock coils but I think that's pretty good.
FLOW PRO SUBTANK
The Flow Pro Subtank comes with a straight glass installed that holds 4ml of juice.
There is a sticker on the glass that indicates where to push open the top cap.
Once the sticker is removed there's no indication where to push.
It's not hard to open though even without a sticker.
I installed the bubble glass because that holds 5ml and have been doing fine without the help of said sticker.
The tank has a top fill system with a single fill port and a fully closeable triple adjustable airflow.
Pic with bubble glass.
The flavour from this tank is great due to the triple adjustable bottom airflow and it doesn't leak.
Although I am a DL vaper, I do like my airflow rather restricted and have the airflow only open a crack and to my great relief it doesn't whistle.
I can't say if it's restricted enough for MTL because that's a vapestyle I haven't managed, DL is all I can do.
Wide open it is very airy.
It is also compatible with SMOK Baby Beast coils.
*Joyetech claims that their ProCore SE coils are also compatible with Baby Beast coils so it figures that you should also be able to use those in the Flow Pro Subtank.
That assumption turned out to be correct.
FLUX MOD
The kit comes in eight different colours; black, light blue, blue, green, gunmetal, rainbow, red and white.
I was sent the light blue version.
It is a very simple device and therefore an ideal starterkit.
For the TC lovers amongst us probably a no go because it only does VW.
It is extremely user friendly, no complicated menu but still some bells and whistles for those of us that are into that kind of thing, like a lightshow. Most importantly it has an off button for that nonsense.
It has a nice, tinted screen with an Ohm symbol that shows the wattage in the big circle and the resistance and volts in the two small circles.
The colour of the Ohm symbol depends on the power mode used.
Battery indicators A and B are situated between the two small circles.
The batteries life is very good but I do vape at lower temperatures since I like a long, restricted draw. At 35W and set at power mode standard they last me more than a day, sometimes almost a day and a half.
The output range is between 5 and 200W and the watts are adjusted in 1W increments, no decimals.
MENU
Pressing the fire button 5 times will turn the device on and off.
Pressing the fire button and plus button will get you into the 3 different power modes this device has, standard/green, powerful/orange and powerful +/red.
Each mode has a different ramp up time.
With powerful+ that ramp up time is nearly 0.
Pressing the fire button and minus button will get you into the menu where you control the lights.There is an option for the working light and the standby light.
There are 7 different colours available that you can use separately or you can use all of them and get a proper lightshow.
You can choose between flash and breath.
Pressing the plus and minus buttons simultaneously will lock the device and prevent it from a change in wattage or firing in your pocket.
*Note that the lock option only works when the mod is active and does not work in standby.
Make sure the mod is active when you want to lock it.
BUILD
The mod is all one piece with the buttons a part of the body so no rattling and no matter how you're holding it, all you have to do is squeeze the top part and it fires.
It is very comfortable to hold and fits my hand perfectly and is nice and shiny without fingerprint issues.
The 510 connection is centered and spring loaded.
The mod is made of zinc alloy and feels pretty sturdy.
I did knock it over a few times because I'm an idiot and will put it somewhere I shouldn't and even knocked it of my desk. It landed on the wooden floor with a thud and I was sure I must've broken at least the tank.
No crack in the (bubble) tank, no cracks or chipped paint on the mod either and apart from a bunch of cat hairs stuck to it,strong text which was easy to remedy, it is still in pristine condition. As I said, pretty sturdy.
Only the drip tip had a little scratch.
The battery door is situated at the bottom with the plus and minus indicators inside.
It has no problem holding my double wrapped batteries. I like that, since some mods don't. You can put them in but getting them out is a different story and you end up looking like this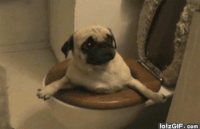 No such headache with this baby.
The battery door was a little stiff at first but is starting to work smoothly now and doesn't spontaneously open when you put it down or drop it.
CONCLUSION
I've been using this mod nonstop ever since I got it. I like using it and have not regretfully glanced at my Vboy even once.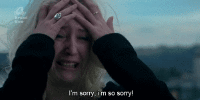 I know the TC fans will not be interested but if you know someone who wants to give vaping a shot or you're like me and not really interested in TC, this is a very solid and simple device.
With the 8 different colours available, there's plenty of choice for everybody.
25mm tank fits nicely, sorry guys (gals), no 30mm tank on this one without overhang.
I was going to find a good home for it once the review was done, mainly because it isn't an RBA but I might just hold on to it, at least for a while longer.

Yeah I know, I'm a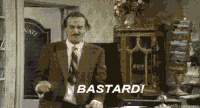 It would be great if Wotofo made an RBA for this tank.
Now to the boring bit
SPECS
Mod
Dimensions: 91.6mm50.8mm30.3mm
Body Material: Zinc alloy
Battery Type: dual replaceable 18650 battery (not included)
Display: OLED 1.3inch color screen
Output Range: 5-200W
Firing Mode: Standard/Powerful/Powerful+
Max Charging Current: 1.5A
Resistance Range: 0.08-3.0ohm
Tank
Diameter: 25mm
Height: 41.1mm (without drip tip)
Coil Head: 0.18ohm (40W-60W) mesh-like.
Compatible with SMOK Baby Beast coils and Joyetech Procore SE coils
Construction: Stainless Steel + Pyrex Glass
Filling Method: Push-open top fill system with single fill port
Capacity: 4ml with regular tube; 5ml with bubble tube
Fully closeable triple adjustable bottom airflow
This kit costs a whopping $94.99

I guess that might be because there's an American brand involved and it just got on the market but @healthcabin has a nice coupon for people who are interested in this kit.
HEALTH25 will get you a 25% discount.
I want to thank everybody that has managed to read this far.