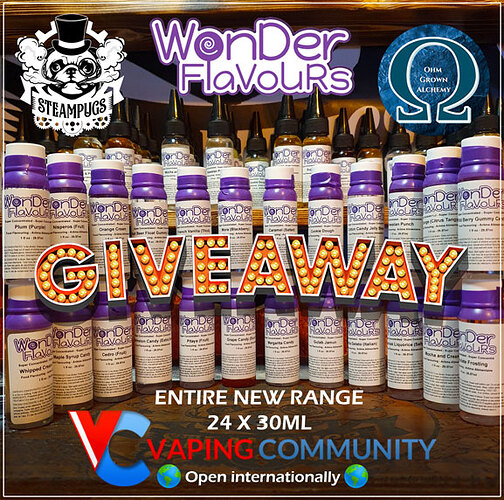 Having trouble getting hold of the new range of incredible flavours from Wonder Flavours?..hardly surprising

They are EPIC



BUT FEAR NOT…we got you


Last 24hrs to get your entries in to win the ENTIRE new range of flavours! - That's 24 x 30ml in total, and all courtesy of one Mr Frank Eblender - And yes…this competition is open Internationally.
All you have to do is follow these simple instructions to be in with a chance

Create a recipe on https://vccalc.vapingcommunity.co.uk/

Use MAJORITY Wonder Flavour Concentrates (old or new) (you can add the odd flavour in there from another manufacturer if need be)

Make sure the name of the recipe ends with #WF
The 10 best recipes chosen by us will be put into a randomizer on this Saturdays (27th March) episode of the Vaping Community Show, And the winner will be chosen LIVE - It airs at 11pm UK GMT / 7pm US EST and you can find it here

So hit subscribe

and set a reminder


Good luck mixers!!