Hi Vaping community, In this review I take a look at the Reuleaux RX G Mod from Wismec. The Wismec Reuleaux RX G Mod was supplied for the purpose of this review by Sourcemore.
Wismec Reuleaux RX G Mod 100W Box Mod
Introduction
Wismec are one of the vaping manufacturing old guards and along with Eleaf and parent company Joyetech make up the Jwei Group. With the Reuleaux range like the Luxotic being Jay Bo designs Wismec have been quiet since Jay Bo's departure but they are back with their new Reuleaux release so obviously deciding to keep the popular range going!
The RX G is a power only device but does have AST mode which gives dry burn protection for coils comprising of Stainless Steel wire, we also have AI (artificial intelligent) mode but before you get excited it's just smart wattage as seen on the majority of devices released these days.
For me though the neatest feature is the spring loaded floating trigger fire button which is absolutely awesome along with it's simple but clever locking mechanism! Also LED lighting is back with designs on switchable battery sleeves but more about that as I crack on with the review!
---
In The Box
Contents:
1* Wismec Reuleaux RX G Device
1* USB Type-C Cable
1* User Manual
1* Warranty Card
1* Warning Card
1* Warning Sticker
1* Tech Card
---
Aesthetics and Ergonomics
The RX G has a Zinc Alloy construction and comes packaged in a simple but sturdy cardboard box with outer sleeve, on opening I was met by a futuristic looking device with my eyes immediately drawn towards the large floating fire trigger. I received the Beast which refers to the battery sleeve design which can only be seen properly when lit by LED lighting, the Beast is an all Black affair, the other options are Cyberspace which is an Olive and Silver combo and Mecha which is a Red and Gold combination!
The face of the device is dominated at the top by a spring loaded floating trigger, underneath is a textured lever for activating the lock mechanism! We then have the screen followed by the Type C USB port.
Both sides have what look to be identical mirrored sections although the lower section one side is a clear plastic navigational rocker with mirror finish underneath! The rear of the frame is like a cage or skeleton protecting the removable battery sleeve on one side of this cage we have "WISMEC" and the other "RX G". Up top we have the very nice Stainless Steel 510 plate with spring loaded, Gold plated 510 and moving to the base we have a battery hatch door with venting!
The device being an 18650 is nice and compact and with the caged frame curving around the contour of the battery sleeve and that large floating trigger this just feels great in the hand when in use!
---
Fire Trigger and Locking Mechanism!
A fire button getting a section all to itself, well that's what happens when it's the sickest fire button (trigger to be more accurate) I have come across on a regulated device! We have a spring loaded floating trigger with circular protruding section to the underside which almost rests on the fire pad proper, pressing the trigger gives such a satisfying click of the pad which reacts with zero delay!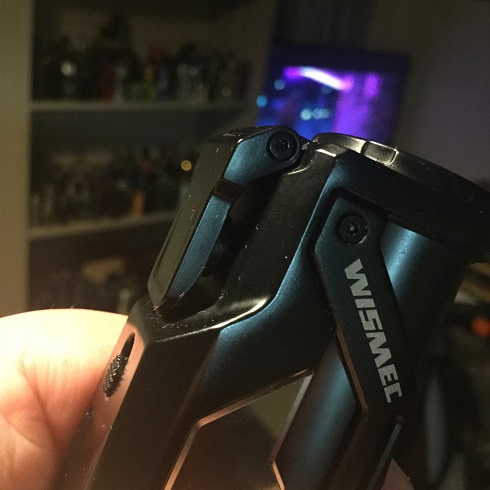 We also have a little lever underneath the trigger which when pushed upwards to the lock position raises a metal plate behind the trigger to block it's movement so not allowing the device to be fired!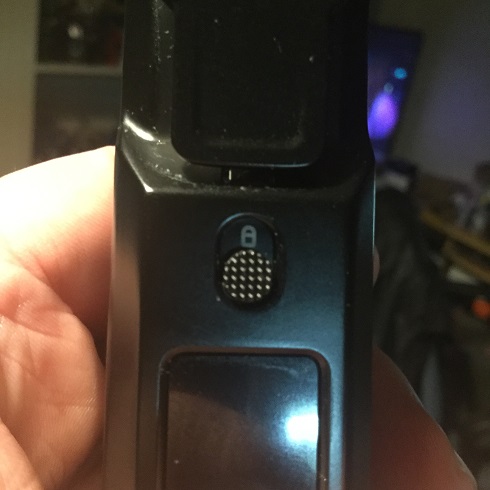 ---
Realeaux RX G Mod Specs and Features:
Battery – Single 18650
Wattage Output – 1-100W
Up to 25mm without overhang
Output Modes: VW/VV/ AST Mode/ TCR /AI Mode
Multiple Circuit Protections
Screen: 0.96″ Colour Screen
Resistance range: 0.1-3ohm
510 connection
Light up mod body
Supports to change the different battery sleeve
Smart coil protection
Spring loaded fire button
Fire lock button
Height: 87.5mm
Width: 27.0mm
Depth: 38.4mm
Charging: Via USB-C
Charge rate: 5V/2A
Colours: Beast, Cyberspace, Mecha
---
Fitting The Battery
The RX G accommodates a single 18650 which gets fitted via the bottom hatch door. The door has a front tab which slots through a metal catch and a tab each side to the rear which slide into a rail each side to secure! I have had no issues with the door but this type can with constantly being put down on surfaces open occasionally so something to be aware of!
On the underside of the door we have the negative marking embossed into the contact plate (would prefer clearer White marking) and plenty of venting holes. The sleeve can be pulled out revealing the translucent 510/positive contact surround, within this surround we have LED's for lighting up the pattern on the battery sleeve. Although I received the joint smoking Gorilla which comes with the Beast (Black) version the other sleeves will be available separately giving a customisation option!
When fitting the sleeve the translucent surround has a tab and the sleeve a matching cut out which needs lining up, this also stops any spinning of the sleeve which is quite common with removable battery sleeves that don't screw in place with threading.
---
The Display
The device has an animated futuristic looking display which is well laid out if slightly on the dim side, I really wish the brightness could be increased but sadly not, it's nothing major just a bit brighter would be better!
Top left we have the resistance and then top right the battery status as a percentage (I like), underneath central we have the wattage! Below the wattage to the left we have "AST" which will be highlighted when that mode is active and to the right "AI" which again is the active mode when highlighted!
Finally bottom left is vape duration and bottom right the 3 digit puff counter.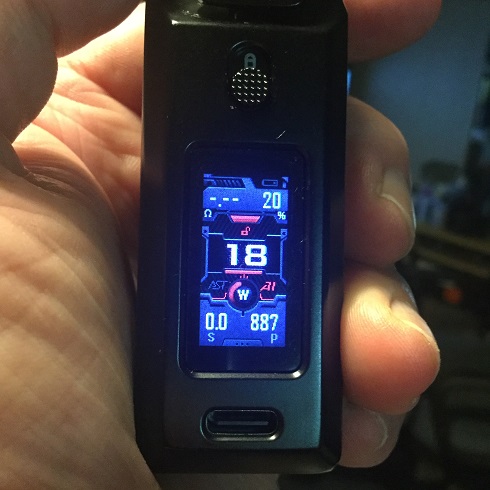 ---
Operating The Device
The RX G is the usual 5 clicks of the fire button to turn on and 5 clicks to turn off and once on after some brief animation we are greeted by a futuristic looking display! The fire lock is mechanical and already explained but the device also allows for just the navigational rocker to be locked which is 3 quick presses of the fire button, once locked another 3 quick presses unlocks.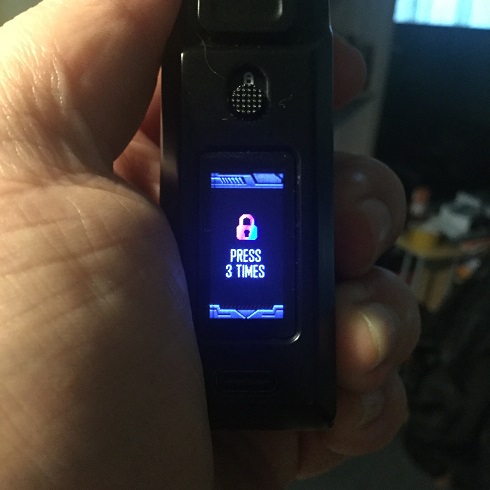 Pressing both sides of the rocker brings up the menu list which can be scrolled through pressing fire to select, the options are Modes, AI, Color (colour), Puff, ID Check and Exit.
When selecting modes it allows you to turn AST mode on or off and if selected it will throttle back the power when it detects there is no liquid so giving dry burn protection but although the RX G doesn't have a full TC mode the AST mode to work does require for the coil wire type to be SS and can be tailored to work more accurately by entering a TCR value, on the modes screen it also gives the option of Voltage mode! AI mode is smart wattage so when selected it will automatically adjust to a suitable wattage for the resistance of the coil, I do like how the AI is implemented on the RX G as it's a mode you need to choose rather than it being default which can't be overridden! I also like that it only gives a suitable wattage when detecting a new coil, if it's the same coil it instead remembers your last wattage setting and also updates future wattage recommendations!
Color (colour) is for the LED settings which I will cover in the next section and then puffs allows you to monitor your daily puff count or reset. ID Check displays a QR code to check authenticity and obviously Exit takes you back to the working screen. Finally the wattage scrolls in 1W increments from 1W up to 100W, it doesn't round robin!
---
LED Lighting!
There is a design on the battery sleeve which until fire is pressed is well hidden only being visible in good lighting, from any reasonable distant the sleeve just appears a solid colour! The name of each colour option refers to the pattern on the sleeve and as mentioned I received "Beast", the Black version which has a joint smoking Gorilla design (not my choice I actually requested the Olive and Silver "Cyberspace" version).
When firing the device the design lights up with the colour of LED selected, at the same time branding either side "WISMEC" and "RX G" also lights up from within the mirrored panels, the lighting also flashes when protections kick in! Alternately selecting loop cycles through the colours for the entirety of the device being switched on which would annoy 99% of people I would imagine, at least they can also be switched off (no more joint smoking gorilla, yeah)!
In the menu the colour of the LED lighting can be selected between White, Red, Green or Blue while selecting loop cycles through Green, Red, White, Yellow, Dark Blue, Purple and Light Blue! Finally for those that don't particularly care for LED's there is an option to turn off!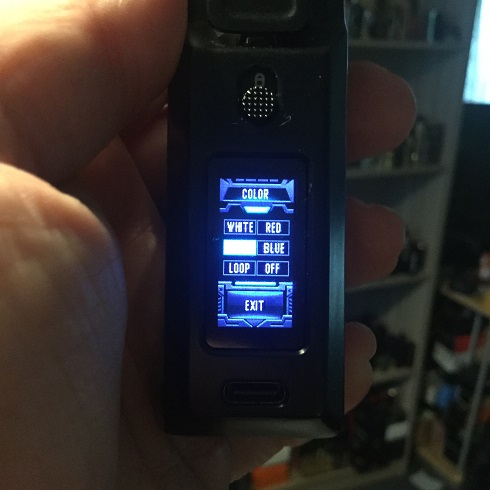 When selecting the LED colour options certain accents on the display also change to that colour which I wish could be changed independently!
---
Charging
As usual I don't recommend charging in the device but if it's your only option then the RX G has a type C connection and 2A charge rate! While charging the screen displays a battery cell and gives the charge as a percentage! We also get some animation in the form of rising vapor, the RX G does support passthrough vaping!
---
My Thoughts!
Let's get the negatives out the way which first of all "a gorilla smoking a joint" Wismec what are you thinking? Apart from the particular design on the one I received I can take or leave LED's especially if like on this device there is an option to completely turn them off!
Other cons are the rocker which I find is fine for selecting up or down but quite awkward to choose both to enter the menu so sometimes the wattage zooms up or down before it registers. Finally I believe there is room for both single 18650 and 21700 devices with 18650's being really small while a 21700 device will give extra performance and slightly better battery life for those that need it but the trade off is a bigger device. My issue with this device is it's 100w, if you want a 100w device it needs to accommodate a 21700, maybe with a very good, new, freshly charged 18650 you might just about get 100w but realistically a single 18650 device should be 80w max!
The star on show is undoubtedly that fire trigger which is absolutely awesome, I also quite like the futuristic look and the designs on the sleeves without LED's are not obtrusive, also for those that do like LED's and customisation the sleeves can be bought separately and the LED settings altered although the loop option would drive just about anybody around the bend!
I like how easy the device is to navigate and the AST dry burn protection is a great option if using an SS coil, I also like how the smart wattage (AI Mode) is implemented! I also like the daily puff monitoring system although we only have a 3 digit puff counter which zeros after reaching 999!
The battery status is given as a percentage which I like a lot and overall I do like the display if a little on the dim side! I also like that the display colour can be changed but don't like that it's dependant on the LED setting!
While testing the device it fired at set wattage instantly and just worked as it should, no problems! Although I personally wouldn't charge in the device we also have Type C and 2A charging while supporting passthrough. Up top it will accommodate up to 26mm atomisers without overhang which covers the vast majority of atomisers anyone would want to use on a single battery device and finally one last time did I tell you about the awesome fire trigger?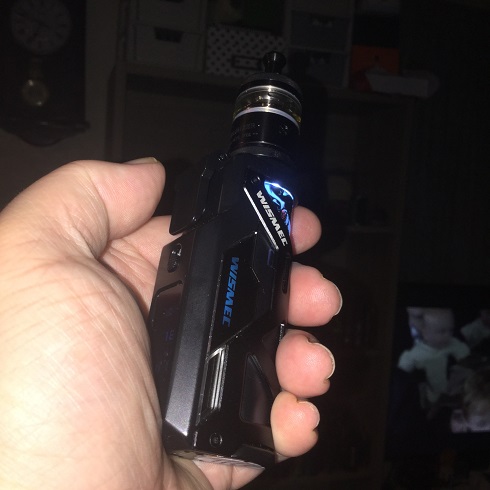 ---
Likes
Really like futuristic look
Fantastic floating fire trigger
Mechanical Fire lock mechanism
Nice looking, well laid out display
Easy to navigate
AST dry burn protection
AI (smart wattage) well implemented
Variable Voltage mode
Compact, ergonomic device
LED settings can be changed
LED's can be turned off
Display colour can be customised
Battery sleeves can be swapped for alternative designs
Daily puff monitor
No issues with battery door
Performed excellently
Type C USB, 2A charge rate
Supports passthrough
Fit up to 26mm atomisers without overhang
Cons
Joint smoking Gorilla, really!!!
Not a 21700 device
100w not realistic for single 18650
Rocker awkward to select both up and down to enter menu
Display a little dim
Wattage adjustment doesn't round robin
Display colour can't be changed independently of LED's
Wish battery orientation was better labelled
I would once again like to thank Sourcemore for supplying the Wismec Reuleaux RX G Mod for the purpose of this review, thanks for reading and stay safe!
Wismec Reuleaux RX G Mod 100W Box Mod
$34.99 - Wismec Reuleaux RX G Mod
Code: RXGM
Disclaimer: I am not affiliated with Sourcemore or benefit in any way from the use of the above code but was asked if I would include it in my content!
---