Corn Pops, Honey Puffs, Razzleberry, Blackberry FW.
One of the best more recently released flavours that lemon pound cake.

It's a fairly complete flavour, I use it at about the same % as Luke, might have got that from one of his earlier renditions with this flavour.
That recipe above looks awesome as well I know most of those flavouring fairly well.
Looking at the mixes I've done they are based similarly to that one, little support for the cake, some frosting and a bit of MF Lemon magic and done!
Highly recommend it that's for sure.
Send me the one shot and I'll mix it up here and tell you if it's good, I'm quite fond of lemon bakeries
Sitting down to work on updating some older winter blends.
This WIP is an update to one of my favourite winter walk recipes: When it's cold enough to freeze the metal in your piercings, a warming rounded vape with a spiced and woody finish works wonders.
It is certainly pairing well with first bottling of this year's ginger, wormwood, black malt and anise wine I'm testing along with it.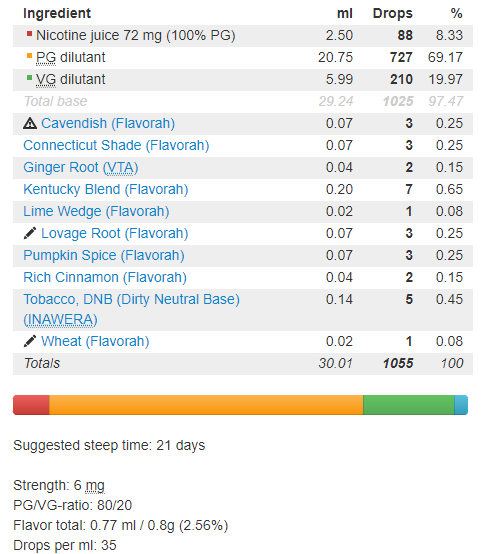 I need to get around to adding all here so I can show the steps WIPs go through and versions from other years.
This was more or less a tester that tastes pretty good, mixed it last night after getting a few new flavours. Put it this way I'd be happy to put this in a tank today.
Maybe add some MF Lemon or I saw @lukeloop used WF Orange Cream in one that looked like a good idea.
3 mangoes, 9mg in a mtl rba for the billet box
Looks killer marshy, need the FLV can;t wait… here is what I imagine it like. Use it if you want brother.
Added, thanks brother!

This is a new one but I'm pretty sure I can taste it in here, first impressions are high by the smell as well what I think I'm getting from it here. Need to play with it more, something is telling me to put it with Lemon Pound Cake.

New one for me: Frozen Fruit Monster's Mango Peach Guava Ice. Just loaded it in the tank to give it a try, still priming.
Before this I was puffing on a Strawberry Banana (boring) Elf Bar. Not bad but was hoping for better. Gotta stop blowing so much money on these stupid little disposables lol.
You should, here in Canada a disposable is 3ml of juice for almost the cost of a bottle of Ejuice if you were to buy… 30ml in bottle…
I wonder how this will work, I've used LPC in fruit loop recipes before but the other way round and used it lower. Also the lemon I got from the Duomei Fruit Loops just seemed like it would pair with this cake.
can't go wrong there marshy, nice one.
I've just opened another 120ml of this fantastic recipe by our very own @Rocky02852. For such a simple recipe it's so satisfying and accurate to its namesake. Thanks for the great recipes @Rocky02852, I'm a big fan of yours.
Thanks James glad you enjoy that one


…right now I can't put this one down

,
Getting down to working on a few MTL requests: