No I really like NF Ginger and have been making a ginger ale mix for awhile. This sounds really good.
Then you know 0.8% is very high then. But man that's an awesome flavor.
I've been vaping on a bottle of Green Ape by Nasty Juice that my friend hooked me up with. I love it. It's just a bit of mint with some tasty apple, which is a good fit for me seeing as I can't get enough of the fruity mints and menthols. All you vapers with your custom mixes have my jealous - I think I need to start mixing more… I'll take like 2 juices and mix them together and be like 'look at me now, cuuuustom!' but you guys are taking it to the next level lol
I've only just started 2 flavour mixes, @VapeLion.
These VC mixologists aren't on another level, they're in a different dimension!



So much to learn, so little time…

Currently vaping, across 3 devices…
… Black Note Latakia 12mg
… VV Hazelnut Latte 10%, JAC Silver Tobacco 10% 10mg 65PG/35VG - 1st dual mix
… and a Heinz 57 that I can't remember what went into it, but vapes OK!

This ones in my DAILY rotation, Love my coffee Vapes!
Flavor total: 6.65%
So do I @Rocky02852, and that recipe looks delicious !

This is one of my favourite premixes…
…and I've been playing around with this concentrate at different % levels with tobacco, but need to expand my stash to introduce some additional flavours…
Can I message you for a chat on that subject ?
Yeah sure, or start a new thread on the subject to Gather input from others too! As far as tobacco flavors go though I have zero experience, tried a couple tobacco flavors when I quit smoking and didn't care for them at all👌
Filled my tank with this Very Refreshing Cucumber vape today, just out of an 8 day steep and it is soooo good!
Flavor total: 6.14%
I just ordered Cappuccino (SC) and VTA Coffee Liqueur to mix your recipe above. Sounds delicious.
Ohh your gonna love it I'm sure, those two coffee's go so well together! I'm mixing that one at 120ml batches😉
Cheers bud, message sent.
May do a general post too, for more feedback (hopefully) !

My latest favorite Gum recipe!
Flavor total: 10.88%
.
It looks like there's a lot going on here, but it's basically only two layers, the Cinnamon Spice, Ripe Banana, Pineapple, and Wintergreen is the gum base.
Jackfruit and Tutti-Frutti layer give it that Juicy Fruit taste.
Two flavor enhancer's used: Koolada very low just because that's how I like it with just a touch of cool.
Cotton Candy (EM) used as a sweetner and is also a "Mutagen" (taste enhancing) additive. It does NOT mute flavors when used correctly (see my flavor notes), but feel free to sub with your favorite sweetener👌
Omg I'm in love

So's my misses, but not with me, thanks to you !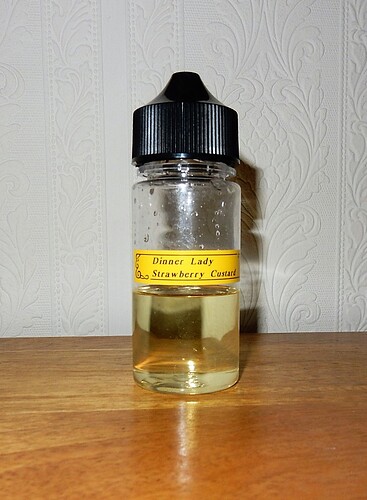 It's a lovely, fresh, well balanced and subtle vape.
Thank you.

Did you steep it? If so how long?
I did sir, approximately 9 or 10 days.
I'm sure that someone mentioned that it would be good to go after 4 days, but I thought that I'd give it a bit longer.
I generally give every mix at least a week to settle down.
Just mixed up this new one, gonna give it 9 days and see what its like…
Initial taste test: Very strawberry dominant, hint of brulee and caramel, no custard notes
Flavor total: 5.80%
For Comparison
Flavor total: 1.80%
I couldn't resist and I'm vaping some of the new one, it's pretty damn tasty as is but def needs some time for the custard to come forward
My first mix with the LCW (Chemnovatic) and NO

it's not a DL lemon tart!
BOOM OMG! Yummy😋
Flavor total: 10.00%