HERE WE GO AGAIN!

@trust_level_0 @trust_level_1 @trust_level_2 @trust_level_3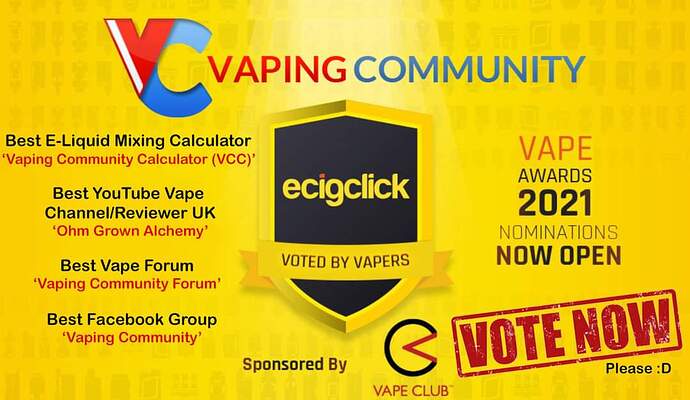 Now then, I'm not in this years awards, I've excluded myself just in case anyone votes for me doing something I don't do anymore, so throw Neil Humber your votes in that category, he made it a battle for me every year and he deserves the votes, he's a class writer and a top bloke…
HOWEVER

Our little forum did quite well last year, scooping a podium finish none the less, and this year…for the first year ever I might add…There is a category for 'Best E-Liquid Mixing Calculator' …something we care very much about seeing as we own the Vaping Community Calculator VCC, and are very proud of our little offering too.
AND ON TOP OF THAT

Our little YouTube show 'The Vaping Community Forum Show' which airs every Saturday night has been a whole lot of fun for close to a year now, and that's on the 'Ohm Grown Alchemy' Channel…numbers are growing every week and the feedback is always positive, you seem to enjoy it as much as we enjoy doing it…although…my Liver may well disagree with you there



AND FINALY

Our little Facebook group was also nominated last year, and finished quite highly…
SO
Please, If you like what we do, and what we've achieved over the last 3 years, then throw us some votes by hitting this link

And help put us through into the final round by sticking us in the following categories

Best E-Liquid Mixing Calculator - Vaping Community Calculator VCC
Best Vape Forum - Vaping Community Forum VC
Best YouTube Vape Channel/Reviewer UK - Ohm Grown Alchemy
Best Facebook Group - Vaping Community
Thanks in advance to anyone who cares enough to take the time to vote for us, it's nice to be appreciated for all the hard work we put into Vaping Community , and we'd appreciate it very much.
A thousand thankings