Introduction
After releasing the very tasty but slightly tricky Alberich MTL RTA, Vapefly and the German 103 team have released another RTA, the Lindwurm.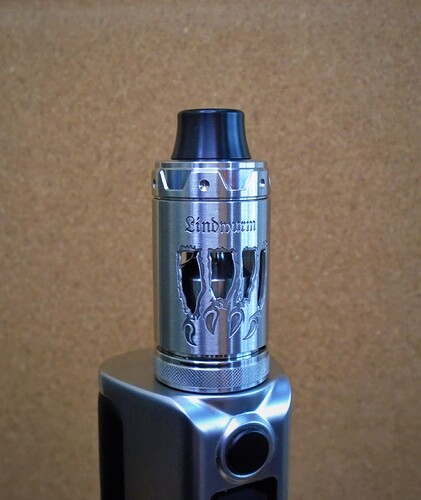 Product overview
The Lindwurm RTA is a 25.2mm, 59.1mm tall, single-coil RTA, with independently adjustable bottom and side airflow and 5ml juice capacity.
What do you get?
Lindwurm RTA
Spare 5ml straight glass
2×3.0mm Firebolt cotton
2×0.3ohm 26g 3+38ga KA1 coils
Spares + tools + 510 drip-tip adapter
6×bottom airflow inserts. (on a card)
Kudos to Vapefly for putting the inserts on a card that has inner diameter printed next to each insert and punch-holes to keep the pins in one place, it's a very small detail – but it's also very welcome.
First impressions
It's a tall RTA, somewhat reminiscent of the Fat Rabbit Solo RTA, it has a metal sleeve to protect the glass tank, which in itself is a good thing, the design incorporates 'claw mark' cut-outs so that you can see the juice level, and sleeve is also slightly rotatable so that you can align it for symmetry. It's not to my taste aesthetically, but whatever. The sleeve does come with a couple of practical issues, the cut-outs are not high/low enough to see maximum/minimum juice levels, and the fact that you can rotate the sleeve makes removing the deck slightly awkward.
Oh, and the airflow ring is very clever – but more on that later.
Build
The deck is very simple to build on, but there are two things to be aware of:
Choose your bottom airflow pin before putting your coil in, it can't be changed once the coil is in place.
Make sure that your coil isn't touching the airflow pin, as it protrudes a little from the deck.
Apart from the above, it's a very simple to build on GTA-style deck, secure and align your coils with a coiling rod, trim the leads and you're done.
Wicking is equally simple, just make sure to fluff and thin your wicks nicely as the wicking ports aren't that large.
I wouldn't go for coils larger than 3.0mm ID as the deck is a little cramped.
How does it perform?
26g triple core fused clapton - this coil was supplied with the RTA and came out to 0.24ohms. I used the largest (2.5mm) bottom airflow pin for this build. The flavor was very good, but with this coils I felt that it was a constant battle between airflow and power – the coil wanted 50w to perform at its best, but the airflow seemed more suitable for 40-45w.
28g dual core fused clapton - this seemed like the obvious choice, as the previous coil seemed a little too much for the airflow, I tried this coil with both the 2.5mm and 1.8mm airflow pins. The flavor from 40-45w was just as good as with the 26g coil at 50w, and the amount of airflow was far more suitable.
I think a lot of the difference between my enjoyment of the two above coils is down to my vaping preferences, I like big coils and high power when I'm using atomizers with a ton of airflow, as soon as things get restrictive, I get very conservative with my coil choice.
One thing to note with this RTA, it's not a compact RTA along the lines of the Eclipse – due to the height of the chimney, it's never going to provide the super saturated vape that compact RTAs provide.
Airflow adjustment
This is the Lindwurm's party trick – the airflow is very clever.
Despite only having one airflow ring, you can open/close the bottom/side airflow independently, there are markings on the RTA and the airflow that correspond to each airflow setting.
The first few times I used the RTA, I had to refer to the provided guide to work out what I was doing, but it became second nature of a day or so of use. The only issue is that the markings are really hard to see, I needed my glasses and decent light to be able to adjust the airflow correctly.
The other clever part of the airflow is that it's all concealed – everything takes place on the base of the RTA hidden by the airflow ring.
Airflow performance
The Lindwurm is a restricted DL RTA, even with the largest bottom airflow pin and everything fully open, this isn't an airy DTL RTA.
What I did find surprising, is that while I preferred to use the Lindwurm with bottom/side airflow open, it vapes really well with just side or bottom open. I'm not about to suggest using the 0.9mm pin and trying to get an MTL vape from it, but it can be used as a very restricted DL RTA – this fits in very well with it coming with a 510 drip-tip adapter, with airflow closed down and a smaller airflow pin, it performs well with slightly narrow (but not MTL) drip-tips.
Conclusion
There's a bit of a learning curve to the airflow adjustment, but the upside to that is that it gives you a lot of options.
Overall, it's a well made and well thought out restricted DL RTA that gives good flavor and is quite easy to build on.
Disclaimer
The Lindwurm RTA was provided for the purposes of this review by Sourcemore, who have provide the discount code VLIR that will reduce the price from $40.99 to $23.59