Hi Vaping Community, In this review i take a look at the Brunhilde SBS 100W Kit from Vapefly. The Brunhilde SBS 100W Kit was supplied for the purpose of this review by Mindy from Vapefly.
https://ecigone.co.uk/products/vapefly-brunhilde-sbs-kit?_pos=1&_sid=170aa1911&_ss=r
Introduction
Vapefly have become one of the most respected vaping manufacturers over the last few years and here we see another collaboration with the German Community and their entry into the SBS market. The Brunhilde SBS has a high end look and feel to it and features some beautiful laser engraving using the CNC 5-axis carving process!
The Brunhilde SBS will accommodate atomizers up to 26mm and takes either a 21700, 20700 or 18650 battery. It features Variable Wattage, TC suite and Bypass modes and is a slick looking device having the screen on the base. I received the kit which includes the War version of the Kriemhild 2 sub-ohm tank which with it's Germanic design matches up nicely, let's crack on!
---
In The Box
Contents:
1 x Brunhilde SBS 100W Mod
1 x Kriemhild ll (W Version) (4ml, 2ml TPD version)
1 x FreeCoreTM DuplexTM mesh coil 0.2ohm, KA1
1 x FreeCoreTM mesh coil 0.3ohm, KA1
1 x Type-C cable
1 x 18650 battery adapter
2 x User manual
1 x Warranty card
1 x Spare Glass tube
1 x 510 adapter
1 x 810 resin drip tip
Mod Protectors
Spares bag (O-rings etc)
Rhinestones with Red, Pink and Rose Gold colours
---
Aesthetics and Ergonomics
The Brunhilde SBS Kit comes in the usual Vapefly cardboard box packaging with cardboard outer sleeve which features a line drawing of the device on the front and specs etc on the reverse! When opening I immediately thought wow despite it being in my least favourite colour, and kind of thought the packaging should of been upgraded because devices this nice looking don't come around too often in the mainstream! I received the Black version, the options are Blue, Red, Rose Gold, Silver, Pink, Gunmetal or Black, the Pink, Red and Rose Gold versions also come with Rhinestones that can be glued onto the wing designs if you so wish! Not for me but how popular those Rhinestone paintings are that my wife keeps ordering from China i did wonder when they would make an appearance adding some bling in the vaping arena!
The form factor i really like it's almost like taking a Pico and converting it into an SBS but with much better materials! The main aesthetic features are the laser engravings, we have a wing design either side and helmet on the face with the large round fire button incorporated into the design, we also have another little laser engraving on the battery cap. The picture below mentions the process but what i must mention is it says it's light in weight which is rubbish, my main con for the device is it's very heavy in fact much heavier than most of my dual battery devices.
As well as the nicely protruding large round fire button on the face of the device we have two smaller round protruding navigational buttons on one side below the wing design, also on the face near the bottom we have the Type C USB port! Both face and spine is nicely curved (like a Pico) and moving to the top we have the Stainless Steel battery tube one side which is substantial and the other side much lower down the again substantial Stainless Steel plate with Gold plated, spring loaded 510.
Moving to the Stainless Steel plate on the bottom we have the old school screen, the main chassis is made of Aerospace Aluminium but don't let this fool you into thinking this is light! Just to point out mine has venting holes on the battery cap but on the retail i have been told there will also be two sets of 3 venting holes on the base!
---
What You Receive?
You receive the Brunhilde SBS device and War edition Kriemhild II with pre-installed narrow 4ml glass, tapered 810 delrin drip tip and installed Duplex 0.2ohm mesh coil.
As well as the usual paperwork you also receive a spare glass, really nice Resin 810 alternative drip tip, 510 drip tip adaptor, a K-series FreeCore 0.3ohm mesh coil head and a bag full of spare rubber seals and O-rings!
Finally you receive a USB Type C cable, 18650 battery adaptor, mod protectors (although i have no idea why they are needed as the device has a very substantial Stainless Steel plate) and if you choose either the Red, Pink or Rose Gold version you will also receive some Rhinestones!
---
Kriemhild II War Version Specs and Features:
Dimension: 25.0 x 51.2 mm
Capacity: 4ml/5ml (bubble glass)/2ml (TPD)
Coils: FreeCore™ K-1 Duplex™ 0.2ohm mesh coil, KA1 (45-60W)
FreeCore™ K-2 0.3ohm mesh coil, KA1(40-55W)
Drip tip: 810 (510 adapter included)
Newest Duplex™ patented mesh technology (Firing up instantly, heating evenly)
Easy top refilling for easy operation
Bottom airflow system
Thread: 510
---
Kriemhild II Overview
I actually didn't use the Kriemhild II too much with the Brunhilde SBS apart from to just get a feel for the match up! The reason being is i reviewed the same tank with exact same coils only a month ago so it's performance is still clear in the head and it gave me the opportunity to try different atomisers on the device! Like with the brunhilde SBS the Kriemhild II has an high end look and feel and same Germanic styling!
Up top we have an 810 drip tip with the option of fitting a 510 adaptor, the top-cap has a bayonet fitting which once removed reveals the fill plate with self sealing membrane and a silicone seal to the inner section of the top-cap for a really good seal.
The base section unscrews counter clockwise revealing the Kriemhild II accommodates plug and play coil heads that fit into a chamber which host wicking ports. The chimney which extends from the chamber screws to the bottom of the fill plate and also extends at it's base to create a shelf for the glass to sit on. To remove the glass just unscrew the chamber/chimney section from the fill plate which also reveals the glass gets sealed both top and bottom with O-rings!
You get two different 810 drip tips and as mentioned a 510 drip tip adaptor so you can fit any 810 or 510 of your choice!
---
The Coils and Fitting!
As mentioned the Kriemhild II accommodates the new K-series FreeCore mesh coil heads which just get press fitted into place then secured by fastening the base section into place.
The main marketing for the Kriemhild II revolves around the patented Duplex 0.2ohm mesh coil head which is pre-installed. Rather than having a mesh strip with a negative one end and positive the other it has two strips of mesh each half the length which share a central positive pin and each having an independent negative, essentially this means the mesh heats up twice as quickly and much more evenly improving vape quality and the improved ramp up is very noticeable! As well as the K-1 Duplex 0.2ohm mesh coil head which is rated between 45w to 60w you also receive the K-2 0.3ohm mesh coil head which is rated between 40w to 55w!
---
Filling
The Kriemhild II has a top-cap with bayonet fitting (my favourite) so just a quarter turn and it's off! The fill plate has 2 large kidney fill ports with membrane seal, if you don't like the seal i don't see any reason why the tanks vacuum would be compromised if removed due to the seal to the inner side of the top-cap. I never tried to remove the membrane seal personally but as a spare is included then it obviously can be! The Kreimhild II holds 4ml of liquid (2ml TPD version), once filled again it's just a slight turn to secure the top-cap!
---
The Airflow
The Kriemhild II is mainly designed for DL or semi restrictive direct lung with it's two large cyclops with stoppers! However after testing the tank at different wattages and airflow settings being someone who prefers more restriction i found with a 510 drip tip fitted and airflow only a fifth open both coils set at 5w below their recommendation gave a decent RDL! Finally the airflow adjusts very smoothly with just the right tolerance!
---
RBA and RMC Coils!
As well as the included coils there is also an RBA coil available as a separate purchase!
Also now available for the Kriemhild II are DIY RMC coils as first seen for the optima and now becoming very popular cutting the price of coils dramatically!
---
Brunhilde SBS Specs and Features:
Dimensions: 52.4 x 27.0 x 84.8mm
Output power: 5-100W
Input: Type-C 5V/2A
Coil resistance range: 0.08-3.5ohm
Battery type: a single 18650/20700/21700
Screen: 0.91 inch OLED
Output mode: VW/Bypass/TC(SS316L,Ti, Ni200)
TC-Mode: Temperature-range in F and C, 100-315℃/200-600℉
Multiple Protections
CNC 5-axis carving processed
Vapefly & German Community project
Exquisite appearance with typical Brunhilde design
Aerospace aluminium casing, Stainless Steel
Thread: 510
Colours: Blue, Red, Rose Gold, Silver, Pink, Gunmetal, Black
---
Fitting The Battery
The Brunhilde SBS accommodates either a 21700, 20700 or when using the supplied adaptor an 18650. The battery gets fitted into the battery tube by first unscrewing the battery cap at the top of the tube. Both the tube and cap have a substantial look and feel and the threading is pretty darn nice. Looking inside the tube positive is labelled vibrantly at the bottom and on the underside of the cap negative is labelled in White, great job.
I have tried all three battery sizes and experienced no battery movement whatsoever. Although I never recommend charging a battery in the device unless it is your only option if you do need to charge internally we have a Type C USB connection and 2A charge rate, it also supports pass-through!
---
The Display
As with so many SBS devices the screen is located on the base of the device which is for me a con but that con allows for a compact design and a much slicker device with no screen visible on the main device so a trade off.
Again like so many SBS we have quite a simple chip and old school display. To the left in a vertical position we have the battery status bar and to the right of this we have resistance at the top and voltage at the bottom (this will be wattage in TC Mode). The entire right side of the display is the Wattage or Temperature when in TC or it says Bypass when in Bypass mode!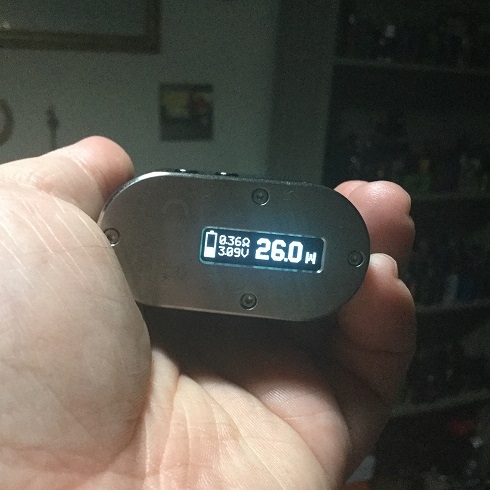 ---
Operating The Brunhilde SBS
This may be one stunning device but actually it is a very simple device to operate having a very simple chipset, although we do have TC settings! 5 clicks of the fire button turns the device both on and off and once on pressing both navigational buttons together locks those buttons but the device will still fire. The only other combination button press feature is fire and right together flips the screen.
To change mode is 3 quick presses of the fire button, so three quick presses changes from Wattage mode to TC and another 3 presses take you to Bypass before a final 3 presses takes you back to Wattage. When the initial TC Screen comes up the wire type is blinking so use the navigational buttons to scroll between Ni, Ti and SS, they are quite basic TC settings with no TCR etc.
When on the working screen the wattage adjusts from 5w to 100w in 0.1w increments with single presses and 1w increments with an adjustment button held down, it round robins. In TC mode it round robins between Celsius and Fahrenheit, in Celsius it adjusts in 1 degree increments between 100 and 315 degrees and in Fahrenheit 5 degree increments from 200 to 600 degrees!
---
Protections:
Short Circuit Protection
Reverse Polarity Protection
Over-current Protection
High Temperature Protection
Over Charge Protection
10s Cutoff Protection
---
My Experience and How It Vapes!
I must point out sub-ohm tanks with stock coils is not really my thing and only tend to test them if something stands out which was the case here with the patented Duplex coil head! Despite this i only used the Kriemhild II with the Brunhilde SBS for a short period as i have only just reviewed it which allowed me to test the device with other atomisers!
Sub-ohm tanks tend to be quite loud and can be turbulent, the Kriemhild II certainly isn't quiet as the coil head sizzling can be clearly heard but it's by no means especially loud and definitely not turbulent giving a smooth vape however the airflow is set!
I can see possibly those into their sub-ohm tanks getting the wow factor trying the new Duplex coil head because the flavour is up there with the Freemax coils and the quicker ramp up is definitely evident. I also found the 0.3ohm coil head gave very decent flavour but overall just wish there was more coil options, although we do now have available the RBA and RMC DIY coils which are big pros!
Both coils will comfortably go 10w above their recommendation if you like a hot vape and liking restriction i preferred both 5w under using the supplied 510 adaptor and 510 drip tip! The design is pleasing to the eye and in this kit you receive a decent amount of extras including spare glass, alternative drip tip and the mentioned 510 adaptor!
The star of the show though is the gorgeous Brunhilde SBS device which is just stunning. The engraving on the device is amongst the best i have seen on a device especially one within the price range and build quality is exceptional.
The only real cons I have is it's very heavy especially for a single battery device, for me a desktop device and far too heavy to carry around although i am tempted just to show it off, it's that nice! The other is having the screen on the base of the device which means turning the device upside down to read it but then most SBS have this bottom screen which as a trade off gives a much slicker looking device and is space saving! Unless using a TC based mod or a TC feature such as Replay or Smart TC i am a power only user so don't see the point reviewing the TC settings and giving information that is incorrect so if you are a TC user you will need to do more research.
All the buttons are clicky and protrude nicely, I like the old school display and how simple the device is to use. In power mode it performed like a trooper, with instant ramp up and no noticeable delay! Being able to fit up to 26mm atomizers is a bonus as many SBS devices are limited to 24mm but that 26mm is with a straight glass only! Having Type C USB and a 2A charge rate is another win for those that need to charge in the device.
The device may be heavy but it's very ergonomic and quite compact, they have done a great job of keeping the size down considering this will accommodate a 21700 battery. To sum up the Brunhilde SBS is a gorgeous looking device and is matched up with a high performance sub-ohm tank!
---
Likes
Exceptional Build Quality
7 colour versions
Rhinestones supplied with 3 versions
Ergonomic
Stunning Laser Engraving
Substantial Stainless Steel Battery Tube, Battery Cap and 510 Plate
Old School Display
Very easy to navigate
Wattage, TC and Bypass modes
Very nice protruding clicky buttons
Spare glass included
New patented Duplex Mesh 0.2ohm coil head included
Quick, smooth ramp up with Duplex coil head
FreeCore 0.3ohm mesh coil head also included
Dual cyclops adjusts with nice tolerance
Very good flavour both coils (Duplex just edges it)
DL, semi restricted and even RDL with closed down airflow and 510 drip tip
Smooth airflow
Available RBA and RMC DIY Coil Heads
Top-fill, self sealing membrane over fill ports (can remove)
Top-cap bayonet fitting
Press fitted coil heads
Included alternative 810 Resin drip tip
Included 510 drip tip adaptor
Performance faultless during testing
USB Type C, 2A charge rate
Accommodates 21700, 20700 or 18650 with supplied adaptor
Cons
Very heavy
Only 2 different commercial coils available
Screen on base of device (it does trade off for benefits)
I would once again like to thank Mindy from Vapefly for supplying the Brunhilde SBS 100W Kit for the purpose of this review, thanks for reading and stay safe!
---