Hi Vaping Community, In this review I take a look at the Caliburn A2 Kit from Uwell. The Uwell Caliburn A2 Kit was supplied for the purpose of this review by Sourcemore.
Uwell Caliburn A2 Kit 15W 520mAh Pod System Kit
Introduction
Uwell were best known for their Crown tanks until a simple pod system called the Caliburn came along which grabbed peoples attention for both the draw and vape quality from such a small device. Since then we have had the brand name milked somewhat although those products bearing the Caliburn name in general have been rated highly but here we see the update version of the original, the A2!
With a much better viewing window, improved clear pod and lower ohm higher output pod Uwell fight back against the Caliburn like devices we have seen over the last couple of years some of which in my opinion surpassed it.
Unfortunately we see no improvement in battery capacity, still a fixed airflow and the coils are not replaceable so let's see if the A2 offers a notable upgrade or just more of the same?
---
In The Box
Contents:
1* Caliburn A2 Pod System Kit
1* Meshed-H 0.9Ω Pod 2pcs
1* Warning Card
1* Filling Guide
1* Social Media Card
1* User Manual
---
Aesthetics and Ergonomics
The Caliburn A2 came in opened lid cardboard box packaging with outer cardboard sleeve, we have a Black & White image of the device on the cover and contents etc on the reverse. The device is made of Aluminium Alloy and is lightweight, it is also a much more curvy and streamline design compared to the straight angles we saw on the original, it's very comfortable in the hand to both just hold or fire using the large, flush, circular fire button positioned a third of the way down on the face of the device. I received the Iris Purple colour, the options are Black, Grey, Green, Blue, Orange or Iris Purple.
On the face of the device above the fire button we have a large viewing window and it's really nice to see working in tandem with the clear pod it's very fit for purpose unlike so many on these small pod devices including the original! towards the bottom centrally on the vertical we have "CALIBURN" printed followed again centrally in a vertical position the LED indicator. On either side of the device we have a small airflow hole towards the top and apart from at the bottom having "UWELL" printed the back of the device is featureless.
On the base we have a plastic section with safety marks and central Type C USB port, moving up top the Black sloped MTL friendly mouthpiece protrudes!
---
Caliburn A2 Specs and Features:
Material: Aluminium Alloy & PA
Size: 110.1mm × 21.3mm × 11.7mm
Capacity: 2ml
Battery: 520mAh
Output Wattage: 15W
Coil: FeCrAI UN2 Meshed-H 0.9 Ω
Fill Type: Top filling
Charge: Type-C quick charging
Pod Connection: Magnetic
Unique ergonomic design, smooth & comfortable grip

Exclusive PRO-FOCS technology, authentic flavour

One button system, direct draw or button draw

Perfect lip fitting design, made for MTL vapers

E-liquid check window, prevent coil burning

Adopts Meshed-H 0.9Ω Pod, coil non-replaceable
Colours: Black, Grey, Green, Blue, Orange, Iris Purple
---
What You Receive?
You receive the Caliburn A2 with UN2 Meshed-H 0.9ohm pod already pre-installed but protected by a film layer over the pods contacts. Of course you receive all the usual paperwork and also a spare identical pod. You don't receive a Type C cable though which as this is the sought of device that could well get recommended to a new vaper I find a massive con as they will probably not have one!
---
The Pods
Normally for pod devices I do sections for both the pod and coils but here we have non replaceable coils like with the original and in my opinion a con, I would much prefer to just replace the coil rather than the whole pod, the flip side to that though these pods with sealed coils don't tend to leak or produce the same levels of condensation!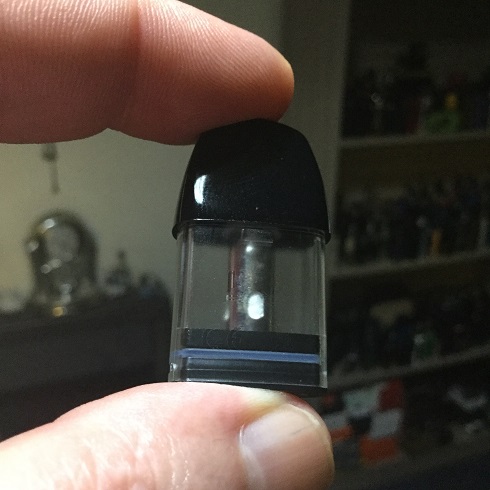 The installed coil is the FeCrAI UN2 Meshed-H 0.9ohm which incorporates Uwell's Pro-Focs technology, both included pods are identical and as far as I can find out is the only option available! Note: Original Caliburn pods do not fit and A2 pods will not fit the original!
The pod holds 2ml of e-liquid and the pod liquid holding section is completely clear which is a big pro. The comfortable, sloped MTL mouthpiece just needs pushing from the front towards the rear to click off the pod revealing its filling method. To one side we have a decent sized port with self sealing Red membrane, we also have a tiny hole the opposite side which will not let liquid out but let's air escape while filling! What I do like is the mouthpiece can be removed and pod filled without removing the pod from the device!
Moving to the base of the pod we have the 2 contacts and a magnet either side, we also have 2 outlets to the auto draw membrane switch so it doesn't matter which way around the pod is inserted.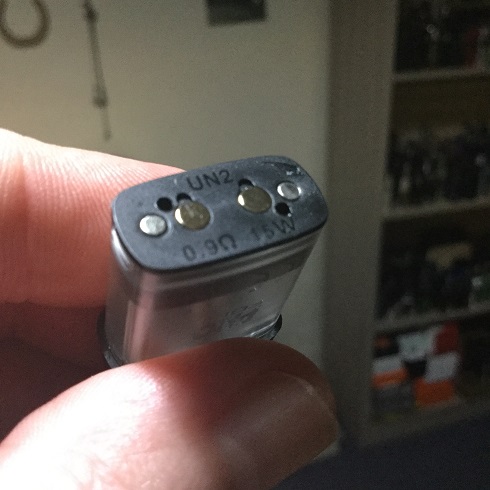 ---
Fitting The Pod
Looking inside the pods bay we can see the central Gold plated, spring loaded contacts and a magnet to each side. The pod simply gets pushed into the bay and is held in place by the strong magnetic connection, it is also a snug fit so we get no movement whatsoever!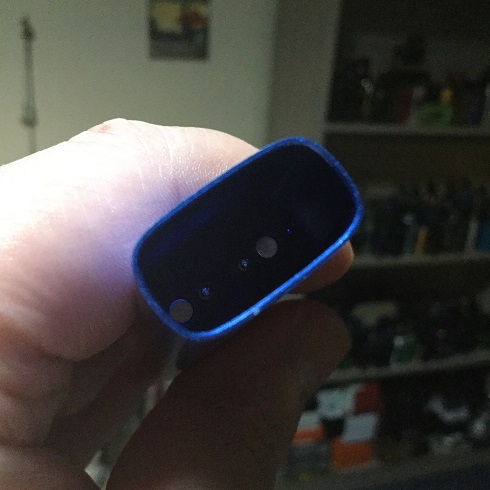 ---
Operating The Device
The device is the usual 5 quick clicks of the fire button to turn on and off with either action being confirmed by 3 Green flashes of the LED indicator. Once on you can just take a draw or use the fire button as this has both button and auto draw activation.
Whichever method you use to vape (button or auto draw) the LED lights up to show the current charge of the battery while vaping, the colour of the LED corresponds to the following:
Green = Over 60% charge
Blue = 30% to 60% charge
Red = Less than 30% charge
When the battery is depleted the LED indicator flashes 10 times and you can't vape!
It does say this gives 15w of power and according to the manual gives out a constant voltage output but fails to say what that output is. My math makes it 3.7v to give 15w with the 0.9ohm coil but with simple small devices like this they only tend to give any constant output while the battery allows as they don't have any form of boost so 3.7v pretty much equates for the most part to this being a direct output device. After saying that I just didn't notice any drop off in power which seemed consistent throughout the battery life so if anyone knows more specific information their comments are very welcome!
---
Protections and Indications:
Short Circuit Protection 3 Red Flashes
Low Voltage Protection 10 Red Flashes
Timeout Protection 8s 5 Green Flashes
Open Circuit Prompt 3 Blue Flashes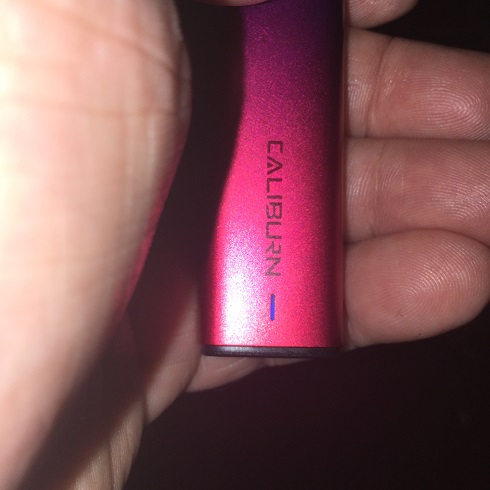 ---
Charging
As mentioned no cable is provided which for me is a con as this device is one that would be suitable for a newer vaper who probably doesn't have a cable!
While charging the LED slowly pulses a colour to indicate the charge on the battery so first it pulses Red until it reaches 30% and then pulses Blue until it reaches 60% and finally pulses Green until fully charged, once fully charged we have a solid Green light.
The charge rate is 1A (max) averaging about 0.8A and is 90% charged in just 35 minutes, it takes 50 minutes to fully charge which is very good!, It also supports pass-through vaping!
---
My Thoughts!
Compared to the original Caliburn the A2 gives a slightly looser draw so very loose MTL and I could even do a very restricted Direct lung but whether you prefer it to the original will be whether it falls into your wheelhouse or not. I personally like it and it also gives noticeably more power, vapour production and excellent flavour, it is also a warmer vape!
Where there can be no doubts about the improvement is the pod and viewing window, visibility of the liquid level is very good and being able to fill quickly while not removing from the device are massive pros!
The auto draw gives exactly the same performance as using the fire button and battery indication gives some idea of battery status apart from I found when the LED first started lighting Red which meant there should be almost 30% charge still left only about 10 puffs later we have full battery depletion which doesn't equate to anything like 30%? Also one of the cons many had with the original Caliburn was the 520mAh battery, the A2 see's no improvement in fact with the 0.9ohm coil compared to the original's 1.4ohm giving out more power battery life is very poor! On the up side the device will 90% charge in just 35 minutes while supporting pass-through and is fully charged in just 50 minutes.
I like the ergonomic rounded form factor, flush large button which gives a quiet but definite click and as mentioned for such a small pod system it gives a smooth powerful vape with bags of flavour, I also suffered no leaking or condensation during testing which is quite often the case with fixed coils but I still find it a con I can't just change the coil rather than entire pod, I would also prefer other coil options. My last con is no adjustable airflow although these simple pod devices tend to not have, I did try putting my finger over one of the holes but it made very little difference while putting fingers over both holes did give a tighter draw but made the airflow turbulent!
To sum up if the draw falls into your wheelhouse you will love this but with just one coil option and no adjustable airflow it will not be to everyone's liking. Whether it is an improvement over the original, all things considered I would say yes!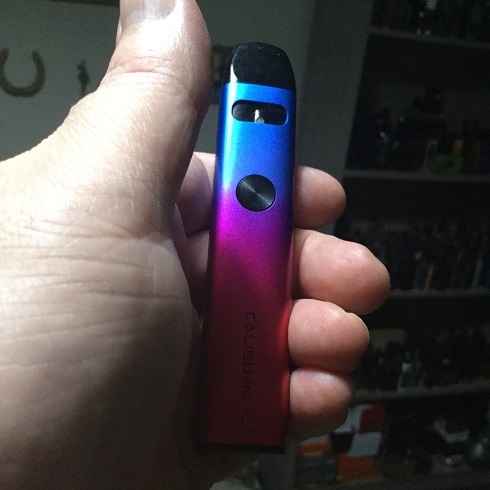 ---
Likes
Ergonomic form factor
6 Colour options
Large, flush fire button
Fire button give quiet click
Fire button or Auto draw activation
Auto Draw matches fire button draw performance
Fit for purpose viewing e-liquid window
Top-fill, fill without removing from device
Clear pod
Extremely comfortable mouthpiece
Pod fits securely (no movement whatsoever)
Smooth consistent loose MTL draw
Excellent flavour
Suffered bo leaking or condensation
Type C USB
Charges 90% in 35 minutes
Fully charged in 50 minutes
Battery status and charging indications
Supports pass-through
Cons
Poor battery life
Very little warning for battery depletion (only on red for about 10 puffs)
Coils can't be replaced (need to replace whole pod)
Airflow non-adjustable
Only one coil/pod option
No Type C USB cable included
I would once again like to thank Sourcemore for supplying the Uwell Caliburn A2 Kit for the purpose of this review, thanks for reading and stay safe!
Uwell Caliburn A2 Kit 15W 520mAh Pod System Kit
$14.04 - Uwell Caliburn A2 Kit /$8.42 Cartridge(same code)
Code: CAPK
Disclaimer: I am not affiliated with Sourcemore or benefit in any way from the use of the above code but was asked if I would include it in my content!
---