Hi Vaping Community, In this review I take a look at the Tauren Max RDA from Thunderhead Creations. The Tauren Max RDA was supplied for the purpose of this review by Klaus from Thunderhead Creations.
Tauren MAX RDA - Powered by Thunderhead Creations
Introduction
Thunderhead Creations are best known for their atomisers (with the Tauren series being the most popular), mechanical and semi-mechanical devices and bridge that gap being mainstream with reasonable pricing while having a higher end build quality. Here I take a look at the Tauren Max RDA which is 25mm in diameter and has a Ceramic postless deck with a dual Ceramic clamp design for a dual coil set-up. The RDA has a 3D honeycomb airflow system which can be adjusted by turning the sleeve!
Like with previous Tauren RDA's from Thunderhead Creations it comes packaged in a Stainless Steel Canister with base doubling up as a threaded atomiser stand, the Tauren Max RDA really is immaculately presented. Let's give it a good look!
---
In The Box
Contents:
1* Tauren Max RDA
1* Metal Case
1* BF Pin
1* Spare M4 Hex Screw
2* Spare M4 Slot Screw
1* Star Socket Screw Wrench
1* Allen Key
1* Slot Screwdriver
2* 3 Core Fused Clapton Coil
1* Coil Leg Trim Tool
Spare O-rings
1* User Manual
1* QC Card
1* Warranty Card
---
Aesthetics
The Tauren Max RDA came in the usual canister with base that doubles up as an atomiser stand that previous Tauren RDA's have come packaged in, the can along with a bag of accessories and tools are placed into a pouch with a tag giving the name of the product and colour version. I received the Brass Black version, the options are SS, Black, Gunmetal, Silver Black, Brass and Brass Black, all versions come with a honeycomb Goon style fitting 810 up top.
The drip tip has a Black band around it's base with "THUNDERHEAD CREATIONS" printed, for those that don't like printed branding I can't see this bothering you as the band is very narrow and the printed writing is tiny. The outer Brass sleeve on the Brass Black version I received has a thick Black textured coating which is carved through to show brass detail in regards surround bands, writing and the Tauren logo! The sleeve steps to the mentioned drip tip and central on the front of the sleeve we have the large Tauren logo in Brass, around the bottom of the sleeve we have three Brass bands broken up directly underneath the logo by the word "MAX" also in Brass. Either side on the sleeve we have a slot for airflow then moving to the base we have etched branding, safety stamps and serial number. The Tauren Max comes with a standard Gold plated 510 pin installed but a BF pin is also included, the pin protrudes nicely so no issues using with a mechanical device. The metal on the RDA is thick making it reassuringly weighty and the machining is so clean, very impressed with the build quality.
---
Tauren Max RDA Specs and Features:
Size: 25x31mm
Material: SS / Brass
Capacity: 2ml
Fill Type: Top/BF pin
Airflow: 3D Honeycomb
Drip Tip: 810
Deck: Dual Coil
Dual ceramic clamp system
Creative ceramic postless build deck
Triple sides with 26pcs air holes
Airflow control with locking system
Unique metal tube package design (Unique to Thunderhead creation RDA's)
Colours: SS, Black, Gunmetal, Silver Black, Brass, Brass Black
---
What You Receive?
You Receive the Tauren Max RDA with pre-installed standard pin and as mentioned previously it's packaged within a Stainless Steel Canister with base doubling up as an atomiser stand, it's worth pointing out when unscrewing or screwing the Max back onto the stand that the threading to both is silky smooth!
As well as all the usual paperwork you receive a screwdriver, Coil Leg Trim Tool and accessories bag. In the accessories bag we get spare O-rings, screws, Allen key, Star Socket Screw Wrench and BF 510 pin. You will also receive a pair of Tri-core Fused Claptons which once again from Thunderhead Creations are of high quality! The specs for the coils are Ni80 26ga*3 + 38ga 3.0ID 0.25ohm (per coil). Really very happy with what is included, if some cotton had been thrown in with spare clamps and springs then I would give full marks!
---
It's Various Parts
Up top we have a 510 honeycomb design drip tip (so you can fit your own) followed by the sleeve with dual airflow slots. Then comes the base section with Ceramic Deck and side airflow walls. Finally we have the choice of pins, it comes pre-installed with a standard pin but a BF pin is included in the accessories bag!
The Ceramic plate does have a central torx screw which can be undone with the supplied wrench which allows the whole deck to be stripped down but unlike with the Artemis where you get spare springs and clamp you don't get spares with the Tauren Max RDA so I didn't risk stripping it down for the review as I can guarantee I would of dropped a vital screw or spring never to be found again!
Just to mention for those that like the transparent look there is a glass sleeve available as a separate purchase!
---
The Airflow
Just looking down through the top of the sleeve shows the impressive 3D honeycomb airflow design but then Thunderhead Creations are known for their impressive airflow designs. Many do complain that everything just stays the same with vaping products and lack of innovation but it's more things just now move more slowly and sneak up on us, if you look at some airflow designs on RDA's now for example and then look at an RDA from five years ago there is no comparison, airflow designs are something that have come a long way!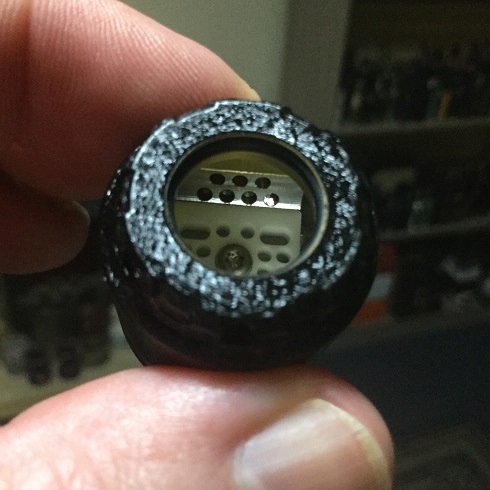 Looking at the base section we have two raised walls that are opposite each other with a slot in each to match the slots on the sleeve. These slots are sloped downwards but the sloped ceiling of the slots have 7 holes each side that deliver side airflow at a slight upwards angle while the rest of the air travels down the chute created by the sloped slot and underneath the deck before coming up through the 12 airflow outlets of the Ceramic deck giving bottom airflow. So the airflow outlets consists of 12 in the Ceramic deck and 7 in each side wall which are two rows one of 4 and one of three making 26 outlets in total and excellent side and bottom coverage.
Inside the domed sleeve there is a little protruding notch and to each end of the decks lower sections of the perimeter (between the airflow walls) we have a little raised section, these act as stoppers whichever side the notch gets fitted giving adjustable airflow with stoppers! To start with moving the sleeve to adjust airflow is quite stiff but once e-liquid lubes up the O-rings it moves with a very nice tolerance!
---
Filling
The Tauren Max RDA can be used as a standard dripper or with the BF pin. When using the BF pin the liquid comes out the top of the pin but underneath the deck through two small openings feeding your juice wells directly and with the sloped airflow slots to the airflow walls it will take some major over zealous squonking to have leaking issues! I gave it a quick try with the BF pin which I was able to do because you can swap the pins in seconds on the fly without disturbing your build which I like a lot!
---
The Deck and Build
The Tauren Max RDA has a Ceramic postless deck which consists of 12 airflow outlets and 4 terminal slots that lead to the terminal slots proper which are underneath. Underneath the Ceramic deck we have the same spring loaded Ceramic clamp as seen on the Artemis RDTA only this time a pair of them for a dual coil build!
So just one screw positioned to the outside of the base section for each clamp which needs unscrewing to open the terminals. According to the coil trim tool you need to cut your leads to 7mm which is quite long but this is needed as the slots in the Ceramic deck are not the terminals but just lead to the terminals below so long leads are needed! Just one screw to open both terminals for your coil leads like with the Artemis just makes fitting coils a breeze. I unscrewed both clamps and then just popped my coil leads in place and tightened the screw each side before spending just a couple of seconds using a coiling rod to straighten my coils and that's it!
I then attempted a few low power pulses to get my coils glowing from the inside out before realising quite some power is needed with these coils so instead went to 35w and long chain pulses to get them heated up to burn off any residue left over from the manufacturing process!
I found a Firebolt shoelace cotton piece perfect to feed through both coils and then cut on the bend resulting in half the cotton through each coil. I then just fluffed up my cotton ends which resulted in some thinning before trimming and then placing down into the juice wells! I then primed her up and gave a few pulses to make sure everything was in order!
---
My thoughts!
First thing to point out as far as ohms and wattage I am far from my preferred territory much preferring single coils and if I was using this in future I would be using coils that are about 0.4ohm each so going for a 0.2ohm build as 80w is about my limit. The photo below with the Tauren Max on the Mech is just for show (it didn't even have a battery in it) as my build came out at 0.13ohm and I don't feel safe with a 30+amp load and approaching 150w so instead headed for the safety of a regulated device but that's my choice, for those experienced mech users who have no issues with lower builds with the correct battery fill your boots!
I still ended up at 100w and can really see the appeal as this wasn't just producing cloud for the sake of it but along with all that vaper came intense flavour, man this is very good! This gives bags of air and I mean plenty but considering the amount of air isn't loud and so very smooth! The airflow adjustment moves with nice tolerance and does give some restriction but this isn't for those into more restricted direct lung draws even almost closed it's still a quite open draw!
The airflow design I love giving both bottom and lower side airflow which is angled upwards, your coils just get bombarded with air from everywhere giving great coverage which results in top notch flavour! I tested with the BF pin on my Drone and it works great, no issues at all and the fact I could just swap pins on the fly is also a big plus!
I use to find the drip tips from Thunderhead Creations were a little low profile for my liking but this is the second atomiser I have received from them in a row which has the more substantial honeycomb style I prefer! All machining, threading and tolerances are spot on it really is hard to think of anything negative. You receive plenty with the Tauren Max but at the risk of sounding greedy this is the only area I can find any sought of cons, spare clamps, springs etc for the deck section would of been a big bonus and don't understand why they can't just throw a bit of cotton in the packaging!
The build with the Ceramic clamps using just one screw for both terminals make installing your coils as easy as it gets and finally love how the Tauren range come in the Stainless Steel canisters with the base doubling up at an atomiser stand!
To sum up Thunderhead Creations hit it out the ball park yet again!!!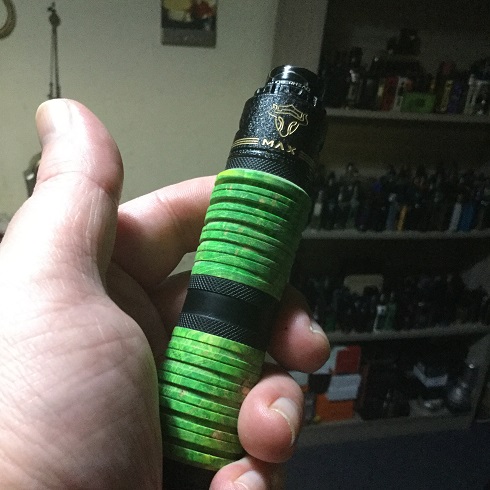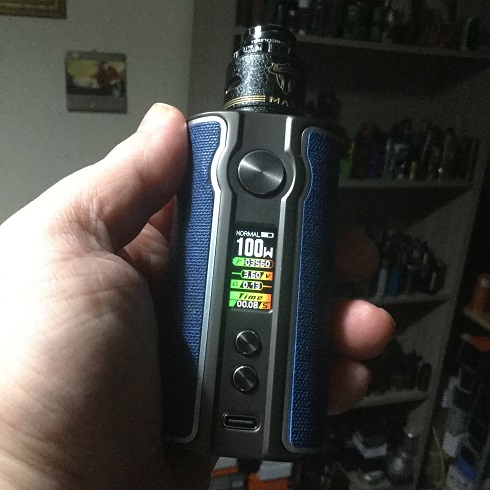 ---
Likes
High build Quality
Machining, threading and tolerances spot on
Looks fantastic (in my opinion)
Stainless Steel and Brass versions
6 colour options
Standard and BF pins included
3D Honeycomb surround airflow
Airflow adjustable with stoppers
Ceramic postless desk
Single screw Ceramic clamps
Large terminals
Spacious build deck
Deck section can be stripped down
Intense flavour
Smooth quite quiet airflow
Full on DL, can be restricted slightly
Very easy build
BF pin worked great
Coil leg trim tool included
Included two Tri-core Fused Claptons
Cons
No real cons apart from no cotton included and spare clamps, springs and central deck screw would of been a nice bonus
I would once again like to thank Klaus from Thunderhead Creations for supplying the Tauren Max RDA for the purpose of this review, thanks for reading and stay safe!
Tauren MAX RDA - Powered by Thunderhead Creations
---