Hi Vaping Community, In this review I take a look at the Pro and Lite versions of the Elite MTL RTA from Thunderhead Creations. Both versions of the Elite MTL RTA were supplied for the purpose of this review by Klaus from Thunderhead Creations.
Elite MTL RTA(Pro) - Powered by Thunderhead Creations
Elite MTL RTA(Lite) - Powered by Thunderhead Creations
Introduction
Thunderhead Creations seem to continuously release quality products with most of their popular products carrying the Tauren name. They are best known for their DL atomizers and mechanical devices but here we have a follow up to their Tauren MTL RTA. The Elite MTL RTA is a Tauren family member even if not referred to by it's full name (Tauren Elite MTL RTA) in it's marketing and uses the same Tauren logo and really is an upgraded version of the Tauren MTL RTA!
Coming in Pro and Lite versions the Elite has the same build deck as the Tauren MTL RTA but now with replaceable airflow inserts and markers added to the well received innovative 360 degree stepless precise airflow control surround! Coming in 4 colour options in the Lite version and 5 in the Pro version and with all the accessories not included with the Lite available as separate purchases, let's take a closer look!
---
In The Box
Contents:
Pro Version:
1 x RTA Top Metal Sleeve Narrow PC Tube
1 x Metal Cannister with atomiser stand base
1 x Airflow Inserts Set
1 x 510 Long Drip Tip
1 x Straight Glass
1 x Hex Screw
3 x Slot Screws
1 x 1.5 Allen Key
1 x 2.0 Allen Key
2 x MTL Fused Clapton Coils
1 x O x rings
1 x Manual
1 x QC Card
1 x Warranty Card
Lite Version:
1 x RTA 2ml Straight Glass
1 x Zipper Case
1 x Straight Glass
1 x Slot Screwdriver
1 x Hex Screw
3 x Slot Screws
1 x 1.5 Allen Key
1 x 2.0 Allen Key
2 x MTL Fused Clapton Coils
1 x Spare O-rings
1 x User Manual
1 x QC Card
1 x Warranty Card
---
Aesthetics
The Lite version comes in a zipped carry case and has a full glass tube making the Tauren logo on the chamber fully visible rather than having the metal sleeve with narrow frosted PC tube of the pro version, the lite comes in Stainless steel, Gunmetal, Gold or Black.
The Pro version comes in the usual Tauren Stainless Steel cannister with the base doubling as an atomiser stand but in this case we have an extra large cannister allowing for the extra airflow inserts to be displayed around the atomiser, the Pro version comes in Stainless steel, Gunmetal, Gold, Black or Silver Black.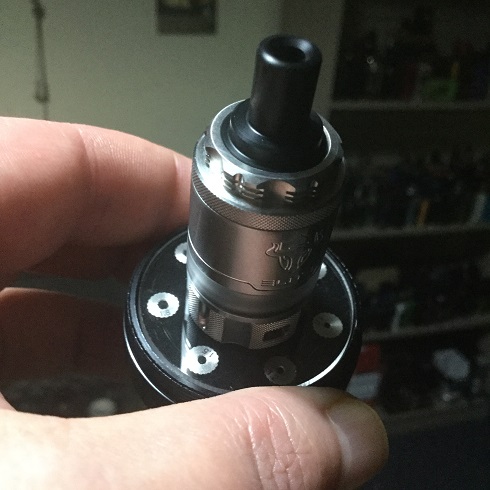 The outer sleeve is two parts having the Stainless Steel top section with carved Tauren logo and lower narrow frosted tube below. The top cap has aggressive fine knurling for good grip and then steps to a heat sink design which is purely aesthetic as the fins are not cut far enough into the metal to have any physical effect but it does give a quite distinctive look. If fitting the longer drip tip that has a base section with the same heat sink fin design which gives the design an extra step.
The base has a wide airflow control ring which has a short but wide single slot, the AFC has a distinctive look with aggressive fine knurling to the outer sections of the design. looking at the bottom of the base we have etched branding and safety stamps, the Gold plated 510 protrudes nicely!
---
Elite MTL RTA Specs and Features:
Weight: 50g (1.76oz)
Diameter: 22mm (0.87 inch)
Height: 49mm (1.93 inch)
Material: Stainless Steel
Capacity: 2ml (4ml with available Bubble Glass)
Deck: Single Coil
Fill Type: Top
Airflow: MTL / RDL
Long Drip Tip Included
Optimized Curved Inner Airflow Path
Knurling Design
Luxury Packaging Design
360 degree Innovative Stepless Airflow Control
Micro Honeycomb Airflow System
8 Various of Airflow Options
Two Post Simple Build Deck
Thread: 510
Pro Colour Options: Stainless steel, Gunmetal, Gold, Black, Silver Black
Lite Colour Options: Stainless steel, Gunmetal, Gold, Black
---
The Differences:
Apart from different packaging the RTA is the exact same Elite 22mm in diameter and 49mm in height atomiser with both kits with the only difference being the Pro version comes with a metal upper sleeve and narrow frosted PC tube while the Lite version comes with a 2ml straight glass giving a more transparent look, both versions come with a spare 2ml straight glass.
You also do not receive the extra 7 inserts with the Lite version or the long drip tip but both are available as separate purchases along with the metal sleeves with PC tube so you can essentially get the Lite version first if you prefer and then buy the other accessories which are included with the Pro, being able to buy the different colour metal sleeves separately will also allow for customisation whichever version you buy!
Not included with either the Pro or Lite but available as a separate purchase there is also a bubble glass which will take the capacity to 4ml!
---
What You Receive?
I have explained what you don't receive with the Lite version so what do you get with the Pro version? As well as the usual paperwork you receive all spare screws and O-rings and 2 different sized Allen keys. You also receive a long 510 drip tip with base section that has the same fake heat sink design as the top of the RTA and spare 2ml Straight Glass.
The extra airflow inserts come neatly arranged around the base of the can which is also an atomiser stand, we also get two fused clapton with full specs which are Ni80 30ga2+38ga / 0.25mm2+0.1mm 2.5ID 0.6ohm.
---
It's Various Parts!
Up top we have a pre-installed 510 Delrin drip tip that can be replaced with the included longer drip tip which has a base section with the same design as the top of the RTA, you can of course use any other 510 drip tip if you prefer!
I prefer bayonet fitting top-caps as threaded can take a good few turns to remove but here we have a short threaded top-cap which is just 3 full turns to remove or secure, the smoothness of the threading just oozes quality! Once off we have deep sitting large fill ports, absolutely no issues at all. The fill plate is attached to the chimney and chamber section and the outer sleeve can be pulled free where it is secured and sealed via an O-ring. The outer sleeve has a top metal section and a lower frosted narrow PC tube which again is secured and sealed via an O-ring so can be separated from the metal top section, you can fit the included straight glass tube if you prefer or even the available bubble glass which increases the capacity to 4ml. Removing the base section again shows off the superb threading and also reveals a very clean looking raised GTA style build deck with pre-installed showerhead bottom airflow insert!
---
The Airflow
The Elite MTL RTA has the same airflow system which was unique to the Tauren MTL RTA which isn't going to be that easy to describe but luckily there are pictures on their website I have included that are self explanatory so gets me out of jail on this one but I will do my best!
The air enters via 6 small airflow holes on the side of the base and is directed up a curved inlet channel before entering the deck through an outlet directly below where your coil will be installed. This pre-installed outlet (insert) is a showerhead style with 37 tiny holes rather than the fixed 61 hole outlet of the original Tauren. This insert can be swapped out for one of 7 different inserts included with the Pro version but also available separately for the Lite.
As well as the 2 rows of three airflow holes on the side of the base these holes are at the end of a recessed channel that travels around almost the entire perimeter of the base very gradually becoming narrower the further away from the airflow holes you get!
The rectangular cut-out on the airflow control ring can be lined up with the 6 airflow holes for full airflow or it can be turned to have 4 or 2 holes wide open! This is where this design gets clever as the airflow positions I have described so far are for your RDL and loose MTL draws. You can carry on turning the rectangular slot on the AFC but now you are feeding the airflow holes via the recessed channel which the further away from the airflow holes you get the narrower the channel gets so the tighter the draw! Since the Tauren MTL RTA this has also been upgraded by having a round concave hollow indent at both the 180 and 270 degree points to give reference marks!
The airflow insert underneath where the coil will be fitted is screwed into place so to use one of the 7 optional inserts you just need to unscrew to remove and then screw the desired insert into position. The only problem with this style of inserting inserts is it needs doing before you do your build and they can't be swapped on the fly!
---
The Deck and Build!
The Elite MTL RTA has such a clean looking deck with both deep wicking channels and it's a raised GTA style with side threading which means the build area will sit in the top half of the chamber making it quite reduced. We have side by side posts with your leads just getting fastened down from above so it allows for a very easy straightforward build! Your leads are fastened down by hex screws which are my favourite but slot screws are included if that's your preference! Just slot your leads through the terminals and while holding the coil over the airflow outlet tighten your leads down. Then just use a coiling rod or fit for purpose tool to position your coil at the correct height and snip your access leads.
After snipping the leads just recheck the leads are fastened tight. I then gave the coil a few low wattage pulses to burn off any residue and strum out any hotspots although there wasn't any which always seems to be the case with coils from Thunderhead Creations.
Wicking is straightforward, just cut your cotton long enough to feed the wicking ports and just tuck the cotton into the channels, prime and give it a few pulses to admire your work!!! very easy build indeed!
---
How It Vapes? And Thoughts!
The Tauren MTL RTA really impressed me with the only issues being around the poor visibility of the e-liquid with the metal honeycomb style outer casing, having just the top metal and narrow frosted tube below on the Elite is better in this regard plus now you have the option of having just Glass! So with this basically having the same deck and great airflow system as the Tauren but now with replaceable airflow inserts for even more precise airflow draws this is now perfect, right? Well no but damn close! Although I do like the increased airflow options and also using one of the small holes rather than showerhead design stopped any leaking I started occasionally getting with the original through the airflow they can't be swapped on the fly so will take some time and many builds to work out your favourite option, with all the combinations I have tried so far I have found my sweet spot with the 1.2mm insert and the airflow control at the marked 180 degree point for a medium MTL but the options are endless from as tight as anyone would need right up to a RDL vape! The only other negative is capacity has been reduced to 2ml although a 4ml bubble glass is available but not included!
It needs pointing out just how good the machining, threading and tolerances are, it's really top quality. The top-cap comes off with just 3 turns and the silky smooth threading oozes class. The clean looking deck is machined perfectly and with the side by side posts with large terminals for a MTL offering it's such an easy build.
The standout though is the already mentioned airflow design, just the angled inlet and choice of inserts would of been a great design but then we have that innovative recessed channel feeding the airflow inlet holes that is used for your MTL draws.
Innovation is one thing but when it delivers like this the jury goes out on "why has nobody thought of this before?". With the AFC rectangular cut-out lined up with the six holes it gives a smooth RDL draw and then you can close down to 4 or 2 holes for a very loose and loose MTL. Once you start using the channel for airflow you can dial in the exact draw you are after right up to very tight and I can honestly say I haven't used any airflow design that allows for as much precision as this allows for, it works absolutely great and is smooth across the board!
Of course for most vapers having a super smooth, quiet airflow that offers this much precision and draw options will be poor consolation if it doesn't deliver on flavour! Absolutely no need to worry apart from the Bishop which is in a league of it's own in my opinion this is right up there with RTA's like the Nevermore and Glaz Mini!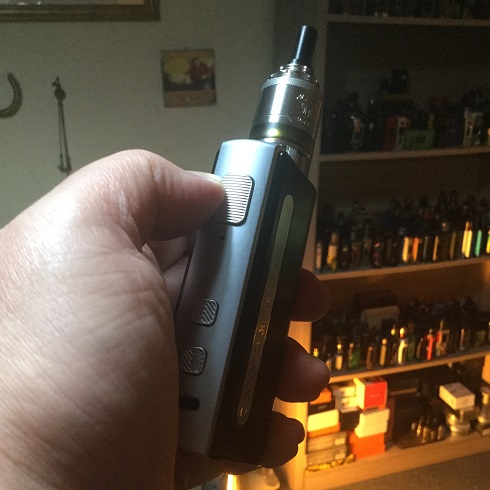 ---
Likes
Lite and Pro Versions
Excellent build quality
Machining, threading and tolerances high quality
Excellently packaged, RTA in a Stainless Steel cannister with 510 threaded lid/base Everything then in a tagged pouch!! (lite version Zipped carry case)
5 Colour options (pro), 4 Colour options (Lite)
Nicely engraved Tauren logo
Long drip tip, outer sleeves, inserts and Bubble Glass available as separate purchases
Short thread top-cap (silky smooth threading)
Mess free top-fill
2 different MTL drip tips included (Pro)
510 drip tip fitting, can use your own
Spare glass included
Both hex and slotted screws
2 MTL Fused Claptons with full specs
Innovative 360degree airflow feeding channel!
Showerhead removable airflow outlet
7 extra airflow inserts (Pro)
RDL and full MTL spectrum!
Most precise airflow used to date!
Silky smooth quiet airflow across the board!
Cracking Flavour!
Cons
2ml Capacity (4ml bubble glass available but separate purchase)
Inserts can't be swapped on the fly
No cotton included
I would once again like to thank Klaus from Thunderhead Creations for supplying the Elite MTL RTA for the purpose of this review, thanks for reading and stay safe!
Elite MTL RTA(Pro) - Powered by Thunderhead Creations
Elite MTL RTA(Lite) - Powered by Thunderhead Creations
---