Hi Vaping Community, In this review I take a look at the Artemis V1.5 BF RDTA from Thunderhead Creations. The Artemis V1.5 BF RDTA was supplied for the purpose of this review by Klaus from Thunderhead Creations.
Artemis RDTA V1.5 - Powered by Thunderhead Creations
Introduction
Thunderhead Creations are best known for their atomisers (with the Tauren series being the most popular), mechanical and semi-mechanical devices and bridge that gap being mainstream with reasonable pricing while having a higher end build quality. Here I take a look at Artemis V1.5 which is the upgrade to the original released about a year ago and like V1 is a collaboration with Tony Vapes! When I say upgrade it's more of an alternative with more traditional wicking method rather than the replenishing Steel Rope Rods as seen on V1!
The Artemis V1.5 BF RDTA is 24mm in diameter and can be used with a 2ml capacity or extended to 4ml. It utilises a single spring loaded ceramic clamp to secure a single coil build and has both honeycomb adjustable airflow and although officially side-fill has what I would describe as top-fill.
The Artemis comes with both standard and BF pins for both capacity modes and is available in 6 different colour options, Let's delve down deeper!
---
In The Box
Contents:
1 x Artemis RDTA V1.5
1 x 4ML Glass Tank
1 x Accessories Pack (See What You Receive Section)
2 x Fused Clapton Coil
1 x Flathead screwdriver
1 x Coil lead length Cutting Tool
1 x User Manual
1 x QC Card
1 x Warranty Card
---
Aesthetics
The Artemis V1.5 came in cardboard box packaging with viewing window so the atomiser can be viewed without opening, we have contents and branding etc on the back of the box. I received the Blue version, the options are SS, Black, Gunmetal, Gold, Blue or Silver Black.
The Artemis comes assembled in 2ml mode so has a small narrow glass at the bottom and large top sleeve which pulls off to allow access to the deck and side (pretty much top) fill port but also turns for adjusting airflow. On the front of the sleeve we have a large logo and "ARTEMIS" carved into the metal and then either side the honeycomb airflow which consists of 13 holes either side! The top-cap steps to a honeycomb 810 drip tip with "THUNDERHEAD CREATIONS" around it's base!
Moving to the base we have branding, safety stamps and a pre-installed standard, Gold plated pin that protrudes nicely. It's a nice looking RDTA which is quite compact in 2ml mode but still not too large when extended!
---
THC Artemis V1.5 BF RDTA Specs and Features:
FEATURES:
• Strong Ceramic Clamp System
• Honeycomb Airflow Design
• Convenient Side Fill Port
• Compatible To 2&4ML In One Design
• Single Screw Postless Build Deck
• Single Coil Configuration
• Wide Slot Side Fill Port
• Side Secured via Single M4 Screw
• 810 Resin Drip Tip
• Bottom Feeding 510 Squonk Connection
• Collaboration with TNYVPS
SPECIFICATIONS:
Diameter: 24mm
Height: 38.5mm(Install 2ml tube)/45mm(Install 4ml tube)
Material: SS
Capacity: 2/4ML
Drip Tip: 810
Deck: Single Coil
Fill Type: Side/Bottom
Airflow: Dual Side 26 Holes Honeycomb Airflow
Colours: SS, Black, Gunmetal, Gold, Blue, Silver Black
---
RDTA?
I know most atomisers of this style are referred to has RDTA's but who actually would use one as a dripper? RDTA's first got introduced by Steam Crave as the tank of e-liquid is above the deck and drips down to wick rather than the deck being surrounded by a tank of e-liquid as is the case with an RTA! But as time has gone on atomisers get misnamed constantly not that it matters but just thought it's interesting! So really an RTA like the Bishop should be called an RDTA not RTA and the style like the Artemis should correctly be called a top-coiler RTA!
---
What You Receive?
You receive the Artemis V1.5 pre-installed with narrow 2ml glass and short length standard pin. Also in the box is a wider 4ml glass tube, screwdriver and Coil lead length cutting tool. You also receive QC Card, Warranty Card, Manual and two 4 Core Fused Claptons which are Ni80 with 3.0ID and 0.25ohm, they do look very decent and a step up from the usual standard included with atomisers!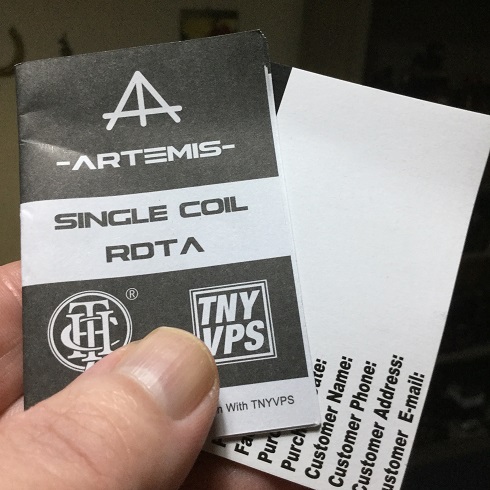 We then have the Accessories bag which comprises of spare O-rings, M4 screws, a spare ceramic clamp, springs, tank extension section, Allen Key and 3 510 pins (both short and long BF pins and the long standard pin)!
---
It's Various Parts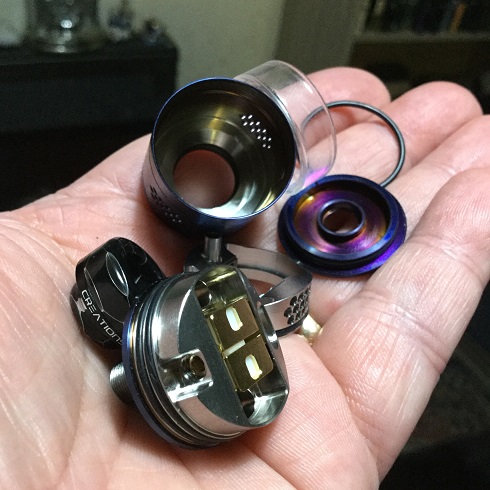 Up top we have an 810 drip tip, although THC drip tips are high quality I usually find them too low profile personally but the one that comes with the Artemis is much more the height I prefer! We then have the top-cap/sleeve which pulls off to reveal the deck, looking inside the sleeve we can also see an inner section with extension to the airflow system and protruding plug for the fill port. The tip section of the plug is Gold plated and pulls free which unless it's because they only wanted the very tip Gold plated and the easiest way was to have that has a separate part I don't see the point of this detaching as all it does is make it possible to lose with it being so small!
Next we have the deck section and underneath a central cylindrical column that can be unscrewed so the included extended longer column can be fitted if using the 4ml glass! The glass fits between the deck section and base plate and is sealed top and bottom via O-rings. A peak insulator and 510 pin gets pushed into the central column and is tightened with the supplied screwdriver.
---
Filling
Obviously one way of filling will be using on a BF device with the a BF pin installed, the liquid travels up the pin and out through holes either side about 75% of the way up so comes out the pin just underneath the deck to top the tank up! Really when using a BF pin with an RDTA atomiser of this style the BF bottle is used as an extension to the capacity!
When you pull the sleeve off you will see a fill port to one side which is at the slightest angle so classed as side-fill but in reality is a much more convenient top-fill and I had no issues at all when filling via the port! Looking inside the top sleeve you will see an extended Gold plug which plugs the fill port during use so you need to make sure the port and plug are lined up for the sleeve to fit properly, that plug also serves a purpose when adjusting airflow but more about that in the next section!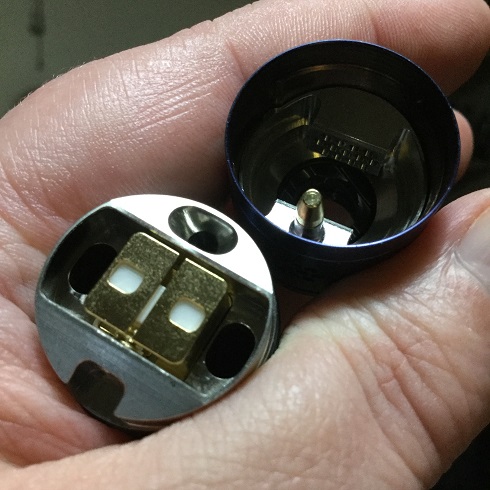 ---
The Airflow
The Artemis has honeycomb airflow which consists of 13 holes either side. When looking inside the top-cap/sleeve you can see a metal inner section which has a thick walled airflow section either side with the same matching 13 holes per side, this not only means the airflow becomes jets of air aimed at the coil, a proven method for both good flavour and smoothness but also the thickness of these sections really helps to reduce the chamber, another flavour encouragement attribute!
This inner section can be removed where you will find there is an O-ring between the outer sleeve and inner section. The protruding plug for the fill port is attached to this inner section so when the sleeve is placed over the deck this plug goes into the fill port but what that also does is prevent it turning when the outer sleeve is turned so the outer sleeve can be turned but the inner section stays stationary allowing the airflow to be adjusted!
---
Extending The Artemis and Changing To BF Pin
The Artemis comes with the 2ml narrow glass and short standard pin pre-installed. You have a main central column that extends down from underneath the deck to the base and the glass sits between the deck and base plate sealed both top and bottom with an O-ring. To change just the pin then simply use the included screwdriver to unscrew the pin and pull out, if the Peek insulator surround also comes out just pop that back into place and then just screw in the required pin, you get two sizes of both standard and BF pin so you can use in either mode whether the atomiser is 2ml or extended to 4ml!
I extended the atomiser to 4ml which meant I would also need to install a new pin as it needed one of the two long pins so I installed the long BF pin! First I unscrewed the base plate which allowed the glass to be removed and then unscrewed the shorter central column along with the pin. I then popped the long BF pin with insulator into the included longer central column section and screwed onto the underneath of the deck section, popped on the larger glass, screwed the base plate back on and tightened the pin!
---
The Deck And Build
I really like this deck, very simple and well executed! We have two postless terminals and your leads get fastened in position by a spring loaded ceramic clamp which is loosened and tightened by a single M4 screw from the side of the deck! I also used one of the included coils for the build because they look very decent, it's good to not only receive a couple of coils but for them to be of high quality!
First you need to cut your leads which if you want you can use the included coil lead length tool, I cut them to the 5mm length which is marked on the tool to be the perfect length but felt they were slightly too long so did cut an extra 1mm off each lead so I would recommend 4mm (maybe try 5mm first, can always shorten but can't add back once cut)! Using the Allen key provided just undo the clamp and pop your leads in, while keeping the coil steady with a coiling rod or fit for purpose tool tighten the clamp to secure your leads then straighten your coil with the rod! Then give your coil a few pulses to burn off any residue and strum out any hotspots, although mine had none and glowed from inside out from the first pulse!
Wicking isn't difficult, your wicks can just poke through your wicking ports or you can have them dangling in the tank whichever you prefer as long as it's not packed tight through the ports which will suffocate the flow it really doesn't matter!
Feed your cotton through the coil and cut to the length you require, I did give my ends a quick comb through (nothing too drastic) and retrimmed before placing through the ports! I then primed the exposed cotton and coil and fired it up to admire my work!
Although using with a BF pin on a BF device, I am using it that way to maximise capacity so also filled the tank first via what I am going to call top-fill! (would anyone really describe this as side-fill?)!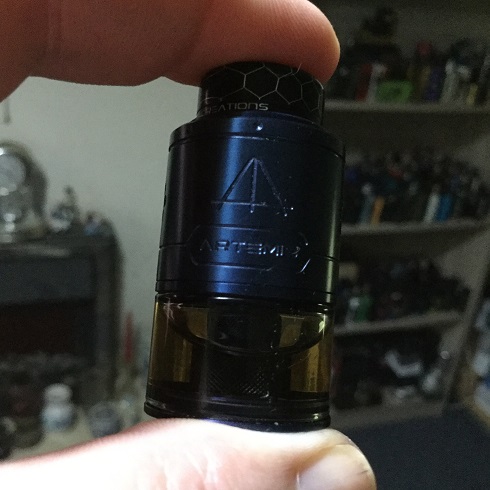 ---
My Thoughts!
It seems harder all the time just lately with atomisers to find faults which can only be a good thing and with the Artemis V1.5 there's just a couple of petty things and that's about it. I haven't got the original but although this is not a con I must admit I possibly would of preferred that version because I do like RDTA's with Steel Rope replenishing rods but then as I mentioned in the introduction this is not so much of an upgrade or supposed to be better but is just offering an alternative in regards wicking as in V1.5 rather than V2!
I believe all rebuildables should come with everything needed to do at least one build and this comes with not just one but two very decent coils but no cotton, come on THC throw a bit of cotton in (I told you any cons are very petty)! I'm also not a fan that the tip section to the fill port plug detaches as such a small part could easily get lost! The only other slight con is when closing down the airflow less and less of the coil receives air the more it's closed down rather than just a reduction of air that's evenly distributed and although I didn't notice any reduction in flavour when reducing the airflow with the supplied 3.0ID coil I do wonder if using a 4.0 or even a 3.5ID coil it could effect flavour!
This RDTA gives bags of air and I kept forgetting it hosts just a single coil with the amount of vaper it produced, THC have a knack of releasing atomisers which deliver top notch flavour and smooth airflow and that is certainly the case with the Artemis! The build came out at 0.27ohm and I used it at 50W with 40% airflow open which was still more a DL draw with just the slightest restriction rather than a semi restrictive draw and it really doesn't close down enough to give enough restriction for even a medium RDL draw!
I love what is included and that it both can be extended to 4ml and can be used with either standard or BF pins with either capacity. The top-fill (it's not side-fill) works really well being able to fill quickly and mess free and I really enjoyed using it with the 4ml glass and BF pin for all that extra capacity from the BF bottle!
The deck is so well executed with large terminals and ceramic clamp which loosens and fastens with just one screw making coil installation as easy as it gets! The Artemis comes in more standard packaging rather than the metal cannister inside a pouch but the atomiser itself is the usual high build quality I have come to expect from Thunderhead Creations!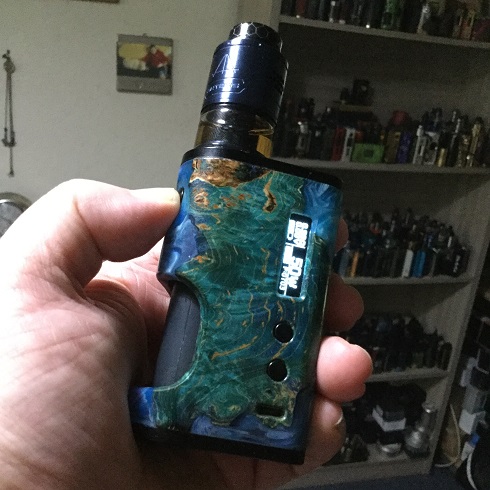 ---
Likes
Usual high build quality expected from THC
Comes in 6 colour options
Can be extended to 4ml
Comes with both standard and BF pins for 2ml and extended 4ml capacity
Adjustable honeycomb airflow
Very nice drip-tip included
Quick top-fill option
Use as standard or BF RDTA
Postless deck
Ceramic clamp secured by single M4 screw
Build doesn't get any easier
Produces bags of air and flavour
Very smooth across the board
Very easy to extend tank and/or change 510 pin
Includes plenty of spares including clamp, springs and screws
Includes 2 very nice 4 Core Fused Claptons
Includes coil lead cutting guide tool
Cons
Airflow not centred to coil when closing down (didn't seem to affect flavour)
Fill plug tip detaches so could easily get lost
No cotton included
I would once again like to thank Klaus from Thunderhead Creations for supplying the Artemis V1.5 BF RDTA for the purpose of this review, thanks for reading and stay safe!
Artemis RDTA V1.5 - Powered by Thunderhead Creations
---