Here with another review, time I will be reviewing SMOK Nfix-mate sent to me by SMOK. This a compact, quite good looking device with some interesting features but I will talk more about it below. Is it a privilege to share my personal opinions and thoughts with our vaping community.
First some information taken from SMOK website. Picture attached.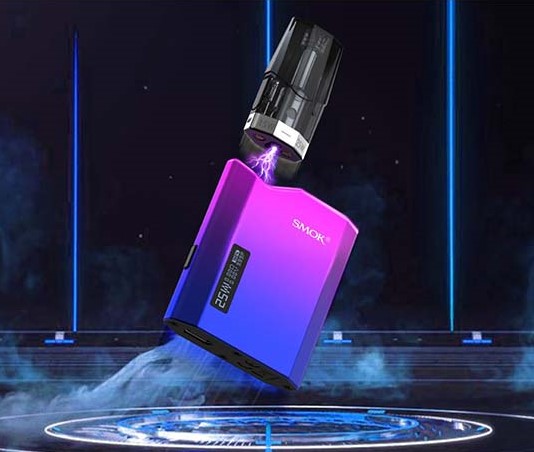 Here is the link in case you want to know more:
Inside the Box
Nfix-mate device (1100 mAh)
Nfix Meshed 0.8ohm Pod (3ml) - Recommended 10-15W
Nfix DC 0.8ohm MTL Pod (3ml) - Recommended 15-25W
2 Silicone dust caps
Cap Lanyard
Lanyard
Type C USB Cable
User manual
Device
The Nfix-mate has a square shape; the frame is made of aluminium alloy with diagonal cut outs on each end. It feels very nice on the hand and is quite small.
It has a 1100 mAh internal battery that can be charge using the USB C provided, it charges in around 90 minutes. When charging the device shows battery percentage and time remaining.
At the top it has the pod and pod placement with two contacts and two strong magnets to hold the pod in place. No rattling whatsoever and I can lift the device by just holding the pod. There is no way this pod is coming out by itself.
At the front is slightly raised power/wattage selection button. This device is draw activated.
On the side it has a 0.69'' OLED Screen, on the top right have "SMOK" branding, on the opposite side at the bottom it has "Nfix-mate" branding, at the back we have a hole at the top for the cap lanyard or if preferred the long lanyard.
At the bottom it has the USB C charging port and some warnings signs.
The display on the device is simple. The main screen shows Ohms, Puff counter, Watts, Volts and Battery percentage.
To on and off the device press the fire button five times. If you press the power button twice it wattage will blink, then by pressing the power button you can change it to what you want and round robins, which is nice.
To reset the puff counter, hold the power button and pull off the pod.
A very simple display and menu with all you need for your basic operation of the Nfix-mate.
Here are some specifications and protections for this little device:
Pods
The pods are made of PCTG with 3ml capacity, and it has a rubber plug at the side of the pod to fill. It is easy to open and hold while refilling, the liquid will move easily inside the pod. I used a 10 ml and 100 ml bottle with no issues at all.
The pods are slightly tinted and it is easy to see the liquid level. Overall, all pros here for me.
The pods provided are:
• Nfix Meshed 0.8ohm Pod (3ml) - Recommended 10-15W
• Nfix DC 0.8ohm MTL Pod (3ml) - Recommended 15-25W
Both pods provided with the kit I will consider them a loose MTL with one capable of being used at lower wattage resulting in the battery lasting a bit longer. On both the flavour was good and I didn't experience any leaking but like I do with any pod system if not in use is better to remove the pod from the device as a precaution.
NFIX-MATE
Positives
Alloy frame and nice finish. It feels nice and it looks good.
Small.
It has a display and can change wattage.
Very simple interface, easy to use.
USB C charge port.
Strong magnets.
Three types of pods to choose from.
Good flavour.
Fill port is at the side of the pod and is easy to fill.
No leaks.
Negatives
Only replaceable pods.
Draw type mostly loose MTL.
Wishlist
A pod with interchangeable coils with a wider range so it could cater for true MTL and RDL vapers.
In conclusion, I would recommend the Nfix-mate device for a beginner or as a carry around for those who like loose MTL. I have to give SMOK a thumbs up for creating such a small device with a display and adjustable wattage.
I would like to thank Sophia from SMOK for sending this device for me to review and share with the community.