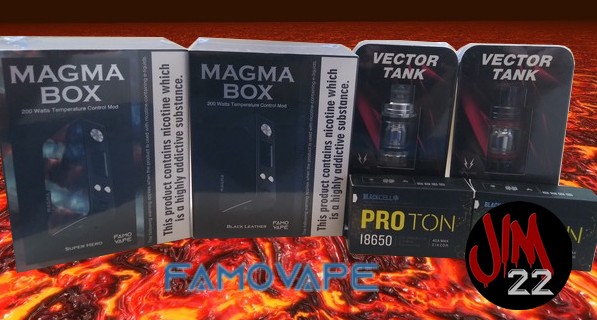 Hello everyone and thanks for checking out this review of the Famovape Magma mod.
As you may know, I had a minor problem with my original Magma mod that I reported here on Vaping Community. The 510 pin stuck, and I noted that others had similar problems. Since then, my 510 pin has gotten stuck a few more times, maybe 4 or 5 total, and it just doesn't feel that springy, but still works. I did comment that there were a few features that I did like as well.
Famovape saw the mini review and responded, and wanted to send me a new updated mod. They asked if I would review the new mod but it wasn't required to receive the replacement. I thought it only fair to review the new version since I criticized my original mod. Not only did they send me the replacement mod, but also an additional mod, two of their Vector sub ohm tanks, and two sets of 18650 Blackcell Proton batteries.
First the mod.
The Famovape Magma is a dual 18650 mod. It has a rectangular metal frame with rounded corners and is pretty small for a dual battery mod. Some models have resin panels, while others are decorative plastic or leather. It was designed as a smaller mod, so standard size tanks will work fine, but don't expect to put big tanks on this without overhang.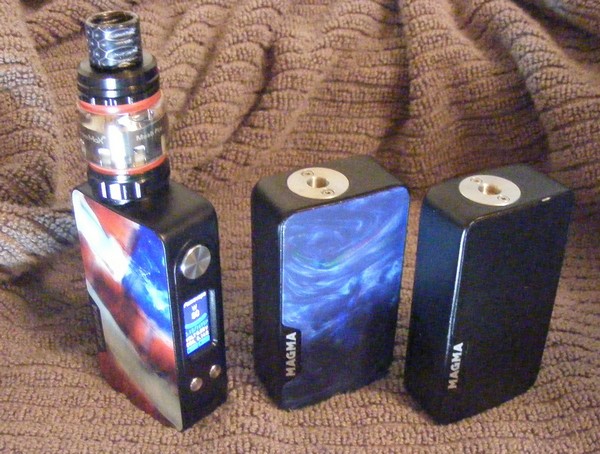 The 510 connector is solidly mounted to the metal frame with two screws. On the new mods, the pin is nice and springy with responsive travel. I have used both these mods heavily and almost exclusively for the last month and have not had any problems with the 510. So it seems that Famovape did indeed improve the quality and reliability of the 510 connector.
The buttons are metal with a concentric circle design. They are easy to find and don't rattle. The fire button on the leather model had a little slop when new, but after use seemed to tighten up a bit.
Comparison to some average size dual battery mods.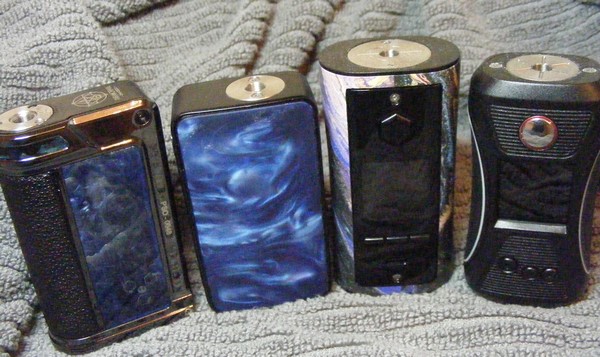 The battery tray is rather standard plastic with sturdy spring loaded contacts at the bottom. There is no battery rattle or movement. The doors all have a little movement to them, but I have to try and move them. It doesn't happen in normal usage. It is here with the battery compartment that I found a second improvement that I have not seen publicized. I saw the updated DJlsb review where he complained that the battery doors moved with batteries installed. I have never had that problem, but Famovape obviously listened and made changes. The newer versions have a slight indent on the door over the battery area to accommodate larger batteries. They reduced the magnet size to make the change work. I don't see any difference in how well the door stays put because of the smaller magnets.
Old style door on the left, new design on the right.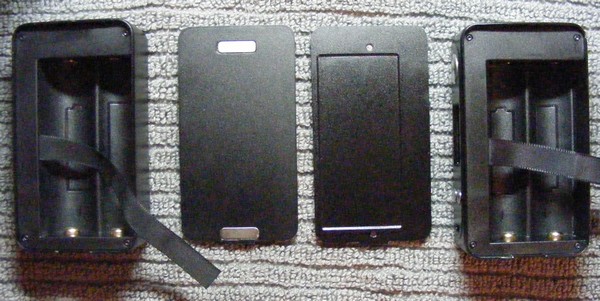 The functionality and features are things that I have always liked about the Magma. Its the standard fire button and the + and - buttons. Five clicks for on and off. Three clicks to access the menu which includes; Wattage mode, temp control in Stainless, Nickel, Titanium, Bypass, change the color, clear the puff counter, thats it. Simple and direct. The display is nice and bright and I can see it in direct sunlight. There is no brightness adjustment. While in temperature control, you change the temperature with the + - buttons. To change the wattage in TC, click the fire button twice then use the + - buttons. The watts are displayed in one watt increments and the temp changes are in 5 degree increments in Fahrenheit mode. The display screen is average size but the font is easily readable and I don't have to strain to see anything.
So how does it perform? Wattage mode is great. There is no adjustment such as soft, normal or hard. In spite of that, it delivers strong consistent power and gets your vape going immediately. I cannot comment on high power accuracy or efficiency as I normally vape at 60-80 watts depending on the tank or build I use.
Temperature control is pretty good. Not great, but usable and acceptable and better than average. Using mesh tanks, it does eventually prevent a full dry hit, it starts dialing down the power as your cotton dries out. If you haven't heeded the warning signs of your power diminishing and the change in flavor, then the dry hit is your fault. It does seem to be a little more accurate using regular SS coils on an RDA or RTA. My findings are using the default resistance setting of 100, so proper adjustment may improve the performance even more. Reading the resistance is very accurate using my Paranormal 250c for comparison.
The mod does not fully shut off and make you restart it, which I like. It does go dormant and shuts off the screen, but just click the button and you are vaping again. If you change tanks in wattage mode, and you click "yes" for new coil, it will give you a recommended wattage which I do not like. It doesn't seem to change anything if you switch tanks in TC.
I still am not sure why, but I seem to get more battery life from these mods. In direct comparison, same batteries, same tank, same wattage, different mods, I consistently get about 20% longer life. Whether its the limited menu or something in the firmware or the board, its pretty impressive.
The Vector Sub Ohm Tank
So when I opened the Famovape box and saw the Vector tank, my heart sank a little. I am just not a sub ohm guy, I like to build. I thought that they were nice enough to send it, I will at least look at it. When I unscrewed everything and got a good look at the coil, I am sure I had a huge smile. I recognized right away that they were using Freemax Fireluke compatible coils, which is the only sub ohm tank I use.
I like the Fireluke coils, but also that the original Fireluke comes with an RTA section that is still one of my favorites.Right away I got out my Fireluke RTA deck, put in a fresh build and tried it. Works great.
The tank itself is similar to the later version of the Fireluke Pro. It has a sliding top cap while I prefer a twist off cap with dual fill slots. The cool thing is that you can twist the top counterclockwise, and the entire top section disassembles for cleaning. It has a tall dual oring 810 drip tip with a honeycomb type pattern. Overall, the look reminds me of a Smok product with the orange orings and patterned drip tip.
It has a lower profile bubble glass, not the round gum machine look of the Fireluke.It comes with spare orings, spare top seal and spare bubble glass.
The coils included are not my favorite. A preinstalled 0.2ohm dual coil is rated at 60-120 watts and the spare 0.15 single coil is rated at 40-100 watts. These coils are not terrible, but my favorite Freemax coils are the triple and quad core which give me a lot more flavor.
The tank performs well, and as a Fireluke fan I was happy to add them to my collection. I am using the black one now with a Freemax triple mesh coil.
Blackcell Proton 18650 Batteries
I am not a battery expert and don't claim to be. I have used these heavily, recharged them repeatedly, and can't tell the difference from my HG2s. They claim to have a secondary safety feature which will allow the battery to separate at the bottom in case the safety at the positive end fails. Unlike most batteries, these claim to be made for vapers.
I'll let the authority tell you about them:
Final Thoughts:
The Famovape Magma mod is one of my favorites. Its a modestly priced mod that performs better than some of my more expensive devices. It is solid, compact, rugged and a workhorse. I have used them a lot and expect to use them regularly. I would buy another if I lost it.
The Famovape Vector tank is a good addition for anyone that is a Freemax Fireluke fan. I have seen them on sale at very reasonable prices.
The Blackcell Proton batteries have performed well and I would buy more if they were available locally at a good price. I am guessing the price reflected on their website is for two batteries, otherwise they are very overpriced.
Links to Famovape and specs:
My thoughts on Famovape:
I am not some big time famous award winning reviewer. Just a guy on a vaping forum that did a quick mini review on a product. To me, it says a lot when a company would reach out in a positive manner and try to make things right. They did not argue with me or tell me I was wrong or insult me. They said that they made improvements and would like to give me a replacement. I hope that Famovape continues with this approach to customer service. More companies should follow their example.
Thanks for taking the time to read this review and feel free to leave your thoughts below.