Rincoe Mechman 228w TC Kit
Patriotism, the odd obsession to absolutely love the one place you had little choice in being born into more than anywhere else in the world. Am I a patriot?..Absolutely, I love everything about Great Britain; the way we think a hot leafy beverage can solve almost any life altering trauma…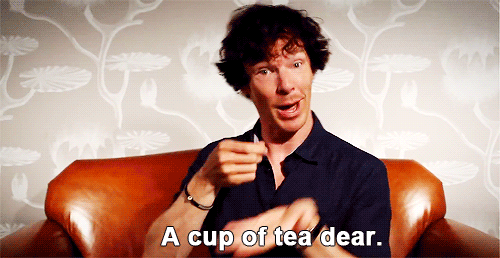 The way we accept that our weather is…for want of a better word…shit. Yet, not only do we accept it, but some of us actually revel in it. At times a simple trip to the local shop can seem like a joyous adventure in itself…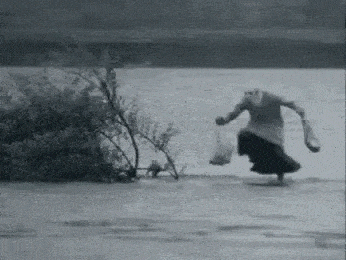 And I adore the way that almost every other person in the world from every other country…thinks that every single British person spends his summer days sat on the lawn eating cucumber sandwiches whilst being brought a tray of afternoon 'drinkypoos' by their butler…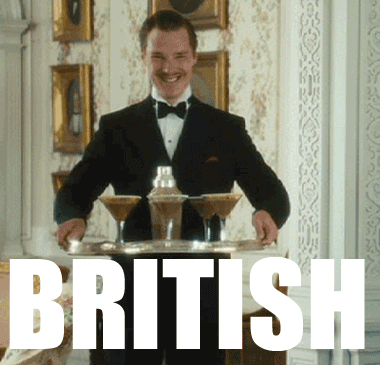 To be fair, that last one is pretty much mandatory, and last but by no means least - just like every other patriot…I have a penchant for our wonderful national flag…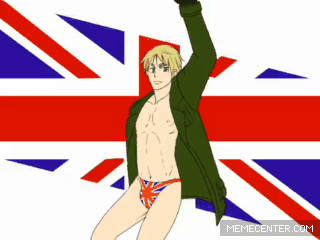 (you had to make it weird didn't you…sigh)
I myself have everything from soft furnishings to actual pieces of furniture adorned with our red, white & blue…yet…for reasons that don't really exist - nor have ever been thought about…my sacred banner seems - thus far - to have eluded my other favourite steamy obsession…until now that is…the anticipation is almost too…palpable.
…
Welcome back my blueberry custard billowing bulldogs, tis I…your third favourite internationally known award winning niche writer (wow…you got that in early…smh) back again with more nonsensical claptrap trying its best to pass itself off as something marginally informative and vaguely interesting…who knows…stranger things have indeed…happened. SO…who and what do we have the pleasure of meeting today then? I hear you inquisitively ask …well…a new one on me, has to be said, even though their Manto mod of last year was popping up everywhere in all of it's ninety twelve different colour variations, and was raved about by many for it's super lightweight structure and simplicity…Rincoe themselves have so far eluded me and my ridiculously illustrious reviewing career …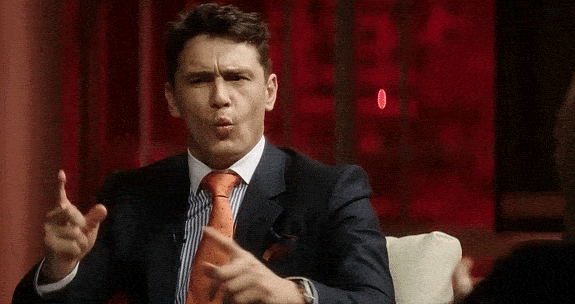 So, I was intrigued to see their offerings, especially because this particular kit has been pushed onto every Tom, Dick and Harry in the reviewing stable over the last few weeks. Let's get down to business, because not only do I have a manufacturer that's new to me, but also a new supplier - courtesy of my new friend Carson over at Ave40, I present to you the oddly named Rincoe Mechman 228w TC Kit…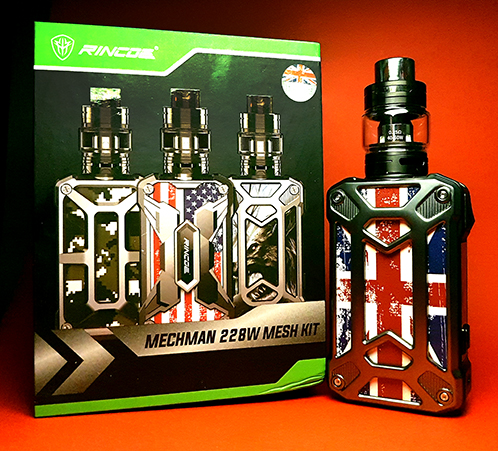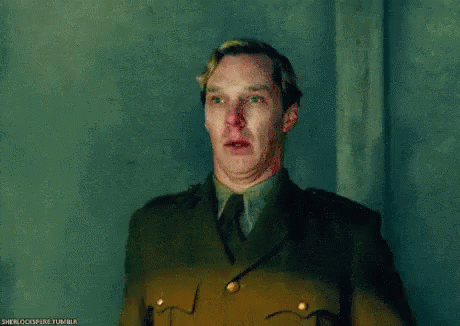 Now, before I start…this device is something of a double agent and doesn't just pledge it's allegiance to the Union Jack. The Mechman 228w TC Kit is also available in a different popular western insignia…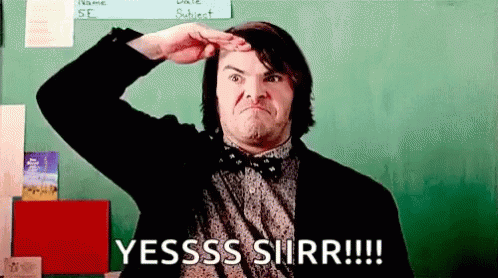 As well as digital camo and erm…a wolf…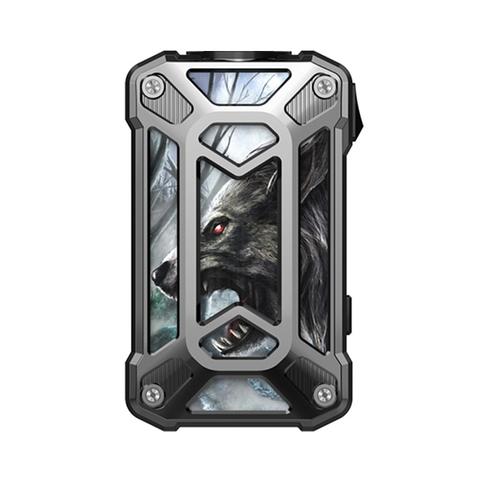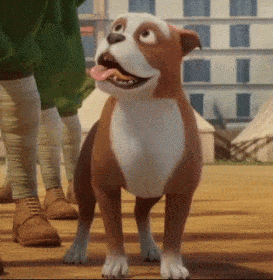 And more on why this is kinda important later. Also worth mentioning early on is the fact that most of you will have already guessed that the Mechman…isn't actually a mech…obviously…we'll touch on that later too.
The Lowdown
The Rincoe Mechman 228w TC kit comprises of the Mechman TC box mod and Mechman mesh coil tank. The Mechman mod is powered by dual 18650 batteries and is kept in check by their own chip, which offers all the standard types of protection, as well as the usual host of vaping modes - VW, Bypass, TCR and TC for Ni, SS & Ti. The mod itself is a hefty little beast, with a construction that's primarily made of a very hard plastic sandwiched between two armoured plates of your finest chunky heavy metal…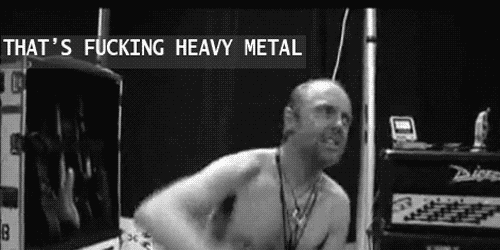 One of these armoured panels is removable and is held in place by two hefty magnets, remove it and you will find the tidy AF battery bay…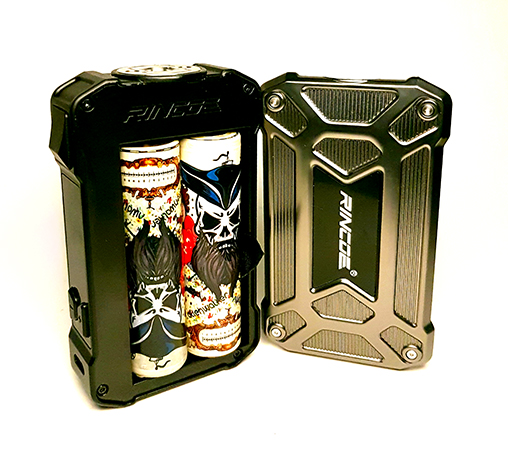 This picture also gives you some idea just how compact the Mechman is despite it's uber robust appearance and almost angry power capabilities. If there was a 'small mod syndrome'…then the Mechman would most definitely suffer from it. Not only can it deliver enough power to blow your face…clean off your face…but it is also more than able to break your toe if you drop it…in short…this mod will fuck you up as soon as look at you…I really dig that, think of it as the Chihuahua of the mod world.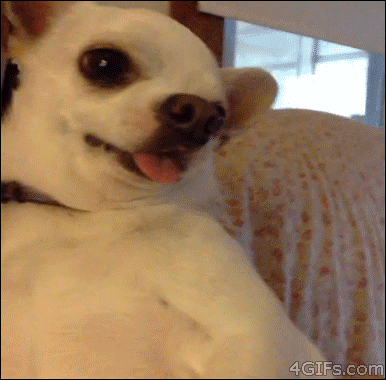 People perceive the hounds of hell to be huge black rabid wolves with glowing red eyes…trust me…the Devil owned a pack of these Mexican maniacs…far more terrifying…I should know…I own one.
Down the front we have all the usual controls and also the display…
A very simple affair - plus and minus buttons, the micro USB which is capable of 2 amp charging (not that I'd recommend it), firmware updates and of course, the fire button - which is excellent, and is exactly the same shape as my other favourite fire button to date…the one on the infamous Aegis Legend…
It suits both thumb and finger firing and is beautifully clicky…big fan of this.
The display is also very simple, albeit a little on the dim side as it suffers the same affliction as a lot of other mods whereby the facia is smoked plastic…when will they ever learn? All this does is make it extremely difficult to see if you're outside, not a fan of that at all. However, when you can see it it's pretty clear and I don't need my monocle in to see what power I am at…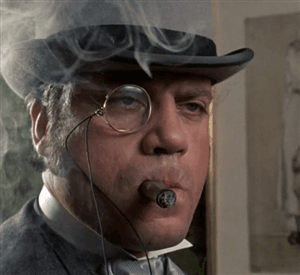 The navigation is also very straight forward, 3 clicks to change mode, 5 clicks for on and off, the rest is very generic.
Upon it's noggin we have the gold plated, spring loaded pin nestled in the THANKFULLY centrally located 510 plate, which follows the hefty theme by being securely bolted in place…
It may well be centrally located, which more often than not lends itself nicely to girthier tops, but 25 mm is all you're gonna get on there without overhang - you have to bear in mind that the Mechman is relatively thin…much like myself…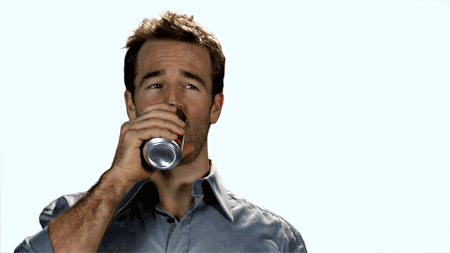 And finally, underneath its small and mighty torso, we have its bottom, complete with vents to release any warm air that may be produced from it's interior…again…much like myself…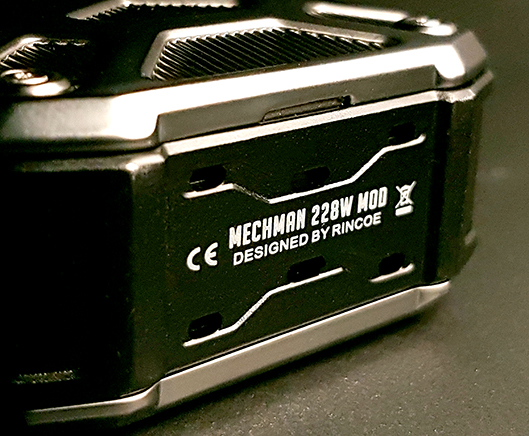 Due to the shape of the Mechman, with it's protruding 4 corners the vents are always uncovered when sat on a hard surface, not a bad idea at all. However, to achieve this it has sacrificed some stability -because the Mechman is relatively slender and only makes contact with a hard surface on two thin points…its as easy to knock over as I am…after several pints of loud mouth soup.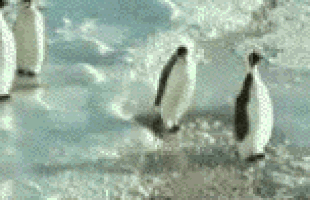 Which isn't particularly a problem for the mod, but any tank upon its noggin may well scream in terror as it sees your hard table top swiftly approach it's fragile bubble glass face, which is exactly what we have supplied in the kit.
Now as far as sub-ohm tanks go, the Mechman Mesh Tank isn't anything particularly innovative. In fact, it's a mish mash of tanks that we've all seen before. It's basically a 25mm tank going up to 28mm around it's bubble glass, houses 4.5ml of your finest and has its airflow dealt with via a bottom AFC ring.
It wears a top hat made from a not too garish swirly resin which has an 810 fitment, although it has the O-rings on the tip instead of in the top cap, and inside the recessed top cap you will find that the chimney is restricted to around the 510 mark, which isn't unusual for a mesh tank.
The top cap itself shares the Wismec way of things via a sliding cap that covers the top fill…simply push where the arrow is…
and it doth tip its cap for easy access. Never really been a fan of this method as it only ever has one hole, and it's always a little on the small side, so if you try and use a bigger tipped bottle there's nowhere really for the escaping air to go as you fill it up, rendering you in a bit of a mess if you're not careful. Also worthy of mention is that the machining surrounding the top fill is not exactly top notch.
Now…structurally, the tank is fine - like I already said it's not re-inventing the wheel, but it's functional. The problems with this tank start to come to light when you try either of the 2 coils supplied. Both coils are mesh, one is a single mesh coil and the other is a double…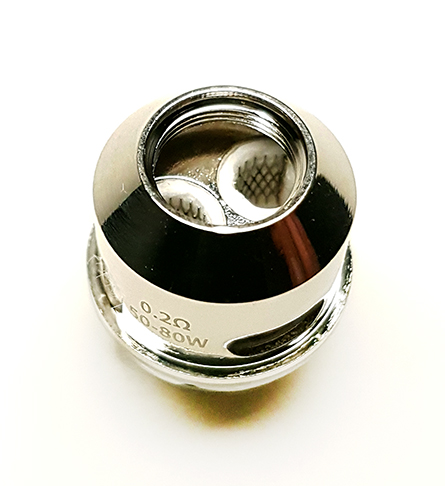 Each variation has HUGE juice channels in the side to feed its cotton as well as HUGE holes underneath to feed the air…and here's where it all gets a bit confusing. Firstly…mesh coils don't require a great deal of airflow simply because they don't create as much heat, secondly…why restrict the chimney at the top of the tank if you're going to leave the bottom so wide open?..and thirdly…what ever happened to testing properly before release??..Because I tell you right now, there's no way on this planet that a group of vapers sat around a testing table with the Mechman Mesh Tank, tested it thoroughly, and came to the conclusion that they were onto a winner. And how do I know this?..Simply because not only are both of these supplied coils two of the worst mesh coils I have ever tried, but they're two of the worst of any kind of ANY coil I've ever tried. How they manage to get rid of almost ALL the flavour from my liquids is a mystery in itself, and I find it incredibly hard to believe that someone agreed to call this tank 'finished' and released it with said shitty coils…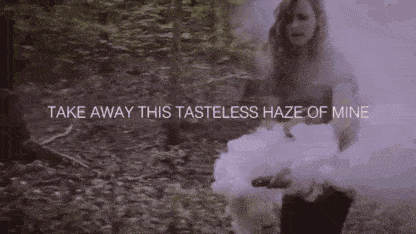 My guess?..This tank was originally designed to have standard coils, which probably worked, but because there has been a huge shift with Sub-ohm tanks, tipping the favour firmly on the side of all things mesh, along with how long it takes to design a tank and get it ready for release…it appears that they changed it at the last minute and rushed to make the mesh coils part of the package instead, foregoing all the usual pomp and circumstance with regards to testing. But, like I said…it's just a guess, and as far as I know the Mechman Mesh Tank doesn't take any other manufacturers coils.
The Specs
Parameters
Mechman 228w TC Kit
Mechman 228W TC mod
Dimension: 53.8x 29.2x90mm
Power range: 1-228W
TC modes support: Ni200/Ti/ SS
Power mode(VW/BYPASS): 0.08-5.0ohm(0.3ohm recommended)
TC mode (Nickel/Titanium/Stainless/TCR): 0.05-3.5ohm(0.15ohm recommended)
Battery: Dual replaceable high rate 18650 cells (CDC≥25A, Not Included )
Mechman Mesh tank
Dimension: 28 x 36mm
Tank capacity: 4.5ml(max)
Resistance: single mesh coil: 0.25ohm; Dual mesh coil: 0.2ohm
Drip Tip: 810 drip tip
Material: Resin/Stainless steel/Quartz bubble glass
It comes with
1x Mechman 228W mod
1x Mechman mesh tank (single mesh coil 0.25ohm)
1x Extra dual mesh coil 0.2ohm
1x Extra bubble glass tube
1x Accessory
1x Certificate card
1x User manual
1x USB Charging cable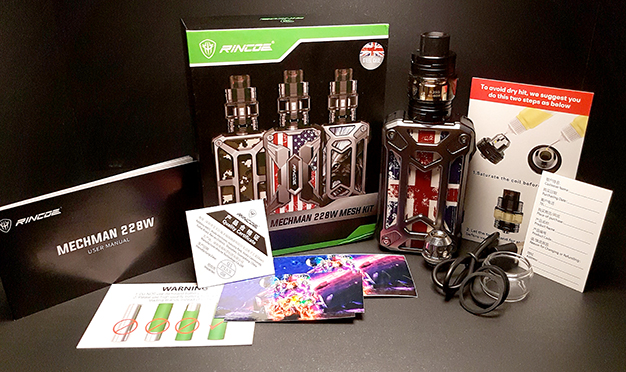 Final Thoughts
My final thoughts on the Rincoe Mechman 228w Kit would be thus… forget the tank - I highly doubt anyone will get any joy from it. I understand that these days most manufacturers feel compelled to include a tank with a new mod to provide a complete package, I get that, but seriously…Rincoe…test your coils ffs. As for the Mechman Mod, this I can actually bring myself to like for quite a few reasons. Firstly, the only thing I can find wrong with the actual build of the the thing is a bit of play in the side panel, this is noticeable when you play around with it in your hand, yet if you shake the crap out of it, there isn't a single rattle, so it's built really well. Secondly is the customisability of the thing, this will fall in favour of quite a few vapers because boy…do we like to personalise our vape gear. You see…not only does it come in a vast array of different combinations with regards to the metal armour and picture underneath…
but it's also very easy to customise it yourself. Simply undo the 4 screws on the outside (tool not provided) take off the metal 'exoskeleton' and put your picture or sticker of choice underneath - and to further prove how much they push you to do that, I even got a couple of pre-cut 'Avengers' stickers within the box…
It's a nice thought, but I wouldn't swap them out for the Union Jack…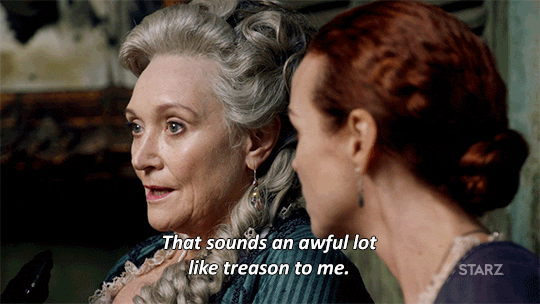 Still, the fact that you have this option is a win for me.
Thirdly, it's surprisingly ergonomic. It doesn't look like it should be, what with all its bumps and ridges, but take it from me, it feels nice in the hand, and with that excellent fire button it is also a joy to use…big pro for that…I also have to add…that it looks kinda cool if you ask me, patriotism aside.
As for the all important performance of the mod, well…obviously I really don't have a solitary fuck to give you when it comes to the functionality of the temp control, but I have looked at a what a couple of writers, whose opinions I trust, have had to say about it…and according to some, it's not great. So there's that, but as for straight shooting wattage mode, I have no reason to think it's not giving you what it promises, and it gives it quickly too, and speed is good!..Unless you ask my other half…in which case not so much.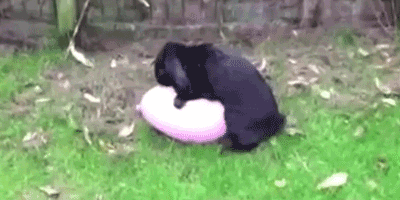 The thing that truly lets this kit down is the tank, more specifically the bum coils, these are garbage, and although some have found the dual coil to be better than the single, I'm absolutely not a fan of either. Thankfully however…the Mechman mod is available on it's own…and you'll obviously pay less for the privilege.
Finally, I have to air my last gripe about the whole thing, and that's the name. Mechman?..Really though?..I mean it's like it was named by someone who has absolutely no idea about the vape industry at all. Mech users are very precious about the whole mech side of things and woe betide anyone that uses their word on anything non-mechified…(you totally made that word up…). This is a regulated device with a name that would suggest otherwise…forethought it would seem…is not big in the house of Rincoe.
The Price
'Understandable'…is the word I would use to best describe the price point on the Mechman 228w TC Kit. At the time of writing, Ave40 have the whole kit on sale with 21% off, making it £47.10/$59.90. For a full kit from a newish company I would normally say that's bang on the nail, it's priced to sell, but if you use my code 'pugs10' at checkout you can shave another 10% off that deal, making it around £42/$53 (ish).
However…my advice, should you really like the look of the Mechman Mod…which you should, as long as you're not a diehard temp control user (apparently)…would be to ditch the tank completely, and choose the Mod on it's own, because currently Ave40 are offering a very palatable 36% off the original price, making it a measly £35.30/$44.90. Add my discount onto that, and it's yours for around £31/$40, so if you're a straight wattage shooter, and like to personalise your own vape gear, that's not a bad deal at all. Find both those deals here…
Mechman 228w TC full Kit with Mechman Mesh Tank
Last but by no means least…would I recommend it? …I'd recommend the mod to anyone who uses straight wattage mode or maybe bypass for sure. It's built really well, is reassuringly heavy and feels like it could last a very long time, it looks cool, you can change the appearance easily and all that armour may not to be to everyone's taste but there really aren't a whole host of mods out there that have a similar appearance, for that reason alone it's well worthy of the price you can pick one up for at Ave40. But as for the tank…no…no I wouldn't recommend that at all…mainly because it's shit, but also because…it's shit.
Remember, the doors are always open over here at Steampugs, so feel free to peruse the sight where you will find a wealth of reviews on the latest and greatest vape gear from the steam team.
You can also come and see where we talk this kind of nonsense on a regular basis over at our little corner of the world that we like to call our forum, you can join for free and will always be given a warm and drama free welcome, find us here…
News
Now…a little bit of seriousness for a minute if you wouldn't mind. I don't often add 'news' to any of my reviews, but something has come to light lately regarding one of our own. If you mix your own e-liquids you may have heard of Phillip Scott Brown, AKA 'Kindground'. Chances are…especially if you frequent the ELR forum, that you have enjoyed quite a few of his wonderful recipes over the years. To say he's a talented and much loved mixologist is a huge understatement, he's also a really sound and helpful guy to the vape community, and we just don't have enough of those kind of guys. Unfortunately, Phillip was recently diagnosed with a very aggressive Stage 4 esophageal cancer, and needs our help.
His family are facing the seemingly impossible task of dealing with the finances that this kind of illness can demand. He intends to keep working as much as he can but there will come a point where he and more importantly to him…his family…are going to need all the help they can get, and where else to ask for this help than our wonderful, ever giving, ever loving community.
Anything you can spare to help Phillip and his family deal with the uphill struggle they face would be gratefully received, simply follow the link below, and help us look after one of our own…it's what we do. I hope it never happens, but one day you just might need the help of this community yourself.
I would like to wish Phillip and his family nothing but good thoughts in this worrying and uncertain time, keep positive, stay brave, and kick cancers arse.
Thanks everyone.
Support Kindground and his fight against cancer - Go fund me page
Until next time
Pugs.