Dovpo & Vaping Bogan Blotto RTA
Australia…I have a lot of friends…and family actually, that have traveled halfway around the world to visit this very large, wondrous land, yet…despite their stories of just how beautiful this place is, and recommendations that I apparently 'need' to go there at some point in my life… it's one of the places on this little blue ball of wonder…that I have no intention of going to…Why?..Funny you should ask…(?). The answer is simple, because they don't want me to go…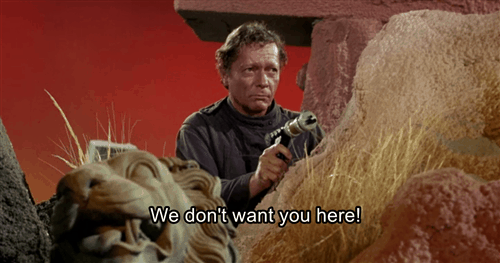 And how do I know this?..Well…let me put it this way, if they said "Please come and holiday here, we have Cuddly Ewok spiders, Fluffy Pillow sharks and Strawberry Sundae snakes that will bring nothing but joy to your life"…then yeah…sure, I'd get on that…but no…no, no, no, I feel a great lack of enthusiasm for sharing the same thousand mile radius…with anything named…oh I don't know, let's sayyyy…a Common Death Adder?..a Bull Shark maybe?..or how about a fucking Wolf Spider!?!..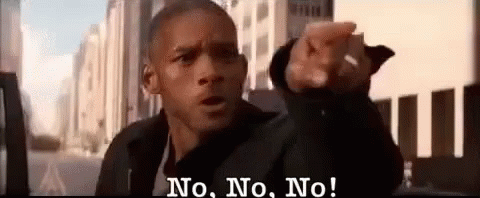 I wouldn't even know what they looked like. I don't need to, they've been named in such a way that prevents me from ever wanting to find out…because…fuck that. The cherry on this inhospitable psycho killer cake came in the form of a brief 'warning' from one of my so-called friends who spent a few months out there…and I quote…"Yeah…you have to check under the toilet seat before you sit on it, in case a spider is sat under there waiting to bite your nutsack' …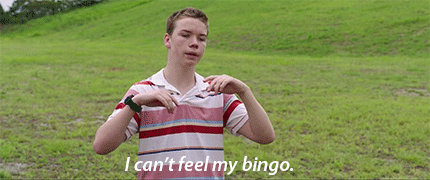 OK then…that's that settled…I enjoy the fact that I'm as far away as possible from any poisonous insect that would like to nibble my junk…with the exception perhaps…of my ex wife.
Now…that's not to say I don't have a somewhat soft spot for our Aussie brothers and sisters. I grew up during the time when Neighbors and Home & Away were…well…everywhere, Crocodile Dundee was most adolescent boys hero, and Kylie Minogue was still considered to be something of a munter. Yes…I think we've established how old I am already, but regardless of all those things, there are still two very specific areas in Aussie culture that I feel an almost…fuzzy…affection for. The first is their ninja level…almost Jedi-like mastering of the foul language, I mean…it's really quite beautiful, and almost identical to the UK in both clarity of meaning and lack of fucks given to anyone unfortunate enough to be in the firing line of this colourful curse ridden craft…And the second thing…is a different four letter word that I hold very dear to my own heart…'beer'…they are apparently quite partial to the stuff.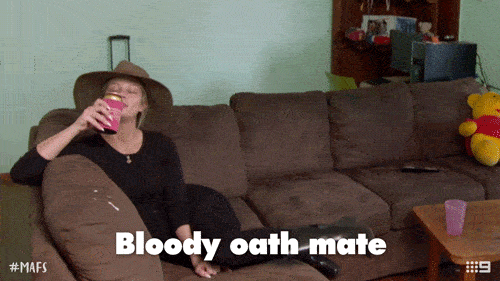 SO…what is a guy supposed to do when asked if they'd like to try out a beer themed RTA, co-designed and endorsed by quite possibly the foulest mouthed motherfucker on the planet, an Aussie no less…who has made his name by reviewing both vape gear AND the amber nectar, whilst swearing like a trooper with Tourettes …?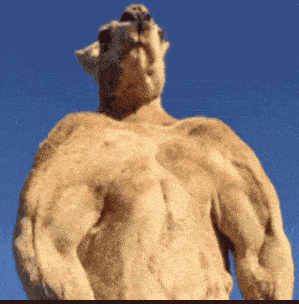 Shall we…
…
G'day my delicious dripping Dags and Dagesse's, back once again like a well thrown boomerang, much unlike a badly thrown boomerang that may or may not have travelled at an unrealistically fast pace in a perfect straight line rendering one of your lifelong childhood friends barely conscious and resulting in a 2 inch gash requiring 6 stitches directly above his right eye…not based on a true story…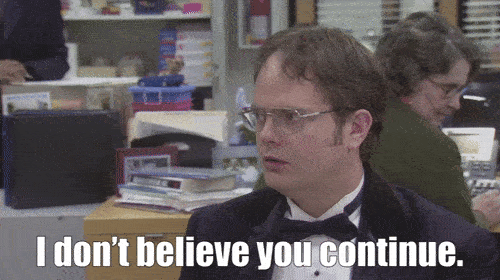 SO, what do we have in store for you today then? who is this Australian foul mouthed fluffy thrower? And why should you care?..Well, you should care because today's offering is a device that…certainly over the last year…has become as rare as rocking horse shit. Once the staple diet of many a vape veterans daily arsenal, yet…in an industry that has shifted its focus towards smaller, more compact Pod systems and AIO devices, dual coil RTA's… at least decent ones…do not seem to appear as often as they used to, and when they do, they're more often than not designed by long serving top tier vape reviewers or…'Vape celebrities'…if you will, usually teamed up with one the bigger and better known vape gear manufacturers. And this device…is exactly that.
The manufacturer is Dovpo, a company responsible for some of the best devices we have seen this year, and the vaping 'A-Lister' is of course one Mr Sam Parsons, AKA, Vaping Bogan, an Australian Youtube Vape reviewer that has been consistently throwing out videos of himself swearing through the latest and greatest vape gear alongside some fine crafted 'loud mouth soups' since 2016. And at just under 160 thousand Youtube subscribers, and more Ecig-click awards than me (I mean wtf is that all about)…I think he's doing a rather good job. So let's get into it, as Dovpo & The Bogan invite you to 'sub-ohm your dicks & tits off' with their somewhat popular RTA…The Blotto…'you c@nts'…hey…I have standards ( I know right?..Weird)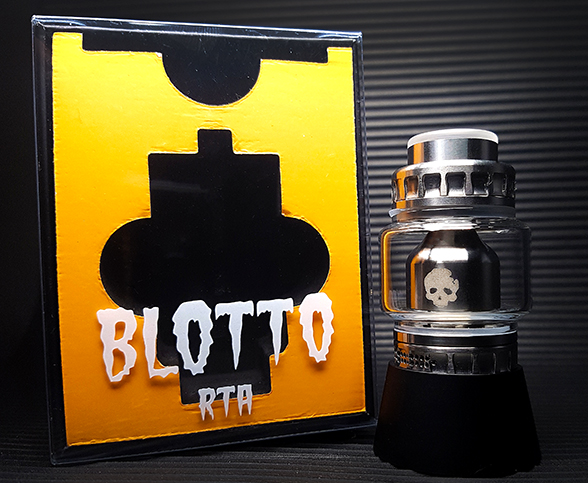 The Lowdown
Blotto…in case you were wondering, simply means 'pissed'…that's not the American 'pissed'…which means angry, unless you're one of those who gets angry when they're pissed…in which case you'd be pissed pissed and the whole thing just gets really confusing. The definition in Aussie terms is pretty much the same as the UK…it means 'shit-faced'…several levels above being simply drunk, a state which I myself am not completely unfamiliar with. Imagine being on a night out with your mates and it's late, you've been on the sauce for several hours and you get to the point where you think 'man…I'm really drunk…I'd best call a taxi'…and then 'that' friend shouts "LET'S DO SOME SHOTS!"…well the result?..Blotto…because I don't know when to say no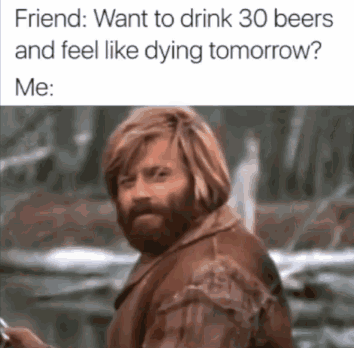 Beer…it would seem, plays quite heavily in the grand scheme of things with the Bogan…I dig that.
The Blotto…in a nutshell…is a 25.5mm dual or single coil RTA with a 6ml (or TPD compliant 2ml) tank capacity, and on the surface is just like any other RTA. It works in exactly the same way as many before it, however…as is the case with this particular RTA…the devil is most certainly…in the details.
Starting on the top we have a standard push fit 810 drip tip…although it's not exactly 'standard', with it's stainless beauty ring collar and opaque frosted finish…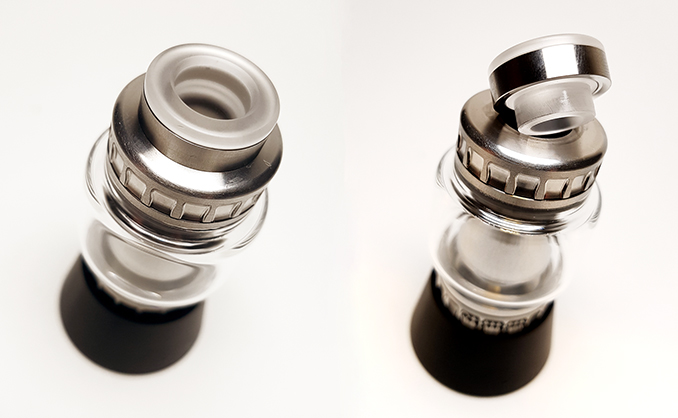 And it sits in the middle of a quick release top cap that takes its design from a beer bottle cap…fucking love that…a quick quarter turn and the cap is off, revealing dual kidney shaped fill ports underneath a silicone sealed lid…
The fill ports are flush which is a slight bug bear with me but…when you see how the whole thing is finished you kinda forgive it.
Down the sides we have the large capacity bubble glass which has become almost industry standard these days, but it leaves a very nice space between your glass and the inside chamber, something that some RTA's before it have gotten wrong - you aint getting any trapped air bubbles in the bottom of this tank I'll tell you that much…and that etched Bogan's skull logo on the chamber itself looks rather…(ahem)…'bonza'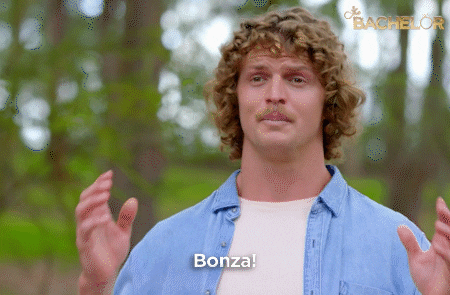 Along the bottom we have the adjustable AFC ring covering dual air intakes…
Only this time around, the Bogan has opted for the ring to be perforated. Why?..Because it's pretty well documented now that this offers a smoother airflow…like I said…'details'.
But as nicely as this is presented, it all pales in comparison to what you are greeted with once you unscrew the base…only to reveal one of the most innovative build decks…I have seen to date.
Although…calling it 'innovative' isn't really fair, because what you are in fact looking at there, is every good thing we have learned from every decent build deck over the last few years of build deck progression…all put together in one well thought out beautiful little package.
We have 4 'drop posts'…something we are seeing more of now since the original Drop RDA, due to the ease of build that this format offers. Although with this being an RTA instead of an RDA, space is obviously ill afforded - so instead of being able to drop your coil legs straight through and trim them underneath…this time around you will have to pre-trim them before dropping them in…
But the absolute jewel in this stainless crown, is undoubtedly the incredible air flow, which surrounds your coils and sucks the vapor from every conceivable angle…
Each side column is insulated on the outside and curved on the inside to follow the contours of your coil, and each draws the vapour in through it's honeycombed airflow as well as the air grid that sits directly underneath. Even this grid has wider slots in the middle so that more air gets dragged through right where you need it, right in the middle of the coils, because that is where the most vapour is produced …giving the whole thing a 242 degree direct airflow…I don't honestly think there is a more efficient way of getting every ounce of vapour away from your coils in the smoothest way possible… huge fan of this build deck.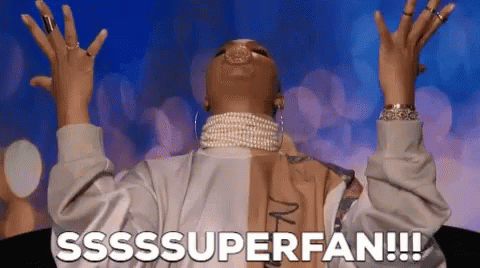 Wicking is pretty much straight forward, comb your tails through to thin them out a bit, and tuck them in so they just sit in the generously sized wicking channels, then give it an equally generous lubing before screwing…it all back together.
And finally…as we literally go down under, you have the base, with a nicely producing and insulated 510 pin and various bits of words and pictures…etc…
The Specs
Parameters
Size: 26.0 x 54.5mm (with 2ml tube)/ 32.0 ×54.5mm(with 6ml tube)
Type: 2ml TPD Edition; 2ml Standard Edition
Capacity: 2ml (Extra 6ml ultem glass tube & 6ml bubble glass tube included)
Build Deck: Supports dual coils or single coil building
Thread: 510
Supports dual coils or single coil building.
242° airflow system provides fantastic flavor.
Very easy to fill the e-juice.
Dual diffusion airflow for a smooth draw.
2ml capacity + 6ml bubble glass tube.
It comes with
1 × Blotto RTA (2ml tube pre-installed)
1 × 6ml Glass Bubble Tube
1 × 6ml Ultem Bubble Tube
1 × Accessory Bag
1 × User Manual
1 × Bottle Opener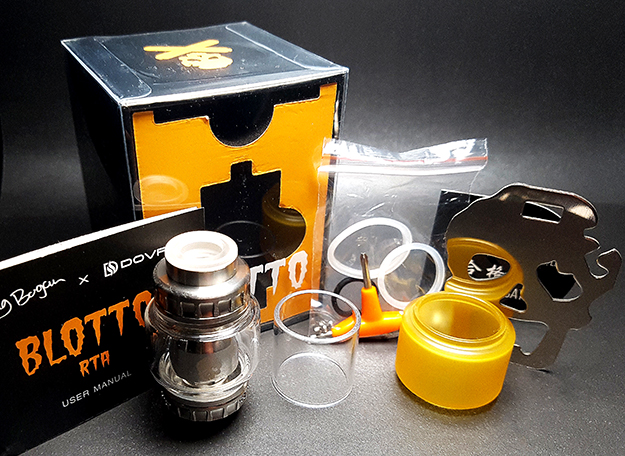 Yes you read that right, a 'bottle opener' …of course there's a bottle opener, it's called the Blotto, it has beer bottle top styling and the guy who played a part in designing it also reviews beer…why would it not have a bottle opener?..And it's bloody lovely too…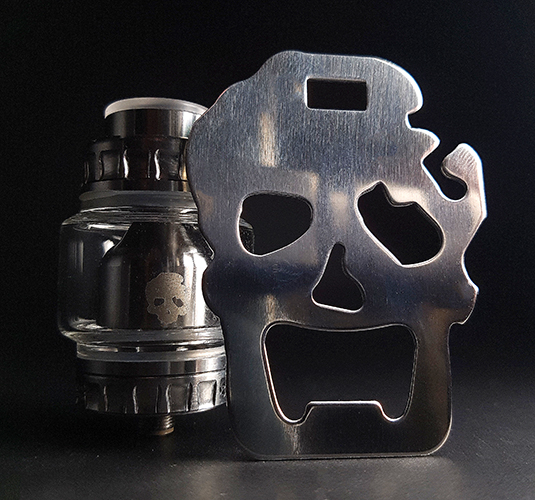 However…don't be a dick like me, and assume this is one those tools for removing the lids from juice bottles. Yes I tried it, no it didn't work, yes it snapped the spout off the bottle and yes…I am a fucking bell end. This is just a bottle opener, which apparently also doubles up as a coil trimming tool - I can only assume this is due to the thickness of the bottle opener. I didn't use it for that because…well…I didn't know (shrugs)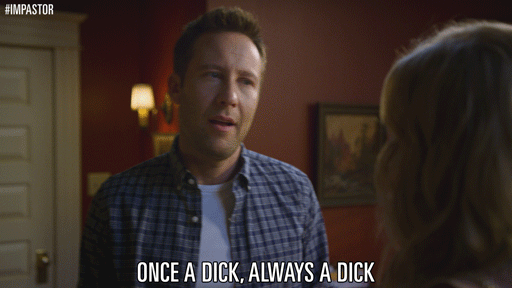 Final thoughts
My final thoughts on the Dovpo & Vaping Bogan would be thus - this is one of only two RTA's from 2019 that has made a real impact on me (the first being the Bulk RTA). However, the Blotto absolutely smashes the Bulk in terms of build quality…AND flavour, which is a fucking triumph considering the Bulk is no slouch in the flavour area, I mean I've been using that thing every day since it's release, it's a hell of a tank…but this…is just simply next level…
The way it looks, the way it's built, the way it performs, is just incredible. Every part of this tank has been thoroughly thought out, from the beer themed design to the incredible build deck, and the whole way the Blotto performs is all geared towards one…solitary purpose…flavour, and a fuck ton of it - you can literally taste every drop of every flavour note as it pisses out of this work of art…straight onto your tongue…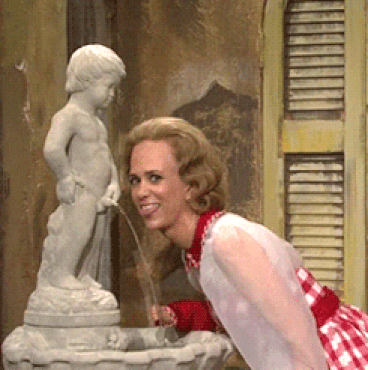 And this of course…is all down to the incredible air flow. Of course…there is one slight downside to this which may not suit all vapers…all that honeycomb perforation in the air flow process that…as I said before…creates a super smooth airflow…also means the Blotto is not the airest RTA on the market - there is certainly some restriction going on…even on full bore. This is another area where the Blotto differs so much from my beloved Bulk RTA, but…a slightly restricted airflow does of course help in increasing the massive amount of flavour that the Blotto produces. If Dovpo and the Bogan wanted this to be airy they would have simply made it with bigger holes, but they wanted a flavour machine…and fuck me sideways did they get one…and not only did they create one of the best flavour RTA's on the market…they also gave birth to one of the (in my opinion) best looking tanks around…
Admittedly …that would of worked better in black, but you play the hand you're dealt with you know…it's also available in gunmetal.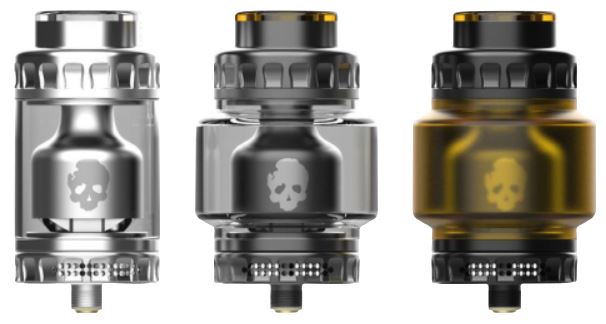 The Blotto has been such a success that more colours are apparently coming, and some lucky punters may well have been lucky enough to pick up one of the special edition pink Blotto's at this years Expo.
The Price
Does it matter?..Really?..Well, it is essentially a Dovpo tank so expect to pay anything between £27/$35 and £35/$45…it's a fucking steal is what it is, and I highly suggest you stop whatever it is you're doing…except maybe…you can…finish that…before you leave the house (eesh)…and go and pick one up immediately. Because this is, in my opinion, the best affordable flavour RTA of the year…of course that's subjective, and just my opinion but…no fuck that…buy it anyway, and thank me later, take it home, build it, fill it with your best liquid, crack open a tinny, and enjoy the rest of your day.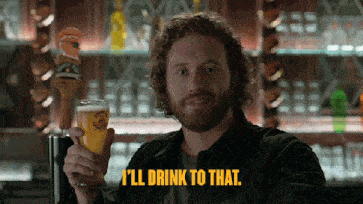 Huge thanks to Dovpo for supplying the Blotto for this review, and also a huge shout out to Bogan, whatever input he had in this tank worked like a charm…and I for one…wouldn't give a Castlemaine XXXX for anything else…wait…I'm a Foster…I just went through the whole review without realising that I am literally named after an Australian lager…that's…not even slightly relevant, nor does anyone in Australia actually drink it…which is pretty fucking typical…I'll go now…not to Australia though…because you know…spiders.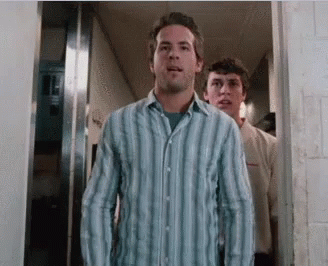 And certainly not before I tell you that the doors over at Steampugs are open 24/7, so while you're here…or there…depending on where you reading this, please feel free to peruse the site, where you will find a plethora of awesome write ups from myself as well as the rest of the Steamteam.
And if that's just simply not enough Pug loving for you, then come chat to us in our very own little corner of the Vapeverse we like to call Vaping Community - Forum
We promise a free, warm and welcome experience, and above all else…no drama.
Until next time
Pugs