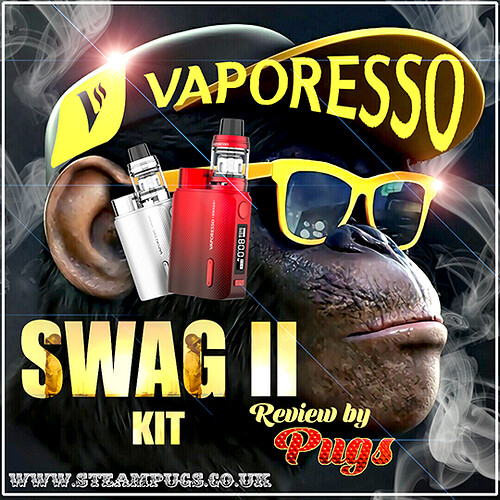 Vaporesso Swag II Kit
This is a sad, weird and very unprecedented time for all of us right now, I don't think there is a single person amongst us that isn't fully aware of that fact. For some, it means working from home…or at least trying to, constant distractions of a fridge full of junk food or a house full of little children struggling to keep themselves entertained whilst you work…
Can be testing to say the least.
Even those that happen to live alone, or…'The Wise' as I like to call them, have been seemingly summoned to the dark side by certain online outfits that have single handedly (if you'll pardon the pun) destroyed the global stock levels of toilet paper by tempting them with free all-you-can-eat premier level pornography, distracting even the most 'Christian' of office folk from doing what they're supposed to be doing, in favour of some low down dirty 'exercise' time…
That'll be 'Tom Wanks' then…no?..Too cheap?..Meh…(mass)debatable…(ahem)
Then there's the key workers, once looked down upon by the high and mighty as low level workers with pay packets to match, yet now propping up the economy by putting themselves on the front line every day, risking their own lives to ensure that we are all fed, have ample care should we get sick, can still take delivery of essential items like designer clothes or 8000 piece baked bean jigsaw puzzles, or even have enough toilet paper to cater for the aftermath of the binge eating of junk food, newly formed alcohol dependency, and of course…Tom's hourly work-outs.
These are the true heroes of society. I should know, I live with one, and not only does she work extra hours in less than safe conditions to serve the less than intelligent general public on a daily basis with their increasingly mind boggling stupidity and arrogance (don't even get me started)…but she has to come home to me, and I belong in the third category.
Some of us can't work from home, some of us have just simply been furloughed…a word that the vast majority of us didn't even know existed until our bosses informed us that that's what we have become…they could of come up with a better sounding word I'm sure, one that sounds a little less like a feasible excuse for doing something stupid…"I don't know officer, I can't remember, I was well and truly furloughed".
You see…I work in the events industry. We basically make our money by entertaining mass gatherings of people…as you can imagine…that industry isn't fairing all too well at the moment, so not only can I not work from home, but I also have small kids that are not in school, and a partner who is a key worker, one who loves spending time with her kids more than anything else in the world, and has to go to work more often than usual whilst leaving her beloveds in the hands of a 49 year old baby, a 49 year old baby who…on his partner's days off…has to come up with ways of entertaining himself…
The tree…doesn't fall too far from the apple…as the case may be.
She knows that she has 3 children, and not 2, and she's also well aware that in fact, the stress of having 2 young kids who demand entertainment every waking hour actually pales in comparison to living with someone who almost certainly has had undiagnosed ADHD since birth and cannot be left alone for long periods of time through fear of losing the structural integrity of her home, her sanity, or…some days…her partner's life, as he attempts to build himself a time machine from a broken generator, a BBQ, several litres of rubbing alcohol, a motorbike and an alarm clock…(look…I know I'm onto something, it just needs a little fine tuning).
In short…I am a fucking nightmare. I was a fucking nightmare before this started, but now?..Well…bored me is just simply not fun for anyone in my immediate vicinity…
And today has been one of those days.
"CAN'T …YOU JUST …FUCKING…WRITE…SOMETHING"…my partner lovingly suggested whilst attempting to put out the fire in the living room for the third time that day. She's right obviously - I am, after all, an award winning (ahem) globally recognised writer by at least 6 people now, which has doubled since last year. The problem has been that I'm just not getting the kind of gear that grasps what little attention I have to offer. The industry has changed so much over the last year that I've been stuck in a rut, sure…there's been the odd thing, but generally? …'meh'
However…
Like a lot of reviewers out there in Vapingdom, I am in possession of a box…it's quite a big box, and within this box are a number of devices that either I didn't ask for, didn't want, or wouldn't review for various reasons…mainly because they were shit, so…as I'd been threatened with the promise of immediate and very painful death if I didn't get the fuck out of the house…I went through said box 'just to see'…and wouldn't you know it…I discovered a 'thing'…not my normal kind of thing but…a thing none the less…shall we…
…
Welcome back my mighty, misty miscreants, back again with more of the same…only…smaller this time, and although a way away from my usual personal style of vaping, it's still something that peaked my interest enough to be worthy of me wanting to tell you about it…
It's a good question that many ask, but few can answer…yet…here we are, so…allow me to bore you even further with the details as I present to you something from quite frankly, one of my favourite vape device manufacturers out there, especially when it comes to mass produced stuff, and they are of course Vaporesso , and this time with something that might look a little familiar…the Vaporesso Swag II Kit
You could well be forgiven for thinking so, yes…and for more than one reason, it's almost as if the Vaporesso Gen had a fling with an older lady…the legendary and iconic Istick Pico…that dirty old trollop certainly gets around a bit…and this…is the resulting love child.
The Lowdown
The Vaporesso Swag II kit comprises of the NRG PE sub-ohm tank, and Swag II mod. The tank I'll come to in a little while, as undoubtedly the star of this show is the mod itself.
The Swag II mod follows the same concept as the popular and original Vaporesso Swag mod. It's a single 18650 powered device giving a respectable 80 watts, and is all kept in check by Vaporesso's impressive and outlandishly comprehensive Axon chip, more on that shortly.
The first thing that will spring into mind as soon you open the Swag II box is just how compact this thing is, and also…the fact that it's finished in exactly the same coating as the Vaporesso Gen, a coating that received a LOT of attention when it was released, landing it in most reviewers 'Pro's' lists…
And for those that never owned one, or even picked one up, the coating is rubberized and offers quite simply one of the best hand feels on any device I've ever reviewed. It's also pretty damned durable…as my overly clumsy ass can attest to, couple the grippy coating with the ultra compact size and you're onto a winner.
The design itself is pretty much identical to the original Vaporesso Swag, which itself was 'lifted' from the iconic Pico…hey…if it ain't broke…right?..It's a great design that fans of the Pico follow to this day, and that's all down to the top-placed screw-top battery cap…
Simple, and well executed, the thread is silky smooth and the cap itself is relatively heavy duty, quite a big fan of this method, truth be told.
Control wise we have an all new layout which differs from the Gen…
On the front we have the usual fire button placement, which is an identical button to it's bigger, more powerful predecessor, except this time they have gone with the rubberized coating instead of the copper coloured metallic one on the Gen. It's a sensible move as that was the only thing that got a bit of flack when it came to the aesthetics. I personally quite liked it but I guess they went with the majority. Regardless, it's a good fire button, solid and clicky…and we like a nice click…as long as it doesn't wipe out half of humanity…
The display also remains unchanged. Although on the surface it may actually look a little bigger than the Gen's display, the viewable screen is actually the same size, it's just the screen protector that's bigger. I can only imagine this was purely for aesthetics? Although it does also give a slightly better viewing angle. As far as what's on the screen though, it's all the same and it's fine. It's kind of dated now but it offers everything you need to see, the only thing I didn't like about the Gen display still remains though, and that's the battery gauge. Yes…it offers a percentage which is good, but it's so damned small I struggle to see it WITH my glasses on, and if you're outside?..Forget it.
Now…the 'all-new layout' I was referring to comes in the form of a side mounted plus and minus rocker…
I guess with there being a lot less real estate on the front, this was the solution - and I kinda like it, it doesn't look out of place and works very well. So the only button on the front apart from the fire button is Vaporesso's signature menu button, and if you've owned a Vaporesso device before then this will come as no surprise. It takes a little getting used to, but once you've used it a few times you soon get used to the navigation - which is a good job really, because believe me…with the Axon chip…there's a lot to navigate through.
The Axon chip is not particularly new anymore, it took over from their still respectable Omni chip, and in true Vaporesso fashion it offers just about every option you can possibly think of from it's 4 menus of Pulse, Power Eco, Smart TC, & DIY. Hit the DIY mode and you are met with a further 4 options of Variable Wattage, Variable TC, Variable Voltage and Curve mode, each offering their own set of options…like I said…it's impressively comprehensive, and has just about everyone covered.
For me personally, who only vapes VW, it appears to be bang on with true feeling wattages and a super quick ramp up, and as for the TC modes well…you know…it's not that I don't 'want' to care…it's just that…I don't…so…
But I'm sure it's all lovely.
The fact of the matter is, I think you'll be hard stretched to find a single battery compact device that offers this kind of functionality outside of a DNA or Yihi chip, and even they don't offer some of the functions of the Axon chip. Big fan of it, plus 80w maximum and the fact it fires down to 0.03Ω is also not to be sniffed at.
And finally up on the top we have the 510 connection…
Slightly uninspiring has to be said, I can only guess it's rear bolted and not press fit. I'm not taking it apart to find out, but it certainly feels secure enough - I just wish it was a little…bigger. However, as my Fiancée continuously reminds me, size isn't everything, The Swag however will accommodate a 25mm top without overhang…enter the NRG PE sub-ohm tank…
It's fair to say that I don't really have a great relationship with included Sub-ohm tanks, they just always feel like 'fillers'…there to help sell the mod as a complete kit. And…I get a little bored of repeating myself with comments like 'it does the job', so…to distance myself from my own snobbery towards these things, I can tell you with quite some certainty…that…it'll do the job.
Okay, okay…I'll give it this much, it's better than most, has a 3.5ml capacity, is 25mm and Vaporesso do offer a vast array of coils for it…
The kit itself comes with 2 - the GT Mesh coil and the C-Cell coil. I preferred the mesh out of the 2 but the C-Cell does have that clean taste you get with ceramic and an undeniably rapid ramp up…almost takes you by surprise. Both offered good flavour and vapour production, add in the smooth bottom airlfow of the NRG tank and…well…it'll do the job…
The Specs
Parameters
SWAG II MOD
Dimensions: 50 x 25 x 75mm
Resistance: 0.03-5.0ohm
Output Power: 5-80W
Charging Current: DC 5V/2A, Micro USB
Display: 0.91"OLED Screen
Chipset: AXON Chip
Battery: 18650 (not included)
Battery Compatibility: 510
Tank Compatibility: Max 25mm
NRG PE TANK
Dimensions: 25 x 50mm
Capacity: 3.5ml
Coil: 0.15ohm GT4 MESHED Coil (50-75W); 0.5ohm GT CCELL Coil (25-35W)
It comes with
Standard Edition
1 x SWAG II MOD
1 x NRG PE TANK (3.5ml)
1 x GT4 MESHED Coil
1 x GT CCELL Coil
4 x O-ring
1 x USB Cable
1 x User Manual
1 x Warranty Card
Final Thoughts
My final thoughts on the Vaporesso Swag II kit would be thus…the thing definitely lives up to its name, it has vast amounts of swag for a single battery device, and it knows it…
It's a truly a beautiful little device, and even though single battery rigs aren't my cup of tea, I was hugely surprised by just how good this thing actually is.
Like the packaging states, 'Power & Style'…yes…80w is hardly 'power'…but for a single battery device and the restrictions that offers…it's ample, and the way it deals with this power is extremely admirable.
The NRG PE tank is acceptable, it…you know what…I'm not even gonna say it, but you know where I'm at with that. If you're a noob looking for a complete kit and all you ever use are sub-ohm tanks, you'll dig it, but the awards of this particular show all go towards the Swag II mod, for it's functionality alone it deserves it, but coupled with Vaporesso's always impressive build quality and that lovely perforated rubber finish, you end up with a very impressive compact device that truly has something for everyone - if single battery devices are your thang…obviously. And of course…it's available in an array of colours…
But for me?..I stuck a Profile mesh RDA on there and it works flawlessly as a sneaky little ultra compact dripper set up that fits in the coin tray of my car, or…stick the NRG tank on and you have a pocket friendly kit that isn't too intrusive when you pop out to rinse the world of toilet rolls and dry pasta, and I still haven't even mentioned the best bit yet…it's cheap as chips, which, seeing as half the universe is unemployed right now…can't be a bad thing.
The Price
On Vaporesso's own site it's still being touted at full fat retail, but if you shop around a bit you can find this complete kit for sale from as little as £35 in the UK, I've even seen it as low as £28/$34 on some Chinese sites so I implore you to do your due diligence should you be on the market for a high quality, functional, single battery kit.
In short, I recommend this kit highly, and it's really nice to see Vaporesso consistently keeping up with their business model of providing high quality kits at affordable prices. Yet again…I've been proven to be a douche, I wasn't going to review this kit because it's not my kinda thing and I didn't ask for it…but I'm glad that I did, and you can thank my better half for that.
There…now…it appears that I have appeased the powers that be (my Mrs) by staying quiet for a solid 6 hours whilst she gets things back into something resembling order. So…time for me to crack on with that time machine in the hope that I can make it back in time enough to warn whoever it was that started this thing…to maybe eat something a little less weird, and instead make themselves a couple of slices of cheese on toast…thus…saving the world…with cheese, which is a personal dream of mine.
And of course, whilst we may all well be in lockdown, the doors over at Steampugs will remain open 24/7, so feel free to peruse at your leisure, You will find a plethora of awesome write ups from myself as well as the rest of the Steamteam. And if you'd like to come and chat to us in person you can always find us over at that little corner of the Vapeverse we like to call Vaping Community A forum that offers a warm and drama free welcome by a bunch of delinquents that I like to call my my friends, hope to see you there.
Until next time
Stay safe, stay well, and stay the fuck at home.
Pugs