Vaporesso Gen Kit
Jesus Christ I go away for a month and look at the fucking state of the place! I thought I was supposed to be the slightly unhinged, irresponsible and unpredictable one, but the US government?..Fuck my life, they make me look…well…almost normal?..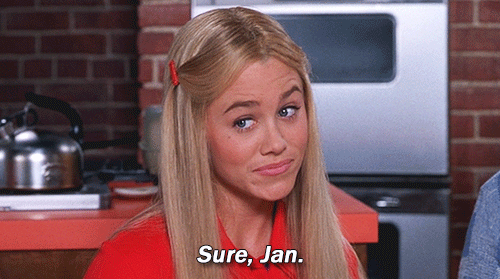 Now, I'm not gonna joke about the current state of affairs as 7 people losing their lives is no laughing matter, and let's be honest, it's got nothing to do with what I am reviewing today anyway, but I can't simply not mention it when the outcome has been so unfathomably catastrophic to the vaping industry. After all, the flavoured e-liquid ban in the US is just the tip of a very volatile and cascading iceberg…even after 24hrs India have already followed suit and who knows what's to follow…do you make hardware?..Well guess what, no e-liquids equals no hardware sales, no hardware sales means no business…and then people start to fall off the wagon and get back on the cancer sticks…yes…it's that serious…EVERYTHING we have worked towards for the last 10 or so years is at risk of crumbling around our ankles…B&M's have already announced closures, online businesses are forced to push liquidation sales and after that?..Black market, dirty mixing labs and under the counter filthy liquids being vaped in private to an unknowing and gullible audience, desperate not to start smoking again, and who benefits?..Big Tobacco and Big Pharma…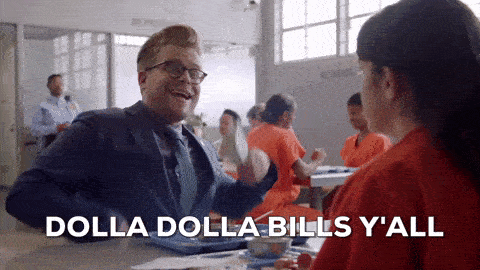 Funny huh…people who make billions from keeping people addicted to tobacco and then trying to cure them once they get sick…which they will…have tickled the nutsack of the US government whilst whispering into its ear…"Vaping is dangerous…think of the children…" and the government themselves who have been losing money hand over fist with the decline of cigarette sales…surprisingly…listened.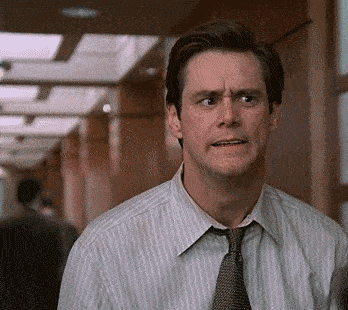 Shock horror.
You couldn't write this shit…I mean you could…in fact I just did, but this has been coming for a long, long time. Those that knew there was a young audience loaded the gun with their money grabbing business models of making liquid look like enticing candy, or getting well known junior vloggers to openly promote their products to susceptible adolescents…the people that fought against these underhanded cockwombles coupled with the general public on social media…although with the best intentions…unknowingly drew everyones attention to it and created a huge audience, painting a massive target on simple innocent people who just wanted to live healthier lives. Back room politicians and corrupt governments knew exactly where to aim…and then those undeniable fucktards who tried to make a quick buck by selling homemade THC carts cut with vitamin E acetate to people that just wanted to get high…pulled the trigger and shot the heart out of the vaping industry, and all the while Big Tobacco and Big Pharma were stood in the wings…mop and bucket in hand…with one simple message…"Don't worry my old friends…we'll clean this mess up…we got you".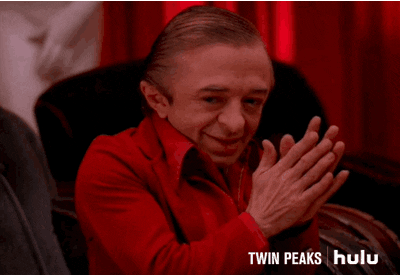 And the really frustrating thing?..They know we know, and there's fuck all we can do about it…well…not nothing, but ultimately the decisions are made by corrupt politicians with not so hidden agendas…it all boils down to one thing, money talks, and cow excrement strolls on its merry way.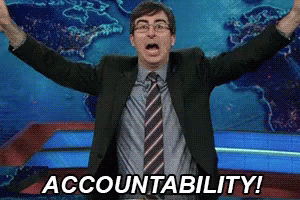 SO…even though I'm from the UK, and this doesn't directly affect me, I mean shit…we open vape shops in hospitals and put advocacy posters up in doctors waiting rooms, the fall out will hit every single corner of the industry. People will stop vaping, sales will tumble, manufacturers will ultimately be unable to survive, and devices like the one I am reviewing today …will become fewer and fewer. Which is by no means the worst thing about all of this, it clearly gets 'Trumped'…if you'll pardon the pun, by people getting sick for profit and the countless number of families whose livelihoods have been destroyed overnight…but still, from a reviewers point of view, it still sucks a big fat sack…SO…now that I have suitably depressed you all with my incoherent ranting…I should probably get on with my fucking job eh…
Not sure I'm really in the mood now to be honest…some welcome back this has turned out to be…jeez…shall we? I mean we don't have to…but we probably should…(sigh)
…
Welcome back my lovely - and more than likely utterly miserable by now - mist magicians…tis a sad day indeed, and the fact that I have to deal with all this AND a bad case of the holiday blues?..Worst return to work ever. But that's all I'm going to say about it now, I'm really not the person you come to for political rants and serious talks about…well…anything, so…I'm just gonna kick up my skirt, puff out my manly chest…(manly?)…and crack the fuck on…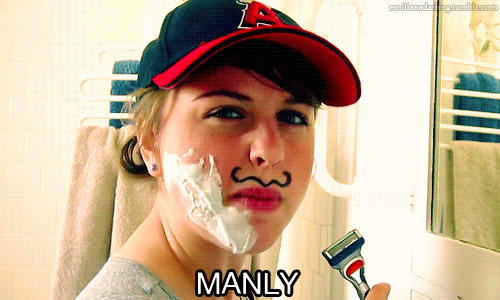 Grrrr…
Now then…today's offering comes from one of my all-time favourite manufacturers, but still, even for them, you'd be hard pressed to find a bad review for it from the top tier of reviewers. Yes…I broke the cardinal reviewing rule, I couldn't help myself. Nonetheless, it won't taint my unbiased opinion…in fact, after watching a few it has just left me with one burning statement front and foremost in my mind…
"I'll be the fucking judge of that"
From my good friends over at Vaporesso , I present to you…the Vaporesso Gen Kit…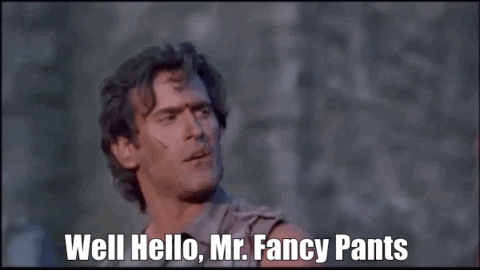 Not the ugliest thing you'll see today…that's fo dame sho…in fact, seeing as I had no idea what this thing did…or how…it's safe to say that it was appearance alone that made me break my own rules. By having a squizz at what the top dogs were chattering about - this dimpled sinister looking demon…me likey…me likey a lot.
The Lowdown
The Vaporesso Gen kit consists of the easily pronounced and aptly named SKRR-S sub ohm tank, which in case you were wondering…stands for Strawberry Kettle Rip Roarer - Special…or something - more on that later - and of course, the dual 18650 Gen mod which is capable of pushing 220 of your most violent wattages through whichever top is unfortunate enough to be screwed onto it. All this is kept in check by the all new, all singing, all dancing Axon Chip - a chip that in true Vaporesso fashion, has around ninety twelve different modes to choose from…I swear…Vaporesso must have a board of people that sit in a room whose sole job is to think up new modes, because as well as all the usual suspects, VW, VV, TC and Bypass…you also have …
Pulse mode which will please those PWM fans amongst you…cough-me-cough
Smart TC mode for those who want to try temperature control but have no idea what they're doing.
DIY mode for those that know exactly what they're doing and probably iron their shoelaces whilst playing Warcraft.
Variable voltage mode for those old enough to hate variable wattage mode.
Super player mode for those that like to vape on their Swarovski encrusted mods whilst driving a convertible Mercedes.
Eco mode for those that only vape liquids made from sustainable rainforests.
And Super Douche Mode for those that normally vape JUUL devices, but have picked up their friends Gen mod without permission to 'see what it's like' …which fires a single bullet through the back of their mouth…ok I may have made that last one up…but it doesn't mean I'd be opposed to it…
The body is made from a very lightweight alloy, coming in at only 107 grams. Now, 107 grams might sound like a really good night out, but in vape terms that's as light as a fart on the moon, which was quite surprising to me to be honest, because when I first saw pictures of the mod it looked really big and cumbersome. However, the truth is that the Gen is actually not big at all, probably about half an inch taller than the Revenger, and although this makes for a comfortable hand grip…it's not just the size which makes the Gen one of the nicest things you'll hold in your hand since the last time you were left alone with a laptop and working internet…no… that accolade would belong to the finish…
Dimpled, golf ball, rubberized, satin 'skin'…I can't think of any other way to describe it. Whatever it is, it feels amazing. It doesn't get cold like metal or feel cheap like plastic, it's soft and grippy like rubber, yet feels solid and of high quality. It's actually hard to describe in words just how nice the Gen feels…but…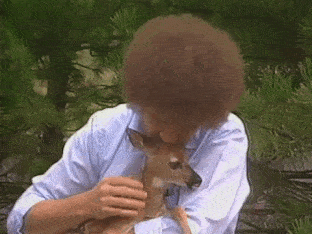 Nailed it.
And the colour gradient available on some of the colour choices…just looks sinister…to say Vaporesso have upped their finish game…is an understatement.
Down the front we have very few surprises, it's Vaporesso after all. You have the all important menu button between the up and down buttons - all of which are colour coded to the body, yet the fire button is a copper finish, which some weren't a fan of…but I think it adds to the opulent appearance…
In the middle we have what has also been a bone of contention for some reviewers, the 0.91" OLED screen…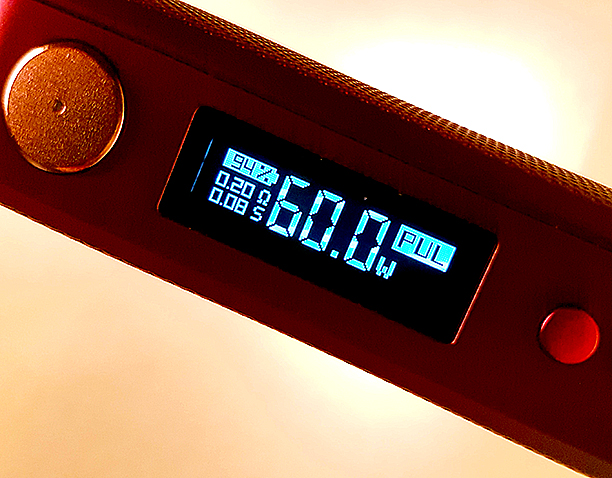 Yes…I agree, it's a dated system, in a world where full colour screens are dominant in up to date devices, but the Gen is all about taking things back to what works, and making them of a higher quality, so personally…I don't have an issue with the idea of this screen…
However…
I do have an issue with a couple of things about it. Firstly…the battery bar; I think it's a brilliant idea to have a percentage instead of 4 or 5 bars to show how much power you have, it is afterall a lot more accurate. But the numbers are so small that without my glasses it just looks like a full battery all the time…even with my glasses on it takes a minute to focus enough to see the number…remember…that picture up there is blown up…and zoomed in.
Secondly, the screen is set quite deep into the mod, which makes the viewing angle quite bad. Obviously, most of the time you will only be looking at it straight on, so it won't be a problem, but tilt it to the side even slightly… and you're only seeing half the screen…
And finally, on the bottom you have the micro USB for firmware updates as well as massive 2.5a quick charging, boasting a full charge in 60 minutes…as impressive as that is…I highly recommend you still use a dedicated external charger.
Up on the top we have a centrally located 510 plate…
which carries on with the copper colour theme, yet shows no sign of external bolting. I have tried to knock the tank about a bit and it showed no signs of coming loose, so without taking this thing apart…which I'm clearly not going to do as I leave the mod slaughtering to my american psychopathic brother Mjag…I can only comment that it feels firm. It also contains a nicely spring loaded centre pin…which is springy…and pin like…(?) …And even thought the plate is centrally located, 26mm is all she wrote without overhang, further lending itself to the fact that the Gen…is not a big mod.
Underneath we have…well…nothing really apart from words and venting, but here's a picture for those that are just into bottoms…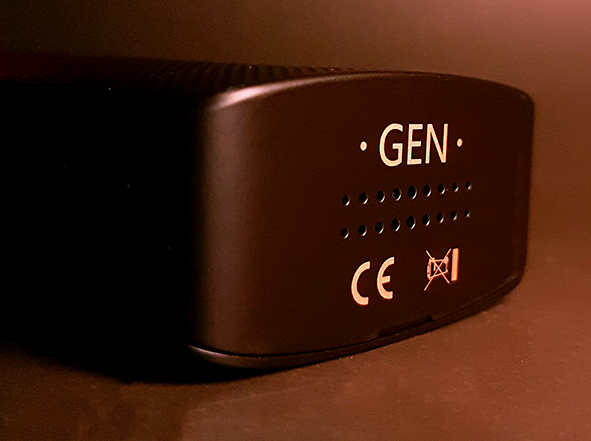 Now…something I just fucking adore on the Gen is the battery bay…
So clean, with massive magnets that keep the beautiful back door firmly in place, and I just love that battery warning on the back…setting the bar very high again, Vaporesso is…did I just sound like Yoda…?
Now…the SKRRKS-Skrss… Krs …SKARK …SKRR-S tank…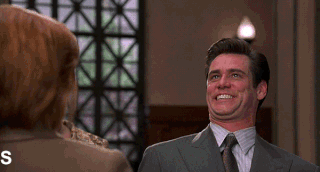 is a 26mm (ish) sub-ohm tank which is capable of housing 8ml of liquid within it's bubble glass belly, or 2ml with it's toned straight glass. It's leak proof with bottom airflow, anti spit-back and comes with 2 different coil variations - 1 × QF Strip Coil 0.15Ω (Pre-installed) and
1 × QF Meshed Coil 0.2Ω…and it takes a standard 810 drip tip…
Now…Vaporesso have…in my eyes…always excelled with their mods, but never really with their included Sub-Ohm tanks. I can report that although the coils may have changed over the course of the SKRR-S's life…the results are vaguely similar to what they have always been. Sure…the quality of the tank is good, but the performance?..Well…meh, it's smooth, it gives impressive vapor production, but…there are better tasting Sub-Ohm tanks on the market. It's not a dead duck and it will do the job, but it will leave more advanced vapers wanting…and don't even get me started on the single hole, flush top fill…
You can make it work, I guess - but be overzealous with your filling and the back pressure while the air escapes as you fill it will bubble up, and seeing as it's flush, will just pour down the side of your tank and all over your hands. Which is no fun for anyone…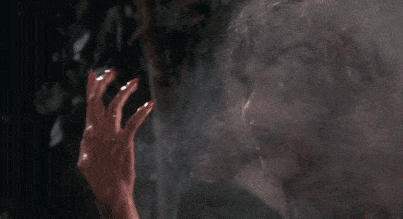 Except for her maybe…who is clearly quite enjoying herself…
But, I'm not even a remote fan of that…thankfully, for me though…I'm the consummate professional…(ahem)
The drip tip is also an eye sore. It's about as standard as you can get, which is an odd choice given the overall perception that the Gen is trying to give. Opulent…it is not, but at least it's a standard fitment…so swapping it out is not an issue…
The Specs
Parameters
Kit Dimensions: 146 x 53 x 27mm
Display: 0.91' OLED screen
Capacity: 8ml
Coil: QF Meshed 0.2om, QF Strips 0.15ohm
Drip Tip: 810"
Mode: Pulse Mode/Power ECO/Smart TC/DIY
Battery: 2 x 18650 ( Not Included )
Power Range: 5-220W
Charge current : 2.5A
Resistance Range: 0.03~5Ω
Thread: 510
All-new Axon chipset
Innovative PULSE mode and SMART TC mode
Lightweight with powerful 220W
2.5A fast charging system
Improved secondary air flow distribution for richer flavor
Easy top screw-up refill design
Bullet-shaped coil preventing spit back
Advanced QF coil with improved coil structure
Widely compatible with GT coils
8ml large e-juice capacity
It comes with
1 x Vaporesso GEN MOD
1 x SKRR-S (8ml)
1 x QF Strips Coil 0.15ohm(Pre-installed)
1 x QF Meshed Coil 0.2ohm
1 x Replacement Glass Tube
1 x Silicone Case
1 x O-Ring
1 x USB Cable
1 x User Guide
1 x Warranty Card
Final Thoughts
My final thoughts on the Vaporesso Gen Kit with SKRR-S tank would be thus - not a huge fan of the tank if I'm honest. I think for such a good looking and high quality mod as the Gen they really should have paired it with something that looks and performs as well as the Gen does. Sadly…this is not the case. It almost feels like a filler, an afterthought if you will…it will do the job, especially if you're a beginner, but as I said earlier, the more advanced vapers amongst you will require something a little…punchier.
That being said…the Gen Mod is a masterclass in regulated devices. It's quickly become a firm favourite of mine and something that I simply can't put down.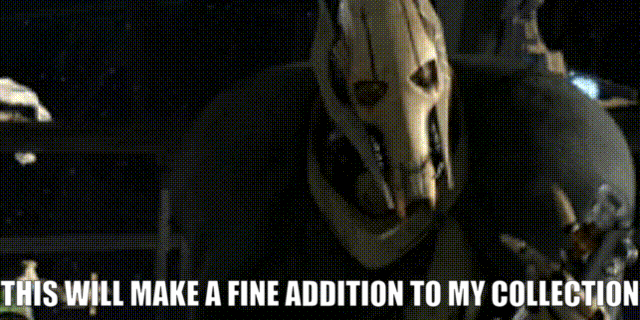 Everything, from the minute you screw on the tank…watching the 'scanning' animation on the screen as it tells you what's what, to the ridiculously comprehensive functions from the Axon chip, is top class. There is simply no one who is not catered for with the Gen - whether you're a beginner, or a vaping Jedi, you will find settings to tinker with and quench your thirst in finding your sweet spot. For me personally?..The Gen had me at 'Pulse', I've always been a fan of PWM mods, it just seems to do something magical to your liquid with regards to flavour. On top of that, all these settings are very easily navigated through the clear and simple display…but the cherry on the cake is most definitely the finish…man…this thing feels amazing. Your hand will simply fall in love with it the moment it picks it up…which is more than likely the reason this thing has been glued to me since it landed on my doorstep…that…and the fact that the Gen is simply one of the best looking regulated device on the market…I mean just look at it…
Phwor…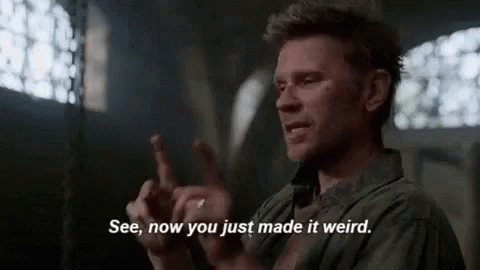 The Price
At time of writing Vaporesso have the full kit on sale on their own website for £69/$86.90. I don't think this is too bad for a full blown retail of a device that looks, performs and is made as good as this. It's not cheap…because it shouldn't be, but the Gen mod on it's own brings the price down to £52/$66…which would be my choice. Get yourself a nice RTA or RDA on this thing…and you'll be very glad that you did…
Find those deals here…
Vaporesso Gen Mod Kit with SKRR-S tank
All in all, I can only hope that the current state of affairs doesn't stop people like Vaporesso putting their all into new and innovative products like the Gen - I'm a huge fan of it and it would be sad. But believe me…there are people out there, powerful people who want the whole vape industry quashed for good, and these people make their billions off the back of you being sick. So wise up, sign every petition you can, write, email and phone your politicians/governments and make your voice heard. We all know that vaping has helped millions to live better and healthier lives, but unfortunately these huge conglomerates have lost fortunes because of it, and as of right now…they are on the offensive…AND winning. So keep a stiff upper lip, and get real Winston Churchill on their asses…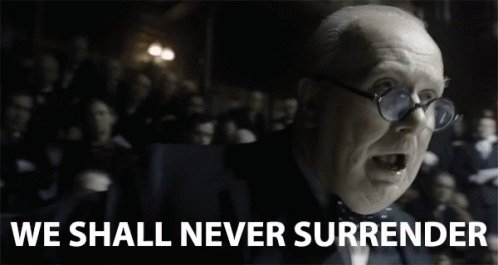 Or at the very least…be Gary Oldman doing Winston Churchill…wait…no that sounds wrong…don't be that…that would be weird.
As ever the doors over at Steampugs are open 24/7, wander around like a lost lamb and you will discover a wealth of reviews from myself as well as the rest of the reprobates in the Steamteam.
And if that's not enough to quench your curiosity, then jump on over to that little corner of the vape-verse we like to call our forum, it's free to join, has a rather splendid liquid mixing calculator for all you budding mixologists out there…and also promises a warm and drama free welcome, find us here…
Until next time
Pugs