Hi Vaping Community, In this review I take a look at the V200 Box Mod from iPV. The iPV V200 Box Mod was supplied for the purpose of this review by Angel from YiHi.
Introduction
Pioneer4you (iPV) are part of the YiHi group along with their big brother SX Mini and younger sibling VSticking! Products from both iPV and VSticking have been virtually non existent in recent times but as the YiHi group in general start to ramp it up with new products and more in the pipeline we have the re-release of the iPV V200.
The V200 was originally released about 3 years ago when iPV were responsible for their own marketing which was practically non existent and it seemed to fall under the radar. There does seem to be an overhaul at YiHi and how the whole group is structured around marketing and this re-release was almost a VSticking project but kept it's iPV branding after extra consideration and importance of the history of the iPV brand! Originally in just two colour options this time around the Brown version seems to no longer be an option while three new colours are added to the Woven Blue giving the customer more choice!
I know there was some delay from the start of marketing to when the device was available due to upgrades to the original but what those differences are without comparing the two (never did have the original) and whether they are minor or significant I am afraid I have no knowledge so this will be reviewed as a totally new product.
The iPV V200 has a waterproofed SX351 chipset which is an unusual chipset for YiHi as it doesn't have TC but just Power and both pre-set and adjustable curves. It has a 200w top power output, Type C USB with 2A balanced charging and can fit 30mm atomisers for those that like to go big! It's been a while since I have reviewed an iPV device so let's dig deeper!
---
In The Box
Contents:
1 x Pioneer4You iPV V200 Box Mod
1 x USB Cable
1 x Warning Card
1 x Warranty Card
1 x User Manual
---
Aesthetics and Ergonomics
The iPV V200 comes in quite simple yet classy looking White cardboard with fold over lid display box which all the YiHi Groups products are packed in, On the reverse we have all contents, specs, branding etc!
On opening just the device is proudly on display with paperwork and cable in a separate box beneath. I received the Woven Blue version which has a Gunmetal chassis and panels with denim like material covering the outsides, the colour options refer to the panels, the options are Woven Blue, Aluminium Black, Aluminium Gunmetal or Black, the Aluminium versions are smooth while the Black has raised textured leather like coverings! The V200 has that G-class form factor and is pretty much identical in dimensions to the VSticking VK530 and iPV V-IT.
I have been testing it alongside the Lost Vape Thelema dual battery device and while both I find ergonomically sound the V200 just get's swallowed up in the Palm of the hand leaving the thumb positioned on the fire button, for a dual battery device ergonomically it really can't get any better! Although not a Plastic super lightweight device again compared to the Thelema the V200 is comparably light with it's Zinc Alloy, Anodized Aluminium & ABS construction.
Down the spine "iPV" is carved into the metal and we have an elongated indent either side for easy panel removal, moving to the base we have branding and safety stamps. Moving to the central face which is set back from the curved side panels which allow the buttons to protrude nicely while not protruding the overall dimensions of the device! We have the a large round fire button top with metallic edging and towards the bottom smaller but matching navigational buttons lined up vertically. Between the fire and navigational buttons we have the screen and then at the very bottom the Type C USB port. Moving up top we have a 510 plate designed to hold up to 30mm atomizers, the 510 is Gold plated and spring loaded!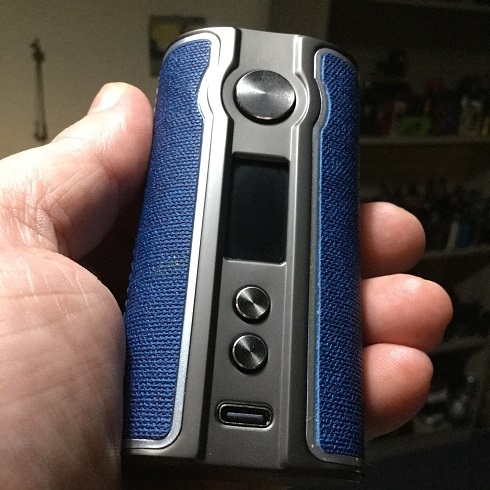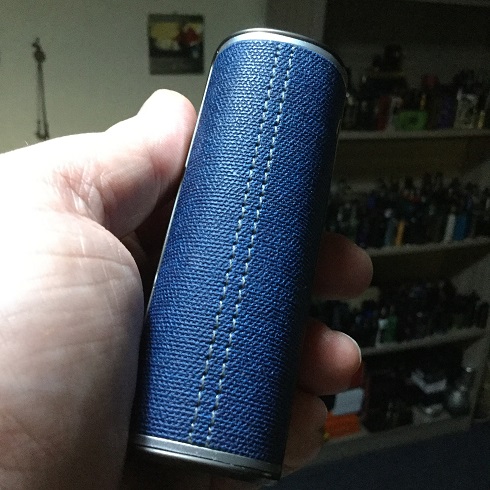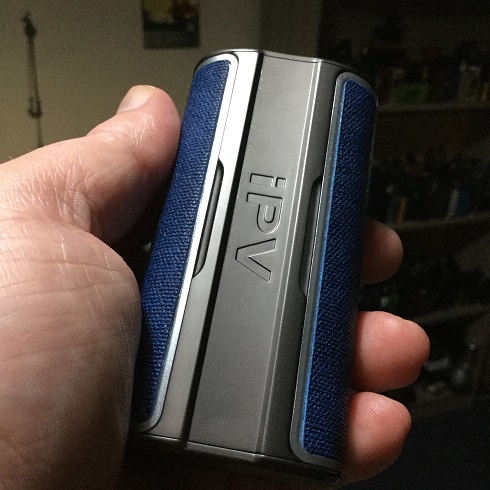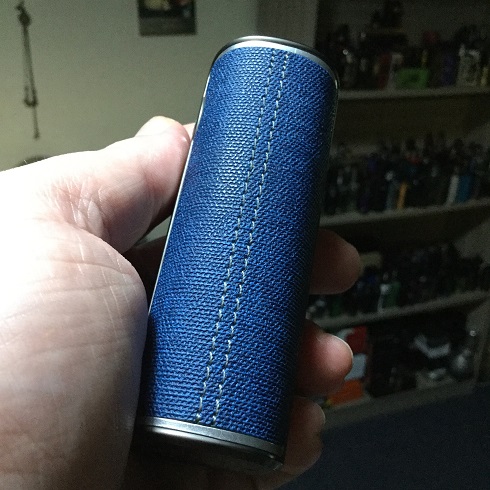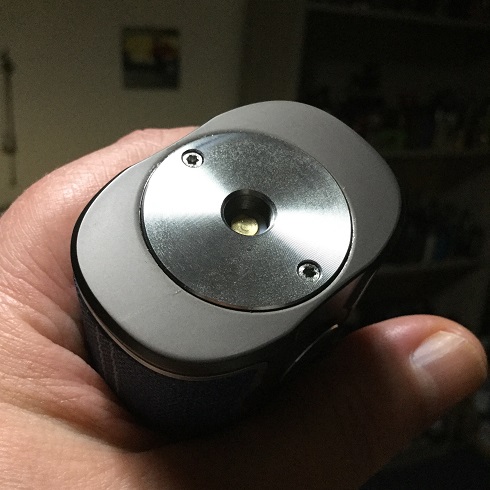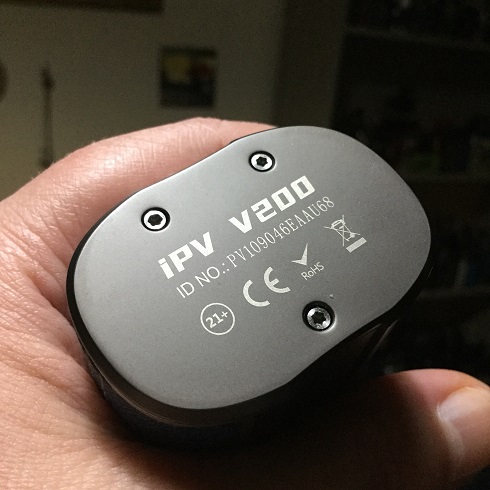 ---
V200 Features and Specifications:
Mod size: 90.6 x 48mm x 33.64 mm
Battery: Dual 18650 batteries
Output range: 5-200W
Waterproofed YiHi SX531 Chipset
Screen: 0.96 inch TFT colour display
Material: Zinc alloy & Anodized Aluminium & ABS
Interchangeable Battery doors
Type C USB connection
5V/2A Balanced Fast Charging
5 Digit Puff Counter
Working temperature: -10-60℃
Resistance range: 0.1-1Ω
Flavour Curve: Soft, Normal, Strong, custom SXi-EQ curves, EQ1-EQ3
Input Voltage: 6.4-8.4V
Output voltage: 1-7.5V
Quiescent Current: <100uA
Thread: 510
Colours: Woven Blue, Aluminium Black, Aluminium Gunmetal, Black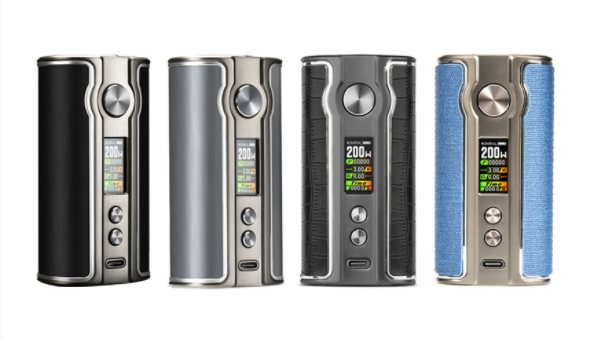 ---
Fitting The Batteries
I haven't seen this style of fitting batteries for a while but can remember a trio of Vapecige devices from a few years back that I still love (one being a PWM), the other two was one with a proprietary chipset and then a DNA75C device which I didn't receive due to giving their VTbox 250C device a hammering!
The G-class style rounded form factor allows for a battery to be fitted either side when having removable curved side panels, it is also mentioned in the marketing they are Interchangeable so hopefully just different panels will also become available!
The panels fit very securely with both protruding tabs and a strong magnet top and bottom, we also have a battery ribbon either side which helps with easy ejection of the batteries. Although I do like batteries fitted this way the orientation is just small raised symbols on the Black plastic and I did need a good light source to see them clearly, why orientation can't be clearly visible (Bright White on this occasion) is beyond me. Also getting the batteries installed was a bit tight and although I didn't damage any wraps it felt the potential was there!
---
The Display
The Display is bright and has aesthetically pleasing fused accents going from a Spring Green to Dark Orange, it's also very nicely laid out!
Top left we have the pre-set or curve and then top right a battery status bar, I really would much prefer a bar for each battery and also the charge given as a percentage! Underneath we have the wattage and then underneath the wattage within an accented area the puff count. Below the puff count we first have the voltage followed by resistance and finally at the very bottom of the display the vape duration!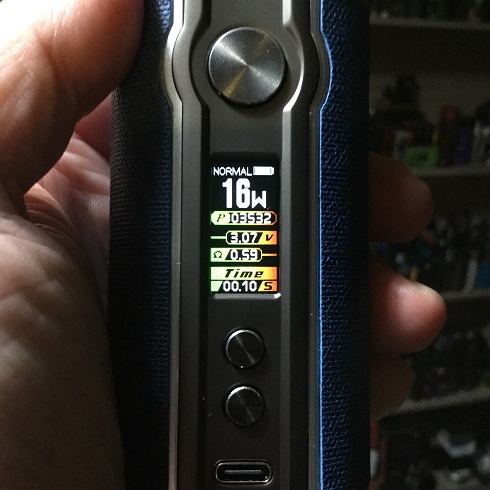 ---
Operating The Device
The device is the usual 5 clicks of the fire button to turn on but like other YiHi chipped devices you need to go through a couple of stages to power down. To power down press both navigational buttons together which will give the options of System Off, Brightness and Exit, selecting System Off by pressing fire then gives the options of System On which will just take you back to the previous screen and System Off which will shut down the device! If selecting brightness the brightness can be altered between 01 to 10 using the navigational buttons. The other feature to point out at this stage before I forget is fire and up together resets the puff counter!
Pressing the fire button 3 times quickly locks the whole device and then repeat the process to unlock, when locked the device can't be fired which I don't like as I much prefer to just lock the navigational buttons. To alter the wattage you first press up which then gives a screen displaying just the wattage centrally! You can then alter the wattage in 1w increments from 5w to 200w although the device does have a form of smart wattage which I can't find documented anywhere but when using a 0.60ohm coil it maxed at 50w so quite generous and possible a safety feature to do with ohm load as with most of the devices with smart mode would max out at about 30-35w with a 0.6ohm coil when the system is used to prevent getting burnt hits! The wattage adjustment does scroll at a nice rate but doesn't round robin.
Pressing down lists the curves which can be scrolled through and then selected by pressing fire. The first three are pre-set which are soft, normal and strong, normal gives 100% set wattage throughout your vape duration while soft starts at 50% of your set wattage and gradually increases while strong starts at 150% and decreases until at the set wattage!
Next we have SXi-EQ 1, SXi-EQ 2 and SXi-EQ 3 which are programmable curves and is also a way of bypassing the smart wattage feature. When choosing one of the programmable curves it will go to the curves working screen and then pressing up will allow the base wattage to be set using the navigational buttons with fire locking in the base wattage! Pressing down takes you to the last segment of the curve, you can keep pressing down to move to other segments until you want to alter one which is fire to highlight and then the % of the base wattage can be adjusted using the navigational buttons with fire locking the % and then you once again can press down to move to the next segment, there are 20 0.5second segments and very oddly you set the curve from finish to start rather than start to finish but getting the mindset of setting it in reverse I didn't find an issue!
---
Protections:
Overheat Protection
Overcharge Protection
Short Circuit Protection
Low Voltage Protection
Low Resistance Protection
Reverse Polarity Protection
---
Charging
Here comes "Groundhog Day", as always unless it's your only option I don't recommend charging your batteries in the device but if you do the V200 has a Type C connection and 2A balanced charging! Of course with this having a YiHi chipset via the USB cable updates are supported!
If the device is switched off when connecting the USB you will need to press the fire button 5 times for charging to commence, while charging a large charging progress bar is displayed on the centre of the screen but no charge as a percentage or estimated charge time left, the V200 also doesn't support pass-through!
---
My Thoughts
This is a really nice device that performed faultlessly but does come with a list of what I personally would of liked to of been done better. First off for those that like the YiHi chip for the prowess of their TC this isn't for you as it's a power only device but for Power only users the YiHi chip is going to give you accuracy both with reading resistances and power output! The SX351 chipset also has waterproofing which is good peace of mind as possibly most device failures are caused by e-liquid getting into the electronics!
I love the form factor which is as ergonomically sound as a dual battery device can be, the device isn't heavy yet with batteries installed feels solid and we have no rattles from anywhere! The buttons are nice and clicky and the device fires without delay and when the appropriate curve is set or using even normal pre-set nevermind strong the ramp up is impressive! I like how the batteries are installed and how secure the panels snap into place but fitting the batteries is a tight squeeze and although with the bevelled edging to the contacts it shouldn't rip your wraps it constantly had me checking, also orientation isn't easily visible unless in good light!
The brightness can be altered and puffs manually reset and I like how the wattage is adjusted although having a round robin feature would be an improvement, the device does limit output wattage with different resistances but the max limitation is generous so shouldn't cause any issues like pod mods can when using a rebuildable option. Those really into their curves feature will like the SXi-EQ curves, I like the sophistication of using a % above or below a set base wattage but am a little confused why the curve is set from the end to the beginning rather than beginning to end!
They say up to a 30mm atomiser can fit without overhang so I will go along with that but if you look at one of the photos below I have a 30mm installed and still have about 1mm spare both front and back so even a 32mm will look good while the 24mm in the other photo doesn't look out of place!
My final cons are the lack of charging feedback, just the navigational buttons can't be locked and finally the battery status is given as just one battery bar! However if you do need to charge in the device the V200 supports 2A balanced charging and firmware upgrades, it doesn't support pass-through vaping!
Also although being a lower wattage vaper I personally prefer a smaller size many might of preferred the main upgrade to the V200 re-release to of been to accommodate dual 21700 batteries, this could of been done without much of an increase in size!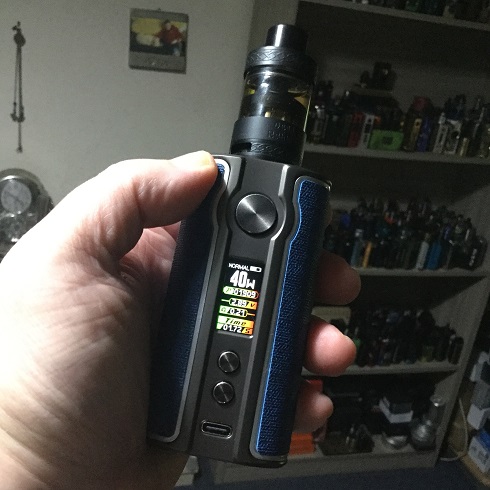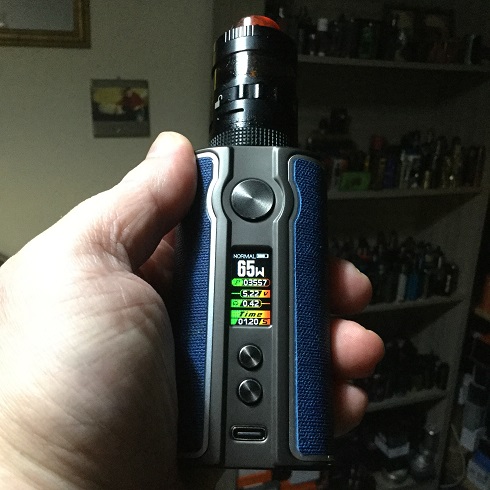 ---
Likes
High standard build quality
No rattles or panel movement
Quite light
4 Colour options
Panels fit very securely
Battery ribbons allow quick ejection of batteries
Very ergonomic
High performance device (during testing never missed a beat)
Fires without delay and with impressive ramp up
Buttons give a nice stiff click (just feel quality)
3 Preset curves Soft, Normal and Strong
3 SXi-EQ programmable sophisticated curves feature
Waterproofed YiHi SX351 chipset
Bright, colourful, well laid out display
No TC (Pro for many power only users)
Brightness can be adjusted and puffs manually reset
Easily fit 30mm atomisers without overhang
Type C USB
2A balanced charging
Firmware upgradeable
Cons
Can't just lock navigational buttons
Battery status shown as just one bar
Battery installation a tight squeeze
Battery orientation could be more visible
Poor charging feedback
Pass-through not supported
No TC (con for some pro for most power only users)
For some not being a dual 21700 a missed opportunity
I would once again like to thank Angel from YiHi for supplying the iPV V200 for the purpose of this review, thanks for reading and stay safe!
---