Hi Vaping Community, In this review I take a look at the IPV U710 from Pioneer4You. The IPV U710 was supplied for the purpose of this review on behalf of the YiHi Group by David from SXMini.
Introduction
Pioneer4you (iPV) are part of the YiHi group along with their big brother SX Mini and younger sibling VSticking! Products from both iPV and VSticking have been virtually non existent in recent times but as the YiHi group in general start to ramp it up with new products and more in the pipeline we have the follow up to the revamped IPV V200, the IPV U710.
The IPV U710 like the V200 has a waterproofed chipset this time the SX710 which like the SX351 is an unusual chipset for YiHi as it doesn't have TC but just Power and both pre-set and adjustable curves. It has 80w top power output, Type C USB with 2A charging and can fit up to 26mm in diameter atomisers despite being such a small device and having a top battery cap! I really liked the V200 and have been enjoying testing the U710 for a while so let's dig deeper!
---
In The Box
Contents:
1 IPV U710 Box Mod
1 Type-C USB Cable
1 Warranty Card
1 User Manual
---
Aesthetics and Ergonomics
The IPV U710 comes in quite simple yet classy looking White cardboard with fold over lid display box which all the YiHi Groups products are packed in, On the reverse we have all contents, specs, branding etc!
On opening the device is proudly sat on display, I received the Black version according to the box but it actually has a Gunmetal main chassis, the options are Black or Space block but as just mentioned they look to have a Gunmetal chassis rather than Black!
The IPV U710 has a Picoesque type of design with space saving top battery cap allowing for the device to be even shorter than the battery to be installed, the very substantial height of the battery cap is a good indicator to just how small this device is and with the use of internal plastic, and outer shell combining both Aluminium and Zinc Alloy it's also very light compared to the average single 18650 device!
Unlike the Pico the U710 deploys a side screen as seen on other Picoesque type devices which I actually like as it allows for nicely spread buttons down the front edge, I particularly like the top large fire button which has that (Spin the black circle) circular grooved design, below we have smaller but matching navigational buttons followed by a vertically positioned Type C USB port!
As well as the main chassis we have a panel each side with outer bracket, one side panel integrates the colour display and we then have "in your face!" branding which I think looks cool but I know there are plenty in the other camp that will completely get turned off preferring a more sleek, classy look! The other side panel as all the safety stamps again "In your face!" and even I don't like this, why couldn't these be printed on the base?
The base and spine are featureless, moving up top we have a 24mm Stainless Steel 510 plate towards the front and tall battery cap with 5 venting holes towards the rear, the 510 is Gold plated and spring loaded! AS mentioned despite happily being able to accommodate up to 26mm atomisers without overhang this device is tiny and just gets swallowed up in the hand, ergonomically it's my kind of device!
---
IPV U710 Specs and Features:
Parameter:
Size: 51* 27 76.5mm
Material: zinc alloy, aluminium and plastic
Battery: single 18650 battery(not included)
Output: 5-80W
Steam modes: VW / Power mode
Screen: 0.96 inch TFT colour display
Quiescent current: <10uA
Max charge: 5V/1A
Thread: 510
Colour: Black, Space Block
No idea what's going on here, the weight is actually 93g and the TFT Display is 0.96"!
Features:
Compact single 18650 battery box mod
Modern design and ergonomic shape
VW / Power modes
Adjustable wattage of 5-80W
2A Quick-Charge by USB Type-C
Waterproof and powerful YiHi SX710 chipset on board
Extensive security features: Protection against overheating, polarity reversal, overcharging, deep discharge and resistance that is too low
3 pre-set flavour curves (soft, normal, Hard)
3 freely adjustable EQ Flavour Curves (Curve Mode)
User-friendly user interface
Brilliant 0.96 inch TFT colour screen
Comfortable operation via fire button as well as "+" and "-" selection buttons
5-digit puff counter and draw time display
Compatible with up to 26mm diameter tanks
---
Fitting The Battery
The IPV U710 has a Pico style top battery cap that screws on and off the device, the bottom positive plate is spring loaded so the battery gets pushed down as the cap is secured so no battery rattle is possible. I also like this way of fitting a battery not just because of the space saving qualities but you also can't damage your wraps, the downside is the cap limits what size atomiser can be installed but being a single 18650 device and allowing up to 26mm in diameter atomisers to be installed this ticks many boxes!
A couple of petty cons, the threading isn't bad but just slightly crunchy and although the battery fits the usual positive down and positive is vibrantly labelled inside the tube I still wish negative was marked in White on the underside of the cap!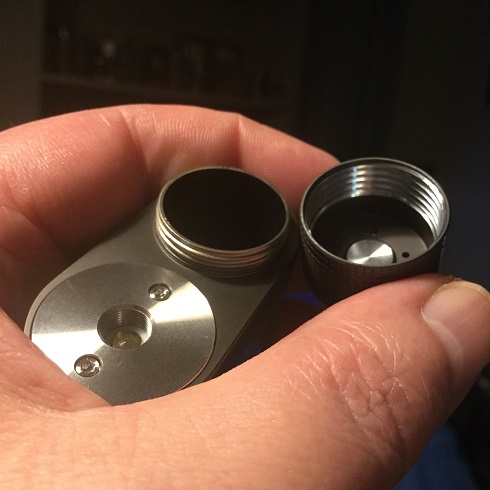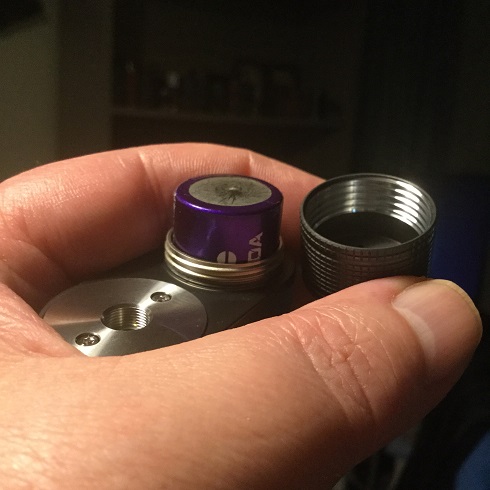 ---
The Display
The Display is bright and has aesthetically pleasing fused accents going from a Spring Green to Dark Orange, it's also very nicely laid out!
Top left we have the pre-set or curve and then top right a battery status bar, I really would also prefer the charge given as a percentage! Underneath we have the wattage and then underneath the wattage within an accented area the puff count. Below the puff count we first have the voltage followed by resistance and finally at the very bottom of the display the vape duration!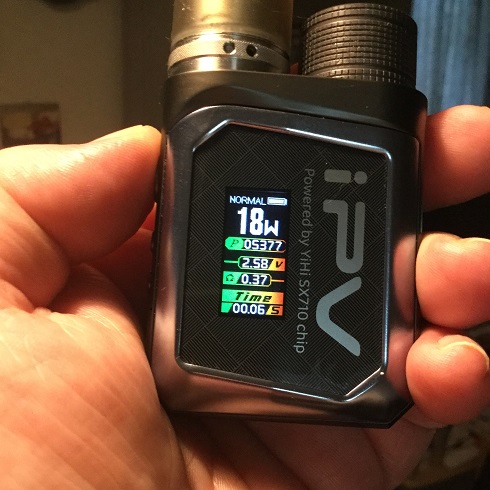 ---
Operating The Device
The device is the usual 5 clicks of the fire button to turn on but like other YiHi chipped devices you need to go through a couple of stages to power down. To power down press both navigational buttons together which will give the options of System Off, Brightness and Exit, selecting System Off by pressing fire then gives the options of System On which will just take you back to the previous screen and System Off which will shut down the device! If selecting brightness the brightness can be altered between 01 to 10 using the navigational buttons. The other feature to point out at this stage before I forget is fire and up together resets the puff counter!
Pressing the fire button 3 times quickly locks the whole device and then repeat the process to unlock, when locked the device can't be fired which I don't like as I much prefer to just lock the navigational buttons. To alter the wattage you first press up which then gives a screen displaying just the wattage centrally! You can then alter the wattage in 1w increments from 5w to 80w, the wattage adjustment does scroll at a nice rate but doesn't round robin.
Pressing down lists the curves which can be scrolled through and then selected by pressing fire. The first three are pre-set which are soft, normal and strong, normal gives 100% set wattage throughout your vape duration while soft starts at 50% of your set wattage and gradually increases while strong starts at 150% and decreases until hitting set wattage!
Next we have SXi-EQ 1, SXi-EQ 2 and SXi-EQ 3 which are programmable curves, when choosing one of the programmable curves it will go to the curves working screen and then pressing up will allow the base wattage to be set using the navigational buttons with fire locking in the base wattage! Pressing up goes to the first segment of the curve, you can keep pressing up or down to move to other segments until you want to alter one which is fire to highlight and then the % of the base wattage can be adjusted using the navigational buttons with fire locking the % and then you once again can press up to move to the next segment, there are 20 0.5s segments, it's exactly the same as the curves feature on the V200 and must be the best the curves feature has been executed on a device, very impressed!
---
Protections:
Overheat Protection
Overcharge Protection
Short Circuit Protection
Low Voltage Protection
Low Resistance Protection
Reverse Polarity Protection
---
Charging
Here comes "Groundhog Day", as always unless it's your only option I don't recommend charging your batteries in a device but if you do the U710 has a Type C connection and 2A charge rate! Of course with this having a YiHi chipset via the USB cable updates are supported!
While charging a large charging progress bar is displayed on the centre of the screen but no charge as a percentage or estimated charge time left, the U710 also doesn't support pass-through!
---
My Thoughts
This is a really nice device that performed faultlessly but does have a few petty niggles which I will get to. First off for those that like the YiHi chip for the prowess of their TC this isn't for you as it's a power only device but for Power only users the YiHi chip is going to give you accuracy both with reading resistances and power output! The SX710 chipset also has waterproofing which is good peace of mind as possibly most device failures are caused by e-liquid getting into the electronics!
I love the Pico style form factor which is ergonomically sound just getting swallowed up in the hand, I also like having the buttons separated from the screen by having the screen positioned on the side of the device, the fire button has a particularly nice feel and is in a great position! The device is tiny and I love single battery devices that have the top battery cap but it can drastically reduce the size of atomiser that can be installed but the U710 allows for up to a 26mm in diameter atomiser which pretty much covers anything you would want to fit on a single 18650 device! The buttons are nice and clicky and the device fires without delay and when the appropriate curve is set or using even normal pre-set nevermind strong the ramp up is impressive! I will point out a couple of those petty cons here and that is the negative orientation isn't labelled and the caps threading is slightly crunchy!
The brightness can be altered and puffs manually reset and I like how the wattage is adjusted although having a round robin feature would be an improvement, those really into their curve features will love the SXi-EQ curves, I like the sophistication of using a % above or below a set base wattage!
My final cons are the lack of charging feedback and just the navigational buttons can't be locked, however if you do need to charge in the device it has a Type C USB port and supports both 2A charging and upgrades, it doesn't support passthrough!
Some might wish this was a single 21700 but the trade off would be a bigger device and i personally love just how small yet practical the U710 is, a real winner especially for MTL and single coil RDL vapers who prefer power mode!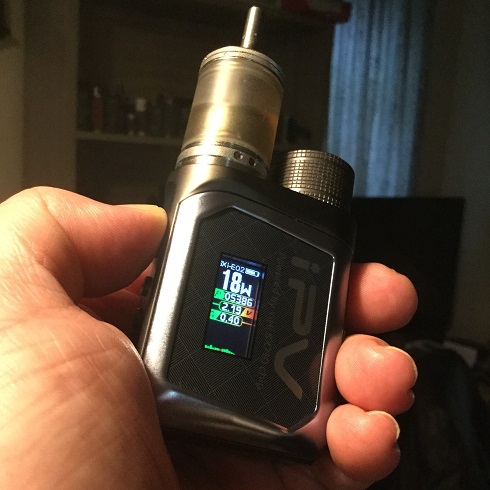 ---
Likes
High standard build quality
No rattles or battery movement
Quite light
Small Picoesque design
Very ergonomic, just gets swallowed up in the hand!
High performance device (during testing never missed a beat)
Fires without delay and with impressive ramp up
Buttons give a nice stiff click (just feel quality)
3 Pre-set curves Soft, Normal and Strong
3 SXi-EQ programmable sophisticated curves feature
Waterproofed YiHi SX710 chipset
Bright, colourful, well laid out display
No TC (Pro for many power only users)
Brightness can be adjusted and puffs manually reset
Fit 26mm atomisers without overhang
Type C USB
2A charging
Firmware upgradeable
Cons
Can't just lock navigational buttons
Battery orientation could be more visible
Poor charging feedback
Pass-through not supported
No TC (con for some pro for most power only users)
Some would prefer a 21700 device (the trade off would mean a larger device)
I would once again like to thank David from SXMini for supplying the Pioneer4You IPV U710 for the purpose of this review, thanks for reading and stay safe!
---