I will be reviewing the Velocity Kit, sent to me by OXVA. For those that are not familiar with Oxva is worth mentioning that is a fairly new company which has grown largely since it started over a year ago, why you might ask, in my opinion because they are innovative and above all they listen to his followers to make improvements on their devices. Their CEO is Justin Lai was the co-founder of Geekvape as well as the designer of the Aegis line and Zeus Tanks. I am happy to share once again my personal opinions with our vaping community.
First some information taken from OXVA website. Picture attached.
Here is the link in case you want to know more:
Inside the Box
Velocity Device
Unipro Cartridge – Capacity 5ml
Unicoil Cartridge – Capacity 5ml
Velocity 510 Connector
Unipro Mesh Coil 0.15ohm – Rated for 60-80W
Unipro Mesh Coil 0.3ohm – Rated for 30-40W
Airflow ring included with Unipro Coil 0.15ohm
Disassembly tool – To remove 510 adaptor and coil
18650 Silicone Battery Adaptor
Type C USB Cable
Attention Card
Warranty Card
User manual
As extras I also received:
OXVA Unipro RBA Deck – DIY, it comes with a Φ1.5 MTL airflow reducer and an airflow ring (Φ0.8 Φ1.0 Φ1.28 Φ1.5 for RDL use) with Unipro pod.
Mod
The Velocity Kit in their own words "The OXVA Velocity is the smallest single 21700 box mod featuring creative 510 connection. It's a perfect box mod, also an excellent pod mod with flavourful no leaking Unipro coils". Personally I don't this this is the smallest single 21700 mod in the market as I have seen smaller ones. It comes in a variety of colours Black Leather, Brown Leather, Carbon Fiber, Black Marble, Rose Gold and Gold Ripple. Mine is the Black Leather one.
The Velocity comes with OXVA Photon chip, with a buck-boost converter PCBA to offer more efficient and stable output when battery level drops. OXVA Velocity box mod is powered by a single 21700, 20700 and 18650 with the battery adaptor included with maximum of 100W output. The Velocity mod features what OXVA calls "a creative 510 connection", which doesn't come off when you unscrew the tank.
OXVA Velocity mod supports 3 modes: Smart/Power/Voltage modes to meet vaper's needs.
OXVA Velocity is can be used with all OXVA coils, backward compatible with previous ones which is a plus. This kit can use the new Unipro coils (0.15ohm/0.3ohm and Unipro RBA) and Unicoils (0.2ohm/0.3ohm/0.5ohm/1.0ohm and Unicoil RBA). Worth noting that the Unipro RBA coil which is sold separately is the first MTL and RDL RBA due to the insert provided and airflow ring with different airflow options to suit true MTL vapers and RDL as well.
At the top we have the 510 connector and the pods, these are held in place by four strong magnets and two gold pins connectors.
At the front it has at the top three air slots in an oval shape, just below a square fire button, then a very bright colour screen, below the screen are the up and won buttons and the USB C charging port. It always recommended to use an external charger.
On one side we see the zinc alloy frame and the black leather padding, at the back at the top we see again three air slots in an oval shape and at the bottom right side "OXVA VELOCITY" branding.
On the other side we see the same black leather padding with the word "OXVA". Its nicely done because it doesn't stand out in a bad way. Very subtle.
At the bottom it has a slide to open battery door with vents and some warning signs.
The battery compartment has a latch type of connection to open and close. Also has clear markings for battery polarity inside in bright red. I just wish the minus sign would have been coloured. In the picture below you can see the 18650 silicone battery adaptor, which when in use it doesn't rattle at all. Works really well with no rattle at all. Well done.
Worth mentioning that I did have some unexpected opening of the battery door, not during daily use, only when by chance I slide the mod over a surface. Also when this happened and put the battery back in and closed the door the mod came on which I think it shouldn't happen. Justin Lai CEO of OXVA is aware of some Velocity mods showing this with the battery door, he and OXVA team assured me they are working on a solution. He also listened to my concern about the mod turning on when putting the battery back after the unexpected opening of the door. This could be hopefully fixed by a firmware upgrade. It happens because the chip remembers, to avoid it at the moment a possible solution will be to remove the pod or tank. In my opinion this should not happen at all, could lead to firing the mod by accident.
The Velocity 510 adaptor clips firmly in place and the only way to release it is using the tool provided, once this tool is screw onto the 510 it has to be tilted to release the adaptor. Also it could be done by tilting the attached atomizer. This tool can also be used to remove the coils as per pictures below.
Overall, the velocity has a great feel to it, slight rounded edges, elegant, feels sturdy and comfortable to hold.
Display
The size of the display 0.96-inch OLED Screen. It is simple, very bright, it has relevant information and is easy to use. On the main screen we see OXVA logo on the top left, top right battery indicator, below wattage, under it shows mode and then ohms, volts, time and puffs.
To on and off the mod press fire button five times.
To change between the menu options, you press the select button three times, once inside using the up and down will give the following options:
Smart – Smart mode set the watts to suit the coil and can only go to max VW for that particular coil.
Power – 5W to 100W, goes up in 1W increment and round robin.
Voltage – 0.5V to 8.0V
Color – There are six colour schemes available to suit your preferences.
Exit
If buttons up and down are pressed at the same time it locks and unlock the device while the mod is still able to fire.
Pressing the fire button and up button together it will take you straight to the colour options for the screen. Pressing the fire button and down button together it will reset the puff counter.
Pods
The Velocity comes with two pods, the new Unipro pod and the Unicoil pod used in previous OXVA devices making it backward compatible with unicoil series, both with a capacity of 5ml. They come with a 510 Drip tip, the pod uses press fit coils and it has a rubber plug on top of the pods to fill, the fill port is large so I didn't experience any problem filling the pods, in saying so with bigger bottles the user might want to remove the drip tip for easier filling. If the user wants to use their own can fit a drip tips with O-rings on them.
The kit comes with only one adjustable airflow ring which screw on at the base of the coils, if you change coils make sure to take off this airflow ring which will be then screwed onto the new coil. The pods are slightly tinted but I can still see the juice level without any issues.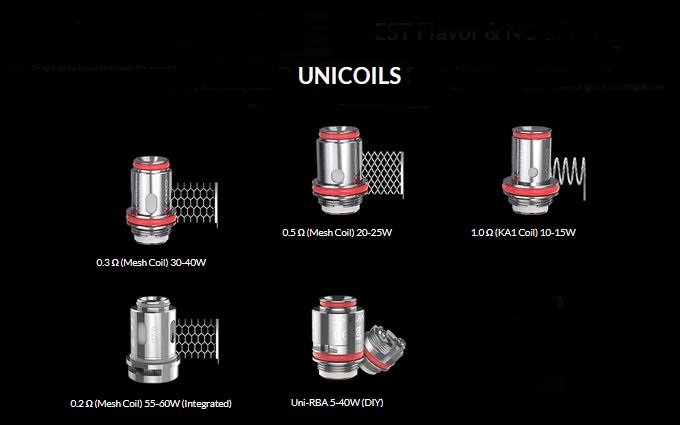 The coils provided are:
Unipro Mesh Coil 0.15ohm – Rated for 60-80W (for use with Unipro Pod)
Unipro Mesh Coil 0.3ohm – Rated for 30-40W (for use with Unipro Pod)
Always remember to prime coils first, press fit the coil into the base, then screw on the airflow ring, fill with juice of your choice, and let it sit for at least 10 minutes. Just to make sure the coil is fully saturated.
I used first the Unipro Mesh Coil 0.15ohm, a DL coil, at that high wattage the vape became too warm for my liking. In saying so the flavour was excellent with good clouds.
Then I tried the Unipro Mesh Coil 0.3ohm which is rated for lower wattage, once I adjusted the airflow ring to my preferred airflow it was great, good RDL and a not to warm vape with excellent flavour.
I didn't have any coils to try the Unicoil series so I can comment on those but just looking at what is available there are a few options that I think will suit me and vapers who prefer lower wattage.
It's great to see OXVA included the Unicoil pod which gives more choices as to what pod and coils we might want to use to tailor it to our preferences.
OXVA Unipro RBA Coil
The Unipro RBA Coil is a separated purchase and a well worth one to have; it comes with everything you need to build it. In the box you will find a shoelace cotton, one premade 3mm ID coil (Ni80 0.3Ω). A screwdriver, spare O-rings, additional screws and a Φ1.5 MTL airflow reducer for true MTL, a different airflow ring which provide different airflow options (Φ0.8 Φ1.0 Φ1.28 Φ1.5, RDL) and a narrowed drip tip. Also comes with a 510 adaptor to build on.
This DIY coil is a single coil RBA it features bottom airflow, it has four screws which means it doesn't matter which way your coils are build (clockwise and anti-clockwise) will fit in. I made sure the coil was centre over the bottom airflow and slightly raised, dry burned and got rid of any hot spots, then I used the provided shoelace cotton and cut it slightly above the bottom edge of the wicking ports (blue O-ring), thinned the wicks by fluffing them. Wet them to get it started, screwed in the top part of the RBA coil and used the provided airflow ring to get a nice RDL. I am now using this RBA deck on the Unipro pod. It works great, excellent flavour, no wicking problems and no dry hits.
RBA airflow ring
OXVA Velocity Kit
Positives
Stunning look and well-constructed.
The new chipset is fast and very responsive.
Fast firing up to 100W.
Takes 21700, 20700 and 18650 batteries (with adaptor).
Menu is colourful, has all the information needed and simple to use.
Two pods – Unipro Pro and Unicoil pod with a good capacity (5ml).
Top fill on the pods.
Versatile and compatibility with previous coils which is very convenient.
A wide variety of coils available.
510 adaptor – turn the device into a mod and it can take up 25-26mm tanks.
Available RBA coil – Easy to build on.
Coils have excellent flavour.
Airflow control using a ring – Just be careful not to lose it.
Can use other 510 drip tips with O-rings.
No leaks.
Negatives
Battery door opened while moving the mod on a desk, not while using it. This will be addressed by the team at OXVA.
When battery is placed back inside the mod turns on – Fixable by removing the pod or tank, I also believe it could be fixed by a firmware upgrade.
In conclusion, for the price (under $50) you get a well-rounded device which comes with an array of different accessories and backward compatible with previous coils using the unicoil pod. Is a well-constructed mod-pod device with several designs to please every vaper in term of taste. It has plenty of accessories to cover a wide range of vaping styles and preferences, pod/mod, including an RBA coil which I love. Well done OXVA.
I would like to thank OXVA and Woonsy Kore from OXVA for sending this device for me to review and share with the community.