So bit of an interesting one this being contacted by
'the Monster Group' asking me if i would be interested in reviewing there new range of products released in the UK. If you are not aware of 'monster vape labs' as a whole you may recognise at least couple of side brands like jam monster. (as pictured)
I must admit i was a little apprehensive at however after this line was dropped "We are looking for honest reviews and your true thoughts on how your overall experience is." after seeing 2 keywords, i kind of felt like i "needed" to do this. Almost like i dare you… Ha! #dareaccepted
In a way i could integrate the disposable & salt review of the same flavour however it's kind of one of them where all products are basically the same just released for different types of devices. In a sense is kind of a good thing especially if someone going through stages of vaping disposable to start the journey, mtl pod for salts if they choose something more eco friendly & sustainable, aswel as 70/30 if they find Direct lung more fore them. Aswel as 'some' people find they dont like a lot of chopping & changing of juices so they have a set flavour. Rather then full integration I'll just put a picture of the other 2 products
So here we have the
MVL - classic series by Monster Vape Labs
Minister Of Mango:
70/30vg pg 75ml bottle 50ml shortfill (making enough for 2x 18mg nicshots IF required… But this a review im going without nic. Im a little unclear what the meaning or relevance of the double label pattern
So the device im using is the hellvape dead rabbit with a parallel ni80 coil reading at 0.33 ohm on the Vaporesso Target 100. Nothing too exciting build wise…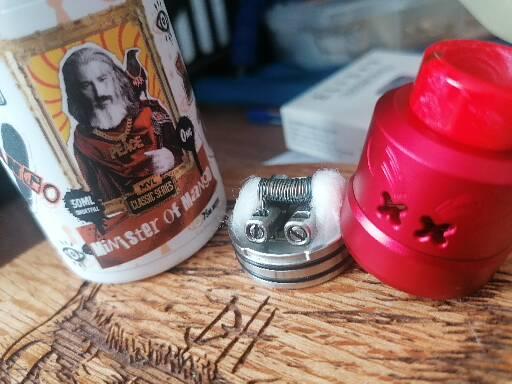 So Down to the flavour.
Truth be told I wouldn't put this down to a totally authentic ripe mango juice, I would put this down more as a mango cream but saying this its a very nice flavoursome yet smooth possibly, slightly cooled at higher wattages with airflow open,
more bursting at with flavour like a juice when airflow cut by half leaving nice refreshing sensation.

I hope you all enjoyed the review
---
Not sure if anyone interested on 'Dark humour vapes' on facebook im running a UK giveaway
For an Vaporesso Xros Nano & 5 bottles of salts 10 & 20mg (wasn't sure what to buy so i got both), which i shall be closing on 4/9/22.