That looks sharp Tim. The coil hold downs seem pretty delicate. I wonder if it's top or bottom fill?
They keep giving pics and little video teasers on their Facebook page mate:
It's a private group so not sure what you can see
Usually this style the e-liquid is isolated in the top tank above the chamber mate and as you vape is drawn down to the wicks so the top section is screwed or pulled off to reveal two filling slots so bottom fill but user friendly bottom fill, but that's just an educated guess!
Just the group name for me.
Your description sounds like filling a dvarw.
That's one popular RTA I don't have.
What I like about Holy Atty's RTA's is there is always something unique but not only that the innovation actually works and is of real benefit! With this RTA it is how the coils are mounted but the pics really doesn't give the innovation justice you would need to see a video mate! It literally takes just 2 or 3 seconds to secure a leg with zero effort and no tools required.
As of yet they haven't put a video on Youtube just their Facebook group but will keep a look out.
@Wayneo found a way of downloading that video from the group:
I know mate and I'm thinking no way are those leads being held secure but when I look at where the wire has been snipped while he's moving the coil around with the coiling rod there is no movement whatsoever!
I hear a clicking sound when the wire is pulled into the mount. Spring inside there? Ball bearing, or something like that which holds pressure on the tail.
Don't know mate but normally his atty's have something quite simple yet genius included, the Mea Culpa was how it wicked from underneath using like valves and capillary action instead of the gravity fed system which is so popular, everyone who see's it say's it will never wick properly yet it wicks as good as any tank i have used while the system doesn't allow for over-wicking so impossible to get any gurgling. The last atty was the Stigmata which I have a thread on here about which was just altogether different!
When I find out more of course I will update the thread.
I am a dumb ass, I have watched the video about 100 times and not bothered having the sound on!

Although it was those airflow towers rather than pin inserts the last time I can remember the airflow being angled across the coil rather than square on was the original Zeus which really delivered flavour!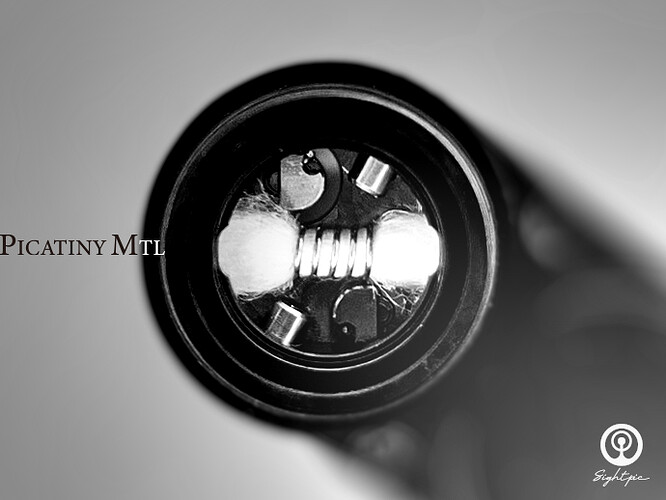 Certainly innovative, and I can't help wondering how effective those delicate pins that hold the wire really are, particularly with harder wires, and - how long they will fare, along with their "spring" which is a small O-ring .
Then to air flow, I think it fair to say that we know by now that undercoil air is the way to go, so what happened here?