How do you fit all that in your purse?
It makes me think of that quote I heard, "If guys with big trucks have little dicks it's no wonder most women are afraid of clowns"
Single coil, single battery guy - ifyaknowwhatI'msayin
sigh I'll always be alone.
Very nice, Andrew!

How long has junior been in service? Bought mine last July, and at 5,000 puff's it's going flaky on me, intermittently. Remove/replace tank it shut's down…low batt warning pops up then goes away, etc. I've had no liquid leak's into the 510 area, and have treated it with kid glove's. Let me know how your's goes, over time.
You mean the geekvape L200 Brian? Not that long, maybe since October or there abouts. I'll check tomorrow and let you know. No issues so far though. It's been very good.
They fit in my make-up bag if I only take out the one lipstick. Small price to pay really!
Yeah, that one…the chip is messing up in it. Even using onboard charging, it's not charging batt's equally, and doesn't finish charging either. Actually, I just depressed the pin with a screwdriver, and the screen flashed… now it's deader than a door nail. Ah well…$45 I'll take it apart, and see what I can find.
Weird…
Nah, mine is still going strong but I only use it when I go out somewhere, since getting the titan.
I can't speak for charging it as I've never charged batteries inside of it. I always use an external charger.
Generally do all my charging externally, too, but have used OBC several time's with this one.
Forgot to mention, I've had over 40k puffs from my L200 and it's still as good as it was on day 1. Maybe you just got unlucky Brian.
Yeah, I can't complain too much…I've had pretty good luck overall.
No overhang whatsoever on Deuces Pluto!
Some member's were unable to attend the photo session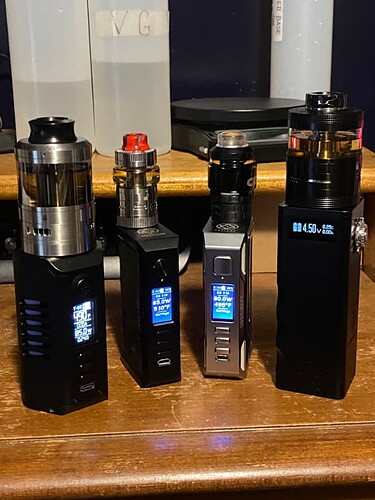 L-R
My Apple Huckleberry Pie Rev.3
Nick's Manchester Tart
My Razzleberry Custard
Custard Slut
Is that mod on the left a hammer of god dna400?
Na it is an Odin the HOG dna is a 4 battery and considerably bigger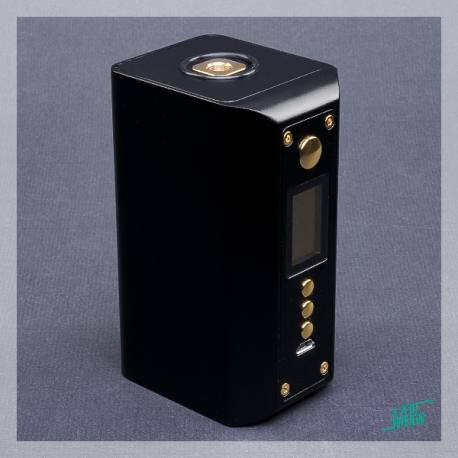 Ah ok, cheers Simon. Been eyeing up those HoG DNA400's, they aren't mech mods are they? Got to add a purple one to my ever-growing wish list

Na mate, not a mech they have a DNA 250c board in them which with the 4 batteries makes it a DNA 400. They are hard to find and quite expensive the Odin is an excellent mod and probably more suited if you don't think the extra 200 W is usable to you.