---
---
Hello VC! Today I am giving you my full review of the VooPoo Drag 2 Kit! VooPoo is back again with their second rendition of the wildly popular Drag line. It's undeniable that the Drag was a huge success and for a while there it was just about all you saw. So what have VooPoo done with the 2 to try and recapture that success? Read below for my evaluation.
I have used the Drag 2 for 5 weeks now and feel that I can give you a fair assessment of it's quality.
This device was won in a giveaway held by VooPoo.
---
---
Drag 2 Specs
Dimensions: 88.3mm x 51mm x 26.5mm
Chip: GENE.FIT
Material: Zinc Alloy & Resin
Batteries: Dual 18650
Wattage Range: 5W - 177W
Voltage Range: 0V - 7.5V
Output Mode: VW/FIT(1/2/3)/TC(Ni/Ti/SS/NC/M1-M5)
FIT Mode Automatically Detects Atomizer & Adjusts Output Depending Preset:
1: Battery Setting (Low Power Output)
2: Flavor Setting (Medium Power Output)
3: Cloud Setting (High Power Output)
M1-M5 Utilizes Adjustable Curve Settings For Different Outputs/Temperatures Over Time
VW Resistance Range: 0.05Ω - 5.0Ω
TC Resistance Range: 0.05Ω - 1.5Ω
Temperature Range: 100°C - 315°C / 200°F - 600°F
Screen: 0.91" OLED
Spring Loaded Gold Plated 510 Pin
Firmware Upgradeable
Safety Protections: Reverse Polarity/Switch Timeout/Overheat/Short Circuit/Overcharge/Over-Current/Over-Discharge/Balanced Charging
V0 Class Fireproofing Bridge (Blocks Dust, Liquid, & Burnout)
UForce T2 Specs
Diameter: 24mm
Material: Stainless Steel & Glass
Fill: Sliding Top Fill
Capacity: 3.5ml/5ml
Coils: (FIT Mode Recommended) - UFORCE U2 0.4Ω Dual Coil(40W-80W)/UFORCE N3 0.2Ω Triple Mesh Coil(65W-100W)
Airflow: Triple Adjustable Bottom Airflow
Current Color Options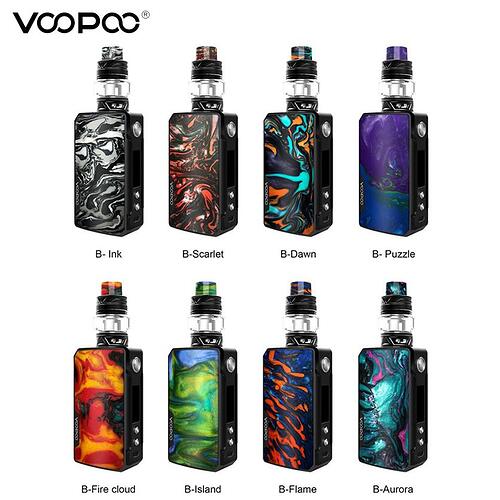 ---
Drag 2 Kit Contents
DRAG 2 177W Mod
UFORCE T2 Tank (5ml)
UFROCE U2
UFROCE N3
Glass Tube (3.5ml)
Sealing O-Ring
USB Cable
GENE Chip Card
User Manual
Warranty Card
---
Operation
5 click fire button: on/off
3 click fire button: cycle modes
Hold fire button & -: flip screen
Hold fire button & +: lock device
Hold + & - while in Power/TC Mode: enter menu
Power Menu: choose Wattage Mode/Power Curve Mode(M1-M5)/Serial Number/Version
TC Menu: choose TC Mode/Temp Curve Mode(M1-M5)/Set Resistance/Adjust TCR Value
4 click fire button in TC Mode: adjust TC wattage
4 click fire button in Power/Temp Curve Mode: adjust curve settings
---
Pics
Instaglam 1
Instaglam 2
Instaglam 3
Instaglam 4
Screen/Buttons
Battery Cover/DRAG
510
Battery Tray
Drag 2 Kit
UForce Comparrison 1
UForce Comparrison 2
---
---
Drag 2
Top: The 510 plate on the D2, as everyone knows at this point, is not really centered and is slightly raised from the device. I have no idea why it's not centered, it's not even centered to the contour. This seems a bit strange. Also, apparently VooPoo have said something about the raised 510 being purposefully done to prevent atty rash. I guess I can buy that. It's not really raised much and is hardly noticeable with attys on it.
The threading on the 510 plate is very smooth. I know I say that pretty often, but it is noticeably smoother on the Drag 2. The device also houses a spring-loaded and gold-plated positive pin. Due to how the device contours out a bit in the center, it can now accommodate up to 25mm attys without overhang. 25mm brings it right to the top edge, before the edge cuts down a bit, so anything over 25mm is going to appear to overhang. This is pretty much the same issue the OG Drag had, the only difference being the D2 can hold 1mm more without overhang. The styling is nice, but VooPoo have fallen back into the same trap as before.
---
Buttons: The buttons on the D2 are mostly similar to the OG Drag. The placement is very much the same and the rounded shape is there. However, the fire button does seem a slight bit smaller and the depression is a bit more pronounced. Also, the depressions in the +/- buttons are gone.
The buttons have a mostly nice resistance to them, however, the fire button does seem a bit squishy on mine. Not sure if this is the same all throughout, but it seems less clicky than the OG Drag. As a matter of fact, all the buttons seem less clicky. This isn't entirely a bad thing. They still have a nice resistance and activate well, but there's something about a nice click that's satisfying.
---
Screen/Menu: The screen and menu system is mostly similar to the OG Drag here as well. One of the main differences being the original Drag's screen was depressed into the device a bit, where the D2's screen is flush. I'm sure some people will argue that it leaves the D2's screen more vulnerable to scratches and nicks, and I agree. However, I like the look of it better. The screen is slightly larger as well and the other main difference is we have dual battery monitoring now. The screen itself appears to be a bit dim and is definitely difficult to read in bright light and since there's no way to adjust the brightness, you're just stuck with it.
The menu is very much the simplistic one we saw on the original Drag. There's really not a whole lot to it. For an outline of how the menu functions, take a look at the Operation section above, but I'll give you a rundown of it here as well. It has the typical 5 click on/off that is common with most devices at this point. You can click the fire button three times to cycle between Power Mode>Fit Mode>TC Mode. When you enter into TC mode, you're prompted to select your coil material. Holding + & - while in Power or TC mode brings you into your Menu. From there you can choose to enter your Curve Mode(M1-M5), go back into your Wattage or TC mode, and set your TC resistance and TCR value (in TC menu). If you choose Curve mode while in TC and cycle back to Power Mode, you will now be in Power Curve Mode. The good thing is that each Curve memory slot is related to the specific mode you are in, giving you 5 Power Curve modes and 5 TC Curve modes. The device also has a few shortcuts you can access while on the main screen, such as holding fire button & - to flip the screen orientation, holding fire button & + to lock the device, and clicking the fire button 4 times to: adjust TC wattage in TC Mode/adjust your curve settings in Power and TC Curve modes.
---
Size/Styling: There are noticeable differences between the OG Drag and the Drag 2 as is to be expected. The Drag 2 is a smidge shorter and a little bit smaller from side to side. Width wise it's a slight bit chunkier and actually bubbles out slightly towards the middle and tapers off a bit towards the sides. This allows the D2 to accommodate slightly larger attys than it's predecessor, especially since this one doesn't have that grove that created the unsightly gap on the OG Drag.
All around the edges have been smoothed out in favor of some nice rounded corners. This is more noticeable on the screen side of the device and the side opposite to it. A little bit of styling has been added to these portions and it is more of a true rounding of the edges. The rest of the edges aren't necessarily rounded, rather, the sharp edge has really just been shaved off. All in all this makes for a more comfortable hold.
The resin on the D2 is quite beautiful. I've always loved the resin from VooPoo. It has a soft feel to it, a nice sheen, and some depth. I love the new colors they've put out and am happy they are doing matching drip tips.
---
Battery Door/Tray: Here we are again: another Drag device with the hideous "DRAG" plastered across the battery door. At this point I would've thought VooPoo would have gone with some resin doors, but somebody over there just really didn't get the hint. I guess it's not terribly bad as I always tend to palm the battery door, so I never really see it, but I really wish they would have used resin on both sides. It just would have been a nice touch and a bit of fan service. In my first impressions review, I noted how the battery door had a slight bit of wiggle. It's more pronounced up and down than it is side to side, but the more I used it, the more of an annoyance it became. The OG Drag didn't have this issue because the door was inlaid into the device. The D2 door essentially goes around the back corners of the device and this leaves it susceptible to that wiggle. The battery door does have some nice beefy magnets to keep it mostly in place, though.
The battery tray is very much similar to the OG Drag as well, albeit a bit nicer looking. The black frame Drag had this ugly greenish-gray smooth plastic that is really hideous to me. The tray on the D2 is a nice textured black plastic. The D2 still has spring-loaded contact points on the top, a nice battery ribbon, and clearly marked battery orientation.
---
Performance: Performance of the Drag 2 has been mostly stellar. Power mode hits just a good, if not slightly better than the OG Drag. Using the UForce T2 and various other RDAs and RTAs it always hit like I expect a Drag device to hit. Power delivery is very much what I expect it to be and the device fires really quickly. I've said it before but I have to say it again: any fast firing device is going to suffer from unwanted firing while trying to turn the device off; it just comes with the territory.
The new FIT mode is a bit of an oddity, especially at first, but here's some details about it and my experience. First off, on their website, VooPoo explicitly states that FIT mode is specifically meant to be used with UForce tanks. This means you cannot expect consistent results using another tank or any type of RDA/RTA. The way FIT mode works is it recognizes the installed coil resistance and adjusts the output depending on 1 of 3 settings: 1: Battery Life; 2: Flavor; 3: Clouds. FIT1 just seemed really weak to me. I didn't get much flavor or vapor production, but I can see where it would help with battery life as it's really not pushing enough power to the coil. FIT2 definitely has a more powerful feel to it, but to me still feel weak. The flavor is definitely improved over the dismal flavor from FIT1, but it's still not the greatest. FIT3 is the setting I like the most. The flavor and vapor production is really where it needs to be and you can tell it is a more powerful hit. I mainly used the FIT3 setting while testing it out and here's the thing: even on the highest setting, I could tell that it was doing a better job at keeping my coils from burning up. If I used the coil on straight Power Mode within the recommended wattage range, it was a bit more of a powerful hit, but also seemed to degrade the coil more. And I think that's the main draw of the FIT mode: it is supposed to help increase the longevity of your coils.
TC mode is very typical of any VooPoo device at this point, and while TC works well, it still suffers from being limited to an 80W output. I've spoke about this before; in fact, I've spoke about this every time I have reviewed a VooPoo device, so I'm not going to preach much on it again, but VooPoo really needs to increase that wattage cap for TC for it to truly be great.
---
UForce T2: The UForce T2 is very much similar to it's older siblings, the UForce and UForce T1. It does, however, have a much sleeker look to it this time around. It still has the triple-adjustable bottom airflow, slide-to-fill top, and gorgeous resin drip tip and bubble glass that we saw with the T1. But the gunmetal chrome finish on it is quite superb. Performance is not much different than the T1, though, which was really good in it's own right. It utilizes the same coils so the flavor is very similar. As for height, it is more in line with the original UForce. It's really just like they mashed the previous two tanks together and gave it a sexier paint job. Coil longevity is quite good, especially while using FIT mode, and I got around 80mL of some sticky, gunky juice through it before I wanted to swap.
---
---
Final Thoughts
Pros
Smooth 510 threading
Spring-loaded, gold-plated positive pin
Fits 25mm without overhang
Nice button resistance
Flush screen
Dual battery monitoring
Intuitive menu system
5 + 5 Curve modes
Good use of shortcuts without being superfluous
Size and styling (especially over the OG Drag)
Comfortable to hold
Beautiful resin
Color options
Strong battery door magnets
Power Mode performance
TC Performance (it works really well, but you have to be sure to build for the 80W cap)
FIT3 performance
Resin Drip Tip
UForce paint job
Coil flavor and longevity
Cons
Slightly uncentered 510 could be an annoyance
Slightly raised 510 plate could be an annoyance
Buttons feel a bit squishy
No way to adjust screen brightness
Outdated screen and menu
"DRAG" on battery door
Battery door wiggle is annoying
FIT1 and FIT2 aren't great IMO
TC Performance (give us the full wattage already!)
The Drag 2 has some slight annoyances that could potentially be deal breakers for many. However, the look, feel, and performance really make this another great device for VooPoo and a worthy successor of the OG Drag.
---
Purchasing
VapeSourcing - $59.50 (promo price good for 1 more day)
Vaporl - $60.00
EightVape - $68.95
ElementVape - $74.95
Ecig-City - $74.99
Eciggity - $78.99
VaporDNA - $79.99
---
---
Thank you…
…for your attention VC. I hope you all have a great day!
I want to give another shout out to VooPoo for giving me the opportunity to provide this community with this review. If you want to check them out, you can follow them on their Facebook or Instagram pages.
---
Also, if you want to keep up with me, you can follow me on Instagram.
---
---