Hello VC! Today I am reviewing for you the Vapefly Pixie RDA! The name Vapefly is slowly garnering more and more attention. They have release a few MTL attys and some other RDAs/RTAs over the past year or so. Here they are, back with a tiny little RDA whose title is true to form. Will this small RDA mystify you with it's performance? Read below for my evaluation.
I have had the Pixie RDA for 3 weeks now and feel I can give a fair assessment of its quality.
This product was sent to me from Vapefly for the purpose of a review.
Specs
Diameter: 22mm
Height: 29mm
Coil Type: Single Coil
Stainless steel + Delrin construction
Adjustable airflow
510 threading connection
Easy build, single coil deck with notches for positioning coils
Interchangeable airflow set achieves different airflow experiences
Avoid-heat design, triangle airflow path cool down the cloud
Off-centered coil design prevents spitback
Comes with bottom feeder pin
Current color options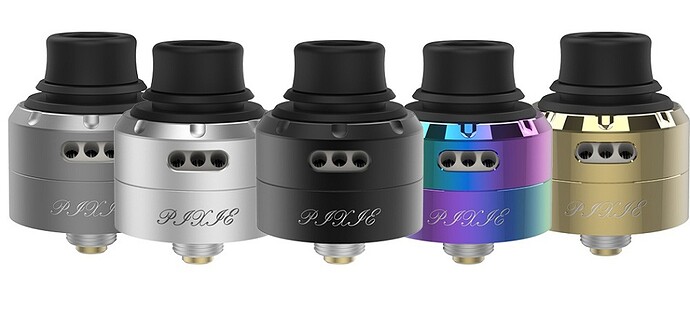 Contents
Pixie RDA
BF squonk pin
Hex screws
Screwdriver
Vapefly Firebolt Cotton
0.35ohm NI80 coils
Pics
Instaglam
Contents
Airflow Insert 1
Airflow Insert 2
Deconstructed
Deck 1
Deck 2
Barrel
Barrel Notch
Top Cap 1
Top Cap 2
Handcheck 1
Handcheck 2
Pixie RDA
The Vapefly Pixie RDA is a small, 22mm RDA that boasts some interesting design elements: easy build deck with notches; interchangeable airflow; avoid-heat design; off-centered coil placement for spitback prevention. These all sounds pretty interesting, and while there have been other RDAs with similar elements incorporated into them, I'm not sure if they've all been able to achieve what the Pixie has. But I'm getting ahead of myself. Let's jump off this review and start at the best place possible: the top.
Drip Tip/Top Cap: The Pixie sports a short, contoured, 510 drip tip that places nicely along the lips. The drip tip inserts into a stepped, top cap that is designed to help heat dissipation and reduce heat retention. The design seems to work pretty well as I haven't burnt my lips with normal use. The cap still gets a bit warm while chain vaping, but not as bad as it could. On the inside of the cap is a conical shape to help direct the airflow and cut down on turbulance. The top cap cuts the RDA in half and connects to the barrel. It spins freely around the barrel and is used for your airflow control. The only downside I found to this is that juice gets caught very easily between the top cap and the barrel and causes it to have a bit of a seeping issue at the seam.

Barrel/Airflow: The barrel takes up the other half of the height of the RDA and includes a few nice features that make this a great atty. First off, there is a little grove on either side of the barrel that lines up with notches on the build deck. This forces the airflow slot to line up perfect with your coil without having to guess and adjust. +1, Vapefly!

The next interesting thing about the barrel is the airflow section. This section juts out a bit from the barrel effectively acting as a chamber reducer. It helps the airflow to be smooth and I feel like it helps the flavor as well.

The last thing I want to metion with the barrel is the airflow. The airflow on the Pixie RDA comes in from the side and is angled slightly downwards to hit the coil. There are also two different inserts to let you select your airflow. One is a wide open slit, essentially what you would get without any insert in there; the other has three holes and produces a slightly more restricted airflow experience. Airflow on the Pixie is smooth, and even though it's a small RDA, it offers plenty of airflow.

Build Deck: The build deck on the Pixie is pretty standard, being a dual post configuration capable of single coil builds. The post holes are pretty large making the Pixie easy to build and can accomodate some large, flat coil builds. The interesting part about the deck is the coil jig notches located on the build deck, and while this isn't anything new, they are off-centered from the path of the airflow. Vapefly states this is to help reduce spitback, and I was pretty skeptical. However, the positioning seems to work well at reducing the amount of spitback produced. Small, short attys, in my experience, tend to be plagued with spitback. However, throughout my time with the Pixie I did not get any spitback. The deck also has a decent sized well to allow for a good amount of juice.

Performance: All the features included in the Pixie help it to be a cloud kicking, flavor beast. This RDA performs as well as you would expect a small RDA to perform. I found that it works really well with a 3mm ID clapton coil. Flavor is exceptional and is probably my best experience with a small, single-coil RDA. I'm really not sure what else to say about the Pixie as it's just an all-around great performer.
Final Thoughts
Pros
Contoured drip tip
Stepped top cap helps with heat dissipation
Conical shape inside top cap
Groves on barrel to line up airflow
Chamber-reducing airflow section
Angled airflow
Airflow is smooth
Large post holes
Easy to build
Off-centered notches places coil to reduce spitback
Decent well size
Fantastic flavor
Cons
Juice seepage around the seem between the top cap and barrel
ummmm…that's it
The Pixie RDA is one of my favorite RDAs to come out this year that I've used. It has some very interesting design elements that come together quite perfectly to create a great performing atty. I almost dismissed this atty when I first saw it as I haven't really been a fan of smaller, 22mm RDAs due to common issues associated with them. However, the Vapefly Pixie seems to have been very well designed to produce an amazing vaping experience.
Purchasing
Fasttech - $17.72 with MAP discount code
3fvape - $17.89
ElementVape - $19.95
Sourcemore - $23.36
Vaporl - $24.50
VaporDNA - $24.99
Healthcabin - $24.99
Thank you…
…for your attention VC. I hope you all have a great rest of your week!
I want to give another shout out to Vapefly for giving me the opportunity to provide this community with this review. If you want to check them out, you can follow them on their Facebook or Instagram pages.
Also, if you want to keep up with me, you can follow me on Instagram.