Hi Vaping Community, In this review I take a look at the K1000 Plus ePipe Kit from Kamrytech. The Kamry K1000 Plus ePipe Kit was supplied for the purpose of this review by Sourcemore.
Kamry K1000 Plus ePipe Kit 1000mAh with 4ml K1000 Plus Atomizer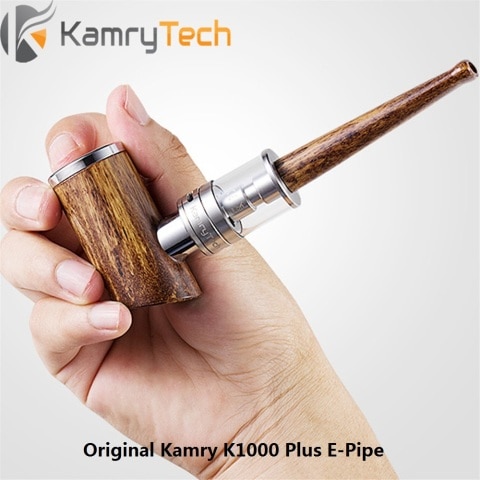 Introduction
I think most when thinking of Kamrytech in the same thought will also visualise one of their affordable epipes which they are renowned for! In this almost mini review I take a look at the upgrade to the K1000, the K1000 Plus which comes with the K1000 Plus Atomiser.
The K1000 Plus has a 1100mAh in-built battery and is a direct output device, it comes with protections so is what is referred to as a semi-mechanical device! When not in use the angled base of the bowl means it sits at an angle to encourage wicking and the 0.5ohm coil heads give 21w to 35w of power! Always wanted to try an epipe so let's crack on!
---
In The Box
Contents:
● 1 x Kamry K1000 Plus Battery
● 1 x Kamry K1000 Plus Atomizer (4ml)
● 1 x USB Cable
● 2 x 0.5ohm Coil
● 1 x Manual
---
Aesthetics and Ergonomics
The K1000 Plus comes in sturdy cardboard box packaging with each individual part in it's own compartment. Just two colour options are available Black and Wood Grain, I received the Wood Grain which some may refer to as Walnut, just to mention the Black version also has a grain effect!
The bowl is constructed from Zinc Alloy and has a slanted base, the bowl also has a wood grain effect finish with chrome rim and fire button up top, finally towards the top on the front of the bowl we find the micro USB port. Just to point out the finish uses an anode oxidisation process which should prevent fading.
On the side of the bowl we have a vertically positioned air fed 510 plate with Gold plated, spring loaded 510. The atomiser fits onto the bowl via the 510 thread and then we have a wood grain effect heat reducing plastic elongated drip tip which looks very much like the mouthpiece of a wooden pipe!
I love how the assembled pipe stands up at an angle and once use to firing via the large fire button located at the top of the bowl it's a very ergonomically friendly device. At this stage the only negative I have is the fire button does give some rattle!
---
K1000 Plus Specs and Features:
Dimensions: 28mm x 59mm (Pipe bowl)
Battery Capacity: 1100mAh (in-built)
Output Voltage: 3.3-4.2V
Output Wattage: Max 35W full power output
Suitable Resistance: 0.3ohm-9.9ohm
Charge rate: 0.42A
K1000 Plus Atomizer Size: 21mm x 35mm (w/o thread and drip tip)
Tank Capacity: 4ml
Included coil heads resistance 0.5ohm (21W-35W)
Triple safety protection for safe vaping
Angled bowl base, sits at an angle (no need for stand)
Thread: Spring loaded 510
Colours: Wood Grain, Black
---
What You Receive?
You receive the main pipe bowl which houses the inbuilt battery, has the fire button with LED surround up top and 510 plate and threading on one side.
You then also get the atomizer plus two 0.5ohm coil heads, elongated pipe style drip tip, USB cable and paperwork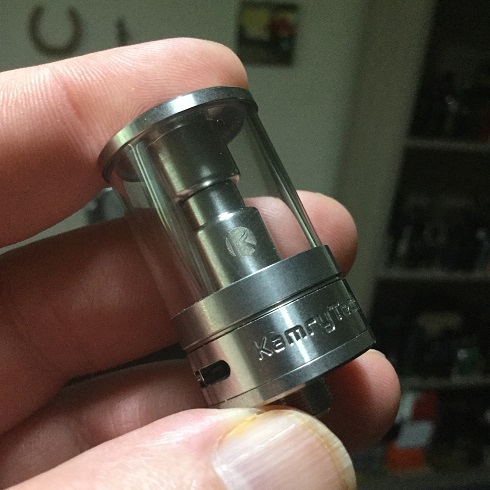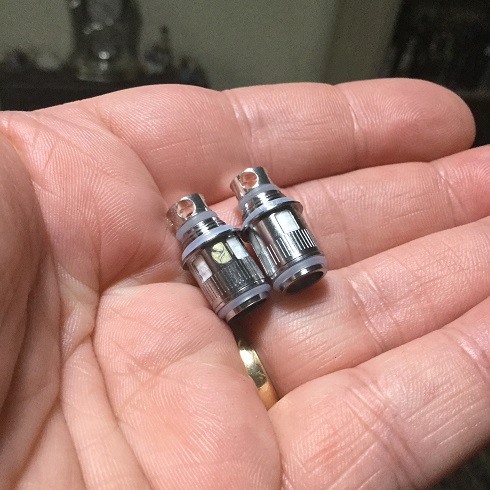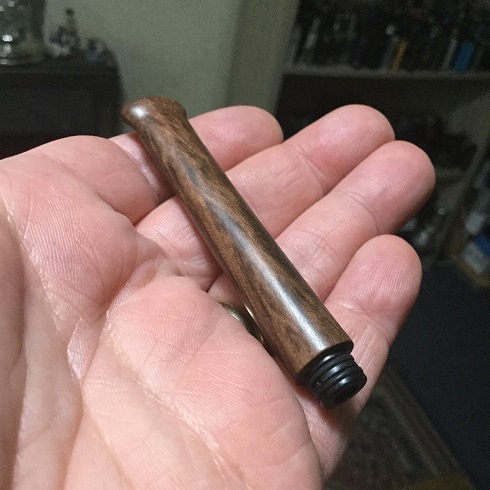 ---
The Atomiser
The K1000 Plus atomiser is basically a standard atomiser with 510 thread so can be used with other devices. We have dual cyclops airflow adjustment and up top a 510 drip tip fitment so if using on another device you can use an alternative drip tip.
The top metal section, chamber, air pipe and glass all appears to be one complete unit as I couldn't take it apart so if you do break the glass the whole atomiser will need replacing and that also explains why there is no spare glass or O-rings!
The base section unscrews from the main tank to reveal the coil head gets screwed into the base section and when screwing the tank back together the top of the coil head will also seal to the air pipe at the top of the chamber with an O-ring!
Looking inside the main tank section with base removed you can see 4 fill ports which are not the biggest but I had no issues filling both quickly and mess free, the capacity is 4ml. As far as I am aware the only coil option is the 0.5ohm (two are included) which are available in packs of 5!
---
Operating The device
The K1000 Plus is a simple direct output device so as the voltage on the battery reduces so will the wattage output. The device is the usual 5 clicks of the fire button to turn on and off, both are indicated by 3 White flashes of the fire button surround!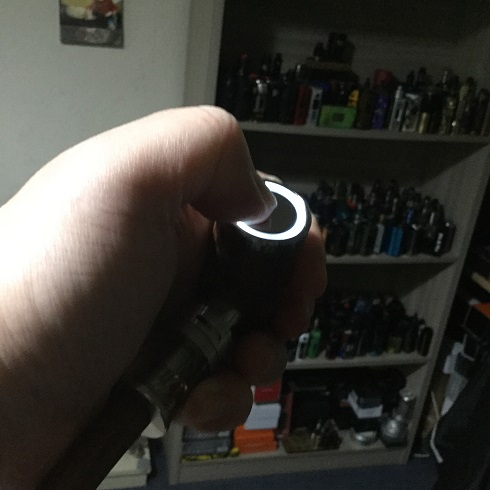 That's it! simply press the fire button and vape, while firing the fire button surround lights up. With 30 seconds of inactivity the device will go into sleep mode to save power but will fire from sleep mode with no noticeable delay!
---
Using Independently
Both atomiser and battery can be used independently as it uses a standard 510 thread and connection and the drip tip fitting is a standard 510 also! Although other 510 drip tips fit absolutely fine in the K1000 Plus atomiser it has quite a deep hollow as the pipe style mouthpiece's section that gets fitted inside the 510 fitment is a bit longer than with most 510's so when using other atomisers with the epipe the pipe stem style drip tip doesn't quite push all the way in but it works fine!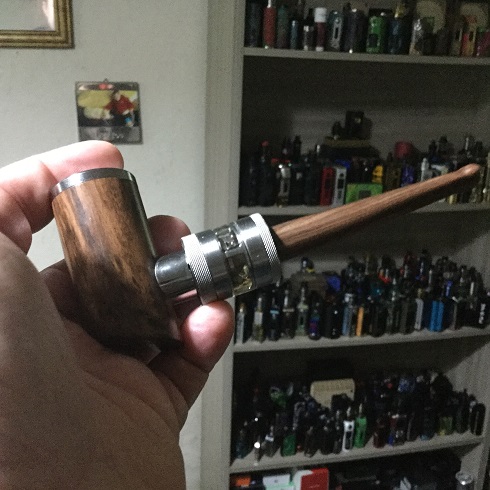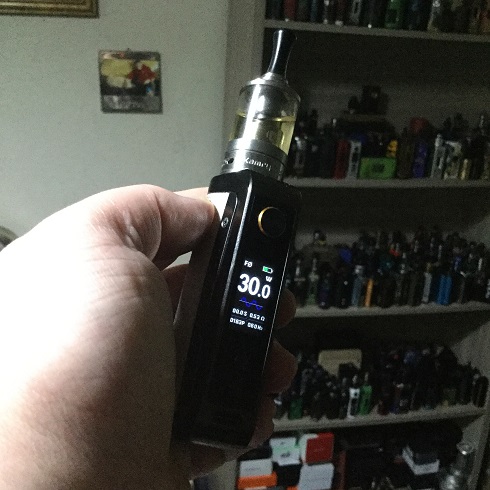 ---
Protections:
Low Power protection
Short Circuit Protection
Over 10s Protection
---
Charging
I found this let the device down as it took just over 2 and half hours to charge, it does support pass-through but the supplied cable is very short!
When first plugging the USB cable in the fire button surround flashes White 3 times before lighting solid White for the duration of the charge, once fully charged the light goes out!
---
My Thoughts!
I have always liked the idea of an epipe but never actually got one because I suspected it would have wicking and leaking issues due to the atomiser being on it's side but after using the K1000 Plus in the evenings since I received it and more extensively over the last 5 days neither have materialised as I haven't had any leaking whatsoever and it's wicked absolutely fine!
No specs are given for the coils apart from they are 0.5ohm but they are mesh and little flavour bangers and as I still have the same initial coil head in use means longevity is above average and also confirms there are no issues with wicking! I also like that the tank can be used independently and other atomizers with a 510 drip tip fitting can be used with the epipe battery and pipe style drip tip even if the drip tip doesn't quite push all the way in.
It is a direct output device so the vape got weaker as the battery ran down, the drop off is a total of 14w which is quite a lot but it was gradual and even towards the end of the battery life it still gave a decent vape and for the most part i was pleasantly surprised what a nice smooth vape it gave. The airflow adjustment gives varying RDL and semi-RDL draws, you can't really do a decent MTL but also not really a full on DL as even fully open there is some restriction!
The fire button does give some rattle but my main con is battery life and charging time. When I was using it just in the Evenings the 1100mAh battery was fine but since using it as my main device to more thoroughly test it then it has needed a couple of charges a day! It takes about 2 and half hours to charge which is quite sluggish for a 1100mAh, it does support pass-through though but if vaping while charging you might want to use a longer cable than the one supplied!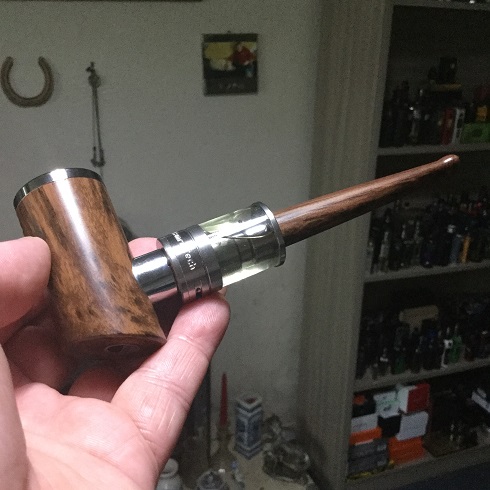 ---
Likes
Looks like a pipe
Very well made
Zinc Alloy bowl
Finish shouldn't fade due to process used
Stands at an angle so no stand needed
Fire button surround LED
Can be switched off
Goes into sleep mode after 30 seconds of inactivity
Protections
Ergonomic and fun to use
Despite direct output gives really good smooth vape even when nearing end of battery life
Supplied coil heads, flavour bangers
Above average coil longevity
Wicked surprisingly well
Suffered no leaking whatsoever
Adjustable airflow (Varying RDL and Semi-RDL draws)
4ml Capacity
Both atomiser and battery can be used independently
Cons
Direct output device (drop off in power) but still gives decent vape for entire life
1100mAh battery doesn't make it suitable as main device
Sluggish charge rate
Fire button rattle
If glass breaks the whole atomiser will need replacing
Bottom fill, have to remove atomiser from battery to fill
Full specs not given with coils
I would once again like to thank Sourcemore for supplying the Kamry K1000 Plus ePipe Kit for the purpose of this review, thanks for reading and stay safe!
Kamry K1000 Plus ePipe Kit 1000mAh with 4ml K1000 Plus Atomizer
---