Introduction
I have a lot of time for Innokin and their products, they incorporate a lot of design features that other companies ignore, and generally have subtle and classy aesthetics that I appreciate.
The Kroma 217 kit is comprised of a 100w, 1-7.5v, single 21700/18650 mod and the RDL/DL Z-Force tank that uses Innokin's new Duo-Mesh coils.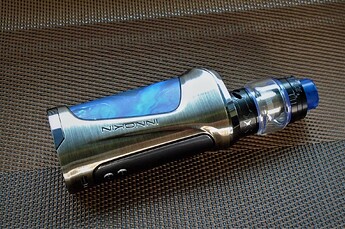 What do you get?
Kroma 217 mod​

Z-Force 5ml tank (fitted with 0.2ohm coil)​

0.3ohm coil​

18650 battery adapter (more on this later)​

Spare bubble glass​

Type-C USB charging cable​

Spare O-rings​

Manual​
The box is clearly marked '100% Recyclable Packaging' and all the accessories come in paper baggies – things like this are always good for the image of vaping, especially in the current anti-vape/flavor ban climate.
First impressions
My first impression is a complaint, the mod is gunmetal and my tank is black – if a company is going to go to the trouble of making a gunmetal mod, then also go that little bit further and make a matching tank please. To be fair, the tanks do match on other color versions of the mod, just not mine.
The mod itself is very pleasing for both the eyes and hands, it feels very solid and well put together, with no button rattle, despite looking like stabwood, the rear grip is slightly cushioned rubber, but the star of the show is the fire button – or to be more accurate the fire bar.
The entire front panel from the LCD screen upwards fires the mod when pushed, this certainly isn't the first mod to do this, but it's a very nice feature.
The battery door is bottom hinged, which is probably my least favorite battery door style, while the hinge has a tiny amount of movement, it's nothing to make me concerned about its longevity.
The tank is a regular bottom airflow stock-coil tank with slide-to-fill. However, further examination leads to me another complaint – the 810 drip-tip is the type that has O-rings on the actual drip-tip. This immediately rules out the possibility of swapping it out with about 95% of my 810 drip-tip collection.
Mod features
The Kroma 217 has a number of quite interesting features, however one feature that it doesn't have is temp-control. I never use temp-control, so this doesn't bother me, however it seems like a strange feature to omit.
The first feature you encounter is 21700/18650 battery detection, when you insert a 21700 battery the Kroma is a 100w mod, however when you insert an 18650 battery using the provided 18650 adapter, the mod only allows a maximum of 80w, this feature only works when using Innokin's provided 18650 adapter.
Refresh mode is designed to breathe a little life back into dying coils, when you start to notice a slight decline in flavor, refresh mode will pulse the coil at low power to draw juice into the coil. While this will not save a dead coil, it does seem to bring back flavor to coils that are losing a little of their flavor pop.
Coil + mode pulses the coil at the end of each hit, which is claimed to increase coil life. I have no idea if this actually helps or not, but theoretically it sounds plausible. This feature replaces the F0 mode of the Coolfire Z80, and while the F0 mode required manual settings, Coil + is a 'set and forget' feature.
Mod operation
Three clicks on/off​

Up+down for the menu​

Down+fire locks the power adjustment, but not the fire button​

Up+fire for puff counter, puff counter reset and voltage​
To adjust the power or voltage, you have to hold the up or down button for a second or so, after which it will scroll up or down, wattage adjusts in 0.5w increments from 6w to 20w, and 1.0w increments from 20w upwards.
From the menu you can access the regular power and coil + modes, both of which allow you to choose between voltage and wattage, you can also access the refresh mode, which allows you to choose between manual and automatic refresh, and you can access the settings screen which will let you adjust the timeout and cutoff, view the product ID and reset the mod.
Overall, the UI is intuitive and easy to use, however I would have liked to have seen the ability to change the UI color or other visual settings.
Z-Force tank
After all the bells and whistles of the mod, the tank is far more conventional, apart from one little detail, spring loaded juice flow. When a coil is inserted the juice flow opens, when removed it springs shut, allowing you to change the coil without risking dumping a tank of juice everywhere, this isn't the first tank to have this feature, but it's still a welcome feature.
The top-fill is clearly marked, has just the right amount of stiffness, and is protected with a membrane. Like most top-fills the drip-tip will get in the way with some bottles, I found that 60ml bottles have no issues, but 100ml bottles require the drip-tip to be removed.
The airflow has an aesthetically strange slash design, however it's just as easy to use as having slot airflow.
Coil performance
The Duo-Mesh coils have a very interesting design, with the main coil exposed like every other stock-coil I've seen, and an additional coil within the cotton. The purpose of the additional coil is to draw juice into the cotton and pre-heat it, so it's more easily vaporized by the main coil.
Duo-Mesh 0.2ohm
This coil is designed for DL and as such works well with the airflow fully open. Although it's rated for 50-80w, I was able to enjoy it from 55-70w and didn't find any benefits in going any higher.
It's easy to say flavor is great for almost every stock-coil nowadays, because most of them are good, however this is top-tier flavor. I tried an iced mango juice, that a lot of tanks struggle to pick out the mango, but with this coil – no problems, I had the same for a strawberry RY4, the RY4 usually overpowers the strawberry, but with this coil the strawberry was clearly there.
Deo-Mesh 0.3ohm
This is the restricted DL coil, and while it's okay with the airflow fully open, it does much better with 25-50% closed. This coil performs just you'd expect a lower wattage of the first coil to perform, the flavor with fruits and pastries is excellent.
However, there's one problem – for a perfect restricted DL hit, the supplied drip-tip is too wide bore. This shouldn't be a problem, just swap it out for a more narrow-bore 810, and it will be perfect, right?
No, in this case it's more difficult, because the drip-tip has to be the type with O-rings, if it doesn't have O-rings, it will be too loose. However, there's usually a solution to problems like this – in this case, one of my 510 drip-tip adapters works just fine with the tank, so I fitted the best restricted DL drip-tip known to man, my beloved Gear RTA V1 drip-tip.
What could be improved?
Color match the tank and mod.​

Put the O-rings on the top-cap, not the drip-tip.​

Temp control – I wouldn't have used it, but some people do.​

UI color options would be nice.​
Conclusion
Considering that the good points heavily outweigh the minor complaints, I can have no hesitation in recommending the Kroma 217 kit – the mod has everything you'd want (apart from temp-control) and unlike a lot of mod kits, the tank isn't just an afterthought, it's well thought out and has excellent coils.
Disclaimer
The Kroma 217 kit was provided for the purposes of this review by Sourcemore. They have set up the discount code 217ZK that will reduce the price from $64.99 to $39.99.