Hi Vaping Community, In this review I take a look at the CoolFire Z80 Mod from Innokin. The Innokin Coolfire Z80 Mod was supplied for the purpose of this review By Sourcemore.
https://www.sourcemore.com/innokin-coolfire-z80-vape-mod.html
Introduction
Innokin are one of the old guard when it comes to vaping manufacturers yet they have not only stayed relevant but are also leading the way in innovation. The Coolfire Z80 incorporates the same innovative new technology that was introduced with the Sensis Pod Mod which both improves flavour and coil longevity by using a coil refresh feature and new F0 technology which uses AC Current! After using both the Sensis and the Coolfire Z80 I am very impressed and can see F0 Mode and the Refresh feature being Innokin's standard technology in the future!
I have already reviewed the Kit version of this device that saw the Coolfire Z80 paired with the Zenith II Tank but was asked to review just the Mod which is handy as I made a point of saying when I reviewed the Kit that hopefully the mod would become available on it's own for those interested in the device but prefer rebuildable atomisers. So for those who don't want to read the full kit review but just find out more about the device, here goes!!!
---
In The Box
Contents:
1* Coolfire Z80 Mod
1* Type-C Charging Cable
1* Warning booklet
1* Manual
---
Aesthetics and Ergonomics
Like the kit the device only version comes in recycled cardboard packaging with the mod on show in the top tier and all accessories below! I received the White Leather version which has a Silver Zinc Alloy frame and cushioned White Leather spine, the options are Leather Black, Ash Grey, Leather White and Cloudy Grey. The frame is either Silver, Black or Gunmetal depending which spine option you choose, all spines are padded with the White and Black being Leather and Cloudy and Ash Grey versions having a Suede Leather covering!
The device has a curved spine with either soft Leather or cushioned Suede finishes, the sides flatten out towards the front of the device. Between the spine and main frame sections we have a bracket either side, on one bracket we have "INNOKIN" carved and on the other "COOLFIRE Z80".
Moving to the face which is darkly tinted we have a nicely machined round protruding fire button with Copper edging which is only a small detail but one i like a lot! Below we have the screen followed by two small round protruding navigational buttons lined up vertically followed by the Type C USB connection port!
moving up top we have a slightly raised 510 plate with Gold plated, spring loaded 510. At the base of the device we find a battery plate with fold out lever and venting holes! The Coolfire Z80 is light but not in a cheap way as it's build quality is excellent, it's also compact making it a lovely device to use when out and about as well as at home.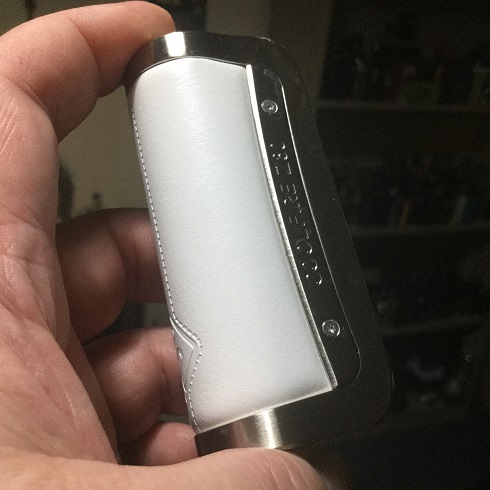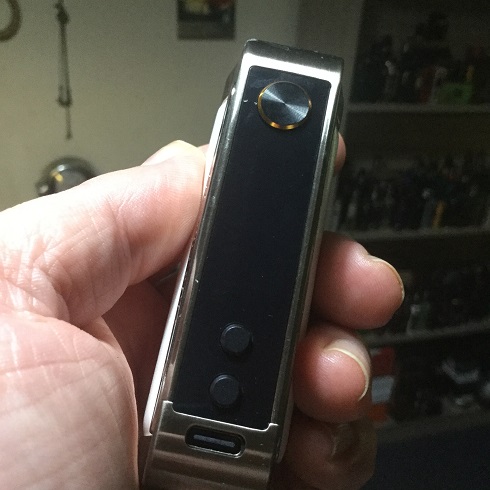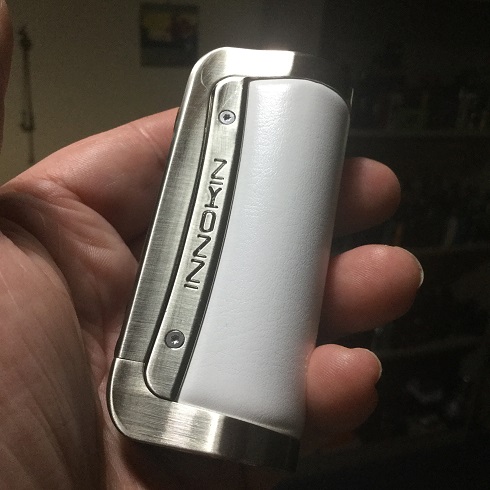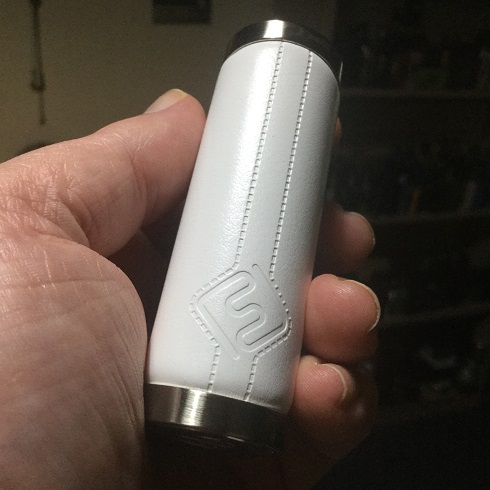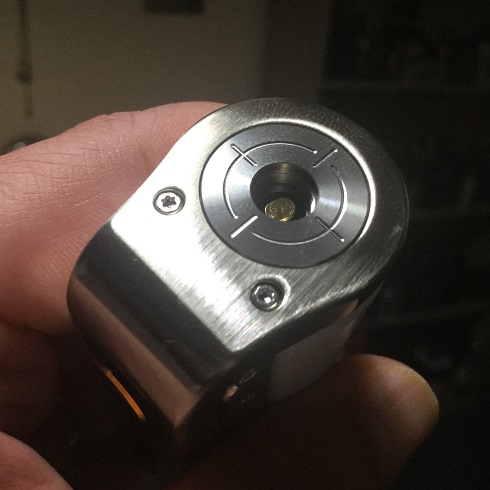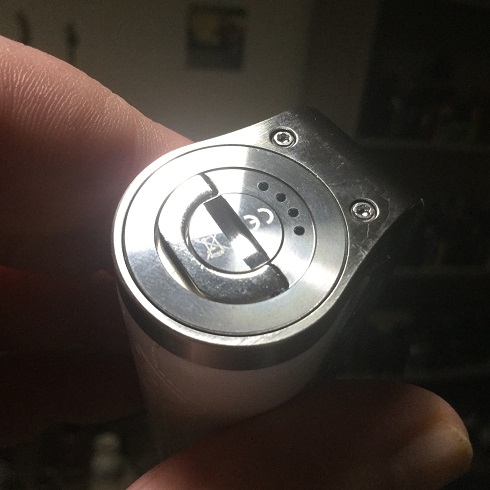 ---
Coolfire Z80 Specs and Features:
Dimensions: 83.55 x 38.30 x 27.6mm
Body Material: Zinc-Alloy
Battery: Single external 18650 battery (Not included)
Wattage Range: 6-80W
Voltage Range: 1-7.5V
User modes: Variable Wattage, Variable Voltage, Frequency – F0 (20-100Hz), Coil refresh
FØ Range Wattage: 6-80W; Hz: 20-100Hz
Cut-off Time: 3-18s
Charging Current: 5V/1.7A
USB Connection: Type C
Thread: 510
Unique textures, incredibly light and soft to touch

FØ mode, The primary mode on the interface

0.003s ignition speed, power output up to 80W

Replaceable 18650 battery, USB-C charging

Activate refresh, revitalize flavours & extend coil life
Colours: Leather White, Cloudy Grey, Leather Black, Ash Grey
---
Fitting The Battery
The Coolfire Z80 accommodates a single 18650 battery via the bottom of the device by unscrewing the battery plate.
This style of installing your battery is old school but much loved and still used on many high end devices, you can't damage your wraps and it guarantees you will get no battery movement. I particularly like this style when a fold out lever is included making it much quicker and less fiddly to secure in place, on this battery plate as well as a fold out lever we also have venting holes which is good to see!
---
The Display
The display gives plenty of info and is bright, sharp and uses colour sparingly which i find pleasing to the eye!
Top left we have the mode which will be W (normal variable wattage), V (Normal Variable Voltage) or F0 (Find your frequency mode), top right we have the battery status bar.
Underneath the information given we have the wattage or Voltage depending which mode you are in. The lower section of the display shows to the left vape duration followed by your puff count and to the right we have resistance followed by bottom right the voltage which instead will display wattage in voltage mode or the frequency when using F0!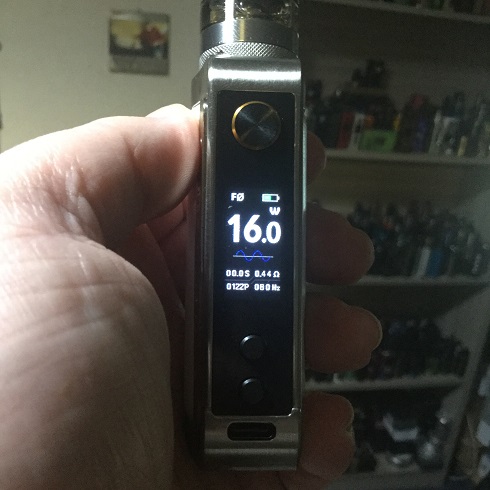 ---
Operating The Coolfire Z80
The Coolfire Z80 is 3 clicks of the fire button to turn on and pressing fire and down together locks the navigational buttons but the device will still fire, when locked a padlock will appear under the mode and fire and right again unlocks. Pressing fire and up together brings up a screen showing the voltage on the battery, resistance of the coil and puff count, it also has an option to reset the puffs!
To enter the main menu is pressing both navigational buttons together which takes you to a list with the following options, F0, Power, Refresh, Settings and Exit, unlike on the Sensis F0 mode is unlocked out the box so no code is needed!
When selecting F0 it allows you to select an AC frequency which is something you can just play around with to find the best for different coil and juice combinations, for now I have just set it to 60hertz, there is also a Find F group on Facebook where people can discuss which frequency they find best for which coil which will be a good resource for some but I am just the type who likes to find out over time for myself!
Selecting Power allows you to choose between Wattage or Voltage modes while selecting Refresh fires your coil at 40% of your set power with AC current to draw liquid in so gives it a fresh prime which i must say does seem to spring life into a coil when getting old (flavour definitely improves after a refresh), this gives you the option of either a 4 or 8 second refresh!
Selecting Settings brings up the following options, Op Screen, Timeout, Cutoff, Device ID, Reset, Exit. These settings don't need to be explained as they are standard and seen on most devices but the Op Screen allows you to change from the default Pro working screen to a more minimalistic display which doesn't give information like puffs etc although it still keeps a count and you can check puffs as explained earlier by pressing fire and left together. Finally to change the wattage you have to hold down either the up or down button for a couple of seconds which will cause the wattage to flash, it can now be adjusted in 0.5w increments from 6w up to 80W, it round robins. Below the new modes and features are explained!
---
Refresh
Refresh is a new feature that allows you to manually refresh the coil between hits to provide better wicking, bringing in flavour and to extend the coils life. Refresh does this by firing at 40% of your set wattage, drawing in more liquid.
---
Find Your Frequency (FØ)
FØ uses alternating current (AC) to produce a waveform that runs continuously while you vape. This is possible by sending an electrical output in a much more precise and efficient way through the coil.
You can adjust the hertz output to match your coil and e-liquid. When properly matched to your atomizer, FØ will extend coil life, provide smoother heat transfer, and even enhance specific flavours in e-liquid. AC will heat your e-liquid at a gradual rate, ensuring that it does not burn and produce a bad taste, so many of us have experienced.
(Disclaimer: After testing the device i really couldn't see how I could explain the new technology any better than Innokin themselves so the above information was a copy and paste from their website)
---
Charging
If you need to charge the battery in the device the Coolfire Z80 has a Type C USB connection and 1.7A charge rate, via the charging and data cable the device is also fully firmware upgradeable!
While charging the screen displays a charging progress icon and also gives the charge as a percentage, pass-through is also supported!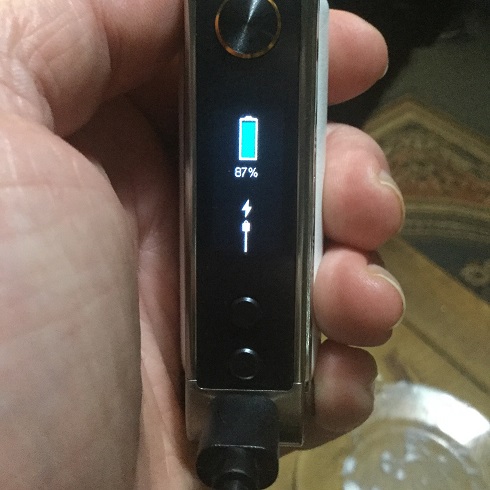 ---
My Experience Using The Coolfire Z80!
After using the Sensis and now reviewing both the Coolfire Z80 Mod only and kit versions I am more convinced than ever that it's no gimmick, the new technology works great giving incredible coil life and improved flavour!
The F0 mode and Refresh features were explained in the review and in F0 Mode coil life improves dramatically and the flavour also in my experience definitely improves, when using the occasional Refresh once the coil head or build is getting older it really does give it a new lease of life giving a saturated vape full of flavour!
Despite all the new technology I like how user friendly the device is so new vapers don't need to be put off or blinded by science. It's build quality is excellent, it's both light and compact, fitting in the hand with ease and is so comfortable to hold and fire!
The Coolfire Z80 will accommodate up to a 25mm atomiser without overhang so most tanks you would want to use on a single 18650 device with look great. Battery life also seems efficient giving full value for your mAh's and if you need to charge in the device or upgrade we have a Type C connection and 1.7A charge rate! The only con I have for the mod is the puff counter resets every time the battery is removed!
When I reviewed the kit version I did say the Coolfire Z80 with it's innovation was the best device I had tested this year and that still remains the case, I really hope both single and dual 21700 versions are in the pipeline!!!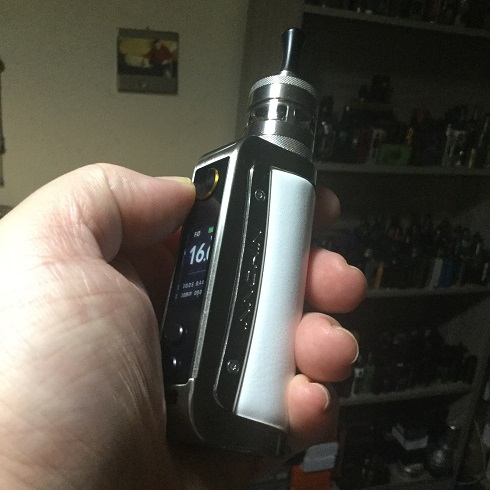 ---
Likes
Excellent build quality
4 Spine options
Lightweight
Compact and Ergonomic
Innovation (brand new technology)
F0 Mode
Refresh feature
Improved flavour and coil life
Fires Instantly with great performance
Clicky buttons
Old School bottom battery plate with lever
Nice bright, sharp display
Efficient
User friendly interface
Fit up to 25mm atomisers without overhang
Type C USB
Good charging feedback
1.7A charge rate
Pass-through supported
Firmware Upgrades supported
Cons
Puff counter resets when battery is removed
I would once again like to thank Sourcemore for supplying the Innokin Coolfire Z80 Mod for the purpose of this review, thanks for reading and stay safe!
Innokin CoolFire Z80 Mod 80W Box Mod
$34.71 - Innokin CoolFire Z80 Mod
Code: Z80M
Disclaimer: I am not affiliated with Sourcemore or benefit in any way from the use of the above code but was asked if I would include it in my content!
---