Hi Vaping Community, In this review I take a look at the Captain Link 100w Mod from IJoy. The IJOY Captain Link Mod was supplied for the purpose of this review by Sourcemore.
IJOY Captain Link Mod 100W Box Mod single 18650/21700
Introduction
To my recollection it was IJoy who first started regularly releasing 20700 swiftly followed by 21700 devices back at a time when batteries were included because the likelihood was it would be the first device someone had bought accommodating such batteries but it wasn't long before the 21700 became as popular as the 18650 (and preferred by most)!
The IJoy Captain Link Mod takes the successful "Captain" title probably for no other reason than it will increase sales which is something which seems to be a regular ploy by most manufacturers of late either just cashing in on a successful name or maybe simply a fact they are struggling for original names!
The Captain Link Mod is an ergonomic single 100w device which offers Variable Wattage and full TC suite and allows the display colour to be customised to be one of 4 colours. The IJoy Captain Mod is quite large compared to the more compact single 21700 devices of late but is aesthetically pleasing and features an old school bottom battery plate and 25mm 510 plate up top, let's crack on and check out the Captain Link Mod from IJoy!
---
In The Box
Contents:
1* IJOY CAPTAIN LINK MOD
1* 18650 Battery Adaptor
1* Type-C Cable
1* Manual
1* Warranty Card
---
Aesthetics and Ergonomics
The Captain Link Mod came in cardboard box packaging with outer cardboard sleeve, we have a raised picture of the device in the chosen colour on the front and Specs, contents etc on the reverse. I received the Blue version which I picked because it's such a nice shade, the options are Black, Stainless Steel, Blue, Red or Green.
The main chassis is Zinc Alloy and Black in colour then the chosen colour refers to the rear bracket and matching buttons. The curved bracket employs an "X" design on the spine area giving 4 separate sections which has substantial Silicone pieces with aggressive grooved texture for grip. Simply because this is a single battery device, curvy and those added Silicone grips makes this a delight to carry about and fire despite being large compared to most single 21700 devices released of late!
Comparison between Foxy One and OBS Engine!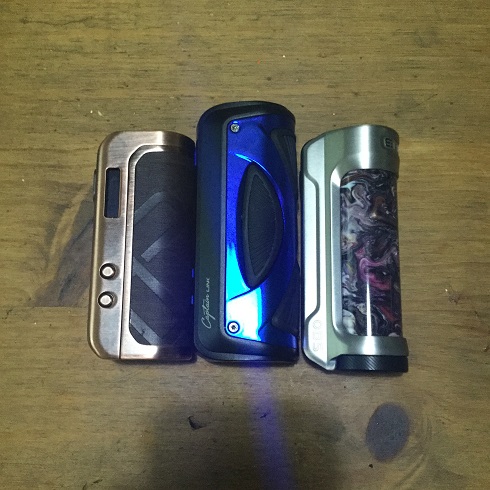 We have a slightly curved face with Zinc Alloy square protruding buttons matching the colour of the bracket. The square fire button positioned towards the top isn't the largest but protrudes nicely, towards the bottom we have the matching smaller square navigational buttons lined up vertically which is followed by the Type C USB port, the screen is positioned between the fire and lower buttons!
On the chassis one side towards the bottom we have "Captain LINK" printed with the "Captain" in a nice signature style font. At the base we have an old school style battery plate with fold out lever then moving up top we have a 25mm Stainless Steel 510 plate that's screwed on to the main chassis and has etched safety stamps, the 510 is Gold plated and spring loaded. The device is a looker in my opinion and solidly built but when shaking vigorously I did get the slightest of fire button rattle which although pointing out really isn't going to occur during normal use so not worth dwelling on!
---
Captain Link Mod Specs and Features:
Size: 97* 40* 30mm
Material: Zinc Alloy & Silicone & PCTG
Battery: Single 18650 / 21700 battery(not included)
Output: 5-100W
Output current: 0-45A
Output voltage: 0-8V
Screen: 0.96 inch TFT display
Charging: Type-C 5V/1.5A
Resistance range: 0.05-3ohm
Temperature range: 300-600℉
Mode: Power/ TC/ TCR
Newly upgraded Univ S 2.0 chipset
Thread: 510
Colour: Black, SS, Blue, Red, Green
---
Installing The battery
The IJoy Captain Link will accommodate either a 20700, 21700 or with the included adaptor an 18650 which gets fitted via the bottom of the device. We have an old school screw in battery plate with fold out lever which is sturdy and screws in and out of position smoothly, when the lever is folded outwards to use for turning 3 good sized venting holes are revealed.
Orientation is marked vibrantly at the bottom of the tube and in White on the underside of the plate and once secured we get absolutely no battery rattle (I tried both a 21700 and 18650 battery)! I do wish the battery fit was a little bit more snug though as the tube is far wider than it needs to be so you get a lot of battery movement from side to side until the plate is secured, for this reason I really wish the 18650 adaptor was the usual full sleeve version rather than the little stumpy one that just fits over the end of the battery!
---
The Display
The display is very bright and colourful with the options to both change the colour of the main accents and alter brightness!
Central top we have the battery status bar then underneath a circular colourful design. Within this circular design we have the mode then underneath either the wattage or temperature depending which mode you are in! Below the wattage or temperature but still within the circular design we have vape duration left and the 3 digit puff counter to the right.
Below the central circular design at the bottom of the display we first have the resistance followed below with the voltage which will be wattage instead if using TC mode!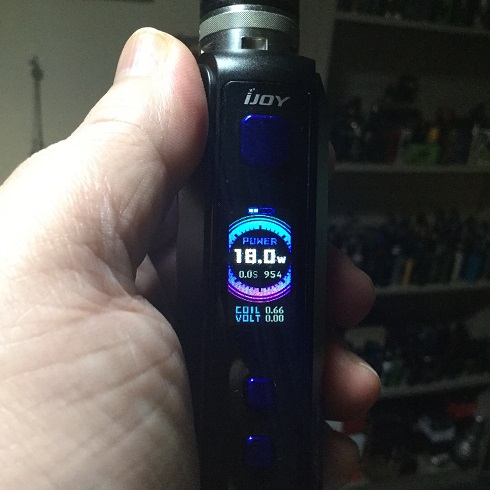 ---
Navigating The Captain Link Mod
The Captain Link is the usual 5 clicks of the fire button to turn on and off and once on pressing both navigational buttons together locks the whole device so it also will not fire (don't like this)! Pressing either fire and up or fire and down together brings up the brightness bar which can then be altered up or down from 0 to 100% using the navigational buttons, either pressing fire or no activity for 2 seconds takes you back to the main working screen!
3 quick clicks of the fire button highlights the mode which can be changed by clicking the navigational buttons or pressing fire will take you to an item on the screen that can be altered allowing puffs to be reset (although they only go to 999 before resetting anyway) or when in TC locking resistance and setting wattage.
The modes are Power (variable wattage), Theme (allows the main accents on the screen to be either Red, Yellow, Blue or Green), Memory (can set 4 different profiles), TC-TCR, Ti, SS and finally Ni.
When altering wattage it adjusts from 5w to 100w in point 1 increments with single presses and 1w increments with a button held down, it doesn't round robin. When in TC the temperature unit round robins between Celsius and Fahrenheit, Celsius adjusts in 5 degree increments from 150 degrees to 300 degrees and Fahrenheit adjusts in 10 degree increments from 300 to 600 degrees!
The device is simple to navigate which is a good job really as the manual comes in about a million languages but it doesn't matter what your native tongue is because it's useless and doesn't even tell you how to change modes, in fact the only thing it tells you about the operation of the device is that 5 clicks is on and off and that's it, do us a favour IJoy save some trees and don't bother! Also something I find quite funny but again is not good enough is when in memory mode the display say's "Momery"!!!
---
Indications and Protections:
Low power protection
Short circuit protection
Atomizer indications
---
Charging
As usual I would encourage to charge externally but if you do need to charge in the device we have a type C USB connection and 1.5A charge rate! While charging a charging progress bar is displayed within a circular design, the Captain Link Mod supports upgrades but not pass through vaping!
---
My Thoughts!
Despite the Captain Link Mod being larger and heavier than other recent single 21700 devices I have reviewed I sill found it to feel great in the hand and love the Silicone grips which are substantial! I really like the colourful bright display and how easy it is to navigate, I also like how both the brightness and colour accents can be adjusted.
However I don't like how unnecessarily large the battery compartment is and the manual is garbage! I also wish this would reduce top wattage to a realistic 80w for an 18650 battery. Another big con is that you can't just lock the navigational buttons but only the whole device which i can do anyway with 5 clicks of the fire button and if there is a way that I just haven't found then the manual isn't going to help me! The only other petty con is the wattage doesn't round robin although temperature does!
The buttons have quite some travel but give a definite yet quite quiet click which I like, when firing there is no delay and I had no performance issues whatsoever although if you use TC you will need to do further research. The puff counter doesn't reset when swapping out batteries and it also remembers your last setting which I like, although we have a puff counter which can be reset manually it is only 3 digits so after 999 it will automatically reset! One last major pro is the battery plate which is quality with a sturdy lever which reveals venting when folded out and the threading is really nice!
With all the cons I have I still found I really am liking this mod possibly for it's aesthetic looks, ergonomic feel and it's been performing like a trooper!
If you need to charge in the device we have a Type C USB connection and upgrades are supported but pass through vaping isn't accommodated. Finally up top we can fit 27mm atomisers with no overhang which is above par for a single battery device!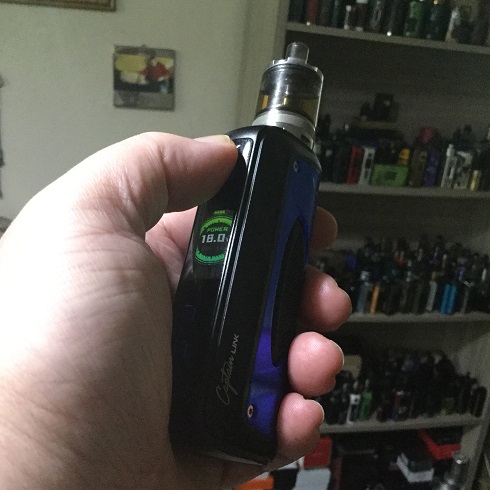 ---
Likes
Solid, well made device
Ergonomic and aesthetically pleasing
5 Colour options
Silicone spine grips
21700, 20700 or 18650 battery
Full TC Suite (not tested)
Resistance can be locked and wattage set in TC
Remembers last setting when changing battery
Puff counter with manual reset
Bright, colourful display
Displays' brightness can be adjusted and colour customised
Buttons give nice satisfying click
Fires without delay and performed like a trooper
Type C USB and upgrades supported
Really nice battery plate with fold out lever, venting and the threading is really smooth
Fit 27mm atomizers without overhang
Cons
Larger than most recent single 21700 devices
Unnecessary over large battery compartment
Stumpy 18650 adaptor (full sleeve style would suit the overlarge compartment better)
Can't just lock navigational buttons
Wish top wattage was 80w for 18650 battery
Wattage doesn't round robin
Pass through vaping not supported
I would once again like to thank Sourcemore for supplying the IJOY Captain Link Mod for the purpose of this review, thanks for reading and stay safe!
IJOY Captain Link Mod 100W Box Mod single 18650/21700
$24.79 - IJOY Captain Link Mod
Code: LINK
Disclaimer: I am not affiliated with Sourcemore or benefit in any way from the use of the above code but was asked if I would include it in my content!
---